Those were the words from a citizen who recently experienced a ride-along with the Amarillo, Texas police department. With the way our society has been grossly misled by anti-police squawk boxes significantly skewing the phenomenal work our nation's cops perform daily, it is wise to consider riding along with any of the roughly 18,500 police entities in America.
In her post-shift recount, Cassie Montgomery graciously conveyed her personal viewpoints regarding the overall experience as a civilian riding shotgun with an Amarillo police officer and the varietal tally of what our nation's cops endure out there.
Fundamentally, citizens fill out basic forms for vetting by police personnel, after which they are invited to render a date to ride with a patrol cop, select a day or night shift preference, then get paired with any among a squad's contingent of cops.
Well before taking my police officers oath, I spent some day shifts but mostly midnight shifts with various law enforcement agencies, in the passenger seat as a civilian ride-along. The real-time perspective into real police work is a reality check, uniquely thought-provoking, and quite contrary to general perception, the media propaganda, or Hollywood-hyped versions. In other words, go see for yourself instead of being lured by fictions produced by profiteers capitalizing on falsified renditions of otherwise bona fide law enforcement heroes doing "the job."
As Ms. Montgomery elucidated: "After seeing what I saw in the short amount of time I was there, I have a whole different perspective of our police force. I have always respected them and admired their work, but the media paints them out to be a crooked, undertrained, and even sometimes an evil entity.
"What we see on the news is heartbreaking and tragic, but it is absolutely not what our officers see every single shift. We can have change where needed while also recognizing the need for law enforcement in its current form."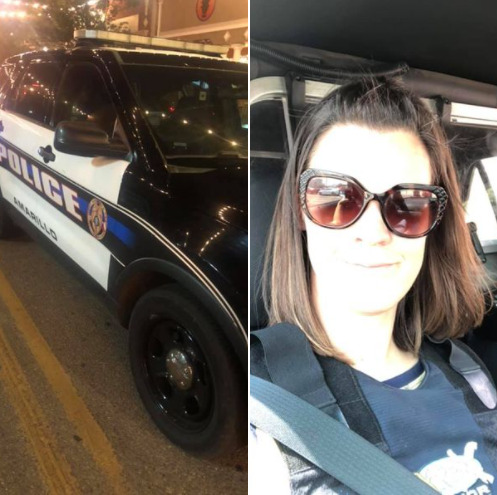 (Photo courtesy of Cassie Montgomery.)
Notice Ms. Montgomery is donning a ballistic (bulletproof) vest, a requirement among Amarillo PD's ride-along policies—as mentioned above in various ways: it's as real as it gets.
Corresponding with the National Police Association, Ms. Montgomery expounded: "They also have bigger and better vests in their cars for us to use if things 'get really sideways,' and my officer pointed mine out to me before we started patrol and showed me how to use it."
Other police departments may likely require ride-alongs to don a ballistic vest; after all, with the crazed anti-police climate nowadays, protection for all associates of any law enforcement agency is wise and responsible.
When studying criminology at the university, the time came when I was availed credit for serving as a police intern. Certain standards were satisfied: GPA threshold, successful background check, signed declarations to "hold harmless" the police department should dung hit the fan and injury is sustained, et
Once selected as a police intern (just civilian observation as a relatively full-time, uncompensated volunteer throughout the college semester), I was assigned to various divisions: Patrol, Communications, Marine Unit.
With the Patrol Unit I garnered what the "backbone" of every law enforcement agency's sworn staff does in a given tour of duty (agencies operate either 8-, 10-, or 12-hour shifts). Essentially, investigations stem from a patrol officer's findings and may or may not be closed by said officer. If no arrest is made, whether suspect is known or not, police detectives subsequently "get the case" to further the investigation by developing/pursuing leads and effect arrests or draft warrants for a judge's signature.
While with the Communications Division, I received an ear full (literally) via being tethered to a public safety dispatcher's headset, exposed to a range of stress-inducing horrific 9-1-1 calls and monotonous complaints (most of which are not even within the purview of police responsibility. I quickly learned that some people routinely default to law enforcement with matters they deem as significant, issues not even remotely necessarily a public safety matter at all. Yet, we responded to each one…as a professional courtesy aka referals to proper authorities or resources).
On the Marine Unit's vessels, I had quite an eye-opening thrill both by inherent waterborne dangers and public relations implementations: those operating a boat under the influence (BUI) and arrested did not necessarily offer appreciation of cops being "on the water" as much as safety-minded boaters. The latter were always happy to see/greet us and exemplify boating safety features and compliance with maritime statutes.
Anyone can imagine the perils of navigating bodies of water. Thank goodness we have marine patrols out there, prepared to mitigate potentially tragic scenarios. From Boating Magazine, we have a virtual ride- along on a harrowing rescue in Destin Pass, Florida:
Indeed, bears repeating: We have some incredible protectors among us!
Carrying a full-time college schedule and a full-time job while fulfilling a long-awaited police internship was arduous yet wholly enlightening and fulfilling. Like Ms. Montgomery delineated above regarding her ride-along experience, I had the fortune to meet many incredible cops, all of whom exuded unparalleled heroism and true grit compassion for humanity.
Not that I needed it but having police ride-along experiences galvanized the chosen profession from which I transcended, ultimately relishing my pre-retirement assignment training newer police recruits.
Although not uncommon for aspiring cops to conduct ride-alongs to get the feel of any particular agency for future application, citizens in the patrol cruiser's passenger seat can come away with a mindset to more critically assess the lies being perpetuated by media, activists, political panderers and the like, whose falsities result in emboldened evil-doers.
From the Sherman, Massachusetts police department I gleaned the following sentiment championing citizens and police ride-alongs:
"I went for a ride along with my cousin's department. If anyone has the opportunity to do a ride-along, I highly recommend. A lot of the job is community service and helping people which too often goes unnoticed which is why the majority of officers entered the profession to help people."
What can one expect from doing a ride-along with the police? Welp, it's a lot like DNA: no two shifts are the same. Doing a ride-along more than once is advisable The lore of call-to-call excitement far outweighing down time (requisite report-writing, impounding property and evidence, administrative tasks) is accurate. Like an EKG graph, activity blips up and down as seconds lapse. Sign up and see for yourself… If unable, there are always virtual ride-alongs offered by some police agencies (much like watching "COPS" or "LivePD" or "American Sheriff Network."
But there is nothing like the real thing, being in the flesh and belted into the front seat of a police cruiser. Things are unedited and stand out.
One aspect which stood out for me was being dressed in civilian attire while accompanying a readily recognizable uniformed police officer. People on scenes would take glances, sort of squint, and eventually lean closer to ask things like, "So, are you a detective or something? You don't have a uniform like him." Fair question, to which I replied I was riding along as a police intern to learn.
Ms. Montgomery now knows what we're talking about: "A few people asked me if I was a cop, or they'd start talking to me instead of to the officer I was with, and I ran into a few people I knew who asked if I was in trouble or if I was embarking on a new career."
In the event a ride-along is not in the cards right now, a few of Ms. Montgomery's excerpts (from her complete synopsis linked above) ought to bode well in the interim:
"Imagine the mental toll it takes for an officer to hear tragic scenarios unfold on the radio throughout their shifts…
"Officers are constantly doing those kind gestures you see on viral videos with captions like 'you never see cops do this.' Giving water to homeless people, keeping people company while they wait for their Uber, taking pictures with kids and giving fist bumps, visiting lemonade stands…it's part of their day to interact with their community and they love doing it! My officer did a few sweet gestures, but we also encountered his colleagues doing them too, so you can't even say it was all a show for the ride-along."
Coming full circle, we close with a reiteration stemming from Ms. Montgomery's ride-along experience: "Just know, our tax dollars are being used so diligently, and we have some incredible protectors among us!"