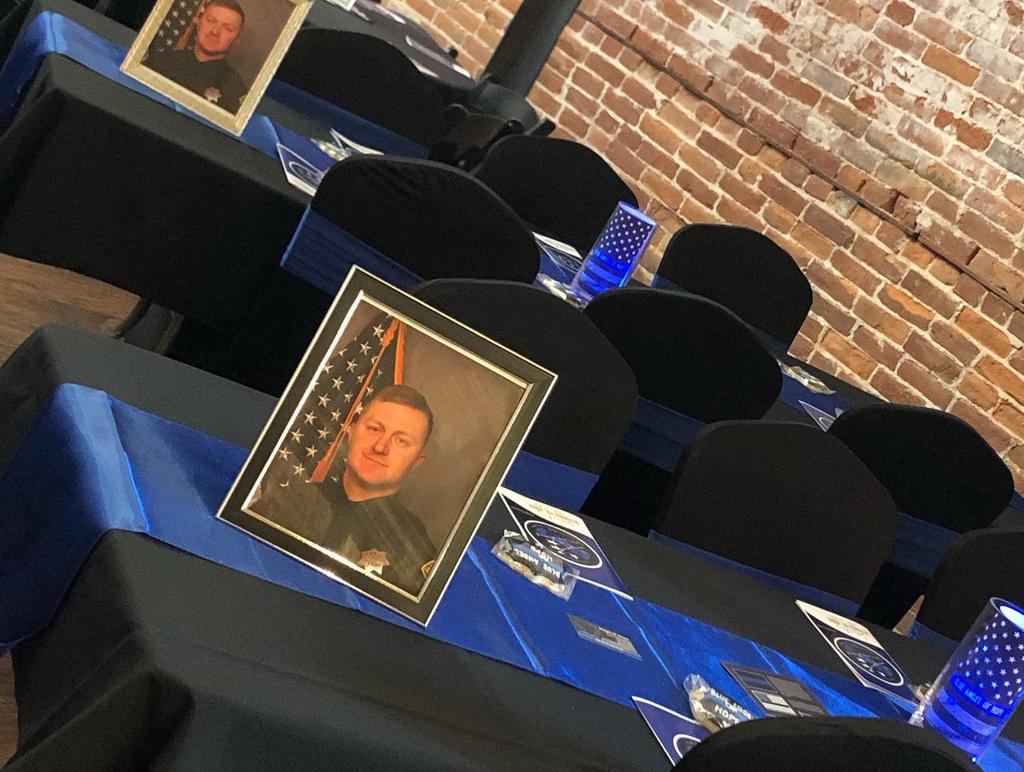 Despite the vocal minority's harangues hurled at cops in recent years, and politicos' antithetical reforms designed to diaper malcontents conspicuously preying on your safety, the oft-called silent majority girds our guardians at the gates with unambiguous symbolism.
Respectfully subdued and hugely meaningful counterparties to the anti-police barkers are mindful merchants witnessing the vapid vitriol that does nothing more than make cops' lives more difficult while performing increasingly problematic duties in society.
We might simply call it the silent majority's way of embracing our brave first responders dutifully stepping toward perilously surreal twists of humanity. What better way to show appreciation to anyone who dons those boots…than to cater some good eats, to provide products as token Thank yous, and to stand with cops when they stand somberly for their fallen cohorts.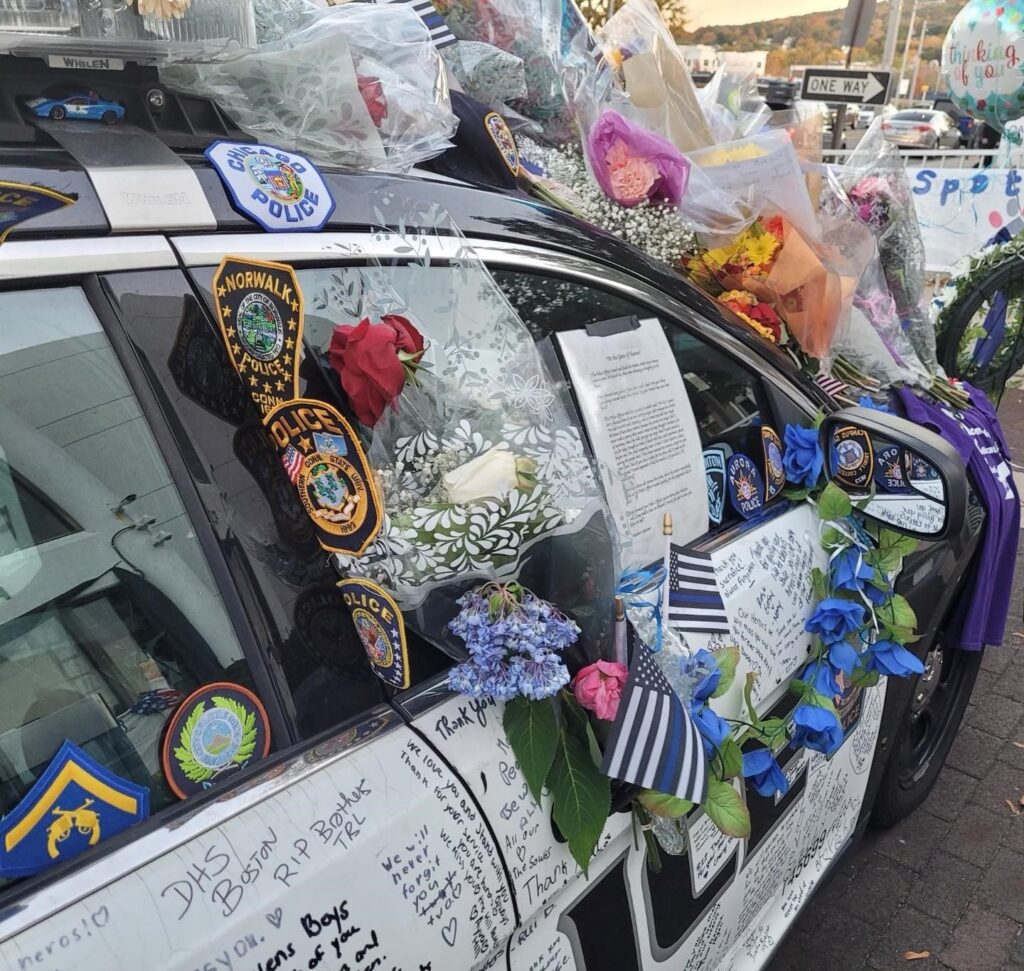 (Photo courtesy of Brotherhood for the Fallen.)
When we view the utter fester in many of our nation's urban environs, and how the police institution is treated (mistreated) while some powers-that-be look down their Pinocchio noses at cops, it is refreshing to witness decent humans bolstering our courageous crimefighters.
As former CIA officer, Marc Polymeropoulos wrote for the Washington Examiner, highlighting Philadelphia's explosion of violent crime and the cops combatting it all, police officers "are facing an alarming rise in crime in the nation's sixth-largest city. But make no mistake, officers are doing very 'hard stuff.'"
Mr. Polymeropoulos added, "Policing is an indispensable institution, much like my old job at the CIA. Your failures are plastered all over the front pages of the media, yet successes are left in the shadows. Sometimes a simple 'thank you' can go a hell of a long way."
It was Seneca who recommended, "Associate with people who are likely to improve you."
With that, let's look at a batch of constructive gestures from folks who bring light where those liberal-city shadows cast destruction on the daily…
Many businesses do not buckle to the woke ideology. Instead, they routinely show up to support cops in the community.
Mission BBQ: The American Way Restaurant is one steadfast merchant whose chainwide theme heralds first responders. Ever dine at one? During the eatery's lunchtime service, they invite guests to patriotically stand while facing the American flag, citing the Pledge of Allegiance.
One in my area has walls lined with hundreds of police patches. Among the stitchery is a framed law enforcement uniform shirt, completely adorned with all hardware and medals, previously worn by a local deputy who perished in the line of duty less than one mile from this eatery. I took my time dining directly under that uniform top worn by Hillsborough County Deputy Brian Roy LaVigne, reminded of the fragility of life and those who bravely step forward to defend the existence of countless others, voluntarily trading theirs in doing so.
About 90 minutes to the east of that particular Mission BBQ, a team of deputies with the Orange County Sheriff's Office was conducting community relations work in a subdivision that happened to be in the vicinity of another Mission BBQ. A restaurant manager saw the group. What did she do?
She packaged up good eats, loaded the iconic Mission BBQ armored truck, and delivered lunches right there where they stood in the field of operations:
(Photo courtesy of the Orange County Sheriff's Office.)
For her kindness, support, and generosity, OCSO executives wrote the following reciprocal gratitude:
"This week, Mrs. Shevon with MISSION BBQ (Lee Vista) saw our deputies working in the Pine Hills community, engaging with residents. Mrs. Shevon was so appreciative of their work she decided to feed them lunch!
"Our deputies enjoyed their BBQ sandwiches! They were grateful for the support and kind words Mrs. Shevon shared with them. A huge Thank You, Mrs. Shevon, we are grateful for your support and appreciation toward our first responders!"
Sounds like Ms. Shevon got those LEOs covered. Speaking of covering cops…
The Quilts for Cops organization, whose crafty custom-weave quilts are provided to police officials injured on the job, caters unique designs upon fabrics to shroud wounded warriors through the oft-long recovery process.
Looking at the Quilts for Cops website, there are tons of images of unimaginably twisted wrecks once identified as cop cars (Move Over Law fails). The survivors of each gifted quilts during the mending phases.
Respecting the dignity of cops laid up in hospital gurneys, tethered to tons of medical apparatus, I found a cop whose post-incident recovery went well, enabling a return to active duty. Here he is holding up what enveloped him along the road to redemption: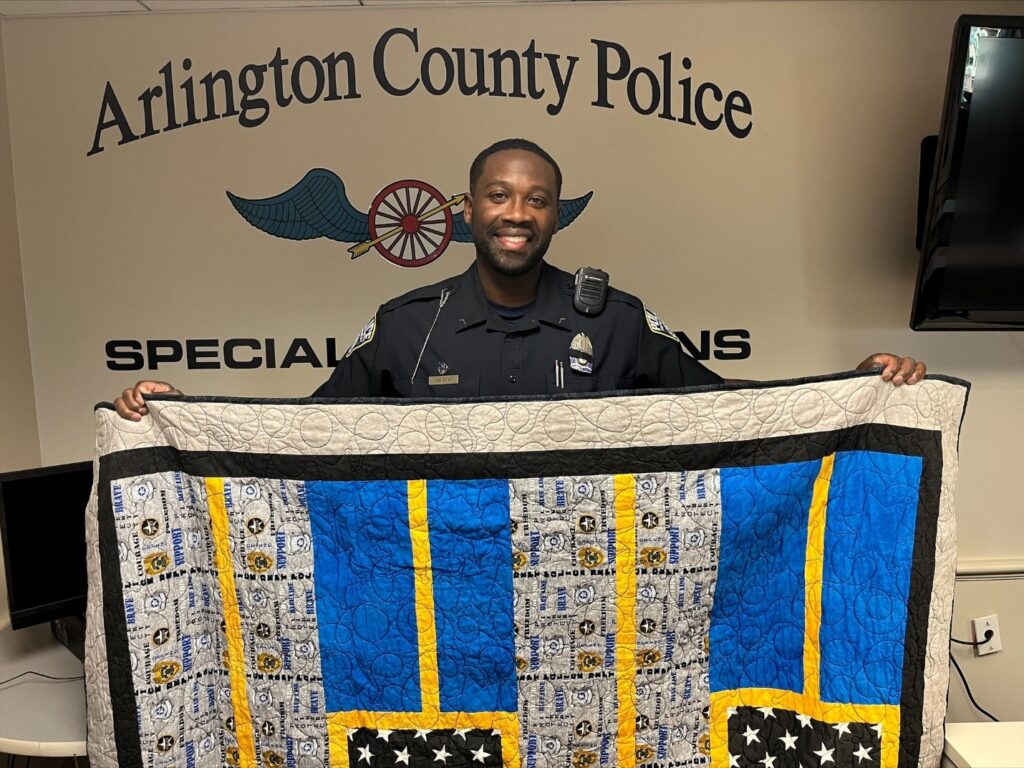 (Photo courtesy of Quilts for Cops.)
Similarly, the Bear River Soap Company has cops covered too…in a lather. Honoring first responders in the way they know how, a representative for the soap manufacturer said, "First responders selflessly give help to all of us at one time or another. Right now, they are exhausted but still showing up for us! Here is our newest addition to our new First Responders line."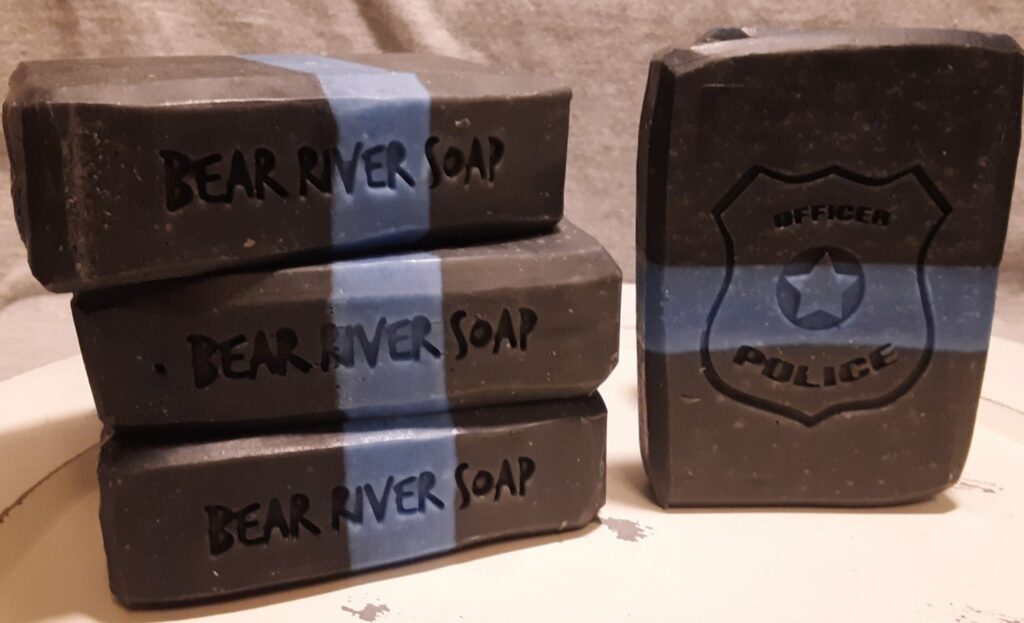 (Photo courtesy of the Bear River Soap Company.)
Clean and orderly is the brand of society many of us cherish. Lately, though, we bore witness to environs destroyed by depraved individuals, many of whom were encountered by cops…resulting in final stands for some LEOs. In that context, there are localized tributes to fallen first responders.
Recently, the Blue Angel of Hope organization, a non-profit entity "gifting Thin Blue Line flags to families," coordinated a "3rd Annual Blue Line Dinner fundraiser" (exemplified in our cover photo) supported by area businesses who not only contributed monetarily but also symbolically.
Per the Blue Angel of Hope, shout-outs went to "Frisard's Trucking out of Louisiana who sent their Thin Blue Line Memorial rig out to attend our event."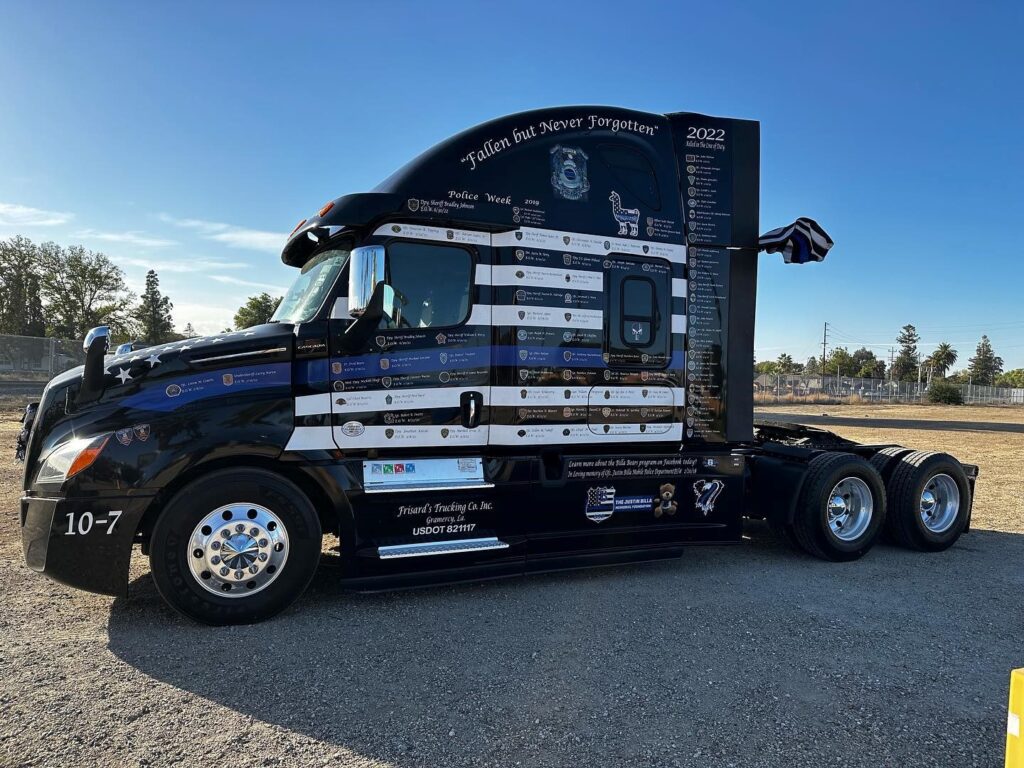 (Photo courtesy of Blue Angel of Hope.)
Also recognized were Mach1 Towing "for bringing out the [slain Galt police Officer] Kevin Tonn & now [slain Galt police Officer] Harminder Grewal [tributes upon their] flatbed tow truck lined with Thin Blue Line flags."
(Photo courtesy of Blue Angel of Hope.)
The operator of that flagged flatbed sees the grand gesture in his rear-view mirrors while all others see honor carried forward, and that is what it is all about.
Sometimes it is not just a business backing the blue but community members who know police officers generally stay super busy and hardly have time to grab a meal. In that context, donators know they are in the loop of good deeds and their police force which serves as the conduit, bow-tied in blue with police-supporting messages grounded in gratitude.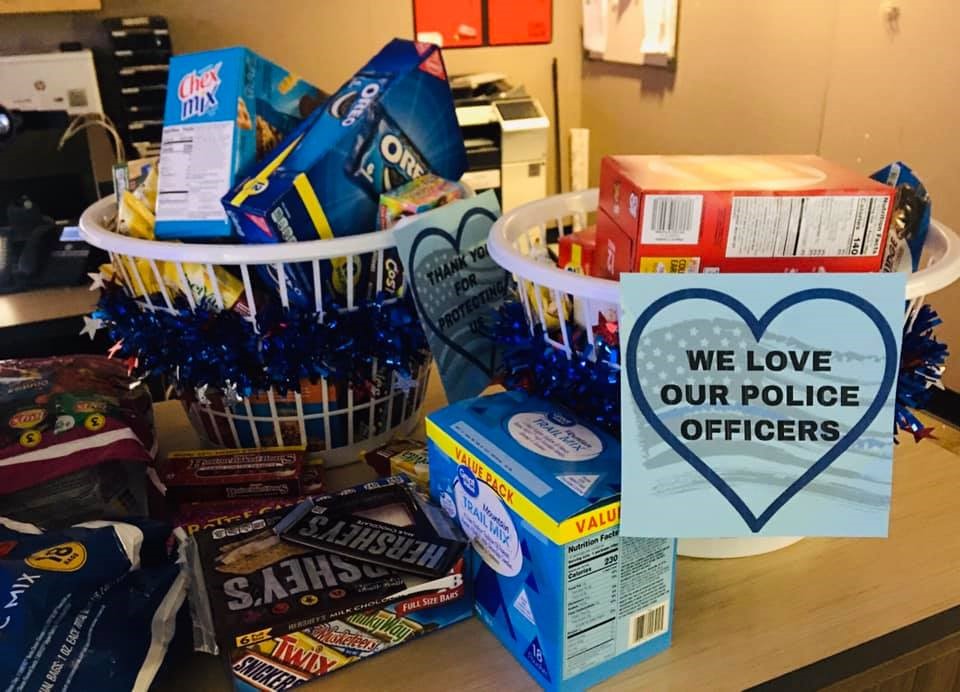 (Photo courtesy of the Rocklin Police Officers' Association.)
How's that for a supportive effort to ensure snacks of sustenance for cops enduring long shifts in cruisers working call-to-call blitzes?
It's A Two-Way Street
It is not just about businesses supporting cops serving their community. It is just as much about law enforcement officers pillaring the local merchants on Main Street or wherever, defining the inherent dynamic of everyone working together, symbolizing unified efforts toward a robust quality of life in safe havens offering mutual respect and support.
While studying materials for an unrelated article focusing on police culture, I came across the Eau Claire Police Department's recognition of "National Mom and Pop Business Day," during which ECPD cops working/walking the beat stop in to patronize local-owned non-Big Box businesses, trying to provide products and services to the community.
(Photo courtesy of the Eau Claire Police Department.)
In keeping with the police/community theme, the ECPD and a Dairy Queen franchisee teamed up in a program called the Dilly Bar ice cream specialty, the sales of which were attributed to frozen dessert treat vouchers to be handed to children by cops who interact with them during patrol functions.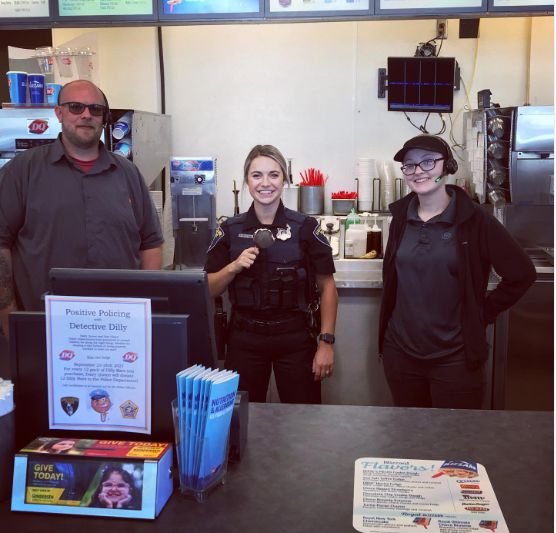 (Photo courtesy of the Eau Claire Police Department.)
From a July 2018 post by the ECPD administration was the following tally signifying success: "Thank you, Eau Claire! You helped provide 3,000 Dilly Bar Coupons so thousands of positive experiences between officers and children could happen."
As you can see in the image, a Dilly Bar is graciously named after ECPD Detective Dilly. I spy a leaflet on the counter, signifying "Positive Policing with Detective Dilly."
Is that also a Thin Blue Line design displayed across the Orders Pending computer screen? Happenstance or otherwise, it goes well with the coopted program, the folks administering it, and the overall objective which is the subject matter of this article today.
Of course, what would cops and community bonds be without a merchant in the business of whipping up fresh batches of the proverbial police delicacy: Donuts.
In California, the men and women wearing Tustin Police blues enjoyed some mini cakes with holes in the middle, compliments of Randy's Donuts.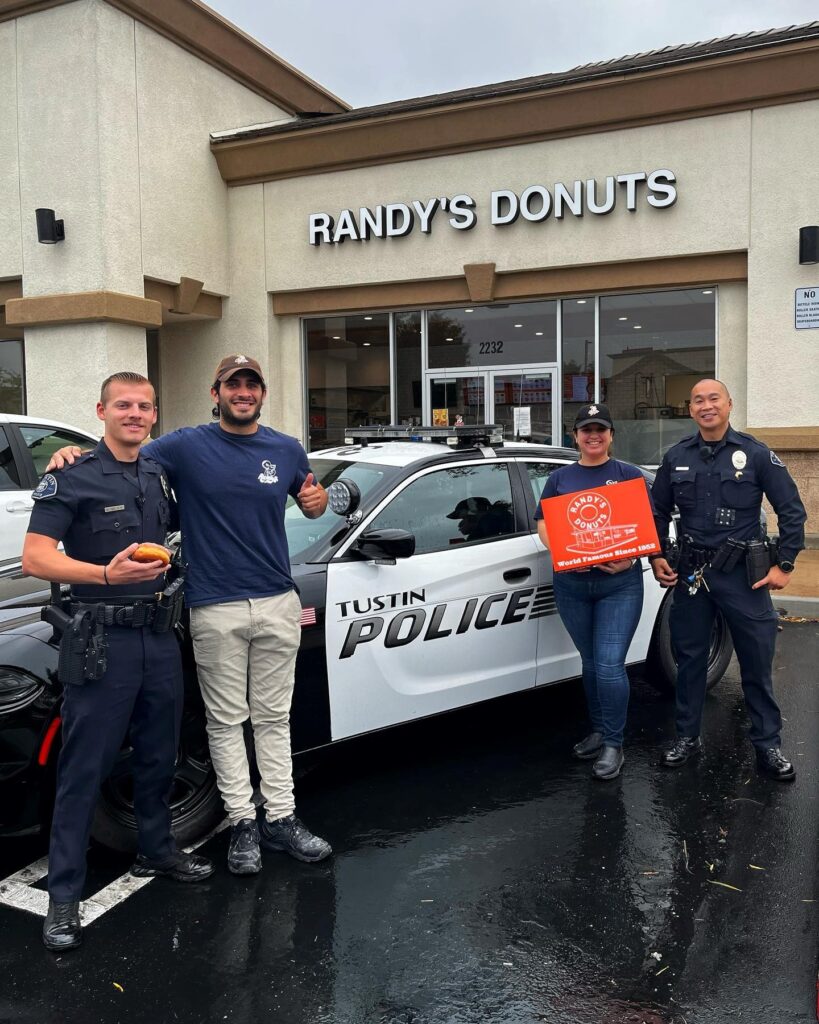 (Photo courtesy of the Tustin Police Department.)
Although most cops I know don't do donuts, it is the grand gesture that they take away from interactions…on an always basis.
As Mr. Polymeropoulos emphasized, "…we need greater public support for law enforcement. Cops are humans. They see a society in which some have turned on them."
Indeed "some" have thumbed their noses at society's protectors and preservers. Yet there are likely many more police supporters than those we allocated herein…who back the blue with fervor in the form of iconic symbolism and personal manifestations exuding gratitude for frontline guardians.