Of the many specialized units among law enforcement agencies, most are pretty prevalent. Police boots on the ground are the mainstay warriors dealing with all manner of societal dilemmas as well as everyday innocuous interactions among the community's citizens. Patrol is the most visible deployment of peacekeepers, operating in various modes of mobility such as cruisers, motorcycles, horses, boats, Segways, bicycles, snowmobiles (in frozen jurisdictions), and the good ole foot beat.
One other mode is sometimes heard but not necessarily seen: Aviation cops.
From the sky we hear the thith thith thith of police helicopters, but us humans get so conditioned to sounds that we hardly consider a look-see…or, rather, a look up.
Police aviation units (sometimes involving small-craft airplanes, albeit rare nowadays) provide a unique perspective only made possible by aerial advantage. With the undeniable dangers of police pursuits through city streets, police helicopters enable aerial eyes-on while communicating the fleeing car's pathway and pertinent details (such as bailouts, suspect direction of travel on foot, dogs in rear yards, etc.) to ensure scene and officer safety. They are true blue blessings up above, one which I continually appreciated as a midnight-shift street cop chasing bad actors hell-bent on getting away.
With the plethora of protests turning hostile and violent in many metropolis cities around America, Tampa saw its share of outbreaks of human behavior, literally ambushing police officers positioned to uphold citizens' constitutional rights to air their grievances in the form of "peaceful protests."
Watching all this riotous behavior across the American landscape triggered reminiscence: The only time I ever donned all my police-issued riot gear was for in-service training to ensure fitness and tactical efficiency. Lately, our nation has witnessed enough riot gear to make the surreal aspect seem like a Hollywood crew merely filming such a scene for a pricey major motion picture—take after take, cut after cut.
But, no, it is all as real as it gets. Not a scintilla of fiction in strangers throwing rocks, bottles of urine, fireworks, ice-filled containers, Molotov cocktails, all manner of projectiles…all sailed with the umph of hate-filled "protesters" impassioned by false beliefs that cops are the cause of just about everyone's woes.
That last detail is especially so far from the truth that the galaxy overhead could serve as the litmus of distant tangibility—quite a stretch.
In all these melees in America, with "defund the police" din and "abolish the police" noise emanating from anarchistic corners of the country, solemnity and solace for our fallen police heroes ought not be second-seated whatsoever. To guarantee that, the Tampa Police Department took it to all-new heights.
In a recent makeover of one of Tampa PD's helicopters, the commemorative markings to honor fallen cops was permanently painted on the tail end of the chopper, portraying all of the law enforcement agency's cops' names and EOW stats for those who perished in the line of duty.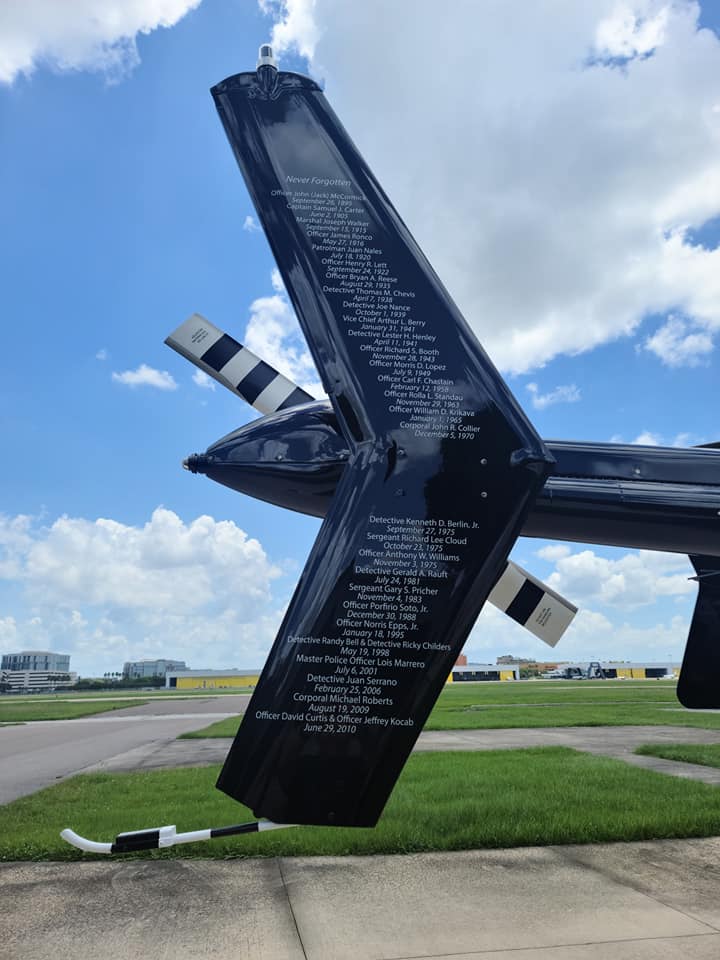 Thus, as each Tampa copter launches and soars overhead, it is not necessarily a police pilot and co-pilot watching over field units but an entire contingent of cops who, albeit in spirit, back the ground troops.
Such a thing happened recently, when Tampa cops rushed to an intersection after multiple people called to report a man shot in the street. Turns out it was all erroneous, all a façade to get cops there so that an ambush could ensue. With ground units grossly outnumbered and enveloped by riotous radicals hell-bent on blue blood, Tampa's aviation unit flew overhead and chronicled/recorded the scene. That aerial footage is paramount for safeguarding and directing ground units while also serving as illustrative evidence and "tape" to be used for future training purposes.
Hovering overhead at the radical riotous scenario, Tampa police pilots sifted sordid chaos and conveyed for ground units any pertinent details to bolster defenses and plot wrongdoers such as bottle-throwers and runners. Given this was a scene at night, the Tampa police chopper's FLIR thermal imaging night-vision system served as all-seeing eyes in the sky. Ultimately, what could have culminated in utter tragedy for many Tampa cops and citizens resulted in one police officer injury (treated at a local hospital then discharged within a day).
In a similar hair-raising instance involving a police helicopter, deputies with the Lee County, Florida sheriff's office encountered an out-of-control "block party" (despite COVID-era protocols) whereby ground units were severely outnumbered and surrounded by thousands of so-called revelers defiantly doing whatever they please in a mostly residential community.
On May 17, 2020, the above-mentioned block party in Deland, Florida reached free-for-all proportion; law enforcement decided to reel-in the craziness. Perils flourished, yet the Lee County Sheriff's Office aviation unit navigators served as the eye in the sky, choreographing field troops in certain directions as matters burgeoned like an about-to-blow volcano. Here, too, the aerial advantage and usage of FLIR enabled a nighttime operation in response to a swiftly unfolding phalanx of riotous proportion. With their aerial view, "Watch your back" was the phrase radioed by sheriff's office helicopter pilots to deputies on the ground surrounded by hordes of people milling about on darkened terrain.
These are merely a few of the many saves, thanks to law enforcement agencies' aviation pros being the beacon up above.
Commemorating the ones who could not be saved, the Tampa police painted names (white on police-blue) of their fallen heroes on their police chopper, a unique and uplifting way to salute those who self-sacrificed as per their sworn oath.
Although relatively common among military aviation vessels to have "kills" painted on the sides of their planes and fighter jets, I have not come across any such example whereby a law enforcement helicopter or plane displayed the names of fallen brothers/sisters. Thus, it appears the Tampa police chopper's tail mural is a one-of-a-kind flying law enforcement memorial…honoring those who launched and didn't return. In effect, Tampa PD's idea is a flying police memorial.
Hats off to the Tampa PD for hearteningly including the fallen while supporting those still serving in a climate which is rife with disharmony and societal sentiments barking to erase all-things-police. This permanent gesture of honoring warriors deserves in-kind honor for soaring up above with a virtual squad on board, always on the flight manifest, albeit posthumously.