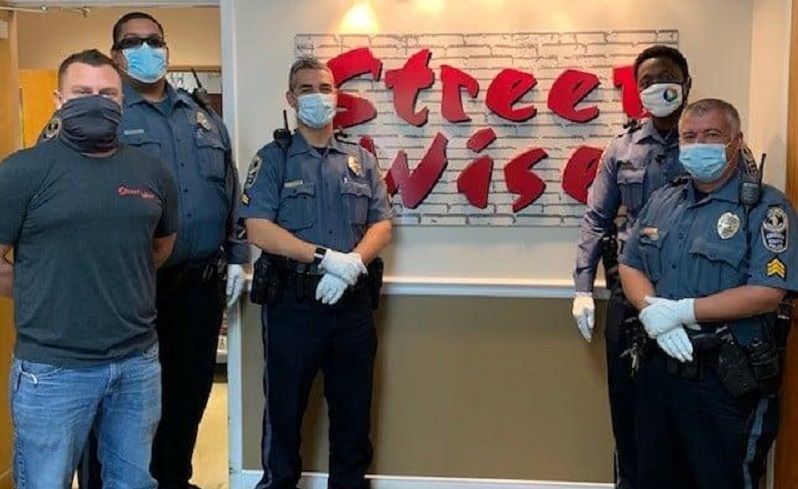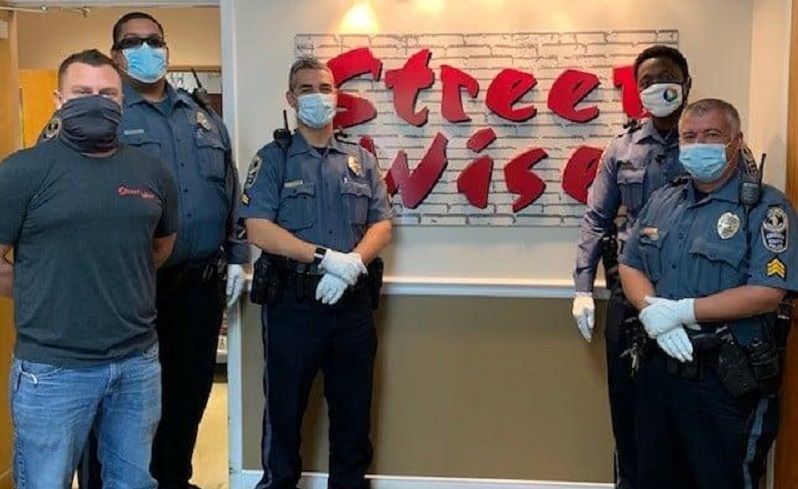 In communities all across the United States, there are "help organizations" usually comprised of volunteers doing their darndest to raise funds to acquire goods/services to pass on to people who are dealing with tough times and simply need a helping hand.
Part of a law enforcement officer's public service arsenal is the knowledge base of federal, state, and local resources established for those in the community who have need. Lately, we have seen enormous need stemming from being blindsided by COVID. Often, police agency personnel and local entities serving the public experiencing down-and-out constraints join and deliver essential sources of hope in tangible goods and services.
One such community resource partnership in Gwinnett County, Georgia is "StreetWise," a "unique mission to save lives" while "navigating life's detours…together." Respectfully, the StreetWise credos sound akin to the inherent purpose of police personnel and the mission to interact with folks, provide direction, fulfill needs, and otherwise be present with those who are up against the ropes and desirous of guidance and mentorship. Thus, the Gwinnett County Police in Gwinnett County, Georgia have teamed to mitigate whatever woes citizens are confronting, especially imperative during an era of COVID-imposed difficulties culminating in tons of uncertainty.
One of the very inherent ingredients why cops swear oaths and hit the streets is to "serve and protect": serve solutions while protecting people's rights to constitutionally decreed "life, liberty and the pursuit of happiness."
Although such a partnership is not necessarily groundbreaking and/or a new societal norm, any two or more entities forging for the good of others is naturally a vital concept.
And there is no one better to forge partnerships with than streetwise cops who know the community well and swore to serve residents/merchants within their jurisdictional scope of responsibility, including curbside delivery of goods: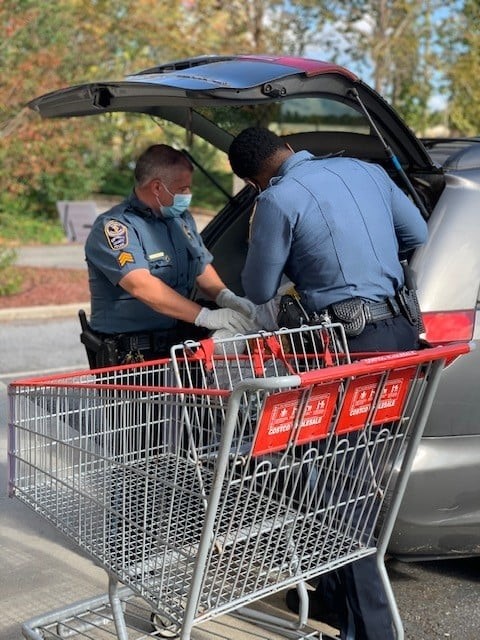 (Photo courtesy of the Gwinnett County, Georgia police department.)
In our COVID-age, considerations are part of the protocols, as exemplified by the two Gwinnet County cops in the photo above.
According to StreetWise, they acquire supplies to give out with the help of cops (otherwise known as "Ambassadors").
"The Atlanta Community Food Bank partners with StreetWise, [who partners with Gwinnett police officers], to provide preregistered families with approximately 170 lbs. of food on the second Saturday of each month. Registered guests never have to get out of their vehicles. Guests drive through our parking lot where StreetWise Ambassadors load their vehicles with boxes of food."
Cohorts at the Gwinnett County Sheriff's Office gave us the skinny, noting: An awesome group of Gwinnett County Police "officers donate their lunch hour each week to lend a helping hand to StreetWise Georgia, an organization that provides many services for people in our community who need help getting their lives stabilized."
Indeed, as mentioned above, COVID-caused unsettlement is far reaching and has effectively upended many lives and shuttered businesses all across America, exacerbated by unrelenting riots which require cops everywhere to suit up and stand on frontlines…instead of more fruitfully helping those dealing with despair, on their knees praying for miracles.
In that same vein, police officers are summoned to many calls for service —often having nothing to do with a criminal event— and get down on their knees to relate to someone in despair and needing an attentive presence and listening ears.
Our friends in the Enfield, Connecticut police department just posted such an example. "Some say a picture is worth a thousand words. We believe the [following] picture is just that. The Enfield Police Department was sent to the area of the Home Depot to assist the Connecticut State Police with a lady that was having severe emotional troubles. This is what our officers found. Our hats are off to this trooper and the CSP for a job well done." I second that!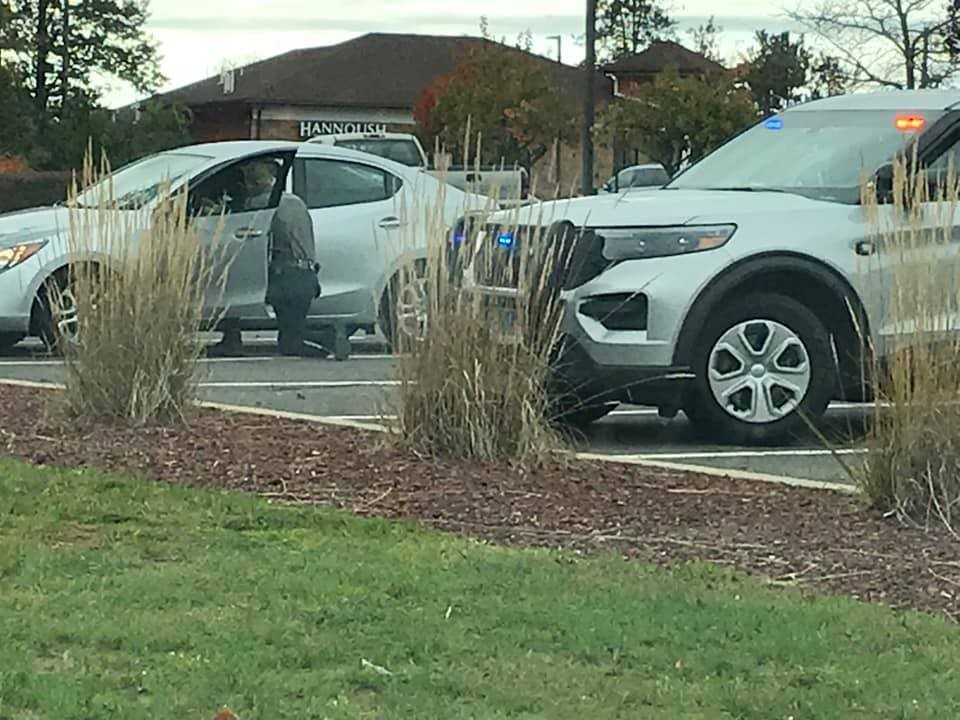 (Photo courtesy of the Enid, Connecticut police department.)
That sort of situation and police gesture on behalf of disheartened citizens symbolizes the ability of LEOs to size up a scene and employ just the right ingredients to deliver salvation to souls hindered by myriad matters weighing heavily. Not many professions can experience the uniqueness of going from split-second decision-making involving potentially having to take a life to somberly meeting a troubled soul in the streets and instilling hope and can-do spirit.
Speaking of spirit, StreetWise is a spiritual-oriented entity and not only feeds folks but also holds prayer groups staffed by intercessors, cops among them.
And by miracle, we mean any provisions to help people get through the days. Some folks in dire straits still awaiting a federal stimulus check still need to basically sustain themselves without feeling compelled to resort to illicitly acquired means. Assuredly, cops take note of both accounts, honoring grace and humility influenced by integrity, a principle we all respect and embrace.
Like many help organizations, the generosity and innate goodness of merchants in the community as well as grants of funds and/or consumable goods are heavily relied upon, then delivered by Gwinnett County cops: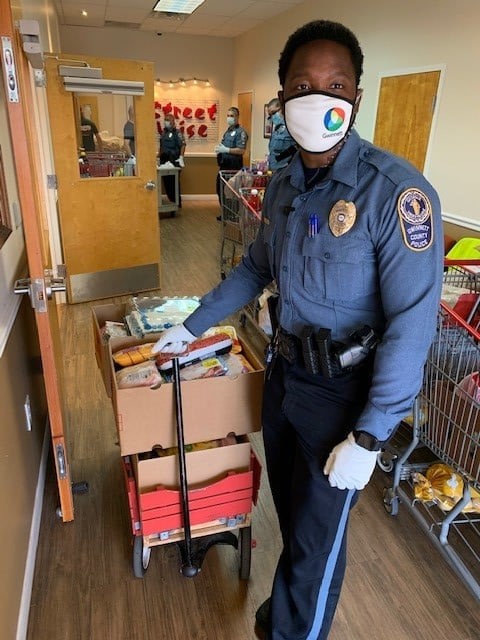 (Photo courtesy of the Gwinnett County, Georgia police department.)
The sheriff's office continued commending cohorts: "These caring officers are great role models as they lead by example. We appreciate StreetWise providing us with many cases of tissue to assist our staff in securing various supplies for the County's new homeless shelter. Great things happen when great people work together for the good of their community!"
To think that a hugely helpful program such as this could be hard-pressed to meet the community's needs if those who beckon "defund the police" get their way. The economically challenged and hungry may go without…if not for these LEOs stepping up and standing in. Giving up their own mealtime to ensure others are fed and fulfilled is a rather repetitive testimony from citizens exposing infinite examples of law enforcement officers seeing a need and nobly filling it, without fail.