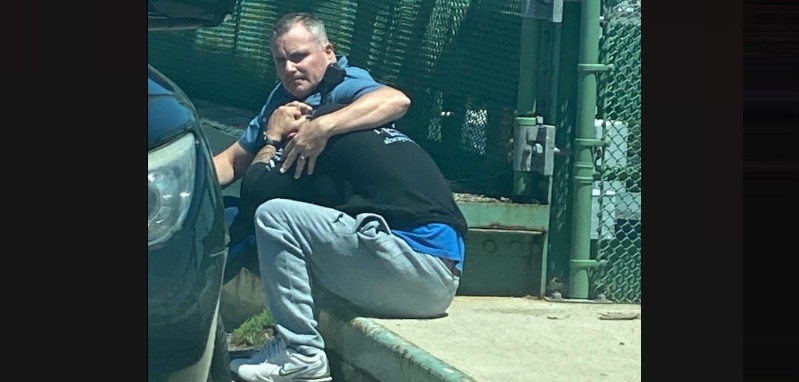 No one avoided the fallout from the pandemic. Current exorbitant costs of living due to inflation are just as jarring. Indeed, life has become uber-challenging.
Especially lately, paying attention to the onslaught of bad news guarantees a tsunami of dour and depressing waves of mindboggling details defying warm and fuzzy feelings.
Pointedly, many folks are angst-riddled and hopeful for respite from myriad weighty matters. Some mull extreme ends, seeing no way out of would-be dire circumstances.
Then there are law enforcement officers turning it all around, one pained person at a time.
For cops, the traditional peak time for suicides is around the Christmas and New Year holidays. Since the pandemic placed everyone in inertia and torpedoed the economy, people are against the ropes in various ways and, sadly, telegraphing the end of their existence.
Attributable to the pandemic, the National Institutes of Health (NIH) published a paper on suicide spikes, saying, the "psychological sequelae of the pandemic will probably persist for months and years to come."
While the NIH cited that the "COVID-19 crisis may increase suicide rates during and after the pandemic," Massachusetts State Police Trooper Paul O'Connor dutifully saved one from the brink.
Earlier this week, Trooper O'Connor responded to reports of a suicidal man on the Tobin Bridge (formerly known as the Mystic River Bridge).
According to the Massachusetts State Police, "Troopers and firefighters from Boston and Chelsea responded to the bridge at 12:04 p.m. for a man threatening to jump from the southbound upper deck. Responding patrols reported that the man had crossed over the barrier and was on the edge of the bridge, contemplating jumping. Sergeant Peter Sennott and Trooper Randy Roach joined Trooper O'Connor in establishing trust and communication with the man.
"The State Police Marine Unit also responded to the Mystic River under the bridge. Shortly after 12:30 p.m., Trooper O'Connor convinced the man to come back over the fence to the roadside of the bridge. Trooper O'Connor then sat with the man and talked to him for a while until EMS took him to a Boston hospital for evaluation.
"Sgt. Sennott, a Troop H patrol supervisor who is also a member of the Crisis Negotiation Unit, rode in the ambulance with the man."
Per the TB Daily News, "We have a mental health epidemic in this country, and millions of people have thought about committing suicide. This image [referring to the photo above] lets them know that they are not alone and that no matter how bad things seem to be they are still loved and valued.
"That is an amazing image. The distraught man is sobbing because he's in agony. We don't know why, but it could be for any number of reasons. Maybe it's drugs, maybe someone close to him died, maybe he's lost his job or is going through a bad divorce. Whatever it was it must've been horrible if he felt that killing himself was his only way out of the pain.
"Didn't matter to the trooper, whose only concern was making sure this man lived. The look in the trooper's eyes is genuine and compassionate as if he too has seen traumatic things and understands this man's pain. People suffering from mental health issues are not thinking straight, and they need love and compassion. This trooper went the extra mile and should be commended for his work."
It is inevitable and inescapable that troopers and cops and deputies bear witness to "traumatic things" and empathize with others' pain.
I can also attest to the utter career satisfaction and fulfillment law enforcement officers derive from talking someone from the edge (literally and metaphorically) and out of self-destructive efforts.
As a rookie cop freshly out of field training and patrolling autonomously, my first "suicidal threats" call was in response to a woman who happened to be an executive overseeing plenty of people employed by a major organization. Life was going rather well for her…until it wasn't. Mishaps happen. Demons set in.
In short, she suffered a debilitating back injury sustained on the job. That led to opioids for pain mitigation…which led to addiction. Her loved ones on-scene explained that alcohol consumption fueled the fire.
When I arrived (with backup officers close behind), a tall dark bottle of whiskey was set on the table where she sat and swigged from a glass. Roughly 5-6 feet away, on a narrow table against a wall, was an old-looking black pistol. (Discretely, that pistol was removed pronto, secured by one of the other police officers. The family said it was the only firearm in the residence.)
With that, we chatted with the distraught woman. She readily admitted to wanting to "end it all," adding, "I'm so done." She wept. She asked me my first name (my metal nametag only bore my first initial with my last name). I offered that and reiterated my desire to help her.
She wanted to rehash her injury and how it "ruined everything." I commended her for serving close to 34 years as an executive with a government entity. (That seemed to steer her away from darkness.)
She wept some more. She stopped drinking. We chatted further. I thought to share my cancer journey and how, despite a major setback in life, disciplined rehabilitation restored my chances of continuing to be a cop, a career I adored, a career that fulfilled me to no end.
She nodded and said, "I know what you mean." She gazed outside at her beautiful healthy garden. Tears trickled down her cheeks. She asked me about cancer treatments and such. I elaborated and gave a finale of "And that brought me here, able to meet you and lend a hand in helping you through."
From a haunched-forward position, she sat upright, placed her hands on her knees, and said, "I oughta get help, huh?" She peered over at her loved ones in the background, all of whom sobbed when those words were spoken.
Then something unexpected happened. Something grand.
The woman who just moments ago uttered intentions to end her life, which garnered police response (and fire/rescue paramedics staged outside until law enforcement declared the scene safe), asked if I'd check on her and "help her through."
Music to my ears…
I had no idea had that would play out, but the answer was "Absolutely!"
In subsequent days, the woman's partner called the police station and left a message for me to return her call. I did, and I learned that physical ailments and the emotional toll suffered by the distraught woman were significantly subsided. That day was a turning point providing another chance. She embraced it, eventually returned to work for a spell, subsequently retired, and purchased one of those ginormous RVs to travel the landscape and experience the planet's beauty she almost left behind.
I swung by her residence from time to time. I knew her health was restored. She got her life back…she gave the best hugs to prove it.
I suspect Massachusetts State Trooper O'Connor and that young man in the image above shared similar sentiments, perhaps even a bond forged on the bridge. I figure Police Sgt. Sennott had a heartfelt conversation with the man while aboard the ambulance.
Instances like this, where law enforcement officers interact with people burdened by various matters and feeling up against the ropes, occur often enough and epitomize the experienced counsel from men and women in uniform who can attest to trials and tribulations…and altruistically reach out as lifelines.