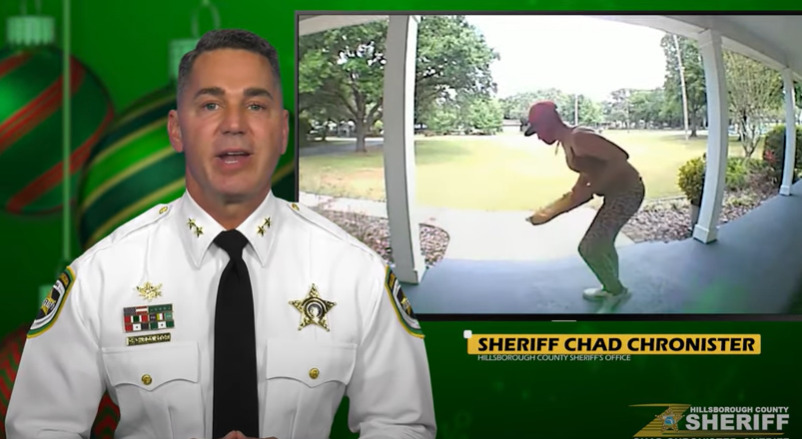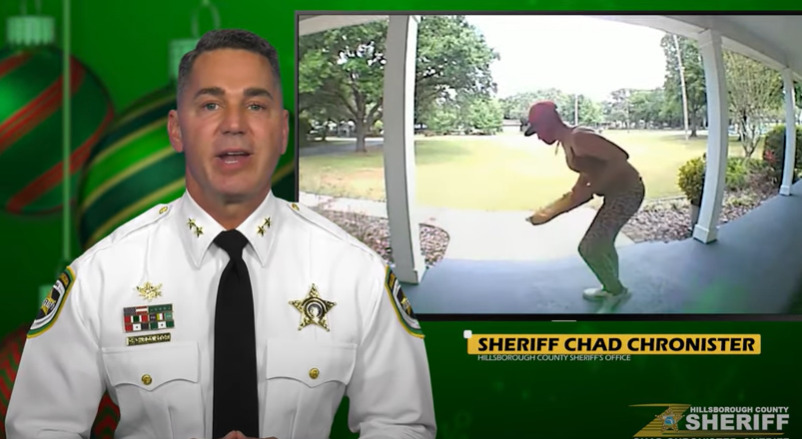 Pridefully, I've been scoping out all the latest innovations, strategic deployments, and brilliant public services being employed by our nation's law enforcement. Not that any of this is new, only that it justly counters those barking "defund the police."
It's not a competition; it's a perseverance and resilience of cops to keep on keepin' on, exactly as they are trained and entrusted. Thus, my smirk evolved into a full-bloom smile when I came across a sheriff's department in my geographic area, offering something rather unorthodox for a cop shop.
On behalf of citizens finding themselves in an increased situation to shop online due to self-imprisonment stemming from COVID, and their package deliveries being usurped by porch pirates, the Hillsborough County Sheriff's Office (HCSO) in Tampa, Florida birthed a unique program to hopefully put these thieves out of business while ensuring law-abiding citizens receive exactly what they ordered/paid for.
HCSO launched "Operation Pinch-A-Grinch" and started a one-of-a-kind practice where sheriff's office personnel receive citizens' package deliveries at two of the county's five sheriff's office stations—one serving residents in the west and the other for those in the east of the county.
Commencing November 9 thru December 21, 2020, sheriff's office employees will be present to receive and safeguard packages for residents.
This program is as equally innovative as it is necessary. Literally within a few hours of its publicized launch, the "Operation Pinch-A-Grinch" program proved it is worthy when patrol deputies helped nab a porch pirate who a neighbor observed stealing packages from someone's front porch.
A summarized version of the full police arrest report is as follows: "This Grinch is facing charges after getting caught on camera stealing a package off the porch of a Riverview home.
"Today at 1:38 p.m. #teamHCSO responded to a home on the 11000 bock of Green Harvest Drive regarding an in-progress theft. A Good Samaritan reported that he was following a suspect who he witnessed removing a package from the porch of a nearby home.
"When deputies responded to the area, Heather Williams, 31, fled on foot after observing the marked patrol vehicles. She changed her shirt in an attempt to conceal her identity, but was located and arrested. The stolen package was recovered and returned."
Ideal example of the "See something, say something" campaign circulating our country and law enforcement crime prevention initiatives. This victim was saved by a watchful neighbor who wasn't about to let a thief "shop" at a neighbor's expense.
In the brief video depicting in-progress porch piracy, notice this Grinch's weighted-down backpack touching the rear of her knees. To top that off (which she literally did), a second front-facing strapped bag was used to stuff stolen goods taken from the porch—seems she was on a porch-hunting route. Can only imagine how many of these she does in a day. Across several days/weeks, etc., that adds up to some hefty damages caused by one Kleptomaniac. Exponentially —there's many just like her— that's quite a loss to consumers eagerly awaiting their paid-for goods.
Pointed, furry green feet or not, Ms. Williams is charged with trespassing, petit theft, and loitering and prowling.
Wonder what a Grinch looks like in orange? Compliments of HCSO, here ya go: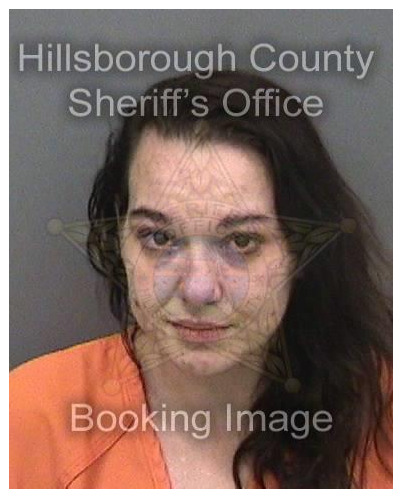 Gotta admire the sentient nature of some of our nation's law enforcement executives and the public-serving programs they implement.
Right at a time when COVID has us rather exclusively shuttered as the shopping season heats up, folks are wisely opting for safe exchanges with online merchants, staving off going out publicly. Yet porch pirates have become sort of a national wave without rave…until the duty boots of HCSO stepped in on a local level to squash as much of this thievery as possible.
Instead of reactively addressing thefts due to suspected or known (Ring features/evidence posted online) package piracy on porches (sorry, now I have Dr. Seuss jingling in my brain), HCSO proactively preempts the problem by serving as a shipping conduit.
At first glance I must admit I wondered the encumbrances not only on staff throughout the week but also space allocations for what could amount to mounds of packages which could possibly dwarf an actual Amazon Fulfilment Center—they are typically massive enough to score their own zip code.
After some reading and critical analyses, it seems logical to store legitimate goods for upstanding people than to store gobs and gobs of bagged/tagged evidence in county warehouse space, infinitely inventoried per custodial protocols (until the case is officially disposed).
Most of the comments received by the Hillsborough County Sheriff's Office are favorable toward this unique law enforcement program while undeniably dripping with disdain for this Grinch and clones with sticky fingers. Someone called Gri—  Miss Williams a "hood rat." What species is a Grinch anyway?
As Hillsborough County Sheriff Chad Chronister noted, "you don't have to be in Whoville for your holiday presents to fall into the hands of a Grinch."
The sheriff's office stipulation is that packages do not exceed 50 pounds. Indeed, it is bad enough that America's law enforcers are unwaveringly carrying the weight of anti-police banter emphasized by "defund the police" rhetoric.
Pretty innovative program by HCSO. However, some respondents question this program's responsibility and how this is not a "law enforcement duty." Counterarguments cite how this easily falls under the crime prevention umbrella. Both schools of thought may have a reasonable point. From what I can gather, a majority are in favor of the sheriff's office going this route, endeavoring to preempt crime—albeit in unorthodox ways.
Although the program has merit and might be seemingly rife with logistical concerns, patrons' official registration with the sheriff's office will chronicle the volume of parcels expected, thus allowing measured prepping in terms of space and requisite staffing. Incidentally, although Sheriff Chronister stated "A deputy at our district office will accept delivery of packages," I suspect the monitors overseeing this program are not necessarily sworn staff which are naturally better optimized on the street beats—civilian members are suited for this program's oversight/maintenance. Conversely, despite some people's incredulity, it is also the thought that counts (precisely defining this gift-based context).
An updated press conference announcing "Operation Pinch-A-Grinch" garnered a reporter's question about space allocations. Sheriff Chronister clarified that "pods" have been rented to accommodate this program's needs.
In any event, leave it to cop shops to come up with out-of-the-box (oops, pun-pardoning time) thinking and concepts which serve the constituency, especially when many are bandying about the words "police reform" and "reimagining police." Law enforcers have incredible imaginations, and this is one example of innovatively serving the community while stalling opportunistic thieves in their grubby tracks.
Know of any similar law enforcement programs offered in your neck of the woods?