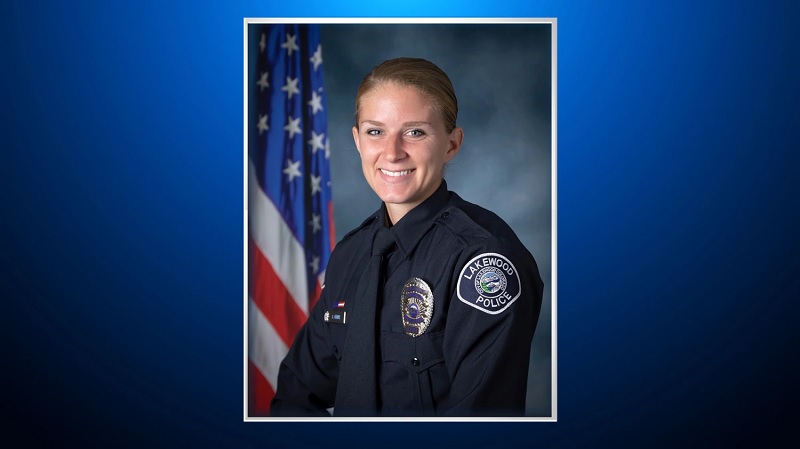 By Steve Pomper 
She probably wouldn't tell you this, as most cops don't like to call attention to themselves, so it's left to those of us who learn of the heroism to document it for posterity. Cops are hesitant to accept accolades, even when they've just accomplished a singular act of bravery.
In Colorado last week, a cop's heroic actions likely prevented a fiend on a deadly rampage from amassing even more victims, including her fellow officers, despite shooting her, after he'd (no need to name this piece of filth) already killed six people and injured multiple other victims.
Lakewood Police Department (LPD) Agent Ashley Ferris, a three-year veteran of the agency, deserves every bit of praise she receives. One report referred to her as "Colorado's next Medal of Valor recipient." I wouldn't bet against it.
Let's set the horrific scene Agent Ferris found herself facing that day. KTTV 11 News reported an armed man went on a shooting spree that began in Denver and ended in Lakewood, a suburb about eight miles west, with that man's well-deserved death.
According to KTTV, at the first location, of several shootings that occurred in Denver, the suspect shot three people. He killed two women and wounded a man. Then he drove to the next location and shot and killed another man. Following that homicide, the suspect fired more shots at a third location, but the police report no one injured or killed in that incident.
A fourth encounter resulted in Denver Police Department (DPD) officers in a shootout with the suspect. Fortunately, police also reported no injuries at this location. However, a patrol car was reportedly disabled, which allowed the suspect the opportunity to escape.
The shooting rampage then shifted to the city of Lakewood. LPD received a report that a shooting had occurred in the 1500 Blk. of Kipling St. near W. Colfax Ave. Police responded and discovered one victim who'd been shot and killed.
LPD agents then spotted the suspect's vehicle in the city's Belmar District near W. Alameda Ave. and S. Wadsworth Blvd. When agents attempted to contact the suspect, he opened fire on them. LPD returned fire, but the suspect again fled, this time on foot. Police reported no deaths or injuries at this location.
On the run, the suspect "felony menaced" a business, and then continued to a Hyatt Hotel. The New York Daily News reported the suspect shot and killed a clerk at this location and then again fled. Officers located the suspect a short time later, still near the hotel.
Agent Ferris caught up to the suspect and, as the armed suspect walked toward her, she "ordered him to drop his weapon." Instead, he fired, and a round struck her in the abdomen, presumably below her body armor. Despite her significant injury, Ferris, lying grievously wounded on the cold pavement, returned fire, shooting and killing the suspect—ending his murder spree.
The following is a portion of LPD's released a statement on Facebook, describing Agent Ferris' actions and her current condition:
"On Monday, December 27th, the Lakewood and Denver communities faced an unimaginable tragedy when a gunman opened fire in both cities, killing five and injuring others. Among those injured was a Lakewood Police Agent."
"Agent Ferris ordered him to drop his weapon as he approached her. The suspect ignored her commands and shot Agent Ferris, striking her in the abdomen. Agent Ferris, shot and wounded on the ground, was able to return fire on the suspect."
"If not for the heroic efforts of Agent Ferris and other law enforcement, this incredibly violent tragedy could have been even worse."
"Agent Ferris remains in a local hospital with her family by her side. Her family is asking for privacy during this time of healing."
CBS 4 News reported Agent Ferris "underwent another surgery on Wednesday." She is currently recovering. So, instead of the city of Lakewood burying this brave officer, this community can bid good riddance to the human vermin who tried to take her life and, instead, celebrate the cop that ended his murderous mayhem.
Lakewood Police Chief Dan McCasky said, "Our hearts are incredibly heavy with the loss of life and injuries suffered by others during this rampage. Our thoughts and prayers are with the Cardenas, Gunn-Maldonado, Scofield, Steck and Swinyard families, as well as the families of those injured."
CBS also reported this was not Agent Ferris' only lifesaving action she's taken during her career. In 2018, she performed CPR on a woman having a medical emergency until she began breathing on her own. Ferris received the LPD "Lifesaving Award for her actions…."
LPD Agent Ferris's heroic actions represent those performed by untold American law enforcement officers across the nation. The next time you hear ignorant people utter disparaging comments about the honorable profession of policing, think about this hero and how she risked her life for those poeple she and all her fellow cops protect and serve so well.