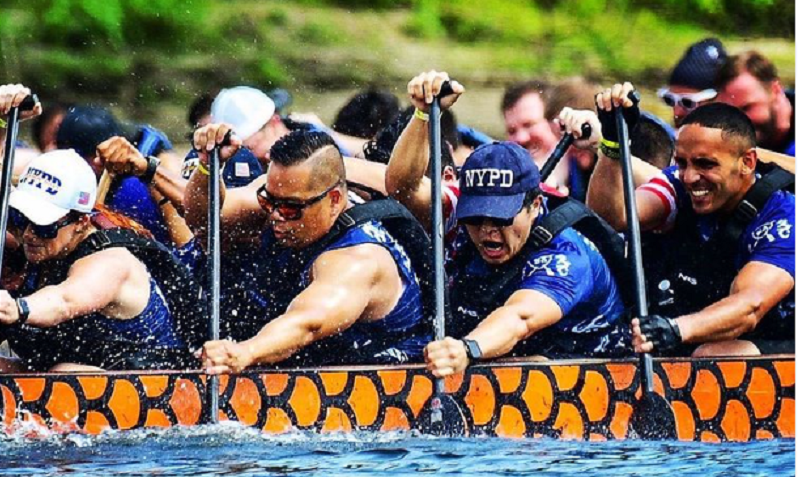 Police work is one of the most unique facets of our society, and cops perform in a league of their own sometimes referred to as the Justice League). Besides putting up the scoreboard numbers indicating myriad lives saved (while wearing mourning bands for their fallen) and a bevy of other huge successes, cops do not rest on their laurels.
Law enforcement officers keep pushing forward and also involve themselves in charitable endeavors by teaming up to raise funds for those confronting life's hard knocks.
Among the many gems of police teams doing great deeds on behalf of people burdened by difficult situations, the Massachusetts State Police Hockey team slides the puck against other hockey franchises, in front of spectators whose ticket expenses are subsequently disbursed by the Massachusetts State Police Memorial Foundation for "scholarships, children in need & first responder families."
The NYPD Finest Hockey team recently played against the Mass State Police Hockey club, with the ticket-sales proceeds going to the family of fallen Trooper Tamar Bucci and scholarships in her name.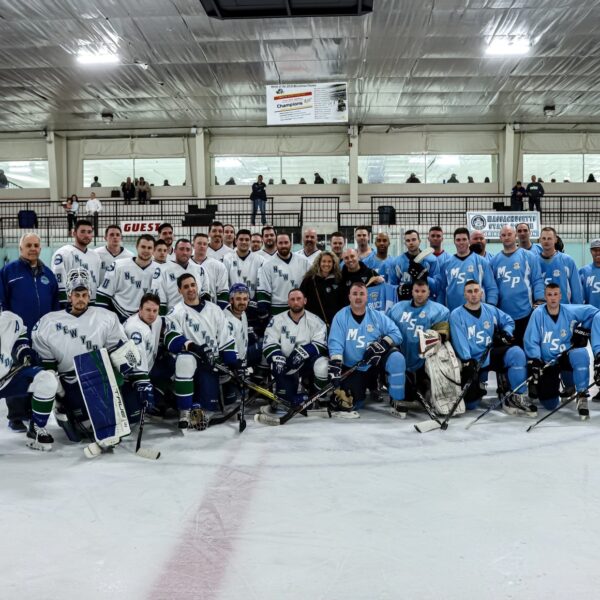 (Photo courtesy of the Massachusetts State Police Hockey team.)
In a post-game press release, a spokesperson for the Mass State Police Hockey team said, "Words cannot describe the gratitude to all those that participated, helped, donated, showed up to support, and played last Saturday when we played against @nypdhockey at New England Sports Center in honor of Tpr. Tamar Bucci #4440. All proceeds from the game went to the Bucci Family and scholarships which will be in her name."Thank you to the Bucci Family and friends who all came to support the boys in blue. Thank you to @nypdhockey for coming to play… we felt bad they drove all the way to MA [so] we gave them the 4-1 victory this time. But this will now be an annual game."We paid tribute to NYPD Officers Wilbert Mora and Jason Rivera who were killed in the line of duty this past January."
The NPA reported on the line-of-duty deaths (LODDs) of NYPD police Detectives Jason Rivera and Wilbert Mora. Since then, a bevy of gatherings on their behalf has been transpiring. (Despite some so-called "professional" sports franchises hopping on the ludicrous anti-police bandwagon by exhibiting athletic socks depicting pigs wearing police caps, other major leaguers unwaveringly back the blue and pillar police families.)
On April 15, the New York Mets honored the families of Detectives Moya and Rivera by hosting them on the baseball diamond with thousands in attendance at Citi Field:
(Photo courtesy of the New York City Police Department.)
Via an NYPD spokesperson, the Mets organization held their "home opener" during which the "families [of Detectives Mora and Rivera] were welcomed to participate in the opening ceremonies and were met with an ovation from the crowd. This is another example of how our city will #neverforget the memory of our heroes."
Reminiscent of the Police Athletic League (PAL), the Massachusetts State Police launched a girls basketball league in honor of Trooper Bucci. On April 3, 2022, WBZ in Boston reported: "Teams from Brockton, West Bridgewater, and Foxboro will compete every Tuesday afternoon as part of a State Police initiative that aims to connect law enforcement and kids through sports. A boys' league is already up and running."
Reviewing the background and pedigree of Trooper Bucci, a common thread stood out: athletics and physical fitness. These attributes were staples in her life, evidenced by having been employed as a personal trainer before becoming a state trooper.
Like Trooper Bucci, cops engage heavily in physical activity on the job and maintain athletic prowess off the job (which lends ample substance to today's topic).
And it's not only cops but other imperative components of public safety whose members compete athletically and donate funds to good causes. The Heroes Cup Hockey organization comprises "Firefighters, Police Officers, and Military members together to raise money for charity."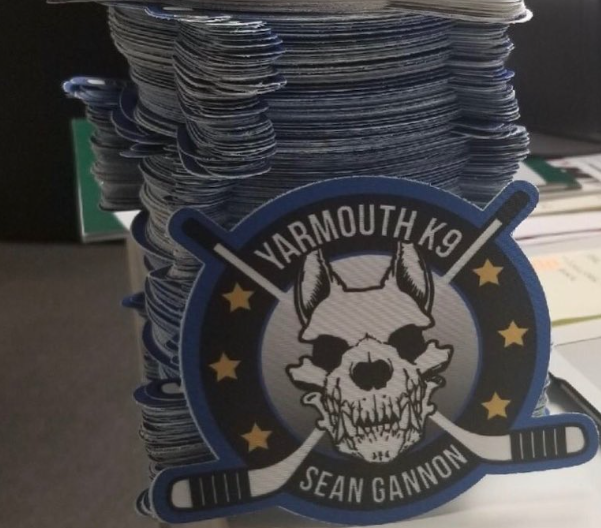 (Photo courtesy of Heroes Cup Hockey.)
Per a Heroes Cup Hockey press release, community businesses also partake in fundraising efforts: "Big shout out to @keener_jerseys for stepping up and providing us with these 500 custom patches that we will be selling at the tournament for $10 each with 100% going to Officer Gannon's family! Let's sell these out for a $5,000 donation!"
Background regarding slain Yarmouth police Sergeant Sean Gannon can be gleaned in a post on the Officer Down Memorial Page (ODMP).
The largest municipal police agency in America, the NYPD Sports Unit covers "the outstanding athletes and athletic organizations of the greatest department in the world." And many other law-enforcement contingents heed that statement (challenge) and compete in various athletics, ordinarily culminating in proceeds donated to a good cause.
One way police sports teams fundraise is via custom-made merchandise (merch). In the form of caps and patches and stickers and other merch emblemed with whatever police agency's sport of choice, proceeds from the sales of these items are furnished directly to recipients/entities encountering dire circumstances: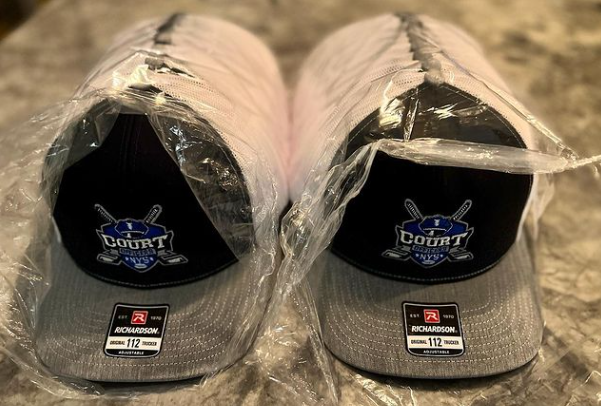 (Photo courtesy of the New York State Court Officers Hockey Club.)
As one may expect, the larger the law enforcement agency, the better it is to convene teams of cops playing different sports for the good of others. Conversely, police departments whose sworn strength is shy of a full complement of teammates find it difficult to launch, say, a football club. But modest numbers do not rule out playing sports requiring only a few heads or coaching a full cadre of youngsters in whatever sport.
Among the cornucopia of NYPD sports clubs (anything sport you can think of, they have a team) is the NYPD Ski & Snowboarding Club which competes against other skiers/snowboarders on the slopes. And they sure do know how to represent! Check out this image and the array of blue line flags: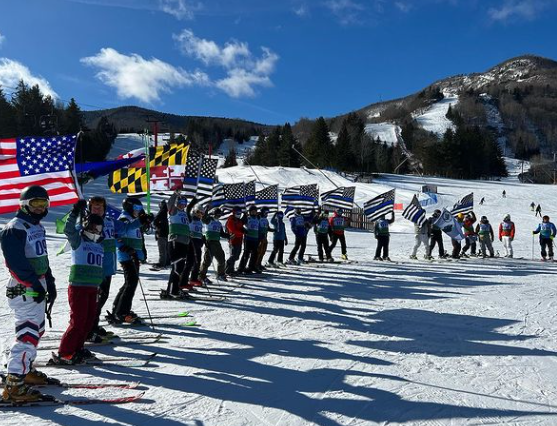 (Photo courtesy of the NYPD Sports Unit.)
Besides competing and fundraising and bringing home trophies, the NYPD Ski team contradicts its namesake but in a wonderful way: summer retreats. Grabbing relaxation is a key ingredient to any LEO's state of mind, which translates to duty performance, especially mitigating stress before it becomes way too unwieldy.
Before I was sworn in, I followed the police hiring process of someone I grew up with, from whom I saw gradual changes in his persona after he achieved the proverbial rite of passage (dodged bullets many times in the 34th Precinct's drug-laden community).
That particular best bud from my childhood ultimately reached his goal of becoming an NYPD detective. After 20-plus years of service to the citizens of NYC, he retired from the force. However, like most retired cops, LE networks are typically maintained.
Before retirement, my neighborhood pal was already a trainer and manager (alongside other retired/active NYC cops) shaping a highly competitive youth hockey team (ala the Police Athletic League). Often enough, he spoke of the "outlet" of teaching skills to youngsters, and how it reduced stress on and off the job. (Incidentally, the NYPD also has a formal Yoga team meeting/instructing cops in the ways of mind, body, and spirit, offering "yoga & meditation classes, for and by Police Officers!" and classes for any "sports team, unit or command!")
To this very day, that retired police detective continues to serve as a hockey team trainer, molding great minds powered by healthy habits far removed from the menace lurking city streets.
Although police officers are often forced to calculate on the run, the off-duty pace is slowed, especially for the NYC cops who compete in golf tournaments to raise funds for community entities whose missions entail sustenance for folks who need a helping hand.
A few years ago, the NYPD Golf Team handed a $20,000 check to Ronald McDonald House in NY.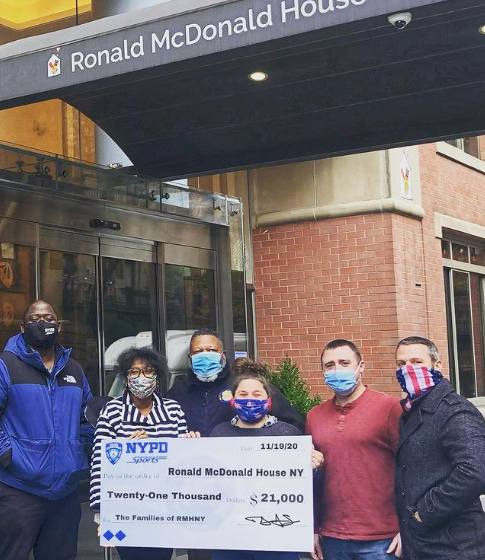 (Photo courtesy of the NYPD Sports Unit.)  
Accompanying that photo were the following words: "Another success!! Our second annual Sports Unit Golf Outing raised $21,000 for the families of @rmhnewyork. Thank you to everyone who helped make this year's event a successful one, and please keep our friends battling cancer in your thoughts and prayers…"
Let's close this out with some thin blue line colors worn by both the Boston Police Hockey team and the Dallas Police Hockey team, seen here in an on-ice competition, playing to raise funds like all other law enforcement agencies' athletic contingents.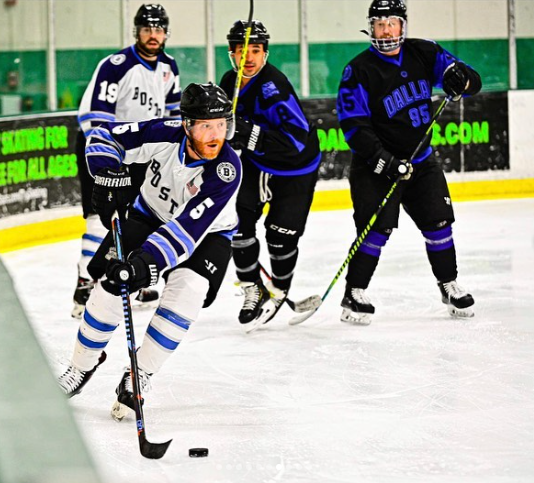 (Photo courtesy of the Boston Police Hockey Club.)
The hockey players illustrated above involved cops from the Boston Police Hockey team traveling to Texas to play against the Dallas Police Hockey club. That was about 10 weeks ago. Reading the comments and cop-to-cop banter, I came across this line which sums up the many ways police personnel conduct matters for the good of others:
"Great weekend in Dallas! Traded in our sticks for shovels as soon as we got back home."  That "sticks for shovels" reference may mean different things, including climate. However, the one takeaway from all of this material (which just scratches the surface) is that law enforcement officers are constantly doing something for someone, a true testament of public service which includes their private time and often with their dole…
Indeed, each is in a league of their own.