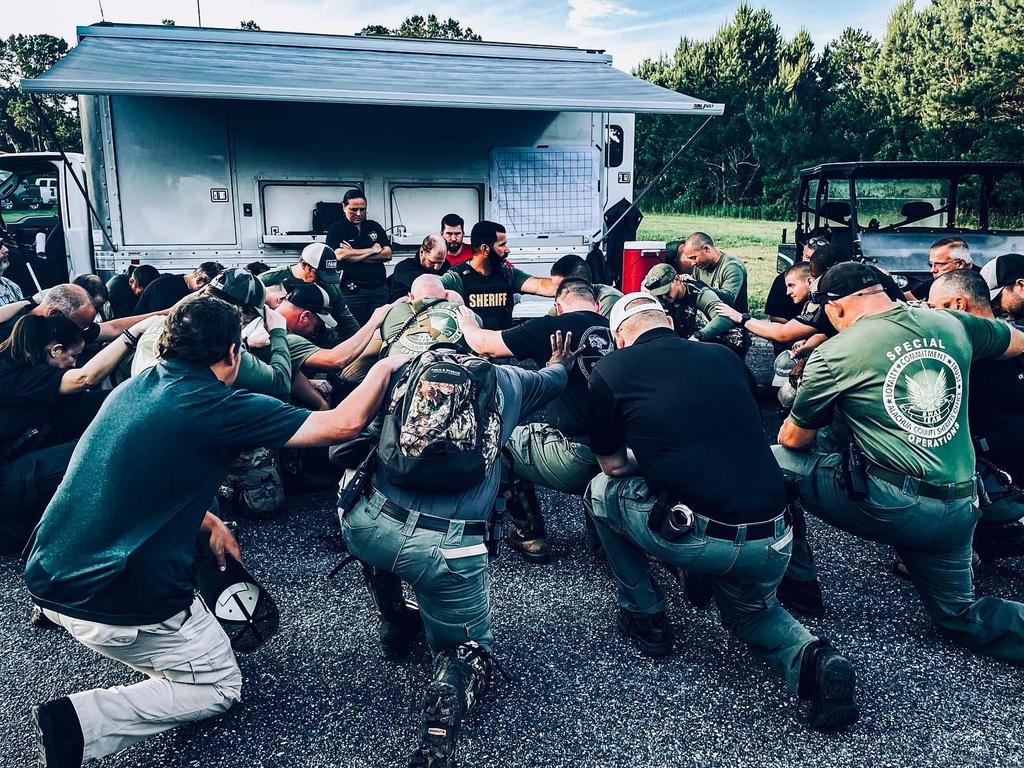 Praying it forward is an empirically applied endemic feature of America's law enforcement institution and those who take up the nation's battles.
And there is no escaping the harsh fact that those battles often culminate in casualties, with annual statistics recently increasing in the number of gut-wrenching line-of-duty deaths of cops.
Although it may not necessarily be in the public eye, praying it forward is essential. Like anyone else, our nation's cops harbor every desire to return home each day and blanket their family with love, bowing to our Maker to have that materialize again and again.
In the face of uncertainty while performing police duties, there is One absolute: the power of prayer.
Unlike most others, it is not always that police professionals get to even break bread. "Meal breaks" are most often precluded by the sheer volume of calls for service in jurisdictions, notwithstanding the growing number who do not even want LEOs any longer. It doesn't take a brand-new cop to learn to pack a brown bag for each shift, given the profession's spontaneity and requisite stamina demanded by certain calls consuming practically the entire tour.
Human psychology can often be as complicated (manipulators) as much as it can be simple (ease of offering kindness). It doesn't take a physicist to calculate that doing for others can readily reap vast rewards. In that context —and in their own ways— rest assured America's police officers are praying deeply for those they may encounter before, during, and after shifts, especially in adversarial constructs regarding suspects and their victims deserving solace and sanctity.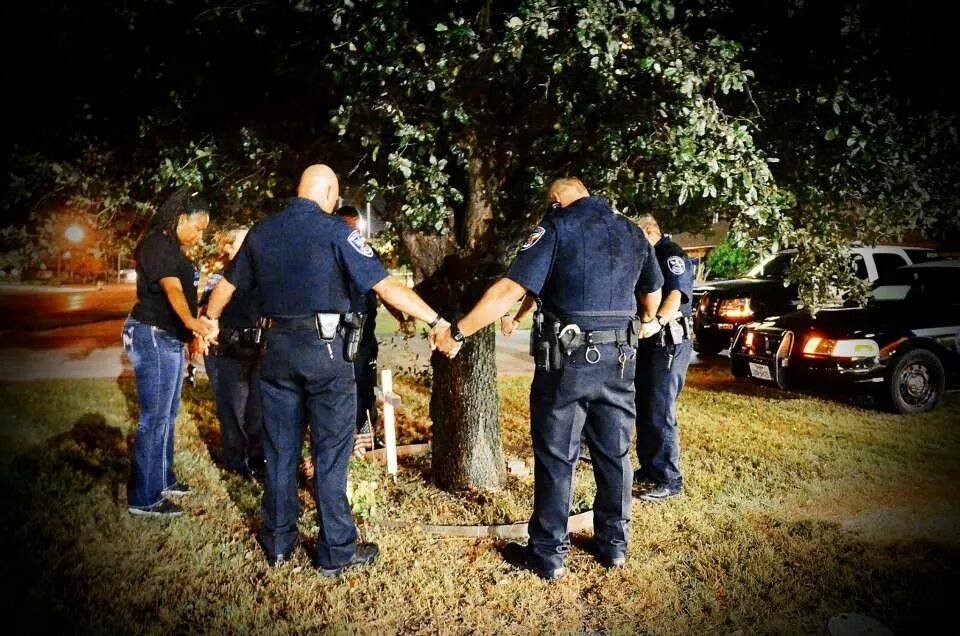 (Photo courtesy of Fellowship of Christian Peace Officers.)
Out of formal roll call read-outs whereby a sergeant or lieutenant highlights goings-on from prior shifts' reports, findings, and statuses of outstanding cases closed or, conversely, incidents with dangerous fugitives outstanding…the squad of cops coming on duty is duly informed of the work ahead, with most notables underscored.
Thereafter, providing call volumes are not through the roof, squad meetings transpire at locations within the jurisdiction and are determined by the supervisors overseeing the group of cops. Some of these circles of on-duty cops evolve in casual blessings to certain officers whose virtues involving patience and discernment facilitated a major case closing peacefully. Like impromptu field training and pseudo awards ceremonies to be shared among squad solidarity.
Often enough, based on what sector of the city I was assigned from night to night, I would opt to write reports in church parking lots. One church had a massive Mother Mary statue surrounded by gardens, and it was brightly illuminated.
When the shift's dustups settled, I'd radio a zone partner to meet, go car-to-car, both of us facing opposite directions to retain tactical positioning/advantage, each of us pecking away at the in-car computer's keyboard while consciously vigilant to surroundings.
During one such occasion at a church and not yet paired with another officer (as described above), I saw a lone figure walking slowly, a male in a collared business shirt (sans tie), dress slacks, and black dress shoes. His gait was seemingly aimless. His shoulders appeared slouched as he walked with hands in his pockets, his head down. I didn't think he even saw me in a vacant area of the parking lot.
Taking a 360-view of my surroundings, I realized it was me and this midnight walker.
I radioed police dispatchers where I was and that I was about to make contact with a "suspicious person." They acknowledged by giving the time of 04:05 hours.
With enough officer safety gap between me and this seemingly lone figure, I introduced myself. He was delayed in saying anything, and his facial expression indicated he didn't want to be bothered by anyone, to remain alone in his thoughts. Then his eyes betrayed the presence/purpose of my uniform. "I'm just checking on you, sir. Is everything alright?" I asked.
"Yeah," he replied, followed by "May I sit down on the curb?" His entire posture was that of a little boy who struck out at the plate, his team defeated. Mother Mary was behind me, in front of him…the need for peace palpable.
In short order, I learned he was a professor with a PhD., had been recently divorced, and his marital dissolution/estrangement involved direly missing his kids. He wept when he told me how much he missed his children. I remember gambling was one major downfall which led to broken pieces in familial structure.
He was walking the streets to figure it all out.
As a mentor of mine recently reiterated, "God has a fascinating sense of humor! And He'll set things in motion when we least expect it."
You see, I had been in this guy's circumstances a few years prior (minus walking the streets post-midnight).
I shared that with him. We chatted about the commonality. He asked me how I endured. I told him being a policeman…helping people in any way I can always gave me absolute purpose, even when my world had fissures.
I noticed his octave change. I observed his slouch straighten up bit by bit. After talking for about 15 minutes or so, we prayed, after which a slight breeze whisked the nearby trees, the illumination of the Mother Mary statue casting our shadows on asphalt. Exaggeratingly stretched silhouettes, tall, like strong towers.
That was it. That was everything.
No violations, and discernibly harboring zero ill-intent, he went his way, I went mine.
There is a reason several scriptures speak solely about the cops among us—our Biblically-emphasized warriors and our society's proverbial peacekeepers are out there 24/7/365, diligently doing His will.
Recognizing the rigors of the police academy and the onslaught of perils her husband faces as a policeman, a police wife composed and launched a website called "Love & Blues: Christian Living for the Modern Police Wife" in which she contained a compendium of Bible verses relegated for law enforcement officers.
Leah Everly wrote the following in her website's Forward section:
With law enforcement officers being publicly discredited and slandered against like never before, there is such a sense of dread. A sense of loneliness. A sense of complete isolation from the rest of the world.
Coping with the war on cops as a police wife is not easy, but with God, you can be unshakeable.
Although it is a testament to the times in which we are living, wives are looking out for their police husbands, husbands are looking out for their police wives, and He is watching over His peacekeepers and warriors, His defenders of justice.
Another similar exemplification involves a police wife who peered out the front window to see her uniformed police husband kneeling at the push-bar of his cruiser, praying before he even set out on the road (and shift) ahead.
The photo atop this article serves as the seed for these words and reminiscence, and demonstrably depicts the human souls underneath the Kevlar and polyester threads telegraphing jurisdictional insignia and help for humankind, in however that may be provided.
Reminds me of when I joined law enforcement, with a police cohort mentioning organizations specifically formed to pray for/with police personnel. My first such membership was with the Fellowship of Christian Peace Officers (FCPO), the constructs of which unite police in prayer as well as raise funds to help sustain sanctity of law enforcement officers constrained by the job's tremendous demands and endless exposure to catastrophic circumstances.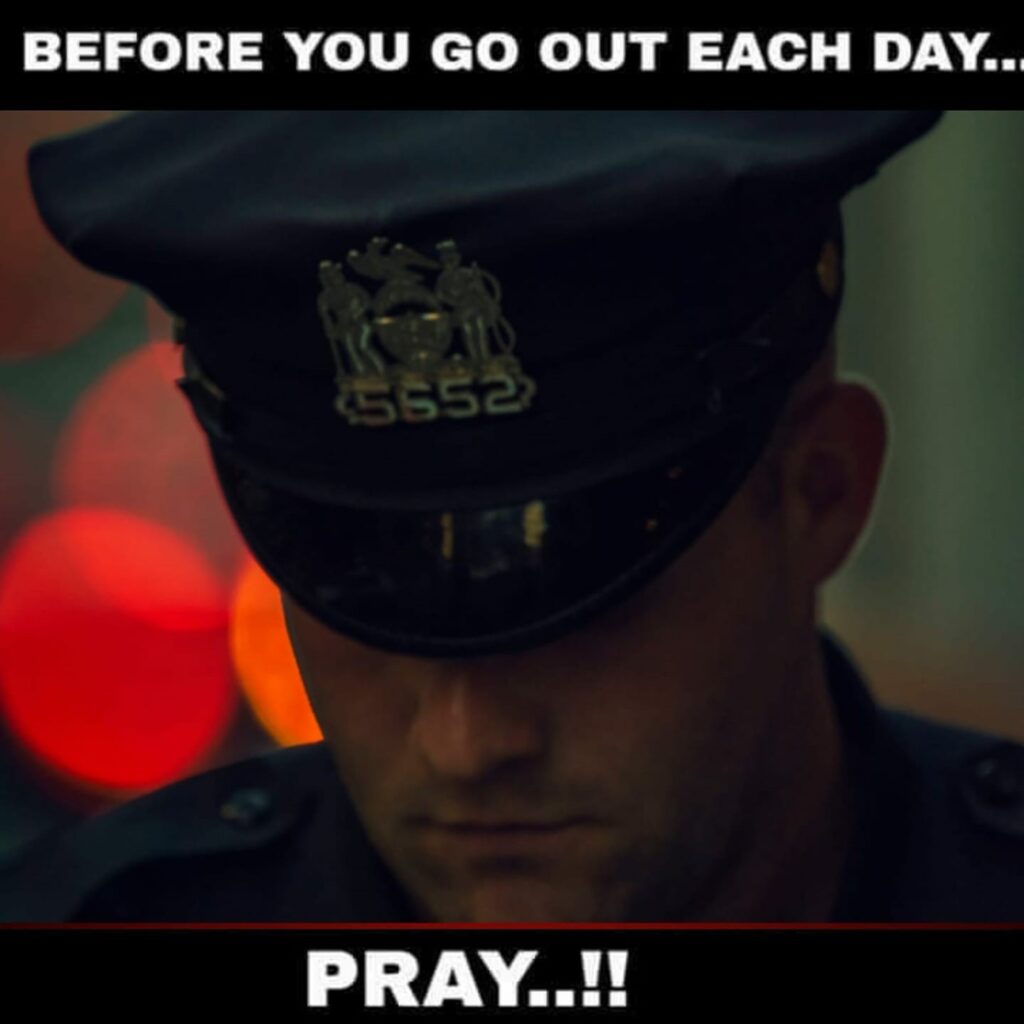 (Photo courtesy of the Fellowship of Christian Peace Officers.)
Additionally noted on the FCPO website: "Through active local chapters, FCPO-USA develops a Christian mindset in peace officers using biblical truths to transform their lives, families and communities."
FCPO posted a Daily Devotional called "Through the Eyes of a Cop," an inspiring story reflecting our topic today.
Prayers for Police Officers was a mainstay of mine before I left the house as well as in between calls for service. On days when there was not even a remote opportunity to review police prayers, I did so in my driveway, when shift was over and before I walked in to greet my family—prayers acknowledged.
Opening with prayer is typically complimented with closing in prayer, and a police-loving little boy whose life mission is to "pray for police" did exactly that recently. Although we wrote about Trey in the past, his praying for police has fostered many cops whose bowed heads epitomize our topic today.
At a recent event involving police officers, eight-year-old Trey Elliott joined/led a prayer circle comprising a group of cops in attendance at a Heroes and Hot Rods car show on June 19, 2021, and it lifted up an untold number of people on scene and online. Trey's mom Brittany Elliott offered the following: "He had the honor of opening the Heroes and hot rods car show in prayer today for all of our police officers."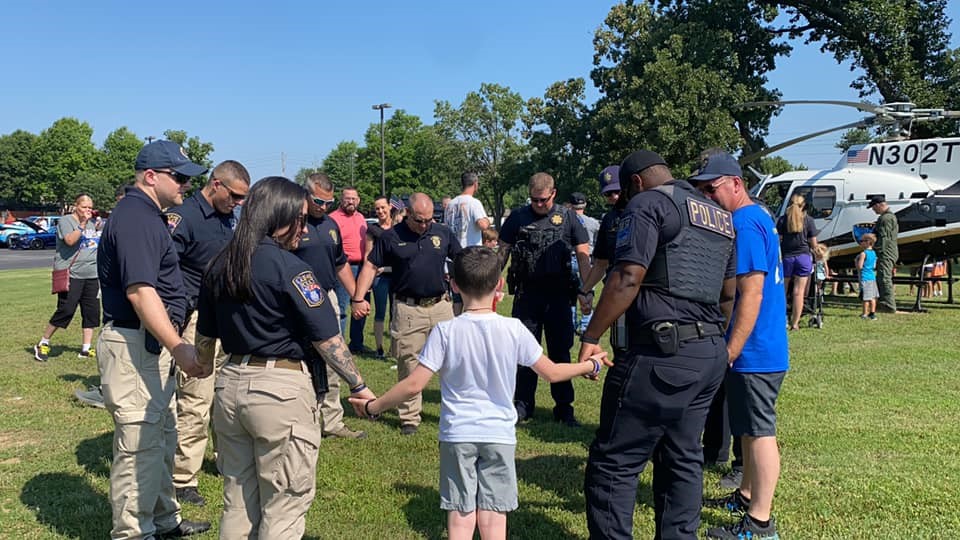 (Photo courtesy of Trey's mom, Brittany Elliott.)
May each of our courageous LEOs stay safe and return home for infinite tomorrows. May police chaplains pray over them when frontline duty demands undivided attention and hands apart, at readied/steadied position.
You may or may not see it…you may or may not think of it, but cops are a prayerful bunch, especially heightened due to the current climate involving outrageous anti-police sentiments and destructive tendencies toward American values. Thank God they are out there and holding the line!