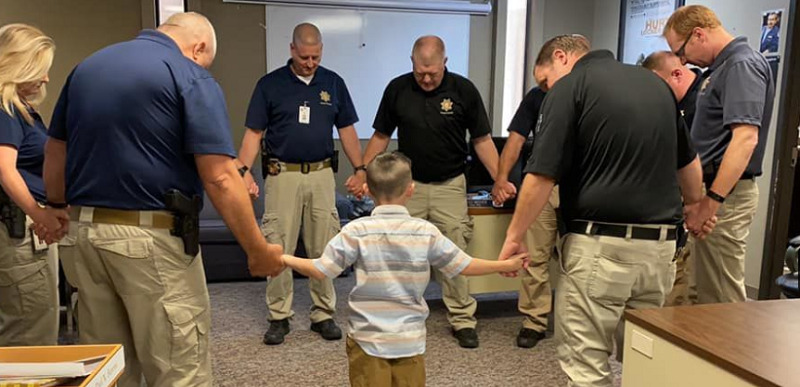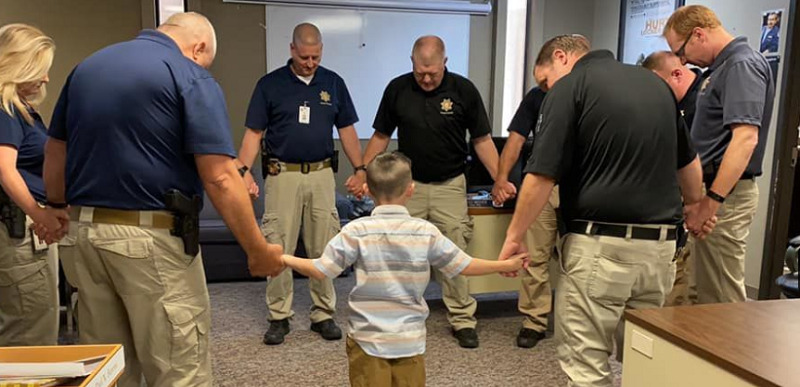 The holiday season is without a doubt a time when people share heartfelt sentiments, gifts, and kindness in an emphasized show of solidarity with other humans. And, boy, do we need a generous sprinkling of those things in the COVID-age (with health-minded modifications, of course). 2020 has been especially rocky, and police personnel have been in the thick of it all. For going above and beyond when the tides seem to go against them, it goes without saying that our beloved country's cops deserve quite a heaping of gratitude, support, and prayer.
And a prayerful young boy named Trey Elliott has heeded the call!
From a young servant's heart to the other servant hearts donning the badge and duty belt weighed down with life-preserving equipment responsible for mitigating society's woes, eight-year-old Trey serves as the bright light with intellect beyond his years…folding his youthful hands together or placing his hand on a cop's shoulder or forming prayer circles with police officers on duty out in public or even opening up roll calls…uttering blessings for all law enforcement officers.
(Photo courtesy of Brittany Elliott.)
Trey scored bigly with mounds of police shoulder patches offered by law enforcement officers as a show of gratitude and as a bow over the blessings. I mention "bow" because Trey's Christmas wish-list was topped with hope that Santa delivers police shoulder patches.
Trey's mom, Brittany, posted on TikTok, asking to spread the word that her young son wished for police patch insignia for Christmas. His local Tulsa cops and other LEOs from all over the nation responded. As of this writing, Brittany estimated the current police patch count at about 600.
According to KTUL News Channel 8 Tulsa, "One man, Jay, who collected police patches for years, donated his entire collection to Trey after seeing Brittany's video. Jay and Brittany have now talked several times and Jay sent Trey a birthday present as well. Brittany said it's been a memorable experience connecting with people who support what her son is doing."
As clear as crystal, Trey's mom and dad have done exceptionally well in his upbringing, ensuring his heart is happy and ripe with love and compassion for humankind (holding a special place for cops).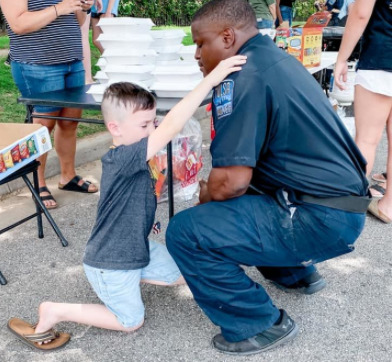 (Photo courtesy of Brittany Elliott.)
Per Trey's mom, "Trey's spiritual journey has been amazing to watch. It helps me want to dig deeper in the Word as well. We have received a patch from a family whose father was killed in the line of duty and that is a story I will never forget. I always remind everyone he is still a kid. Show him love and kindness."
With impositions of COVID restrictions, Brittany posted the following regarding Trey's quest to pray for our police: "We are still working through Trey's prayer mission. COVID is for sure making it a lot harder. If you know a TPD Officer, please tag them on this post, so we can make a time to meet and pray with them."
"Sticks" from LivePD fame? Trey has him covered by prayer as well.
When I asked Trey how he felt about law enforcement officers and what compelled him to reach out in prayer to these guys and gals with badges, the response was organic, wholesome, and evidenced why we traditionally hold cops in high regard. In a word: Heroes!
Trey's message is this: "I think they are my heroes. And they help the community so much," astutely adding that "they love people."
Indeed, they do, and youngsters seem to have an uncanny way of wisely classing cops as friends and helpers…a far cry from some politicians who bark contrarian views from press conference podiums. The kids have it right!
In our correspondence, Trey underscored with that he "will never stop praying for our police."
After praying for an estimated 300 Tulsa police officers, KTUL broadcast the following details offered by Brittany: "He still has 500 officers to pray for just in Tulsa," and that "COVID has gotten more rampant so we haven't been able to meet up with our officers like before. It's a little bit different right now than before. He is doing what he can when he can."
How is that for a wholesome homily from home? Take note that Mrs. Elliott stated "our officers." How glorious it would be if all parents indoctrinated their kids to embrace their cops, teaching them to support and not be among anti-police sorts who perpetuate hateful messages which, over time, condition young impressionable minds wrongly, in effect cheating them from knowing the truth.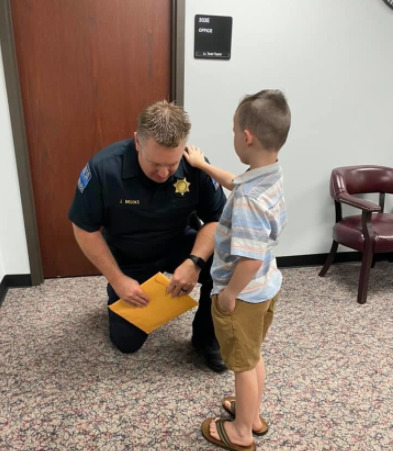 (Trey praying over a Tulsa, Oklahoma police officer. Photo courtesy of Brittany Elliott.)
Like many other children, Trey's sights are already focused on becoming a cop—SWAT is his ultimate goal. I've no doubt Trey will not only reach that goal but surpass it as a SWAT leader, guided by the ultimate source above and legions of friends who don badges.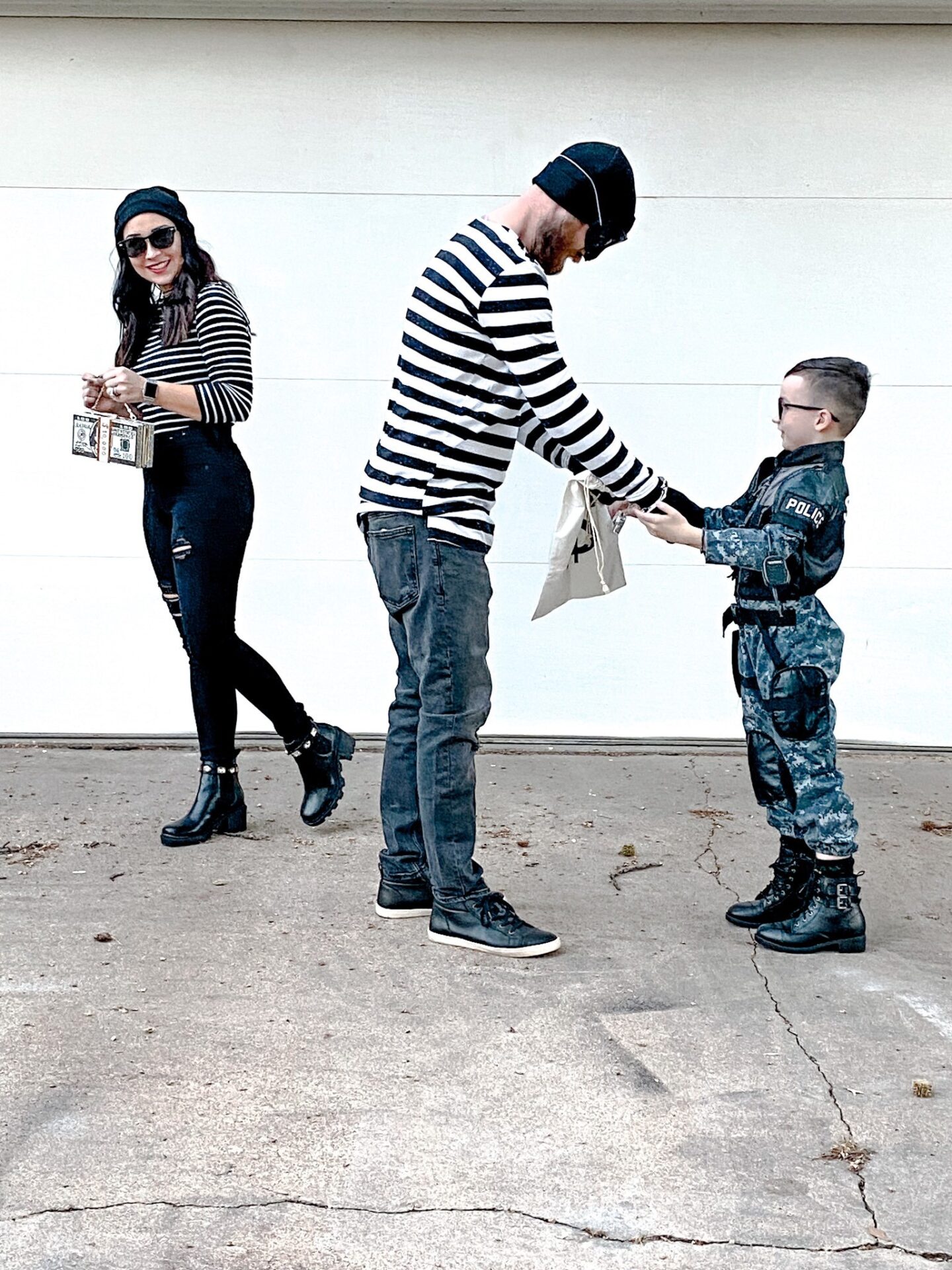 (Trey, in SWAT attire, and his parents out for a Halloween jaunt. Photo courtesy of Brittany Elliott.)
In an era of bitter souls denigrating cops…LEOs are more wary but not necessarily impeded by hate; they are surely elevated by prayer and supportive gestures while continuing to carry out the mission of peacekeeping. And our friend Trey is a fountain of gratitude and a bevy of blessings for those who need it most: Cops, his heroes.
Blessings come in all shapes and sizes and when we least expect it, and the law enforcement community has an eight-year-old prophet watching out for them, a fact recognized approximately 600 times recently…and counting.
To our law enforcement brothers and sisters out there, consider a virtual blessing for/from Trey. Per Trey's mom, police patches can be mailed to him at the following secured business address belonging to the Elliotts: 5204 S. 49th West Avenue, Tulsa, OK 74107.
In closing, Trey's mom, Brittany, on the eve of his eight Birthday in October, offered up the following: "Went to sleep a 7-year-old and will wake up as an 8-year-old… Trey, I pray that over the next year you grow stronger in your faith. I pray that you always follow your heart and that you keep being the amazing little man that you are."
Prayers up, prayers answered.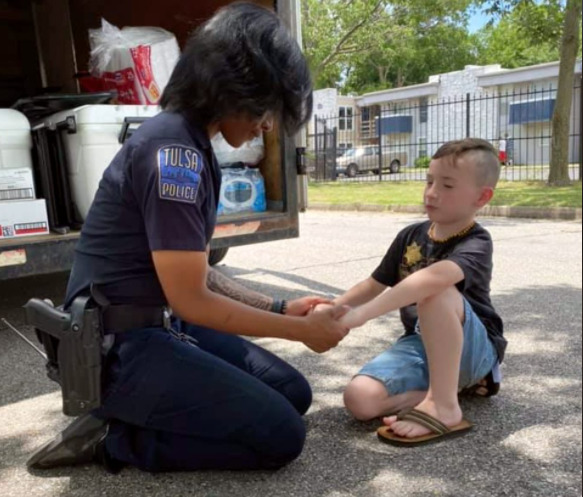 (Photo courtesy of Brittany Elliott.)
A closing word from Trey: "God, please protect these police officers, and their families, and their communities. Amen."
I can only imagine what Trey will accomplish after he matriculates and graduates from a police academy! To know this young life exists is beyond comforting. One day he will raise his hand to take his oath, and we know his raised hand is to the Source which got him there, enabling him to cite declarations of offering salvation and paying it forward.