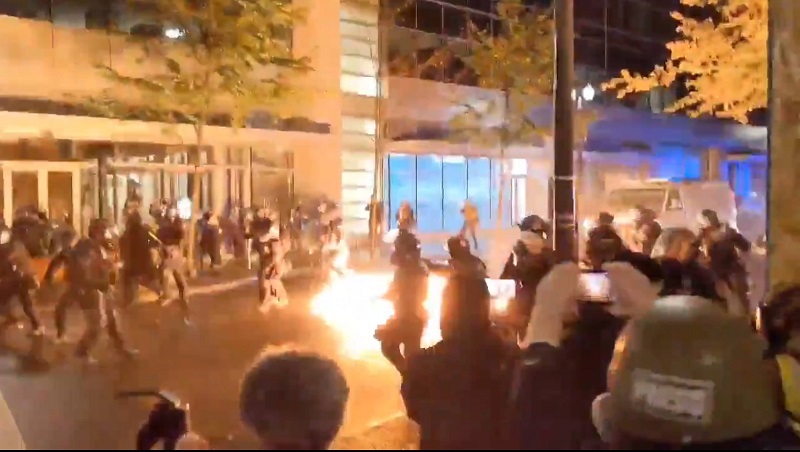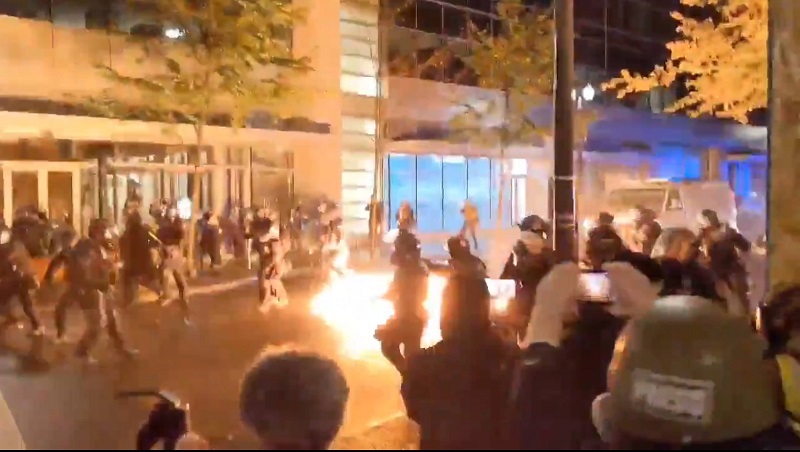 By Chief Joel F. Shults, Ed.D.
Admittedly, the smoke from wildfires was enough to sour my visit to Portland, Oregon. I would have been distressed anyway. Portland is a mess. In a democracy, short of a natural disaster, when a city is a mess the ultimate persons responsible are the voters.
As good citizens ponder the future of quality law enforcement in America, responsible studies on ensuring community oriented law enforcement that is fair and equitable are underway. Police executives, legislators, and concerned citizens can be found working together to solve problems and maintain public safety. This is how democracy works when it works well.
Dissent is a part of democracy as well. Protestation and seeking redress of grievance were as important to the founders as the freedom to hold sacred religious beliefs without fear or compulsion. American history is peppered with marches and rebellions from the dissatisfied, disenfranchised, and determined. But there has never been a more powerful voice than the vote, and this apparently is where Portland has failed to hold its leaders accountable.
When Portland Police Bureau crowd liaison Lt. Jeff Niiya engaged in text exchanges with one of the protest leaders – exactly the kind of relationship that his assignment entailed – he was accused by Portland politicians of misconduct. City Commissioners JoAnn Hardesty and Chloe Eudaly blasted the texts. The mayor called the texts "disturbing'' and said they crossed the boundaries of acceptable police work. Niiya was exonerated by PPB Chief Outlaw after an investigation. Mayor Wheeler, under Portland's unwieldy city governance system, also acts as Police Commissioner.
Wheeler has been notoriously unsupportive and critical of PPB. Police associations have filed grievances against Wheeler for derogatory, hostile, and damaging remarks and actions. The city has reduced the PPB budget by $15 million dollars. This will eliminate traffic enforcement units, officers assigned to schools, and officers assigned to transit. The city is already understaffed based on other cities' police staffing.
Mayoral candidate Sarah Iannarone has also shown contempt for Portland's front line police officers, blanketly accused the Portland Police of "waste and violence the Portland Police Bureau inflicts on our community" in her campaign statements, along with calls for diverting PPB's funding to pay for other services while criticizing officers for rising crime rates and traffic deaths. After a clearly justified shooting of a knife wielding man who refused efforts by officers to talk with him after they had initially retreated. Iannarone tweeted ""I've not seen evidence the deceased was carrying a weapon. I have seen evidence the officer who killed him has no problem wielding his."
Portland's Commission system of government is ill-suited to long term planning. One officer I spoke with has served under four chiefs of police in under 4 years. With the Mayor the defacto Police Commissioner, police leadership is inevitably tenuous and politically charged. Every election is an opportunity to change direction with no stability ensured to maintain any given course over time.
Despite the number of officers who have retired, those remaining are courageously continuing to serve under immense strain. The retirements were anticipated and cannot necessarily be attributed to the current, virulent anti-police actions of politicians and extremists. Anarchists have always had a presence and influence in Portland, so their activity is not unexpected. Affirmation and support of Portland's everyday citizens is not absent either. But officers have been forbidden to use tear gas for riot control, forbidden from live streaming protests, and have not been provided with body cams since results of those have not lived up to the expectations of the anti-police crowd and are now being touted as invasive to citizen privacy.
Watching a stolen car travel speedily away with a no pursuit policy, watching calls stack up for long response times, and knowing that officers simply can't afford the time to do proactive safety stops or interdiction made me want to weep for the citizenry and its police officers. Seeing the estimated 14,000 homeless going without services, but whose occasions of lawlessness must go unattended, reflects a national problem but simply cannot be blamed on the PPB budget or police action against them. Having to step over men sleeping on the sidewalk and having to dodge an angry man pounding the walls with his fists in order to get a meal at Denny's should not have to happen to me, or the angry man, or the man hugging the street sign using the sidewalk as his bed.
I could not have more respect for the officers of the Portland Police Bureau. Portland's citizens, the vast majority of whom recognize the need for healthy, quality policing, are the only answer to the problems plaguing and destroying a magnificent city. It takes courageous candidates for public office and active voters to turn around this lost city. It can be done. But for now, shame on Portland.