Like many others, I admire and respect canines. In my law enforcement career, I was always mesmerized at every police dog's highly attuned sensory capabilities which lends quite well to policing and apprehending the bad actors fleeing/hiding in an array of possibilities easily detectible by sworn and certified police K9s.
But akin to their sworn human counterparts, police canines are subject to injury and death at the hands of maniacal individuals hell-bent on escaping justice. Police dogs are shot, stabbed, kicked, thrown, and drowned in the course of duty.
As such, maimed police K9s are usually placed in a patrol car and raced to a nearby animal hospital. Depending on the time of day, that may not be an easy task. Most animal hospitals keep ordinary 9 to 5 business hours. Few animal hospitals are in operation 24/7/365.
The ones which are available in a 24-hour cycle are godsends when an injured police service animal is in dire needs of medical attention. As the adage goes: Timing is of the essence.
And the swiftness of a helicopter staffed with medical-trained professionals to save time while also saving K9 lives is an essential ingredient honoring police animals doing a job with co-reliant humans by their side.
Life Flight in Houston is heralded as the first in the nation to cater to police canines' urgent medical needs, with specialized training so aviation staff onboard can exercise time- and life-preserving measures while en route to surgical teams at animal hospitals for continuity of care.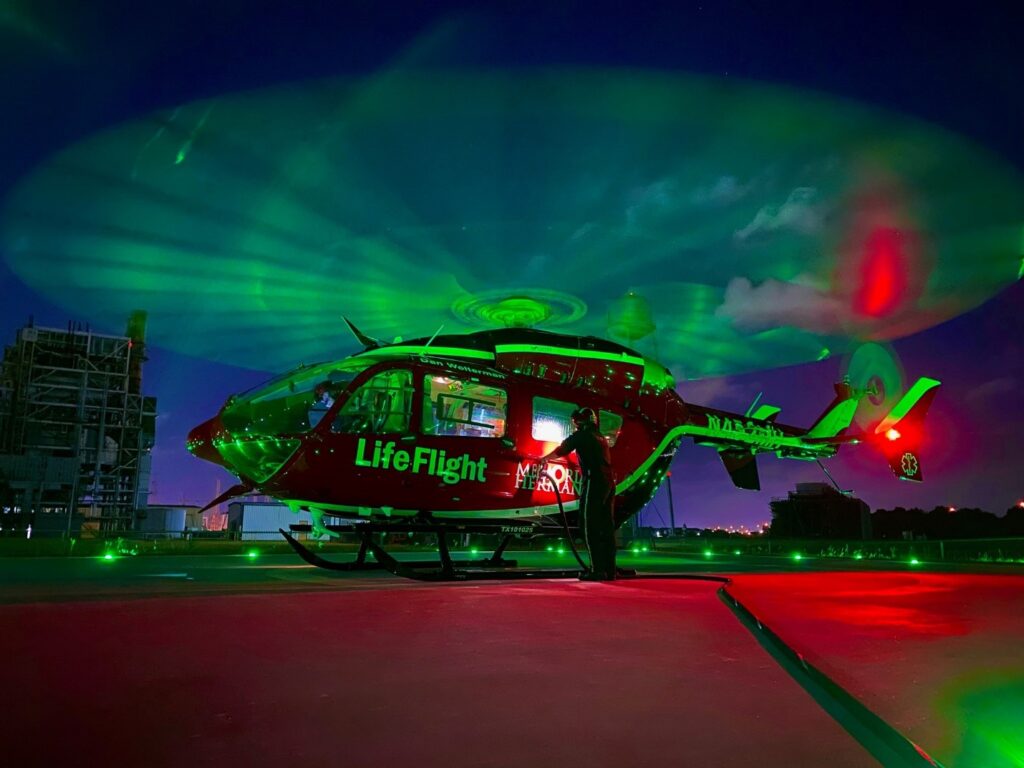 As for typical operational protocols in both medical and law enforcement networks, logistically vetted and carefully selected animal treatment facilities signed on for the success of this program.
According to the Houston Chronicle, "the [Life Flight] air ambulance will travel to a partnering veterinarian, either Westbury Animal Hospital or VERGI 24/7 Animal Emergency and Critical care Hospital in Houston, or Texas A&M University Veterinary Medical Teaching Hospital in College Station.
"Each location has 24-hour access and a helipad or designated area for Life Flight to land."
Launched in December 2020, Memorial Hermann Medical Center's Life Flight put together an instructional program titled "K9 Casualty Care Course and Transportation Service," which the Texas Operational Canine Committee emphasized is the country's first non-government entity whose initiative is the first ever to administer medical treatment and aviation transport for harmed K9 cops.
And the Houston Police Department –especially their Canine Unit– couldn't be more elated by this novel program to illustrate the Life Flight credo "Triumph Over Trauma."
Houston PD's lead K9 trainer for the department's narcotics division, Officer Kristen Uhlin noted how invested police dogs are to the agency, its mission, and their human partners combatting criminal scourge. "We refer to them as our partners," said Uhlin.
Per KHOU in Houston, there has been 20 police canine line-of-duty fatalities in 2020. After KHOU's reporting, one more was added to the roles of fallen police canines. According to the Officer Down Memorial Page (ODMP), year 2020 concluded with 21 police canines fallen in the line of duty (scroll down for canine memorials).
Officer Uhlin tells KHOU that she and her assigned canine partner "Sita" played a key role in this novel program: "She was the test pilot for the program and the first dog to fly on a Life Flight helicopter. She was very social and got to meet all the crews and teach them how dogs work. It was an amazing experience."
Per Houston reporter Shern-Min Chow, "Sita rode the chopper working with 42 Life Flight nurses and paramedics as they trained with veterinarians on emergency animal care."
But the program isn't relegated to only aviators. Memorial Hermann's Life Flight team fashioned emergency K9 kits for field units and trained first responders/paramedics at area fire departments.
Since such emergencies start on the ground, field personnel were certified in emergency animal care. "We went from starting IVs to establishing airways, wound management to hydration – in the event [police dogs] are hemorrhaging," said Chief Life Flight Nurse Rudy Cabrera.
Speaking with Houston Chronicle reporters, Uhlin offered the following punctuated message underscoring the importance of canines in police work: "A dog is there to save an officer's life. If a bullet is fired at an officer, the dog is the one to take it. They're such amazing creatures, and they don't ask for anything in return for the job they do but love."
As I introduced this story, I mentioned my years as a cop and my admiration for our canine unit. Unceasingly, the devotion these fascinating creatures have for their trained handlers and the police mission is astounding and reassures human counterparts that we have reliable resources taking a bite out of crime, just like McGruff said on national TV spots.
Memorial Hermann's VP of trauma service line and system integration, Thomas Flanagan echoed what many of us think, saying, "We all know how important K-9s are. A K-9 is integral for law enforcement—and the challenges law enforcement has to face for our personal protection. The K-9 is really considered a law enforcement officer, who serves and protects the public."
Indeed, he is correct. According to state and federal statutes, police service animals are certified and officially recognized as bona fide cops with specified penalties when criminals injure these creatures.
Although haste usually makes waste, a staple ingredient in the police handler/canine relationship is that unbreakable partnership, so insights to maintain the bond in the event an injured police dog needs Life Flight includes protocol for the duo to board the vessel together.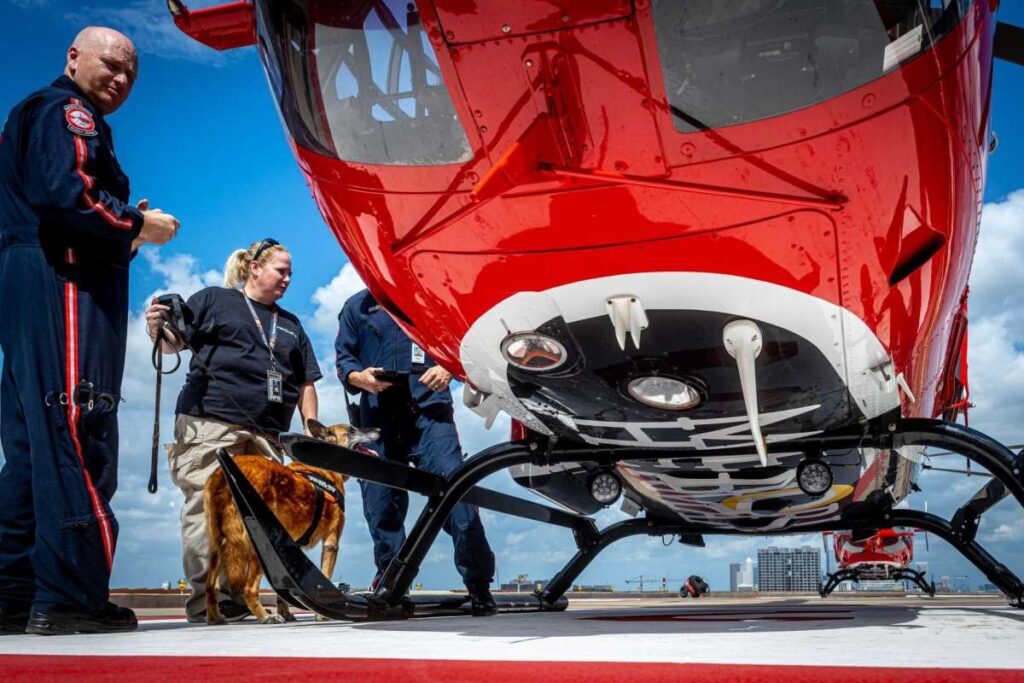 As Uhlin explains, the "dog relies on you. You rely on the dog to save your life and the lives of other people."
While reckless anti-police sentiments fly in the face of logic and preservation of life, it's nice to know that a civilian team of health professionals are invested in salvation of police service dogs when miscreants cause injury to four-legged cops.
As Houston PD's Officer Uhlin phrased it: "It's nice to know that dogs are earning the respect they deserve, to be treated in this way."
Speaking of respect and being treated properly, Life Flight's inherent din means boarders wear noise-cancelling ear protection while in-flight.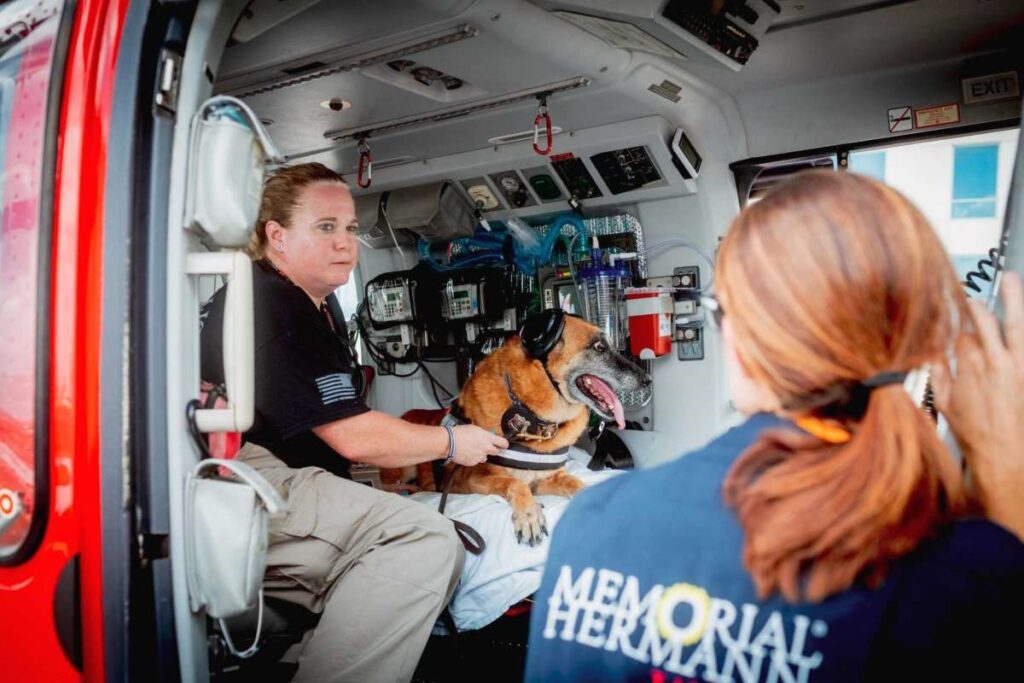 It's fair to say these police canines are well covered and provided proper care and treatment. Wouldn't it be grand to have this "pilot" program for police dogs all across America?