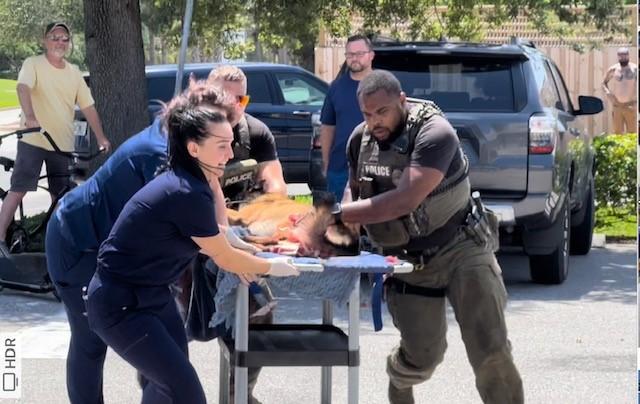 Like their human counterparts, police canines take the hits yet rebound to fight crime another day.
On July 22, 2022, one such law enforcement service dog and his human handler engaged a trio of malfeasants in the northeastern part of Florida.
From First Coast News, the Jacksonville Sheriff's Office received calls of an assault with a firearm and that shots were reportedly fired by assailants. Multiple law enforcement officers from different agencies rushed to the periphery of the Jacksonville Zoo where gunshots were heard by 9-1-1 callers.
Consequently, the zoo was placed on lockdown, and Zoo Parkway was laden with dozens of police cruisers (aerial footage in the following brief video), given the would-be makings of an active shooter-type scenario at a large facility open to the public.
Once on scene, cops identified a vehicle occupied by suspects. The armed suspects fled. Cops gave chase. Subsequently, the armed and dangerous occupants wound up crashing their car and engaged in a shootout with law enforcement officers.
Two of the three suspects perished in the course of the crash and exchange of gunfire. The third armed suspect decided to unloose bullets at cops and police canines on-scene.
Per the Jacksonville Sheriff's Office, police K9 "Huk" was struck by several bullets fired by one of the suspects.
Relatively new legislation regarding urgent medical care and transport for police service animals injured on duty came into play in this situation.
K9 Huk was flown via a chopper to the First Coast Veterinary Specialists & Emergency Clinic where he underwent surgery and rehabilitative treatments.
The NPA previously published a piece availing emergency medical flight services expressly for police canines injured on the job.
As I said prior, the swiftness of a helicopter staffed with medically-trained professionals to save time while also treating injured K9s is an essential ingredient in honoring police animals doing a dangerous job with co-reliant humans by their side. Our cover photo is an apt depiction, involving a team and an LEO racing Huk from chopper to surgical gurney.
In June 2021, Florida Governor Ron DeSantis published a press release regarding Senate Bill 388 ("Injured Police Canines") which essentially instituted a law solely relegated to police canines injured in the line of duty, spelling out circumstances whereby paramedics must be positioned to urgently treat injured police canines, whether in an ambulance or emergency medivac. Our beloved crime-fighting service animals deserve immediate care upon sustaining line-of-duty injuries, without a precious second wasted in the course of getting to an animal hospital.
"Law enforcement K-9s are often the first to put their lives on the line as they work to apprehend dangerous or armed suspects in high-intensity situations," said Governor Ron DeSantis. "From responding to fires to finding missing persons to detecting narcotics or explosives, law enforcement dogs use their unique abilities to rescue victims and detect danger. I'm proud to sign this legislation today to ensure they quickly receive the care needed to recover when injured in the line of duty."
As you saw in the video, law enforcement officers methodically train for potential instances when one or more police canines go down in battle against bad guys. As they would with our species, canine handlers and beat cops train for the unthinkable, like rescuing a shot officer (canine) while engaged in a gun battle, and immediately applying first aid until swift transport to an emergency care facility.
I've had the honor of observing a county sheriff's office K9 unit conduct such training on their canine compound. It is a fascinating study.
Thanks to our friends at K9s of Valor, here is a brief video of the medivac LZ (landing zone) in the intersection proximate to the veterinary hospital, with a veterinarian, nurses, and animal techs receiving K9 Huk's body riddled by three bullets.
"We also wanted to take a moment to recognize the amazing care Huk received on the scene. Huk was cared for by his handler and fellow deputies. It was decided that the Sheriff's Office helicopter would be the quickest way to get Huk to First Coast Veterinary Emergency Hospital, thus a plan was quickly put into place. Local PD and State Troopers secured the take-off and landing zones. While there is still much to be learned, we believe it is safe to say there are many heroes who helped Huk today. We applaud the actions and quick thinking of all involved," a K9s of Valor spokesperson said.
Florida's law written for police service animals worked exactly according to plan, ultimately saving the life of a certified canine crime-fighter!
Other than pre-arranged demonstrations put on by police canine units for school children or Citizen's Police Academy groups and the like, law enforcement agencies conduct constant training on duty.
As well, respective state Criminal Justice Standards and Training Commission regulators ordinarily mandate certification criteria for newly added police dogs. After successfully making the grade, police canines and their assigned handlers must recertify annually.
Although unique, the massive sheriff's office in my home county owns and operates its law enforcement canine facility, aka Canine Citadel.
Set in a semi-rural neck of the woods, directly across from its helipad where it stores a fleet of sheriff's copters and small aircraft on the fringe of a municipal airport, a complete "canine academy" is situated for not only the county sheriff's office dogs to train but also the canines of municipal police agencies in the region. The latter group can not sustain the cost of digs for dogs, so commonplace mutual aid agreements satisfy police training needs.
Mutual aid covenants extend the use of certain police training properties (pistol ranges, for instance), specialized equipment, certified trainers, emergency vehicle operations center (EVOC) courses, and various law enforcement-related functions/apparatus.
Any "small" police agency which can ill-afford its own aviation unit, let alone a helicopter, basically rings up the larger law enforcement entities (sheriff's or metropolis cop shops) and requests their aviators to help monitor a police pursuit or missing child or general investigative scour such as spotting fugitives hiding in brushy terrain (forward-looking infrared, or FLIR, detects "heat signatures" of bodies on the lam, thus conveying coordinates to ground units who move in an arrest).
K9 Huk found that to be the case. And it's not the first time this certified canine cop hit the beat and nabbed evil in its tracks. As mentioned in the video above, K9 Huk tracked down a fugitive wanted for the fatal shooting of Nassau County, Florida sheriff's Deputy Joshua Moyers in September 2021.
"Huk was part of the take-down that followed a five-day-long manhunt for [alleged cop-killer] McDowell. It was a day that enraptured the First Coast, a dramatic search that ended in officers arresting McDowell with Moyers' own handcuffs. Another K-9 was also shot and injured during the manhunt and later recovered. Moyers' story continued to be connected to the K-9 program when a new K-9 was named 'Ol' Red' for Moyer's red hair in 2021," First Coast News reported.
Per the canine-caring team of veterinary professionals at First Coast Veterinary Emergency, "We are happy to announce Huk is alert and stable this morning! We will continue to monitor and address his wounds closely. He has a long road to recovery ahead but his spirits are good."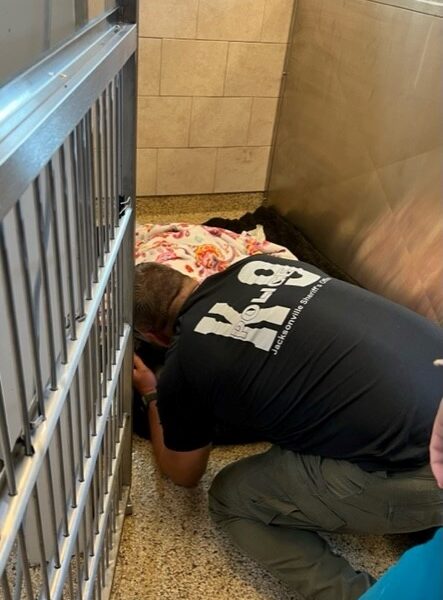 (Photo courtesy of First Coast Veterinary Emergency.)   
Oh, the love cops have for their canine partners. Rightfully so!
From what I understand, K9 Huk's recovery went well from the get-go. Upon waking up from anesthesia and shaking off the cobwebs, comments were made that Huk smiled while peering in the eyes of the vet care pros in his midst.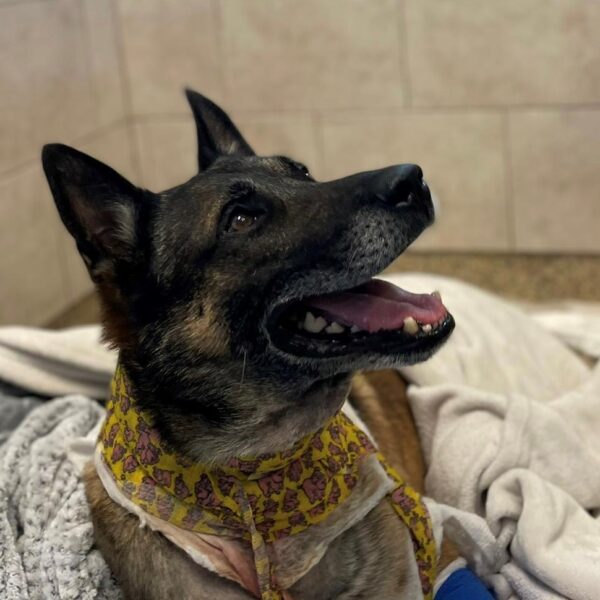 (Photo courtesy of First Coast Veterinary Hospital.)
Despite the dreaded cone of shame prescribed by the animal doctor in the course of recovery, I bet Huk is happy to be of service…and has fixings to return to police service.
(Photo courtesy of First Coast Veterinary Hospital.)
Does everyone realize the stamina and dogged nature of our canine crime-fighters? Huk, yeah!