Despite the anti-police climate adding pressure to retention and recruitment of law enforcement officers across the country, departments are nonetheless training those who bravely step forward and pinning public safety pros, rolling out new cops as we confront the door of 2022.
On Tuesday, the NYPD held "Gun and Shield Day" whereby police recruits who endured the heavy demands of training spanning months arrive at the proverbial rite of passage by receiving their official shiny new police badges and service firearms.
Per a New York City Police Department press release announcing the grand scale Gun and Shield event, the following was offered: "After months of rigorous training, they're one step closer to graduating. Behind this uniform are individuals that come from diverse backgrounds. From immigrants to lifelong NYers, they're ready to protect our city!"
Now, they'll go from gray uniform shirts and dark-blue slacks to all NYPD-blue garb and requisite accoutrements, readied to patrol a beat in any of 77 precincts spread across five boroughs (counties).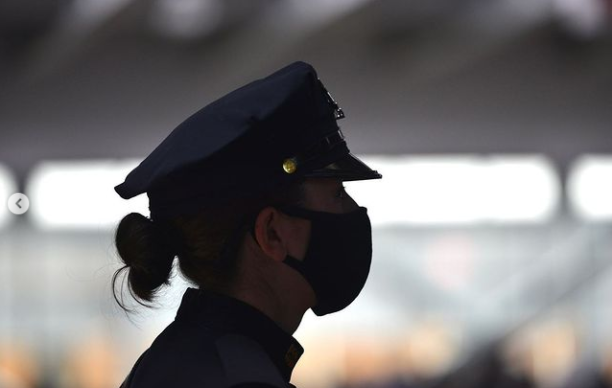 (Photo courtesy of the NYPD.)
Like many jurisdictions, recent years have exposed nothing shy of a chaotic society born of divisive politicos instituting policies which didn't necessarily bolster public safety, unrelentingly demoralizing courageous cops who combat criminal elements.
Social justice policies, such as bail reform largely emptying jail cells and freeing malcontents whose hardcore propensity to re-offend amounted to exactly that, resulted in highly foreseeable victimization, some of whom lost their lives.
Speaking of lost lives, navigating through the pandemic-caused increased the already significant risks to cops, many of whom perished from the coronavirus.
Per the Officer Down Memorial Page (ODMP), of the 481 line-of-duty deaths (LODDs) as of this writing, 323 law enforcement officers perished from Covid in 2021.
Still, these recruits (and many like them, in varying regions of our nation) stepped up, exemplifying bravery in an unsettled environment rife with miscreants and the threats thrust upon innocent lives.
As one may imagine, it takes a lot to be a police officer, especially nowadays. Certainly in metropolis locales in which woke-aholics breed utter nonsense and whimper over hard facts of life.
My hometown, the Big Apple has a massive police academy, the doors through which so very many courageous souls traversed. Generally, NYPD police officer recruitment postings adorn many corners of the city, historically attracting thousands upon thousands of applicants to "take the test" and get "on the job."
I was one among a batch of 66,000 NYC police officer candidate test-takers back in the day.
Invariably, each prospective applicant knows at least one NYPD officer who informally serves as an in-the-know source explaining the entire process, up until one makes the grade and scores a seat among the police academy roster. (I had seven NYPD cops on my block alone.)
Formally, the mammoth police agency assigns a background investigator for those who score highest on the written test and are put through subsequent phases of the vetting process, often transpiring over one year (if not longer). Nothing about becoming a bona fide police officer is swift—it shouldn't be. Finding the finest takes time, and investments in scrutiny are worth the protracted periods so they the most qualified and fit-for-duty public servants are thoroughly manifested.
Pursuant to succeeding the written test, candidates still in the running are provided a number. For me it was 2365 out of 66,000.
Based on written test score and a formula stacking candidates who scored identically, that number is a determinant regarding where each police prospect stands in terms of the overall lot of people who took and passed the written examination, one component among many to follow. Thus, studying hard beforehand and performing well on the written exam is crucial to garnering numerical standing (placement) and subsequent advancement.
In subsequent processing, such as the Physical Agility and Health Screening, candidates can be "knocked out of the running" if a deficiency is detected. For me, my initial application materials noted cancer history, so I was sent an appointment with the NYPD Health Screening Unit. Known as a "Medical Review," a physician at the NYPD clinic conducted a history/physical, didn't talk much at all, and made written notes. He then said I'd receive a notice in the mail…
I did, disqualifying me from the 66,000 possibilities due to cancer history, to include recurrence. I was crushed, but God had plans for me to be a cop in Florida instead, so it all worked out in the end.
Background investigators are akin to mentors, fielding questions… providing answers as the remaining hurdles are encountered and overcome—like having a go-to guy or gal serving as an informational conduit for hopeful candidates trying to become cops.
Primarily, self-evident in their assignment title, a background investigator is a sworn member of the police department and duly responsible for scoping the cop candidates' life course and its veracity, comparing findings (interviews and records research) to what was documented in application materials and supplemental packets submitted by aspirants.
I recall periodically contacting my assigned background investigator to check in as prescribed, to see if there was anything else I could do to buffer my chances, answer any questions they had, ensure my hardcopy materials were received and complete, and generally see where I stood in the large mix of potentials. Respectfully, I often had to reintroduce myself and furnish my exam number. Given the robust pool of 66,000 potential cop candidates, background investigators have enormous "caseloads" to process, acting much like a detective, except from the other side of the coin, the one homing in on good guys to fight the bad guys.
Within the scope of a background investigator, specialties are gleaned among the candidates' material skills, interests, capabilities, and definitive experiences. For example, an NYPD applicant who lists her equine expertise becomes a keen study for the background investigator to highlight, potentially harnessing such a would-be cop for the agency's police horse-mounted unit (after time served on the street, where vast experience is garnered).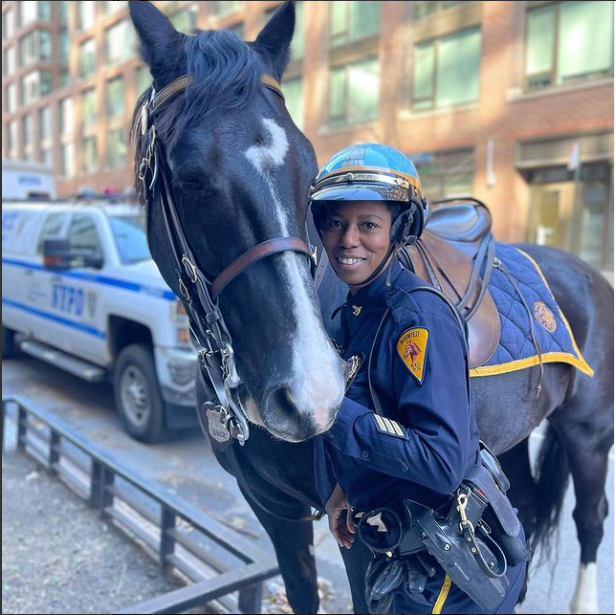 (Photo courtesy of the NYPD.)
Per the NYPD Mounted Unit, a little history: "Long before the invention of the first car, our highly trained horses have been used to patrol our city since 1845. They continue to serve as vital members of our NYPD family."
With that, I wonder about those among Wednesday's NYPD Police Academy graduating class of 612 recruits hailing from 44 countries and speaking 33 languages have saddle-time locked up, to eventually fill a role with the Mounted Unit.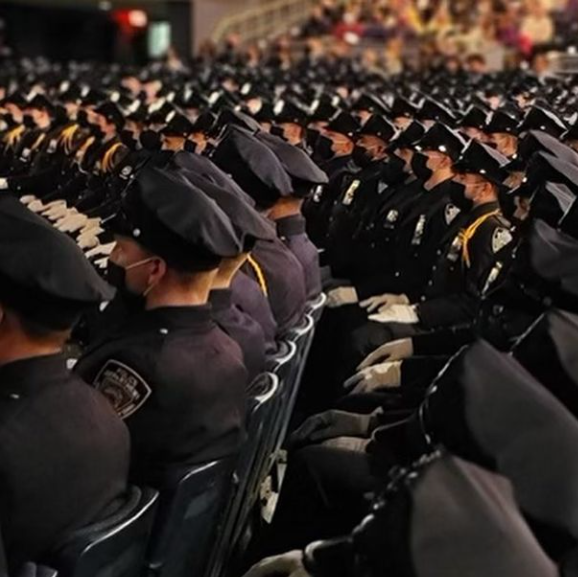 (Photo courtesy of the NYPD.)
One among the batch of 612 new city cops is a young man who befriended a relatively familiar NYC policeman who once starred in (and won) the TV series "Big Fat Loser."
Since we are exploring the nature of pinning ceremonies for cops (sometimes being pinned by loved ones or family members who are also cops), one of the 612 police academy graduates making the grade is a young man named Talal. Here is the skinny on that, direct from the city cop who gained creds for losing weight on the Big Fat Loser:
"I was sitting in the police academy lunchroom sometime in July when Talal came up behind me and said 'what's up sarge.' I turned my head and saw him. I was shocked and then got emotional. You see I've known Talal for years, but not like this.
"I met Talal when I was assigned to the 101 precinct. He worked in the only store open on the midnight [tour]. He and the other employees of this store were an extension of our family. We saw them every night, we celebrated holidays with them, they fed us and invited us to their meals, they participated in events with us, I even hung his picture on the wall of the command under the 'civilian employee of the year' title. They looked after us, and we looked after them.
"I did not expect to see him as a recruit, and I couldn't have been more proud of not only him for doing this, but for us as cops for having the influence to make someone else want to be one of us. To inspire someone else to be a cop… and we didn't do it with special events or staged photo ops, we did it the way it should be done. By being us. By being good people. By having good character. By being who we are as police and as humans every single day.
"There are some days for sure when it's easy for me or any of us to jump on 'the job's dead' train, but the fact that guys like him saw guys and girls like us and thought…I want to be one of them…means it's not. It means there is hope. It means we are still on the right path.
"Congratulations brother. I couldn't be more proud. You were already part of the family, now you've got the shield to bring you closer."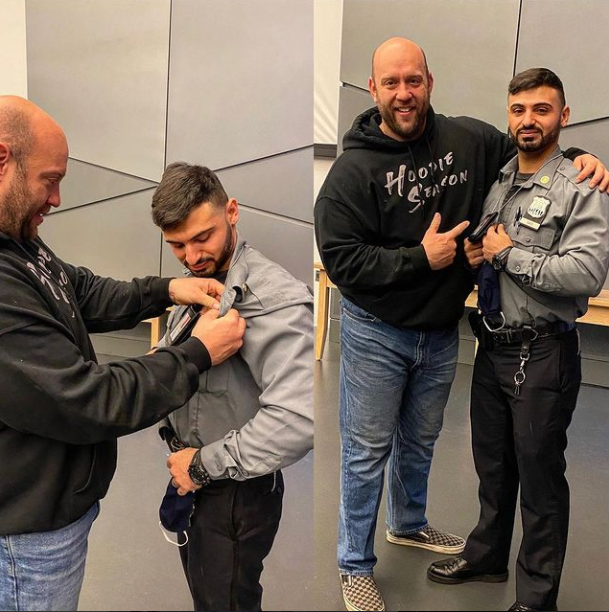 (Photo courtesy of Huge_Fat_Loser.)
Those are the brand of stories cops on the beat experience and cherish forever, echoing one of myriad reasons factoring into every LEO's Why.
You never know who is watching…who is impressed enough to forge forward and take the mantle. To jut a hand, take an oath of public service, including to potentially lay down one's life for another.
To Talal and the latest cadre of 611 NYC police academy graduate cohorts hitting the streets: Congratulations and…be safe!