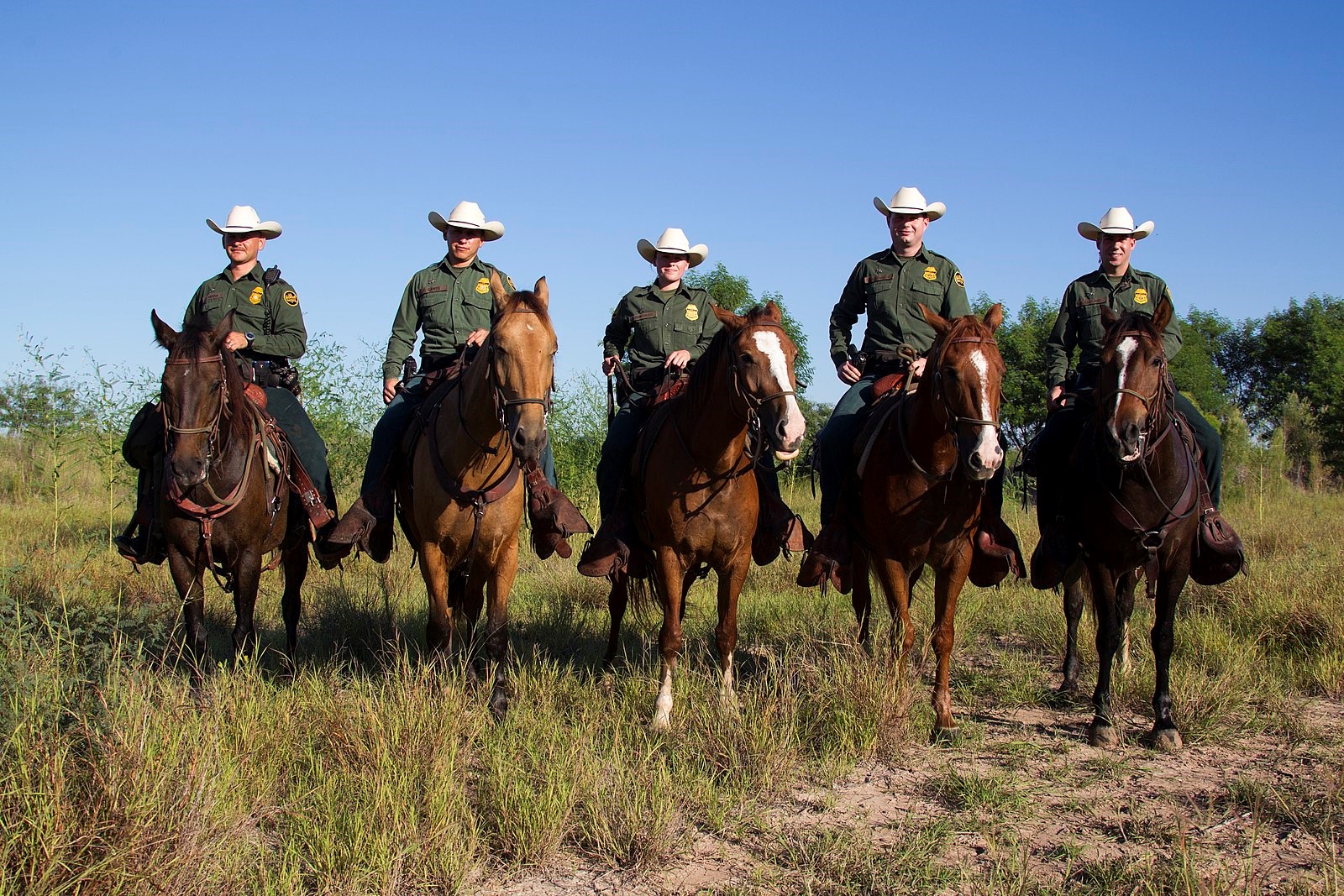 By Steve Pomper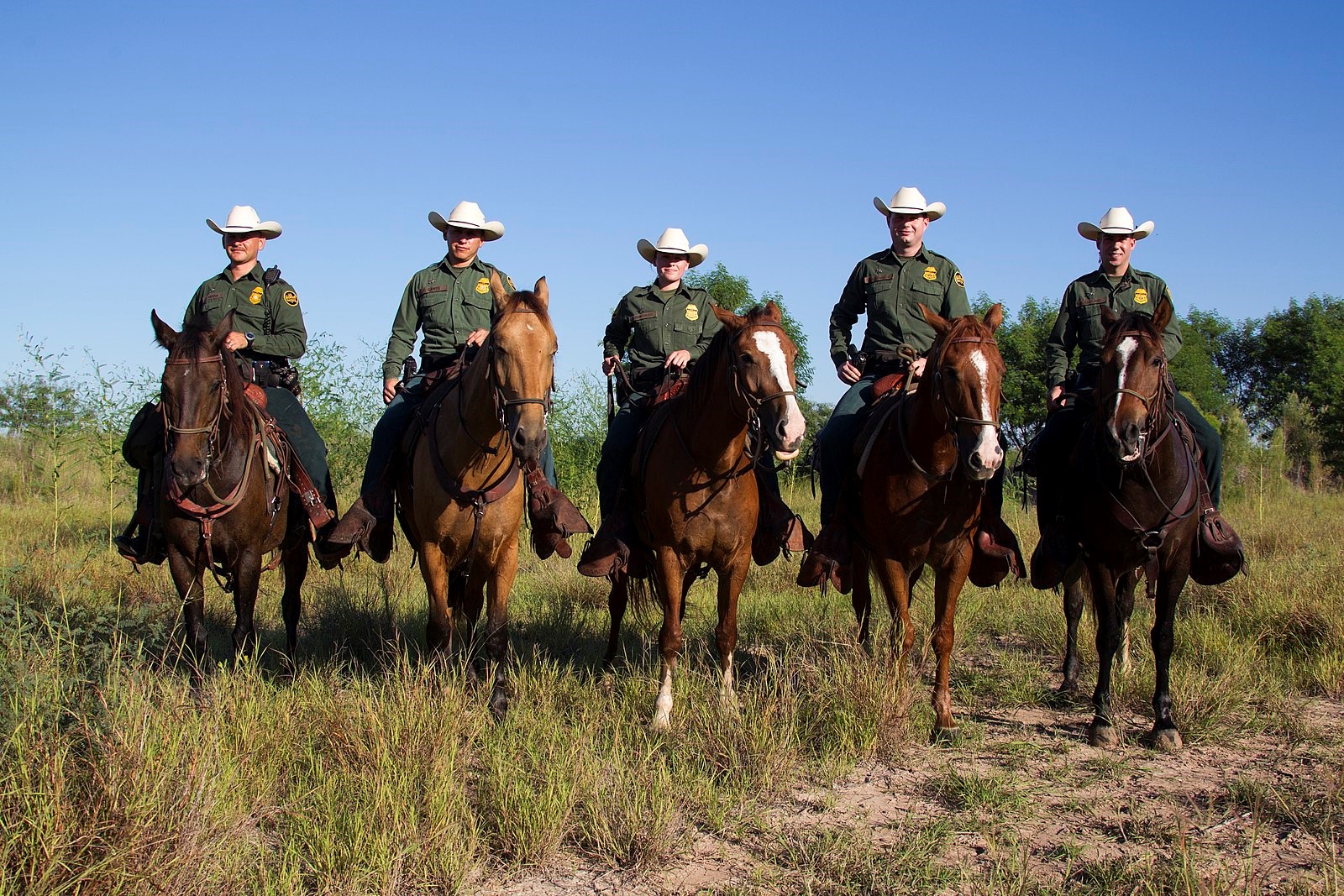 South Texas, Border Patrol Agents, McAllen Horse Patrol Unit, 2013
Department of Homeland Security Secretary Alejandro Mayorkas is a petty man working for another petty man, Joe Biden, who happens to be occupying the Oval Office. This contention is not hard to support when you ask yourself what kind of petty, pathetic person it takes to condemn public servants who work for you when you know what you're saying is a lie.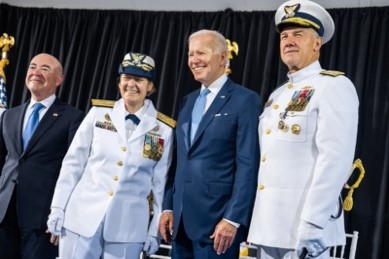 Alejandro Mayorkas and Joe Biden at Coast
Guard change of command ceremony
Most Border Patrol agents are honorable people doing an already hard job made even harder not because of the criminals they deal with but because of the federal bureaucrats who express contempt for them.
In September 2021, the Washington Examiner reported, "Pictures emerged on Monday of agents on horseback appearing to use the reins or lariats to strike at migrants and block their paths with the animals. Some Democrats and the media accused agents of 'whipping' migrants, although this has been denied by Border Patrol."
Mayorkas told CNN, "I was horrified by what I saw. We will let the investigation run its course, but the pictures that I observed troubled me profoundly. One cannot weaponize a horse to aggressively attack a child. That is unacceptable. That is not what our policies and our training require. … We will not tolerate mistreatment."
Biden said, "'To see people treated like they did, horses barely running over, people being strapped — it's outrageous,' Biden told reporters, making a whipping motion with his hand. 'I promise you, those people will pay. There will be an investigation underway now, and there will be consequences. There will be consequences."
There are two significant problems here. One, it never happened. And two, Biden and Mayorkas pretended it happened. They intentionally hung decent, honorable Border Patrol agents out to dry for political reasons.
So, what are the consequences for lying about law enforcement officers who work for you who you've wrongly accused? Likely, there will be none despite significant evidence Biden and Mayorkas knew almost from the beginning accusations of agents "whipping migrants" was a lie.
According to Bill Melugin and Adam Shaw at FOX News, "EXCLUSIVE: Homeland Security Secretary Alejandro Mayorkas was told that the photographer who captured a clash between Border Patrol agents and Haitian migrants in Del Rio had said that the incident was being misconstrued – hours before Mayorkas joined a White House press conference where he didn't challenge the false narrative.
"The Sept. 24, 2021, email, obtained by the Heritage Foundation via a Freedom of Information Act request (FOIA), shines light onto internal deliberations surrounding the controversy in Del Rio, Texas, where Democrats and the White House pushed a narrative that migrants had been 'whipped' or 'strapped' by Border Patrol agents despite it being quickly debunked."
In July 2022, a preliminary investigation by the Office of Professional Responsibility found that no whips were in their possession and no migrant was struck by the reins – although it did find other alleged infractions."
Of course, they found "other alleged infractions." These radical leftists are never wrong; they won't allow themselves to be—no matter who pays the price for it.
Through a Freedom of Information Act request (FOIA), the Heritage Foundation has discovered that "the White House pushed a narrative that migrants had been 'whipped' or 'strapped' by Border Patrol agents despite it being quickly debunked."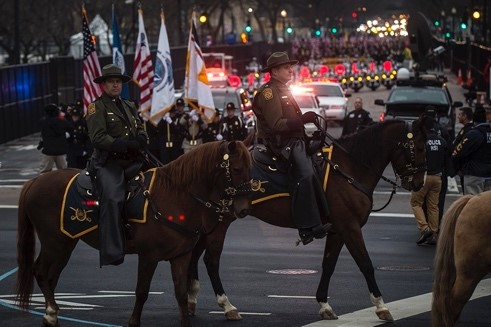 U.S. Border Patrol Mounted Agents 2017
According to FOX, within hours of Biden's provocative comments which were skewed toward the agents' guilt, Assistant Secretary of DHS public affairs Marsha Espinosa emailed Mayorkas and his staff. She told them about an article, stating, "the photographer who took the images did not see any whipping." Reportedly, Espinosa highlighted the comment.
A couple of hours later, Jen Psaki, White House press secretary, and Mayorkas "continued to push the narrative." Knowing that the agents were innocent, the DHS secretary said, "Our nation saw horrifying images that do not reflect who we are. We know that those images painfully conjured up the worst elements of our nation's ongoing battle against systemic racism."
To make matters worse, Mayorkas, apparently overcome by an accidental burst of integrity, had initially cleared the agents, pointing out that "agents use the long reins to control their horses, not as whips." That Mayorkas has apparently vanished.
Mayorkas seemed to be working double-time to propel a fake narrative that the mounted agents were reminiscent of abusive slave catchers. Using precise language, Mayorkas said, "The images horrified us in terms of what they suggest and what they conjure up."
What images they conjured up?
FOX pointed out that Mayorkas never commented on the information he had received from the photographer. When asked about his comments initially clearing the agents, he claimed he hadn't seen the images, yet.
Doing a 180 on his initial comments, he instead spoke of how the "images… horrified the nation…." Then he reiterated that "it conjured up images of what has occurred in the past." They were desperate to paint the fed cops as racists.
Later, when asked again by a reporter about "the whipping," Mayorkas said, "that is something that horrified us all." Remember, when he said that he apparently knew the agents had whipped no one.
The Heritage Foundation's Oversight Project filed a FOIA in March but had to sue the DHS in June when they failed to provide the documents. Fighting for FOIA information is something people dealing with the "transparent" Biden regime have become accustomed to.
Brandon Judd, president of the National Border Patrol Council, called the FOIA information "smoking gun evidence."
Judd also said, "It clearly shows they are willing to lie to the American people for their self interests. They withheld facts and anytime you withhold facts from the American people… you should step down from your job. Better men step down. This clearly shows they are not better men."
No, they are not.
According to Melugin and Shaw, Biden and Mayorkas have never publicly stated the agents did not whip migrants—even though they've known it since almost the beginning.
Again, what kind of people do something like that? Petty, pathetic, repulsive people. That's who does things like that. Time for us to hold these people in charge to account for their bad actions. Let's demand Biden and Mayorkas apologize to those Border Patrol agents they've treated so horrendously.