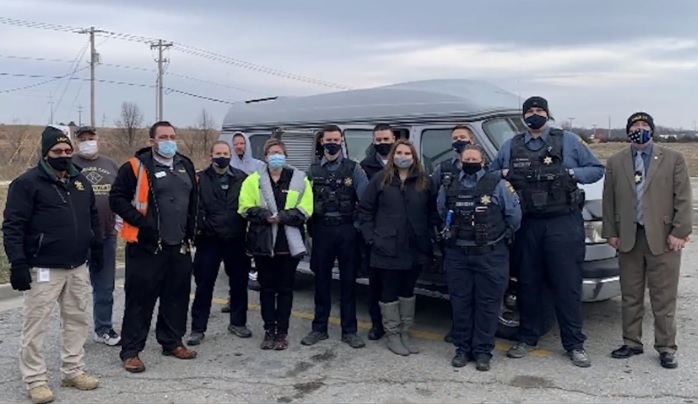 By Steve Pomper
Law enforcement officers serve their communities daily—and nightly, all year long, often going above and beyond the proverbial call of duty. But this is the time of year when such acts take on a special meaning.
The following story made me think of a saying which originally appeared in Aesop's Fables and which Ben Franklin Christianized and popularized in Poor Richard's Almanac. "God helps them that help themselves." This woman's commitment to helping herself, so she could make sure her children would eat, breathes life into that expression.
Ottawa Kansas can be cold this time of year—freezing, actually. I just checked my weather app, and it's supposed to dip to 19 degrees this week. That alone makes this story, as related by FOX 4 Kansas City, compelling. Around Thanksgiving, Franklin County sheriff's deputies began receiving calls to check the welfare of a woman walking alone along Highway 59 at about 7 o'clock in the morning. When various deputies arrived to check on her, they learned she was just walking to work.
Christine Wheeler, a 24-year-old mother of two small children, said she had to walk because she had no working car to drive. Her journey amounted to a 12-mile round trip hike, six miles to work, and six miles back home to her kids. You know… like the old grandpa story where he said, "When I was a kid, I walked six miles to school and six miles back home, uphill—both ways—in the snow. Well, except for the hill (it's Kansas, after all) and going to work rather than school, this was not an old-timer's story; it was Wheeler's reality.
The Sheriffs Office said, "The woman made several comments about how she had to walk so she could feed her children and was very driven and motivated to take care of her family any way she could." Responding deputies would often give her a ride. Wheeler is obviously one of those remarkable people who don't believe they need help but are always willing to help others—like her children. She helped herself, so God helped her in the form of some local cops.
Some deputies, who'd given Wheeler a ride to work over the course of about two weeks, admired her drive and wanted to help her. They set to work collecting donations from "generous citizens and businesses" and also tapped their "No Shave November" fundraiser to help raise the cash. When Sgt. Jesse Vega's father donated a van to the Sheriff's Office to gift to Wheeler, it was a done deal.
Through this effort, these cops were able to give Wheeler an enormously useful Christmas present. In all, the deputies gave her "a van, two new car seats, a Price Chopper gift card, the registration for the van, and the first year of car insurance along with $200."
The Sheriff's Office posted a video on Facebook which showed the woman's reaction when deputies arrived at her workplace and surprised her with the van and other gifts. You can see as the woman walks with deputies, growing more excited, as they near the van. She covers her face with her hands in apparent joyful disbelief as they approach the van, and she realizes the vehicle is hers. "Oh, my God, thank you!" she says.
As she climbs in to explore what has just become her van, she cries out when she sees the new car seats for her children. She steps back out of the van and yells with delight, "I love it!" Thanks to these caring cops, this family will have a much nicer Christmas celebration than they would have without them. That Kansas community is fortunate to have such kind and generous public servants.
Wheeler told FOX 4, "I was thinking, 'Oh my gosh, why would they want to do this for me? This is insane," she said with a huge smile on her face. Wheeler also said, "With the vehicle, I plan on getting it insured and everything, then I'm going grocery shopping. That's like the first thing I'm doing."
No worries, Christine. Those deputies also paid for your first year of car insurance. Merry Christmas!