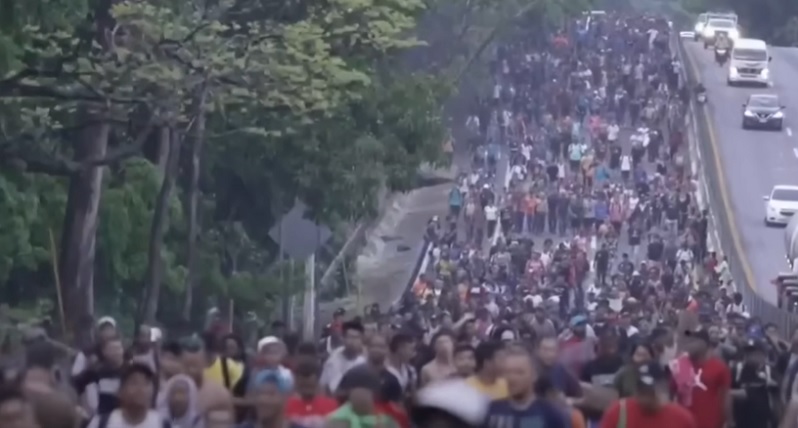 By Steve Pomper
One issue people aren't talking enough about is how the Biden administration's atrocious open border policy is affecting law enforcement agencies and cops across the country. As everyone has seen with the illegal alien "Con-Air" flights to cities all over America, every town has become a border town.
And in every one of those towns, cities, and counties, cops must deal with the influx of people who aren't supposed to be here, some of them violent criminals or even terrorists. It's not new, but it's worse—much worse. Back in the 80s, America experienced the Muriel Boat Lift bringing "migrants" from Havana to Miami.
The idea was to allow a diplomatic "cease fire" in relations to allow the good Cuban people who wanted to flee Castro's communist regime a chance to do so. However, Fidel Castro exploited the good intentions and emptied his prisons and mental hospitals, sending America some of the worst people Cuba had to offer.
But they didn't stay in Florida. Instead, they traveled throughout the United States, winding up as far as Seattle on the west coast. And who paid the price? The residents of communities where these people landed and the cops whose job it was to protect those communities from their mayhem.
The American people are paying that price again but, this time, we are doing it to ourselves. For example, recently, an incident Joe Biden exploited for political reasons resulted in the indictment of a 27-year-old illegal alien from Guatemala who allegedly raped and impregnated a 10-year-old girl. She'll pay the price for the Biden Admin's open border policies for the rest of her life.
Now, according to reporting at SaraCarter.com, "Republicans on the House Select Committee on Intelligence and border patrol agents and officials are desperately trying to get out the message that our open borders is a vital threat to national security."
Carter notes, "Known cartel, murderers and individuals on the terrorist watchlist have been caught crossing our southern border and the Biden administration stays silent."
It's virtually assured that most people seen on media outlets, that still bother to do actual journalism, crossing the border illegally have paid or are in debt to a Mexican drug cartel. Wristbands found on the ground near the border and on illegal immigrants prove this.
While the ever-obtuse Department of Homeland Security Secretary Alejandro Mayorkas gaslights Americans, telling them that an obviously unsecured border is secure, those who disagree have all the evidence on their side.
Carter reported, "Rep. Mike Turner, R-Ohio, who serves as the ranking member on the committee, said that counter to Department of Homeland Security Secretary Alejandro Mayorkas' claim earlier this week, the border 'is not secure.'"
Turner spoke with Fox Digital News at the border wall with Mexico. He said, "We met with the FBI, the Texas Department of Safety, the Border Patrol. What's clear… is that the border is not secure. Thousands of people are being apprehended a day, others cannot even be captured. The amount of drugs, even guns, that go across the border, cash, illegal activity, and human trafficking. The toll that's happening on people who are crossing this border is extraordinary."
Again, as these local and national security risks filter throughout the country, the cops you see conducting traffic stops, arresting burglars, and violent felons, or even enjoying a cup at a coffee shop will be the primary responders to their planned and spontaneous criminal activities.
According to a report by Judicial Watch, back in 2019, "More than 90% of illegal immigrants arrested by federal agents in the United States last year had criminal convictions or pending criminal charges, including 56,000 assaults and thousands of sex crimes, robberies, homicides and kidnappings."
And that was three and a half years ago. Before what Carter calls an "'Astronomical security threat as terrorists pour across our 'porous' border."
According to The National Law Review, "Illegal Immigrants Arrested in FY 2020 Had Average of Four Criminal Convictions or Charges Each, ICE Says."
American law enforcement are dealing with an increase in illegal aliens committing crimes, which, FOX News reported, "surged in fiscal year 2021 after declining in the years before that. Homicides, assaults, incidents of domestic violence, illegal weapons possession, and sexual offenses committed by illegal aliens all increased dramatically in… 2021 compared to fiscal year 2020, data from U.S. Customs and Border Protection shows."
Cops are the ones who must confront these ordinary illegal immigrant criminals and those who are potential national security threats. And they must do it while also dealing with their local government officials who aid and abet criminals with their woke, leftist policies.
Cops have enough to worry about, these days, without their own government leaders, at all levels, making their jobs harder and much more dangerous? I guess too many of our political leaders could not care less.