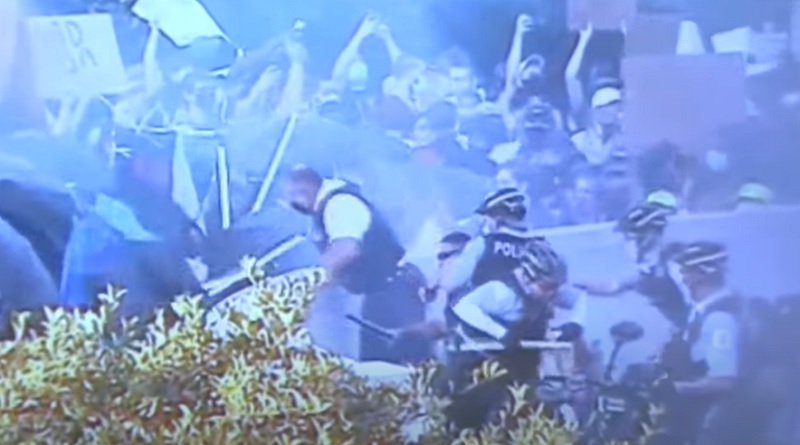 With 11, 669 police officers as of March of 2022, Chicago PD is one of America's largest police forces. If this number sounds big, consider that it is down by 300 officers since the start of the year, down over 1300 since 2019 from 2021 levels. During the same time, violent crime has skyrocketed.
Some observers blame the loss of police officers on "the great resignation" during the pandemic years of remote working when the value of working came into question. While there may be some truth to that, the harsher truth is that oppressive hours and loss of leave time and days off may simply be too much to ask in a city where the Mayor's indifference and hostility to its police officers have eroded morale. Mayor Lightfoot insists that police have plenty of time off.
The recent proposal by an informal public safety caucus of aldermen to restrict canceling of days off and mandatory overtime and convene a hearing on mental health issues occurred against the backdrop of three suicides of Chicago officers. Not only are those concerned with policing in Chicago – which obviously excludes the Mayor – worried about police officer wellness, but implications for recruiting replacements.
Chicago is not alone in losing officers. The COVID vaccine mandate pushed several CPD officers to take retirement. Others don't want to accept the increased risk of being killed, assaulted, sued, or prosecuted for doing their job. Many of those who left with retirement eligibility represent vital legacy knowledge for the department, described by leaders as a "brain drain" for the agency. The loss of supervisors and managers who would be responsible for implementing police reform and training measures could slow any needed changes in the agency.
Ralph Cilento, a retired NYPD lieutenant commander of detectives and adjunct instructor of John Jay College of Criminal Justice, is quoted in a Chicago Tribune article saying "Bottom line is that there is a scorched-earth policy when it comes to police. All of this anti-police sentiment is all manifesting itself in people that can leave, will leave. So you know, people are not going to do 28, 30 years anymore. They're hitting their minimum requirement and getting out."
City representatives refuse to paint the picture as a crisis, claiming that the loss of officers has had no effect on the city's crime rate, body counts notwithstanding. Still, the city is lowering its hiring standards to include more potential candidates. Historically, these shifts in standards have resulted in long-term problems for police departments.
Exit interviews with other police departments suffering major loss of officers are revealing. Portland Police Bureau's departing officers had strong words to share about feeling a lack of city leadership, burnout, and mental and physical health concerns. Seventy percent specifically brought up lacking support from the city as the reason for leaving. Interviews requested by media outlets showed the sentiment of one detective was typical: "The community shows zero support. The city council are raging idiots, in addition to being stupid. Additionally, the mayor and council ignore actual facts on crime and policing in favor of radical leftist and anarchists' fantasy. What's worse is ppb command (lt. and above) is arrogantly incompetent and cowardly."
Staffing shortages with the San Diego, California Police Department spiral a loss of public support. Jared Wilson, president of the San Diego Police Officers Association, told the Los Angeles Times that officers from specialty units have been pulled back to patrol, reducing crime intervention efforts. "We're at the point where we're just chasing 911 calls," Wilson said. "We're not really doing a whole lot of preventative policing or patrolling. It's really toxic for our community, for community trust and relationships."
The city's vaccine mandate staffing shortages that require overtime or constrain time off, a continuing call for changes to police practices, and jobs at other departments that offer higher pay and better retirement packages, and negative narratives about law enforcement have demoralized officers who are leaving SDPD. Similar complaints were noted in exit interviews with Oakland, California PD, including a lack of effective leadership.
Seattle's exit interviews of police officers tossing the badge also sound familiar. Despite the officer's boasting about the great training and access to great coffee, ex-officers report hyper-aggressive oversight, non-supportive city government, no backing from city, and increasingly spineless legal system. New Orleans' exiting police officers cited punitive discipline, restrictive policies, poor equipment, and lack of support from the administration. As reported on nola.com Nathan Gex, a 23-year NOPD veteran who left for another agency said "I can no longer watch the citizens suffer to violence and crime while the department is not allowed to do the basic service of protecting the citizens of this community."
America is losing police officers who love serving and protecting. The grief and frustration of not being able to do that which they feel called to do is palpable in these exit interviews. Ultimately, they have only one demand – to let them do the work they were hired to do.