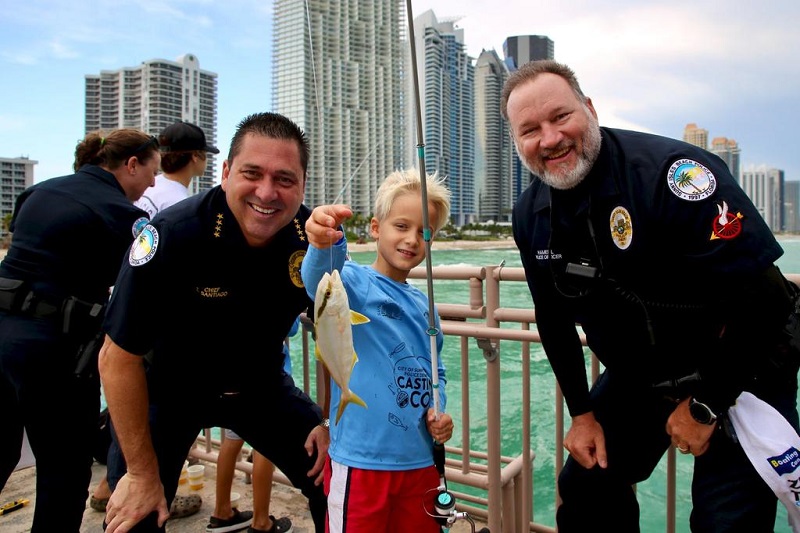 Despite the onslaught of guff constantly hurled at cops, they nevertheless develop and roll out ways to interact with the community. I thought I knew of most of the novel police programs…until I came across a multi-agency effort involved in a concept called "Casting with a Cop."
Similar to "Shop with a Cop," whereby youngsters get to meet and spend time alongside local police officers while strolling around a retailer and filling a shopping cart (tab paid for by community donations), Casting with a Cop is a bit fishy —literally— but in a great way.
Casting with a Cop serves as a potential line of influence for our youth to learn how vital it is to spend time with nature, embrace various virtues, exercise patience, and invest moments of solitude while cherishing God's country, all chaperoned by police officials.
Per WSVN News in Miami, Florida, "Participants between the ages of 6 and 15 were invited to drop a line with law enforcement officers at Newport Fishing Pier, Sunday, [July 17, 2022]."
Lured by summer-time recess and productive ways to spend time occupying otherwise idle hands, the Casting with a Cop concept seems to be scaling.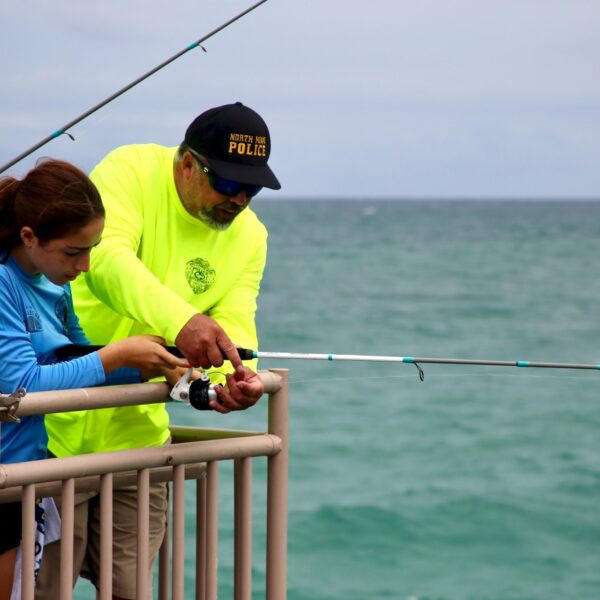 (Photo of the Sunny Isles Beach Police Department.)
I located a bevy of law enforcement agencies involved in the program, exponentially mentoring kids through the yuck of baiting eventually rewarded by the nibbles of nature.
Among the participants involved were maritime law enforcement officers with the U.S. Coast Guard and cops from the Miami-Dade Police Department, Bal Harbour Police Department, Aventura Police Department, Golden Beach Police Department, North Miami Police Department, Florida Fish and Wildlife Commission, and the Miccosukee Tribal Police Department, all hosted by the Sunny Isles Beach Police Department in their coastal jurisdiction.
Speaking on behalf of the cops participating in this important program, a Sunny Isles Beach, Florida police spokesperson said, "We had a fun morning of fishing from the Newport Fishing Pier and creating positive interactions with our kids and community. Thank you to all who joined us for [our inaugural] Casting with a Cop, as well as all the local agencies and businesses who helped out!"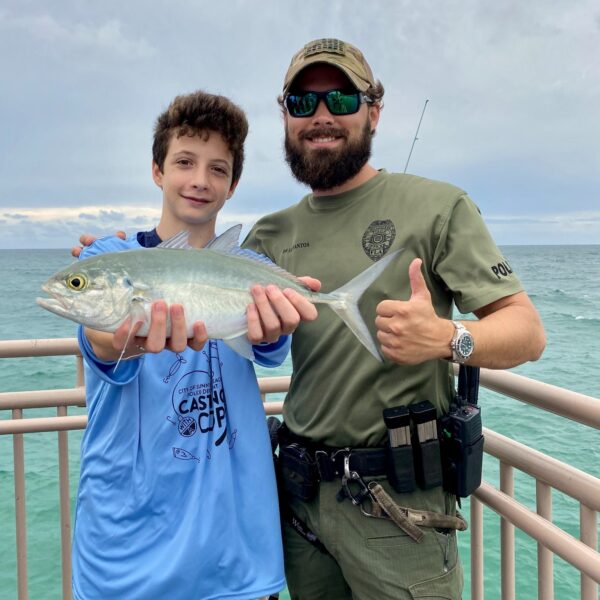 (Photo courtesy of the Sunny Isles Beach Police Department.)
From the looks of it, kids are thrilled not only by hanging out with public safety professionals but also by netting one of more fish and getting to go home with a Casting with a Cop t-shirt as a memento.
Having been in those small shoes a few eras ago, I still cherish the NYPD shoulder patches I scored from beat cops strolling by or walking a foot post in New York City. Since childhood, I knew I'd one day become a crime fighter, and the NYPD officers always cemented my aspirations by simply investing their time between calls, interacting with as many youngsters as time permitted.
I loved the law enforcement collectibles (patches, pins, t-shirts, used handcuff keys, etc.) but I mostly revered police officers providing such trinkets along with words of advice and nuggets of wisdom: stay in school; study hard; you can be anything you want in life; always do good; listen to your mom and dad, and a bevy of similar guidance.
Perhaps too young to recognize it at the time, in retrospect I can say the metropolis curbside interactions I had with a host of NYPD cops did as much for them as it did for me (and my neighborhood pals). Could always see it on their faces and hear it in their octaves.
Like a symbiosis of sorts, it is wholly fulfilling for a law enforcement officer to see instant positive results when meeting someone in society, especially in one with many mixed signals such as those projected nowadays, rife with counterintuitive media messages propagandizing and painting police officers as bad for society—the exact opposite that kids witness independently.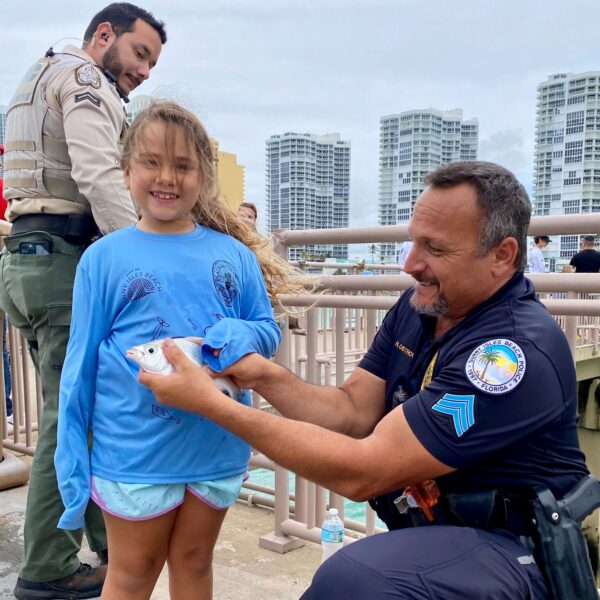 (Photo courtesy of the Sunny Isles Beach Police Department.)
Notice the happy face on that little girl posing with cops who taught her to fish; seems she is keen enough to use her Casting with a Cop t-shirt sleeves to (ahem) insulate her from touching her catch.
Speaking of keenness, it is reassuring that children can be far smarter than certain adults (anti-police barkers perpetuated by the media) with false claims and pollutive philosophies/ideologies. The former knows how to bait a hook thanks to cops; the latter thrives on clickbait.
I am confident I speak on behalf of America's cops when I share that the worst of calls in any given tour of duty is incredibly/graciously mitigated by the meeting of young minds anywhere along the assigned beat. Stopping, rolling down the cruiser window, is always a satiating elixir when one or more children clamor to chat with a cop. It helps to have cool gadgets to show off, too. Kids love light shows!
There is just some kind of magical thing about a cop cruising down the street, where kids are playing, enabling reeling in of mental burdens incurred by LEOs' processing human tragedies and unspeakable depravities. Oh, the illustration of innocence.
There is just some brand of human design whereby children look up to police officials, enamored by bonds with the icons of law and order, the good guys and gals we all seek to emulate as youngsters and beyond.
Exemplifying the notion, I intently sought to patrol school premises after I "cleared" a call that the human psyche may readily register as atrocious and aberrant. Indeed, the kids had no idea how much formidable therapy they provided…just by being kids looking up to someone they tacitly categorized as beacons. It goes both ways—symbiosis, like anemones to clownfish.
A perfect illustration of this is depicted by Florida Fish and Wildlife Conservation Commission (FWC) police Officer M. Osorio and other LEOs that spent quality time with some teens participating in the Casting with a Cop venture on July 17, 2022. Despite the intense higher temps lately, cops taught kids to set up a rig and how to safely maneuver a fishing rod, topped with the essentials of icky baiting of hooks.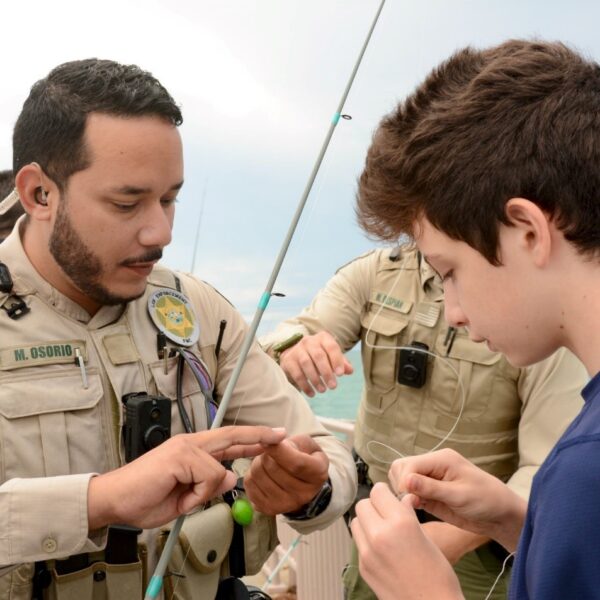 (Photo courtesy of the City of Sunny Isles Beach Government.)  
And it's not just about bonding and fishing. Wildlife officers are, by nature and specific scope of duty, entirely adept/responsible for educating anyone, of any age, in the allowances by law as well as the prohibitions against hooking/keeping undersized fish and other off-limits waterborne organisms.
I once interned with a police agency I prospected for future candidacy as a cop. I elected to spend a few outings with the marine unit. On the water, most people respect the law. Some plead ignorance ("Oh, I didn't know I needed life jackets for all on board").
Officer discretion is a thing, and educating about ecosystems is paramount for police patrolling waterways. (It was during the internship that I learned it was illegal to use goldfish as bait for fishing excursions.)
There is much to know about natural habitats and human responsibility in preserving ecosystems and respecting all living things on the land and/or underwater, highlighting the permissions ("day's catch") stipulated by statutes. Most importantly, understanding maritime laws, situating equipment safely, and enjoying time alongside our country's cops while they teach kids the fundamentals of baiting, casting, and catching fish… amounts to mutual enrichment for all parties on board.