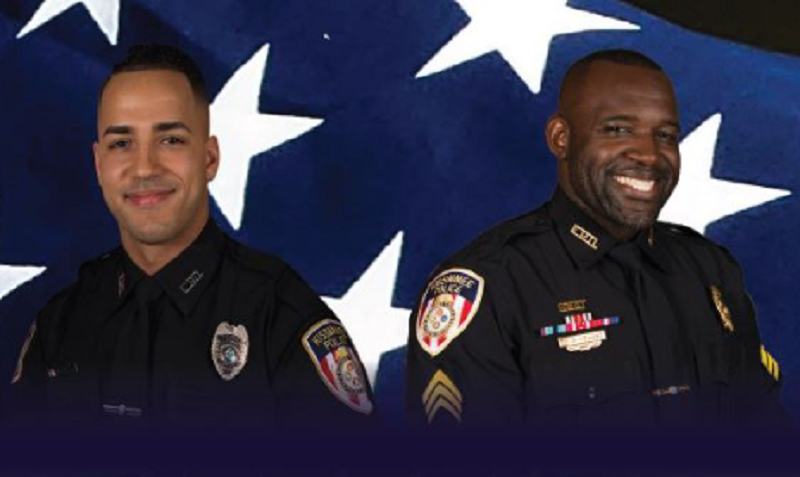 A Florida circuit judge handed down a death sentence for a man who killed two Kissimmee police officers, execution-style. The double-homicide occurred on August 18, 2017.
On Friday, mid-way through National Police Week 2022, Osceola County Circuit Court Judge Greg Tynan concurred with a jury that, in 2019, unanimously convicted Everett Miller of the first-degree murders of Police Sergeant Richard Samuel Howard, III and Police Officer Matthew Baxter.
A military veteran, Sgt. Howard was 37 years old at the time of his line-of-duty death. Officer Baxter was 27 and three years into his police career, with a 7-month-old infant at home.
Per the Officer Down Memorial Page, we have the following synopsis of the events which culminated in the slayings of two cops:
"Police Officer Matthew Baxter and Sergeant Sam Howard were shot and killed while responding to reports of three suspicious people in the area of Palmway Street and Cypress Street at approximately 9:30 p.m.
"They were speaking to the men when a scuffle ensued and both officers were shot. Both were transported to Osceola Regional Medical Center where Officer Baxter was pronounced dead. Sergeant Howard passed away the following afternoon.
"The subject who shot [both policemen] was arrested approximately two hours after the shooting by members of the Osceola County Sheriff's Office. Two handguns were found in his possession when he was arrested. In September 2019 the man was convicted of two counts of first-degree murder. In November 2019 the jury recommended he receive the death penalty."
As mentioned, the presiding judge agreed with a jury of the defendant's peers.
Those same peers heard that after Miller shot Sgt. Howard and Officer Baxter in the head, he moved both bodies, then fired again…at their faces."
The jury also learned that, after shooting both cops, Miller sauntered not too far away, still armed with smoking-gun firepower, entered a bar, and sipped beer.
Per Around Osceola, "On the night of Aug. 18, 2017, investigators say [Officer] Baxter called [Sergeant] Howard for backup the night of the shooting when Miller began arguing with him for being in the area of Cypress and Palmway Streets. When Howard arrived, Miller shot each of them ambush-style. Miller was found hours later in a bar on Orange Blossom Trail, just a couple blocks away from the shooting site."
Lord knows what cops have to deal with daily.
Given the seeming string of judicial bench warmers more frequently twisting so-called justice reforms by freeing criminals, with a blind eye to victims' rights, it is a blue-sky moment to see "criminal justice" defined accordingly for a change. In this case, rendering a death sentence for shooting both police officers in the head was the culmination after so many years of back-and-forth court proceedings.
Kudos to the prosecution team who stayed the course…
Officer Baxter's wife, Sadia Baxter, an agent with the Florida Department of Law Enforcement (FDLE), exclaimed after the death sentence ruling by the judge, "Five years and we finally have justice!"
Mrs. Baxter expounded with heartfelt sentiments at the post-sentencing presser:
"It's been almost five years since Matthew and Sam were killed. I sat there representing Matt, and Sam, and all law enforcement officers in the nation. I'm so grateful that this community supported us like it has. Five years and we finally have justice. I'm so grateful. Although we have a verdict today, my girls still don't have their daddy.
"One of the hardest things I've had to do in the process was forgive; forgive someone who did not ask for forgiveness. I stand here with my family and say we forgive Everett Miller. Although what he did was not right, we forgive because these girls deserve to live a happy life, free from hate. Hate is what got us here, hate toward law enforcement officers. It's not okay."
This is especially solemn since the ruling coincides with National Police Week 2022, with police families and supporters praying over the headstones of Sergeant Howard and Officer Baxter at the Kissimmee Police Memorial. As well, scores of attendees at National Police Week commemorating at the National Law Enforcement Officers Memorial in Washington, DC, will hear the end-of-watch (EOW) pronouncements of these courageous cops, among too many others.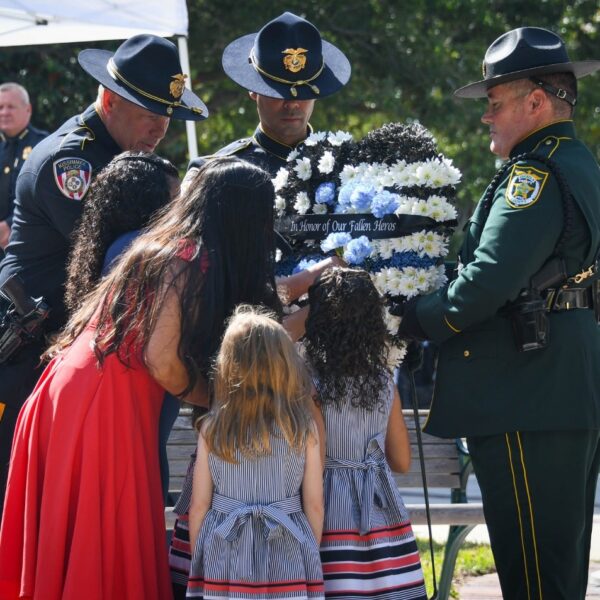 (Photo courtesy of the Kissimmee Police Department.)
The mantra "Never Forgotten" is epitomized when these two slain officers' names are read aloud, while the bell clangs and resonates with open-air tributes.
The ears of Officer Baxter's wife and three children will hear somber bell clangs beyond the day of their slain loved one's name read aloud at local, state, and national police memorials.
As well, Sergeant Howard's widow and child will endure the same utter sadness for the same reason through every police memorial tributes.
The stark reality of what happened to these two lawmen rings loudly, evincing the abject selflessness of our nation's public safety guardians. In this situation, the coinciding reading of the judge's death-sentence ruling meant that the Howard and Baxter families were in a Florida courtroom, not at any police memorial site for National Police Week commemorations.
In that context, justice is served and homage paid those who served with severe sacrifice. The Kissimmee Police Department caters infinite honor and respect for their fallen, a reminder emblemed upon police cruisers for all to see, no matter where we stand at any given moment throughout every year.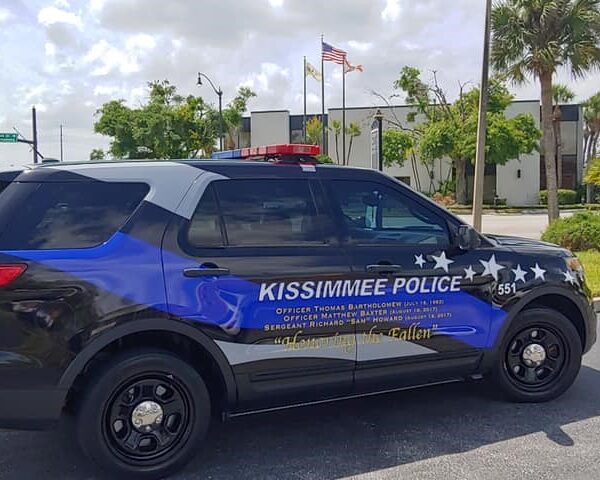 (Photo courtesy of the Kissimmee Police Department.)
Since the city of Kissimmee neighbors Orlando and touristy extravaganzas, people from all around the globe who lodge and dine in the area see the rolling remembrance of a police cruiser emphasizing the perils in policing and the casualties thereof.