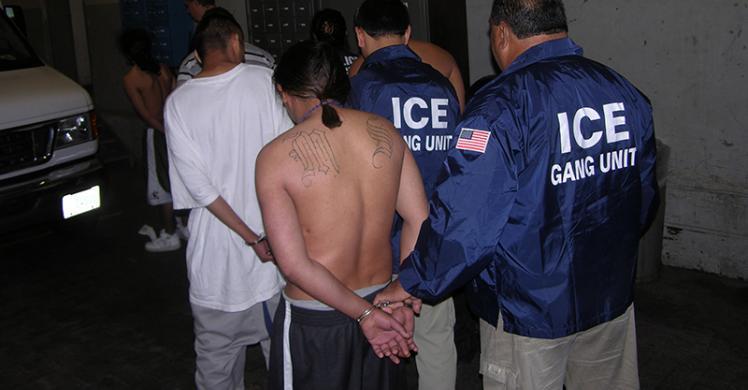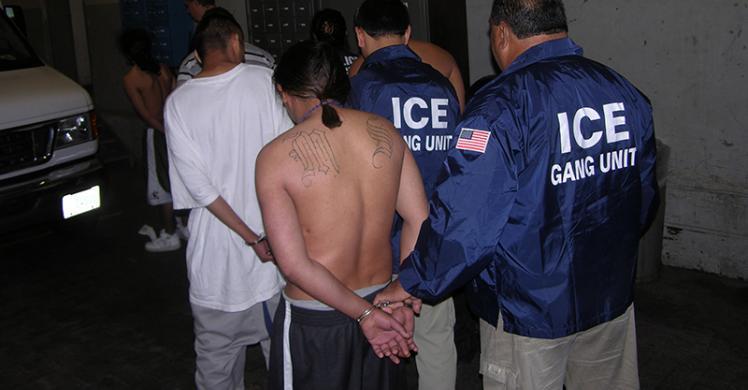 By Steve Pomper   
The AP, via PoliceOne.com, is reporting on something that was absurd only a short time ago but is becoming more common these days. Seems ICE has had to resort to sending subpoenas to Denver officials to get information on four male illegal aliens whom ICE states qualify for deportation. ICE says Denver officials are refusing to comply with the subpoenas.
Denver authorities are questioning the validity of whether ICE wants the information for law enforcement purposes or for "civil immigration enforcement." Nice to assume for themselves the luxury of picking out the laws they'll comply with and those they won't. They're all so woke and virtuous. Much more so than the rest of us who are naïve enough to honor the rule of law.
ICE's deputy executive associate director of Enforcement and Removal Operations, Henry Lucero, says he doesn't want to serve subpoenas on fellow law enforcers. He said the action is a last resort. But he also said it's necessary for ICE to catch dangerous criminals.
Here's the hitch. City and county officials across America are using their self-appointed "sanctuary" status to shield from further deportation dangerous illegal alien felons with histories of deportations (coming across the border after being deported is not a civil matter; it's a federal felony crime).
Lucero says if officials ignore the subpoenas, "they [ICE] could work with federal officials to take the subpoenas to a judge who could hold them in contempt." Lucero said due to the lack of cooperation from some local agencies "it could be necessary to expand the practice to other cities in order to catch dangerous people and deport them."
State, county, and city officials inclination to protect dangerous, criminal illegal alien felons who kill and otherwise victimize Americans is just bizarre.
Denver's Department of Public Safety (not to be confused with the Denver Police Department) Senior Counsel, Chad Sublet, wrote to ICE: "The documents appear to be a request for information related to alleged violations of civil immigration law. Based on these facts, we are denying your request." How do these illegal alien's future victims feel about Denver's denial of ICE's request. Maybe we can ask them after one of these men victimizes them—if they're still alive.
Just look at what happened as a result of what illegal alien-protecting Oakland Mayor Libby Schaff did in 2018. Mayor Schaff publicly warned illegal aliens of an imminent ICE raid. Why did she know about the raid? Because ICE trusted her as the top government official in her city. She's obviously not trustworthy, having tossed her oath of office into the trash. So, what happened to the illegal alien felons she warned? We know about at least one person.
The Daily Mail recently reported on a atrocious crime allegedly committed by Roberto Martinez. He is one of those criminal illegal aliens Mayor Schaff warned about the ICE raid. Aside from placing ICE agents and Oakland cops in danger because the suspects had a head-up that ICE was coming, the warning also didn't work out so well for 19-year-old Madisyn White-Carroll.
Martinez allegedly murdered White after the two were involved in a minor vehicle collision. Martinez became upset when the young woman got out of the car and began taking pictures of the damage and his license plate. First, he allegedly punched her in the face. Next, he pulled out a gun and reportedly shot and killed the 19-year-old. The previously deported, criminal illegal alien felon, who escaped capture by ICE due to Mayor Schaff's warning, purportedly shot Madisyn 10 times at close range.
Shauna White, the victim's mother, during an interview on the Fox News Channel's Tucker Carlson Tonight, said Martinez was well known in the area for robbing people. In fact, Martinez may have purposely caused the "accident."
White believes the city's sanctuary policy helped Martinez flee back to Mexico. How? Well, inexplicably, authorities refused to release Martinez' photograph to the public to help capture him. About Mayor Schaff, White "claims the suspect's photo is being withheld due to Schaff's 'personal agenda' and that the mayor is 'lining her own pockets and her own agenda.'" What kind of people help a criminal like that?
White said, "I feel that she [Schaff] has no concerns for the citizens that are already here… It's more important to them to protect people who are not from this country, than to protect their own citizens… and the homeless and the children who are already here who are in need of services." With the protections Martinez enjoyed in California, after the heat dies down, he'll likely be back—to kill another American, legal resident—maybe a cop.
Meanwhile, back in Colorado, let's explore these examples of fine human beings ICE would like to deport and Denver wants to protect? Oh, nobody really that dangerous. There's one charming suspected illegal alien from Mexico charged with sexual assault. You have another harmless repeat Mexican border-hopper cops arrested for vehicular homicide. There's a third stellar Mexican citizen who's being held for child abuse and strangulation assault charges. And last but not least is a lovely Honduran contestant charged with domestic violence.
"Tell our wonderful contestants what they've won, Jay."
"Well, Monty, our four contestants have won the affectionate protection from the consequences of their actions sponsored by the many anti-law and order politicians in our nation's sanctuary jurisdictions. And… for the crimes they've committed against Americans, legal immigrants, and peaceful illegal immigrants, they'll also receive not one second of prison time or have to suffer another deportation" (applause).
On what planet is protecting people like these four dirtbags sane? These are not just landscapers, crop harvesters, restaurant servers, roofers, or house painters seeking better lives for their families. These four men are dangerous, and ICE reports each of these illegal aliens has been previously deported—making them felons just standing on U.S soil and breathing American air.
If it makes you virtue signalers feel any better, three of the men have been released, and only one remains in jail. If you live in Denver, maybe they're staying near where you live or work. Maybe they're planning their next crime while watching your kids as they play in your yard or at the park down the street. There's no legitimate defense for protecting people like this—none.