Indeed, it's beginning to look a lot like Christmas. What is fascinating and heartwarming is the plethora of offerings from folks equally hard-pressed because of the looming pandemic. And like many similar hardships posed by circumstance resulting in positive outcomes, cops are out there doing the job and spreading cheer…and gifting abounds.
Having had a career in law enforcement, working most of the major holidays throughout my years of public service, the behind-the-scenes machinations of both sworn and civilian support personnel in police agencies is largely akin to the "blue" elves fashioning gifts for the great giveaway…and the even greater joy of recipients.
Our squads of cops pooled resources, received donated goods from local merchants, civic organizations, churches, mega corporations, and private donors, amounting to stacks of gifts for wrapping. Police spouses and 9-1-1 operators took the lead and dressed all boxes with wrapping paper, bows, and ribbons…which were then segregated according to gender/age groups for eventual distribution by beat cops (because no one knows better the needs of the community than cops working the streets).
And it is not just wrapped boxes police are offering, but a much-needed replenishment of perishable goods otherwise depleted by circumstances we know as COVID. Local, county and state law enforcers are collaborating with food pantries and not-for-profit entities geared toward feeding America, providing good cheer in the form of canned goods and packaged meals to get folks through the season by helping fill bellies.
In a seasonal program called "Stuff the Charger" (contemporary police cars are Dodge Chargers), the Florida Highway Patrol aims to help stock cupboards and pantries:
(Photo courtesy of the Florida Department of Highway Safety and Motor Vehicles.)
With politicos and their ardent followers of propaganda falsely smearing the noble nature of our nation's peacemakers, there is no better time than holidays to expose the truth about law enforcement officers and their heart of hearts.
Indeed, cops are a selfless bunch, often dipping into their own pockets so families victimized by thieves do not go without. (And these are the cops some politicos and others demand be diminished or altogether eliminated!)
While we deck the halls with boughs of holly, some crimefighters deck their cruisers to revel in a festive season, marking the end of 2020 while reminding folks they are readied to respond when called.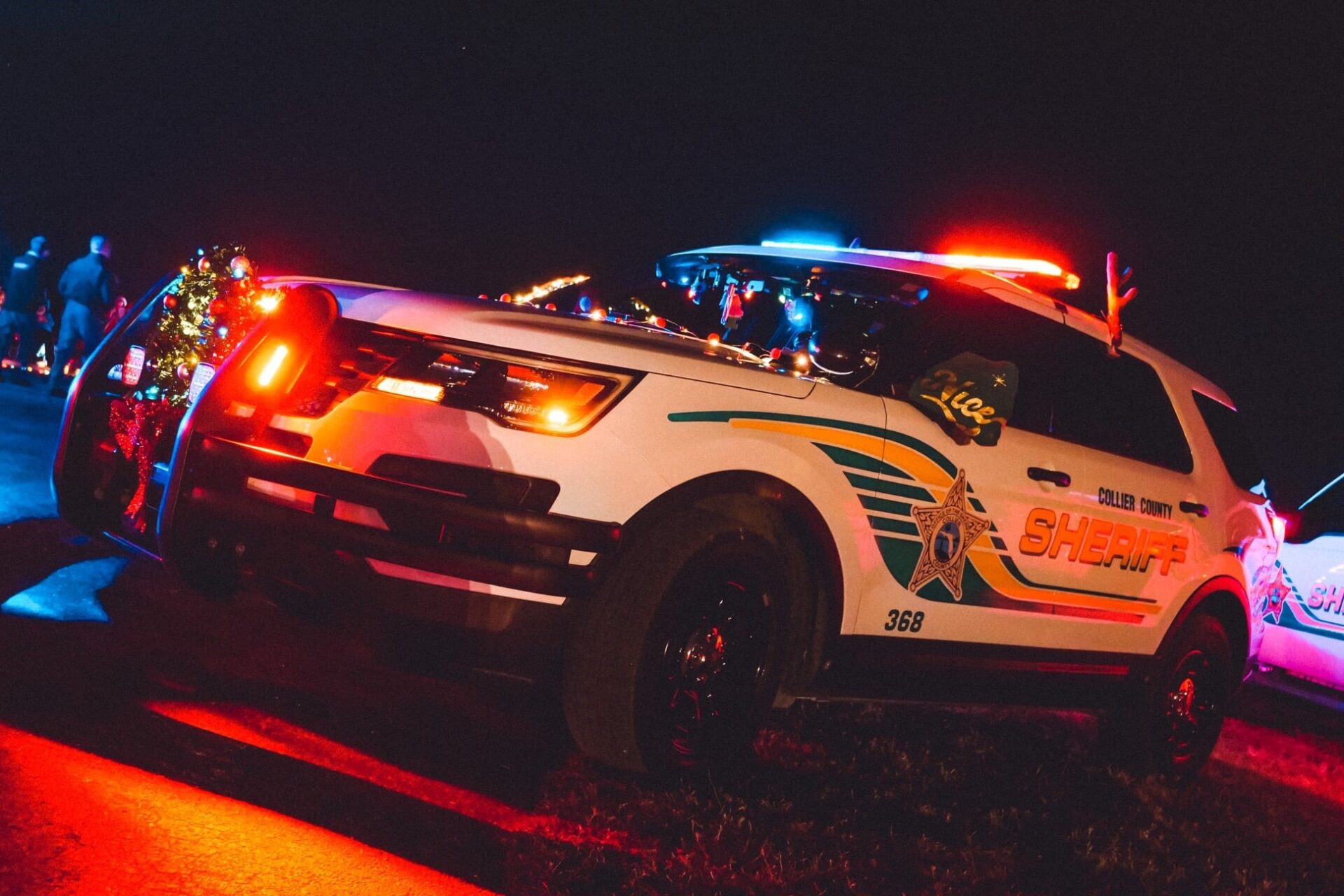 (Photo courtesy of the Collier County Sheriff's Office.)
Since Christmas gifts traditionally get placed under a Scotch pine or Blue spruce of Frazer fir or similar genus, and some families significantly hard-hit by COVID circumstances are unable to acquire a customary tree, cops in Berlin, Vermont have that covered too. Berlin police personnel (whose police cruisers display the custom graphic "Caring for our Community") have asked citizens to nominate families who need a tree, so that they can deliver the greens.
You see, a family in the Berlin community donated the tree to the PD. Paying it forward, the Berlin cops wrote the following: "The tree was donated by a family who won it in a contest and graciously donated to the Berlin Police Department." So, in turn, the guys/gals in Berlin blue graciously offer it to folks in dire need. Selflessness!
(Photo courtesy of the Berlin Police Department.)
Cops are a giving lot, perhaps largely obscured because LEOs do not perform for glory or fame or limelight attention. No, having sworn to preempt the depravity foisted by evil individuals is the main game. Yet it doesn't always work out to utopian ends; they see the worst of the worst. In that regard, cops are hyper-exposed to unthinkable tragedies and dreadful inflictions upon innocents who, we can imagine, pray and hope for a savior to pluck them from the grip of malcontents who jolly about degrading others. First responders to the rescue!
That's the hardcore end of the extreme spectrum. Then there is the victim of circumstance which police officers come upon during the course of duty. The child(ren) living in poverty because of broken households. The special needs kids whose parents are cash-strapped from being full-time caregivers having to sacrifice by default…"to make it to the next day" while on their knees praying for respite. Cops see these things, realize the conditions, and do the right thing: provide, bigly.
Similarly, even those with reasonable means may not have a bright outlook and cheery domain. On my beat, I met some wonderful senior citizens who cited they "have no one," making holidays especially somber. For them and me. Providing my squad was not running from call to call, it was fulfilling to bring elders a little something and sit for a chat over coffee or tea—being "someone" in their mind made the difference in my world. The wisdom was priceless. The organic nature of two humans coexisting and co-creating memories is the greatest gift…no batteries required.
Besides the widely publicized Shop with a Cop ventures, many little-known episodes like these herein transpire every day, with police officers depositing a bit of themselves in the accounts of people, gifting without hesitation or expectation of return. Although, I can attest it is one of those win-win deals we often reference whereby every participant is enriched, cops included.
This morning, a friend of mine posted a GoFundMe for a friend, a single mom raising five children whose father reportedly "abruptly left a few years ago," leaving her to fend for herself and her offspring. The part about this particular person's story is that she was selling plasma to make ends meet. Then COVID struck, obsoleting even that meager means. This is the exact type of story which cops, usually awareof such dire straits on their beat, diligently go about planning and remediation, so that no further suffering is endured.
These humanitarian sagas transpire every day in every city in all states. Police officers are closest to the fore when citizens are downtrodden and feeling the despair born of circumstances draining resources and will. Even when we get stuck, cops are there to help liberate us from some tight squeezes.
The web is replete with poignant police scenes whereby LEOs from all corners of America exude spirit and an attitude of giving, resulting in beautitude…so others can feel enriched on the holiday and thereafter.
Cops cater cheer in a season mostly known for giving of self, in whatever way that materializes and for whomever could use a boost of humanitarian offerings.
And for children, that usually means toys. The New Jersey State Police "Operation Christmas Child" program delivered roughly 1,200 toys for kiddos in the city of Elizabethtown alone: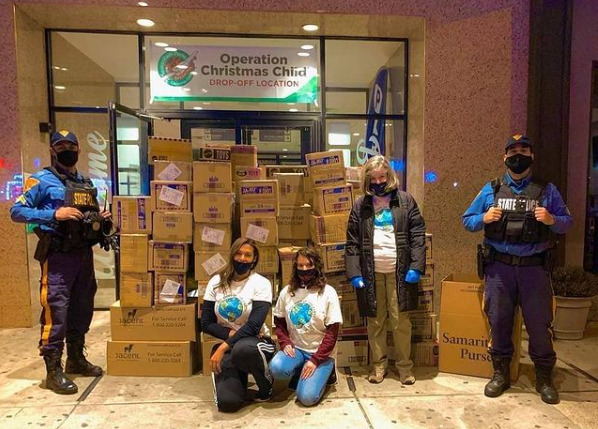 (Photo courtesy of the New Jersey State Police.)
This will be a Christmas like no other, with a pandemic right outside the door and a precedent-setting political climate whose bluster has us all somewhat unsure and largely imbalanced and frustrated by calls to defund the police…law enforcement is positioned to provide, just as they always have.
As James Altucher recently denoted: "The virus is enhancing what is already inside each person: Jerks are turning into bigger jerks. Compassionate people are becoming more compassionate. You get to decide in this very difficult time who you really are. Hopefully, we all make the right decision."
Always a timely provider of insights and reminders, my police chief offered the following nugget which suits our topic: "Reputation is what men and women think of us; character is what God and angels know of us." –Thomas Paine
Despite the dread imposed by the virus and naysayers crying for a nation without the law enforcement institution to maintain law and order and uphold the Constitution, many Back the Blue voices counter the noise by supporting those with undeniable great character.
Well, we already know where cops stand and which Overseers pave the way for them to do great work on behalf of countless others during a season dedicated to resurrecting life and being jolly.
Police Navidad!