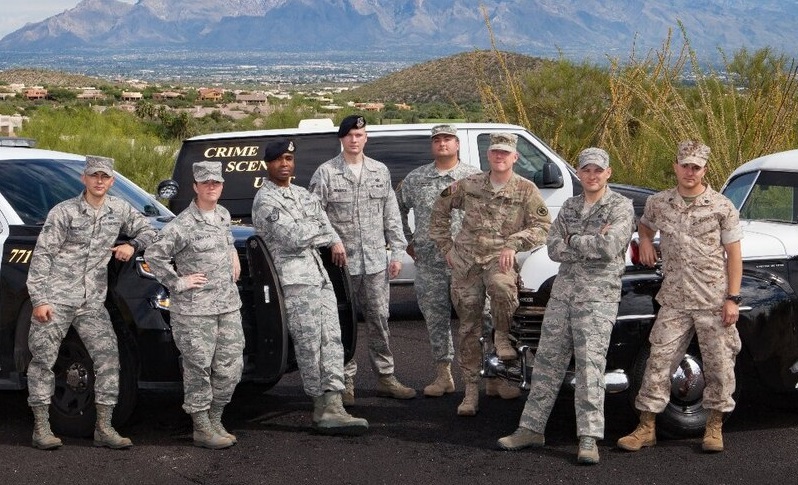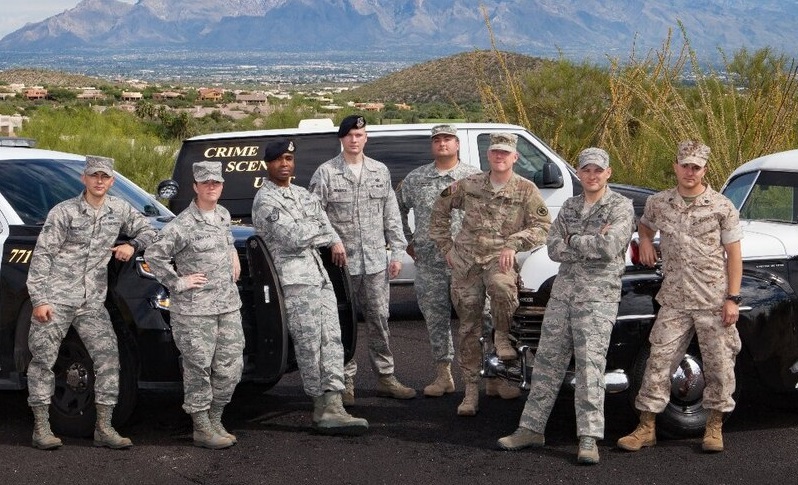 Among the many pro/con movements regarding policing in a transparent society opining contrarily, some Americans are now claiming that law enforcement officer hiring practices ought to exclude military veterans from consideration, citing fears of a "militaristic" police force.
For law enforcement officers, this is yet another hit for those policing the United States of Angst and a citizenry fantasizing utopia. Bad actors are stomping all the roses, and that's where cops come in: To soldier through all the miasma…on everyone's behalf.
Traditionally, the 18,500 or so police agencies throughout the United States have often been referred to as paramilitary, and for good reason: they relatively mimic the inherent skillsets, strategies, tactics and traits ordinarily needed in enforcing laws in a society whose population contains some who harbor violent tendencies and go bonkers with rage.
It surely takes a carefully measured persona to not only react accordingly but to also measure matters to a degree with the utmost calculus and constant tweaks throughout absolutely fluid situations…all while maintaining the principles of an oath declaring dictums having to do with preservation of life.
Among many more dynamics, the few we just mentioned naturally default to police-specific additives such as patience, discipline, critical thinking, assessment, re-assessment, innovation, weapons mastery, operational management, situational awareness, mission integrity, and similar constructs having to do with gaining non-violent compliance from violent sorts refusing compliance…
Although there is the potential for PTSD stemming from military service and warzone battle experiences, like every other candidate pursuing a police career, screening implementations (psychological, polygraph) are used rather universally. Indeed, any discernible concerns regarding what clinicians may categorize as "unsuitable" for or "incompatible" with police work automatically defaults to a pile of applicants processed out of consideration.
These things are not new; law enforcement officials responsible for recruitment/hiring exercise scrutiny and conduct due diligence, optimizing technology and human psychology principles to ensure they select the best candidates for a massively difficult job in an increasingly demanding and often judgmental society with some members possessed of unrealistic expectations.
Realistically, the U.S Armed Forces conduct screenings at the onset of citizens who step forward to serve their country in a national capacity. Thus upon discharge from the military, candidates who have sights set on civilian roles as law enforcers already have vast experience to support fulfillment of such a critical role.
Military veterans are unquestionably suited candidates for roles in law enforcement, and with good reason(s).
Yet the Racine, Wisconsin police department —more specifically its elected leaders— are pondering some ludicrous suggestions submitted by people surveyed about "police reform" measures, as reported by Coffee or Die.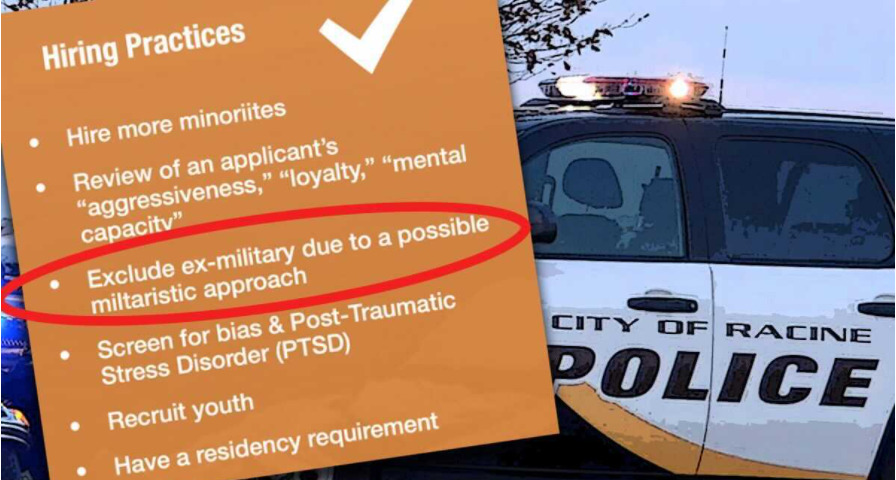 (Photo courtesy of the Black Rifle Coffee Company.)
Again, we are hearing from folks who have zero experience in policing yet somehow making it to the front of the line with stipulations on how cops should or should not do the job. What is chronically and suspiciously omitted from the ongoing dialogue? Cops' voices. Even more loudly, these activists seem to forget to hold accountable those for whom we require police officers in a socially free society: Criminals running amok.
Naysayers of military veterans becoming cops in civilian society seem to don rose-colored glasses only when it suits their ideologies having to do with doing away with authority figures fashioned to reel in malfeasants. This aligns with the context of anti-police manifestations, materializing in anarchy and unbridled behaviors most of us abhor and defend against, imploring highly trained and superbly skilled police officers on the frontlines and armed with necessary tools to fell the dragons scorching constitutional rights of Americans.
If not for the undeniable bravery of cops swearing to lay down their lives for innocents (much like our soldiers preserving American interests in broader scope), then who?
Why would a society train nation-loving and Constitution-supporting soldiers and then shuck them aside when military commissions conclude? Why deny well-experienced grand-scale preservationists from offering assets to relative microcosms of geography otherwise known as towns, villages, cities, and counties and the overall security thereof?
It defies logic to bar the best equipped citizens from utilizing their skills, talents, courage and convictions that most others dare not do.
This off-the-wall police reform ideation geared to prohibit former soldiers from serving in civilian police capacity is another layer of shadowiness and scourge evolving across our beloved freedom-loving nation. With dubious elections positioning district attorneys (usually noted as on the good guys' side) blatantly coddling criminals and devaluing cops ought to at least evoke citizens' involvement in recalls and processes bringing attention to such injustices and sellouts with sinister cards up their suit sleeves.
Just today, Orange County, California Sheriff Don Barnes was reportedly ordered by County Judge Peter Wilson to release roughly half of the jailed inmates…with the reason that they can't adequately social distance in a prison setting. Seems the ACLU filed a suit against the Orange County Sheriff's Office, alleging that inmates are in close proximity and thus prone to COVID contagion.
Although Sheriff Barnes previously released approximately 1,400 "low-level offenders," the more serious criminals are on the roster to be liberated, thanks to a black-robed jurist siding with the desires of ACLU lawyers speaking on behalf of malfeasant minds. There's no word of concern about corrections officers, some of whom are likely former military.
And, if Sheriff Barnes already released thousands because of a judge's order, doesn't that amount to plenty more room to social distance? Who's kidding who here?
This is yet another judge misappropriating the inherent purpose of the criminal justice system and negating practically inevitable threats to citizens at large. Abuse of power?
As Sheriff Barnes put it, "The public should be in a panic and concerned about this release." Indeed.
No doubt that there are maniacal minds out there, menacing society and targeting cops who are simply doing the job routinely relegated by cops. Albeit not a failsafe, ultra-training is an added layer galvanizing self-protection largely adopted from military playbooks delineating justified defense.
A few years ago, I studied a relatively new program whereby the Department of Homeland Security launched a well-trained group of former American soldiers enjoined with federal agents combatting child sex predators. These former soldiers use online technology and software to help law enforcement officers nab barbaric people luring children into disgusting practices for their perverse pleasures. I wrote an article about the combined effort, published by Fox News in 2016.
Police reformists intent on precluding military veterans from joining sworn police ranks (or at least aiding cops in a civilian capacity) in effect play into cunning phantoms of perversion and masters of child victimization, merely based on the misguided notion that former soldiers are too "militaristic." The reality is that military vets are stellarly suited to soldier through the vile nature of pedophiles and prevent their slither from reaching unsuspecting children.
Albeit anecdotally, my personal/professional experience regarding former soldiers in civilian law enforcement roles hold dear the fact that this demographic catered so many benefits to our agency, from mentorship to training officers to bona fide promotable leaders who achieved collar-pin brass for obvious reasons. In symbiotic fashion, the newest recruits being led by evincingly qualified senior cops bolstered by military service and indoctrination were duly heralded in the paramilitary position symbolized by a municipal badge.
This is not to imply that only former military members are suited for promotion and leadership roles; to the contrary, those without military time also exhibited excellent police skills and attained upper-level police rank. For the most part, both compliment each other and ultimately make for an ideally outfitted and robustly equipped police entity to best serve the citizenry and ensure every cop goes home to loved ones whose faith in their cop(s) is rooted in undeniable capability to get the job done efficiently.
Incidentally, this type of watered-down police reform nonsense reminds me of those jurisdictions which opted to form all-civilian police review boards/committees, entirely lacking any law enforcement experience to even remotely comprehend the various palpable dimensions regarding what it is like to have one's life on the line as a sworn police officer.
Largely synonymous in nature, cops and soldiers have lived to combat violent actors and know the not-so-pretty measures necessary to quell such barbarism and salvage lives of others (including police reform-minded folks).
To those submitting police reform ideations wrapped in dislike for "militaristic" operators, the other option is the Paw Patrol.
Wait, never mind…they were cancelled already simply because of the iconic police blue uniform.
When the floor drops out and brave individuals step forward to quash everyone's nemeses, those with a depth of experience, a boatload of bravery, and mad skills to slay evil are really the only viable defenders.
I'll take a willing warrior over a whiner any day. You?
Cops and soldiers know best about surges in cortisol levels from stress, and how to mitigate such physiological phantoms to ensure triaging trauma is handled accordingly, with tried-and-true tactics and strategy. Counselors of crises are hard to find, and we should be mindful to not break up the set.
Anti-police quackery needs a shovel and a gravestone…finally.
Thankfully, Racine Police Chief Art Howell dutifully and respectfully weighed in on the "police reform" contention via a press release which heralds military personnel in American law enforcement circles.