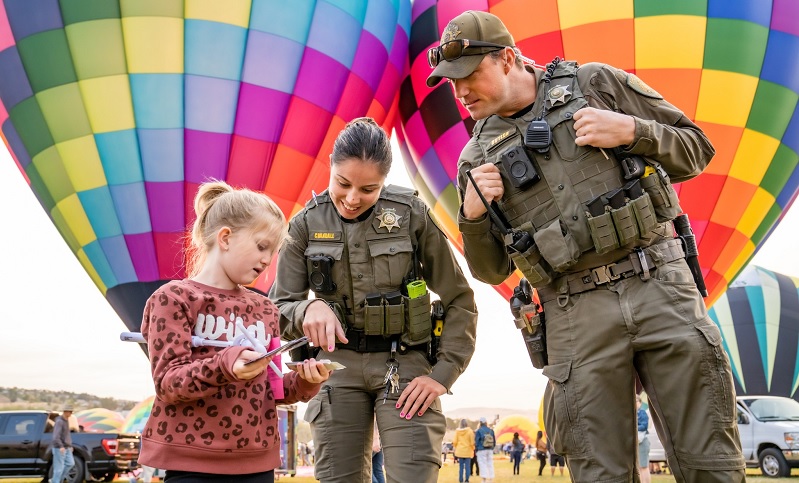 Amid the many instances of hate against law enforcement are the multitudes of cops bringing smiles to kids' faces via heartfelt moments of tapping into our beloved nation's future. If there is anything algorithms have churned for good, it is the abundance of city police officers, county sheriff's deputies, and state troopers bringing light into young lives.
With the constant stream of politico fiascos and scandals and miasma movements and anti-this and anti-that activists…a deserved treat is to lay eyes on poignant interactions between America's first responders and children, everywhere.
Lest we omit the pandemic, which effectively shook kids' lives, morphing relative stability into a dropped snow globe. Heck, all humans can say the same thing. But the children look up to adults…often those in uniform.
That says much about peace officers tacitly extending a reassuring hand to developing minds bewildered by blizzards of national unsettlement. It is also a hallmark of law enforcement officers gravitating toward where they know scorn is highly unlikely —where they are revered and not ridiculed for doing unquestionably great deeds and saving lives— which circles back to the previous point of reassurance during deeply difficult times: A symbiosis of sorts.
Indeed, kids seek superheroes and often look up to our country's first responders, in good times and bad.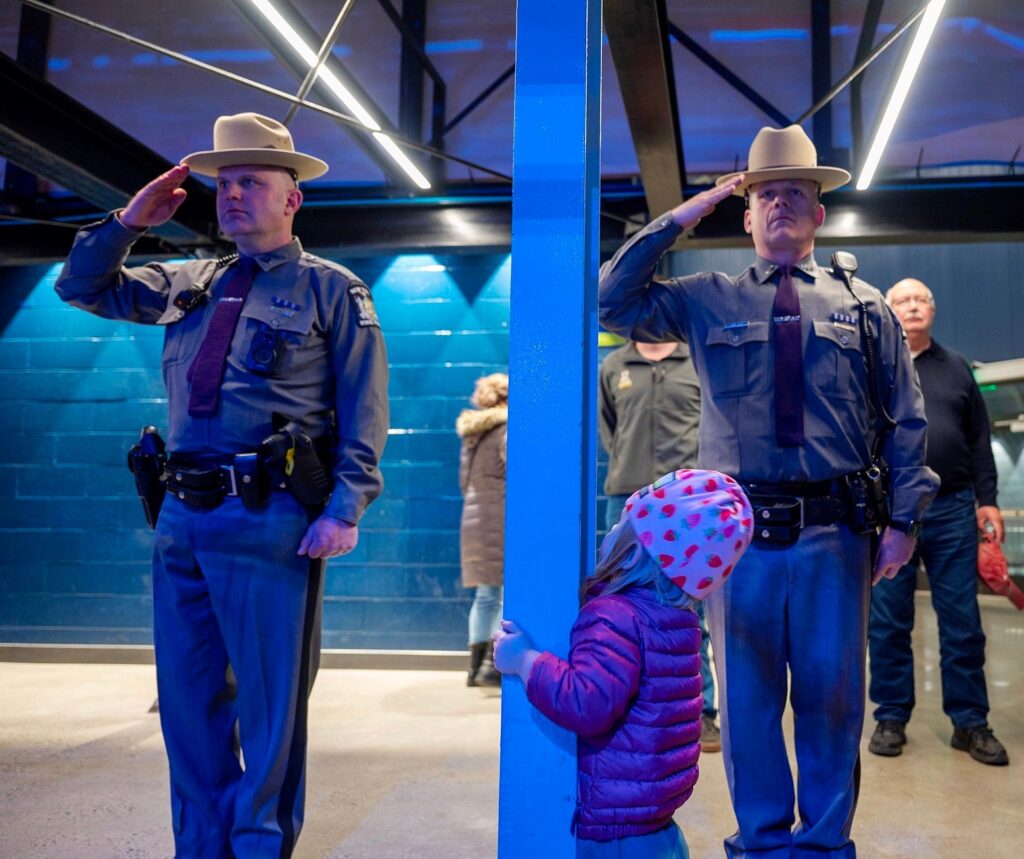 (Photo courtesy of the New York State Police.)
Of the many episodes starring kids and cops, we start with a little girl whose special day was uplifting, thanks to local police officers who had a business call before a birthday call…
According to the Gardena Police Department, there is a girl named Danah who just made some police officer friends, and she may have scored some cool treats from cops: "Officers responded to the home earlier in the day. After learning it was Danah's [5th] birthday, Officer Medeiros went to the store and helped her celebrate with cupcakes and balloons."
The surprise delivered by the police excited little Danah so much that she blurted out something that was like putting a bow on top of the interaction: Danah informed the squad of Gardena police officers that she, too, wants to be a police officer "when she grows up."
Although some Gardena cops may be considering a voice coach, Danah was chock-full-of smiles and waves for her friendly neighborhood police officials belting out a birthday tune.
As a cop, one of the greatest fulfillments was being invited to any local school's class and doing a book-read segment with children. Again, that mutually benefiting aspect derives from cops and kids sharing time.
Representing the Contra Costa County Sheriff's Office is Deputy Gonzalez who, in recognition of Dr. Martin Luther King, Jr., conducted a book read at one of the elementary schools in her jurisdiction.
"To celebrate the holiday, Deputy Gonzalez visited Mrs. Smith's 1st-grade class at Rio Vista Elementary School. She read the students a book about the life of Dr. Martin Luther King, Jr. and why he is an important figure in American history," the Contra Costa County SO reported.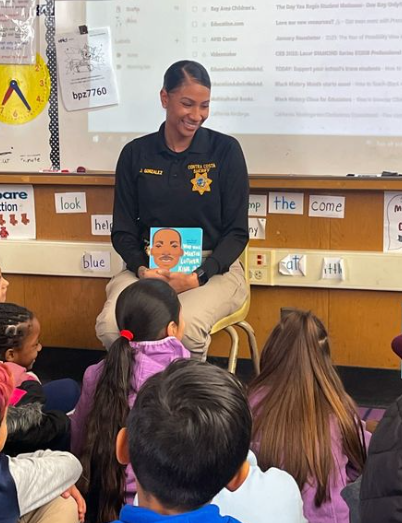 (Photo courtesy of the Contra Costa County Sheriff's Office.)
For cops, reading books to children in classes across America often segues to many other lessons. A major thrill for kids is when officers explain all the equipment fastened to their duty belts and utility vests; kids are always piqued by the assorted tools of the trade used by cops. Police officers are happy to oblige, ordinarily lingering a sacred message that weapons are for protection.
Some kids are so intrigued by police culture that they ask to have a tour of a law enforcement agency and mingle with the jurisdiction's Finest. That's what six-year-old Eva got to experience, thanks to some awesome Arlington police officers obliging and sharing the impromptu occasion.
Per an Arlington PD spokesperson, "…Eva is in town from out of state visiting family for the holidays. Her parents told us that her favorite gift she received for Christmas this year was a police uniform — and asked if she could wear it to one of our stations and say hi to some real police officers."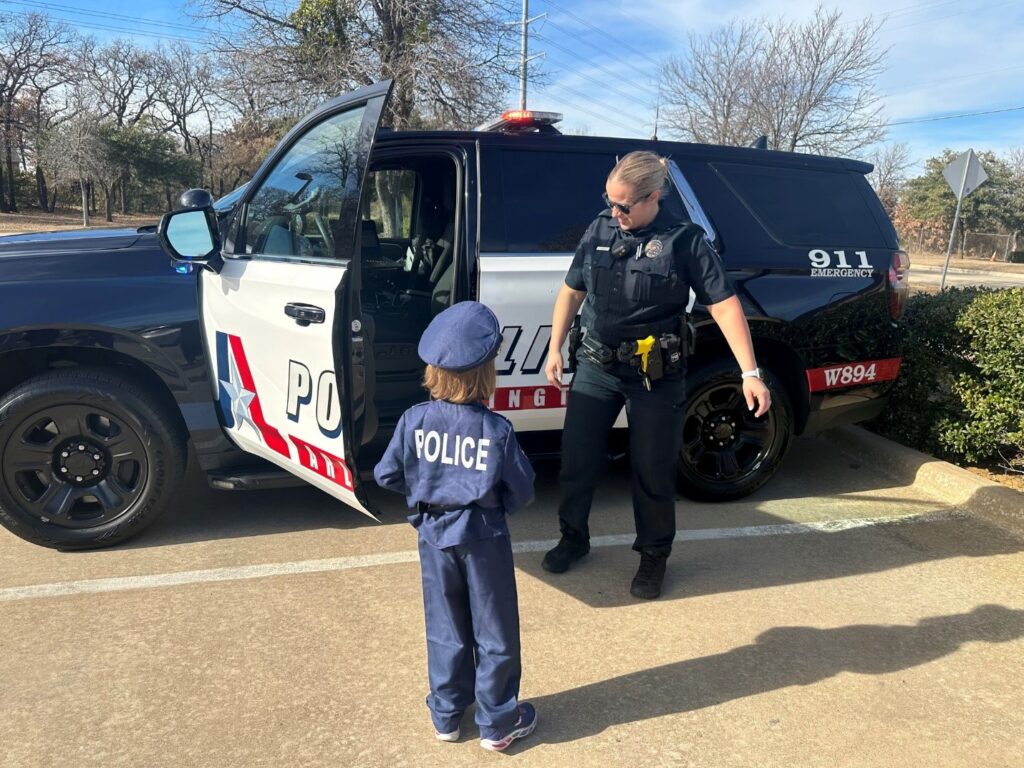 (Photo courtesy of the Arlington Police Department.)
"Eva and her family visited our West Station and spent time with several of our folks there — including Officer Herlihy, who made sure Eva knew that there's absolutely a place for her in law enforcement if that's what she wants to do when she grows up." Since you are here in this space, absorbing police news, you can imagine how much of a thrill that was for both Eva and her newfound police friends.
Sometimes forged friendships evolve from gifts, along with lessons on their proper/safe use. That's what materialized in Washington, DC when Metro police Officer Johnson overheard a young boy's desire for a bicycle for Christmas 2022.
"When 5-year-old Carter told Officer Johnson he wanted to learn how to ride a bike, Officer Johnson knew exactly what to get him for Christmas! Enjoy your new ride, Carter!" is what the DC police agency posted.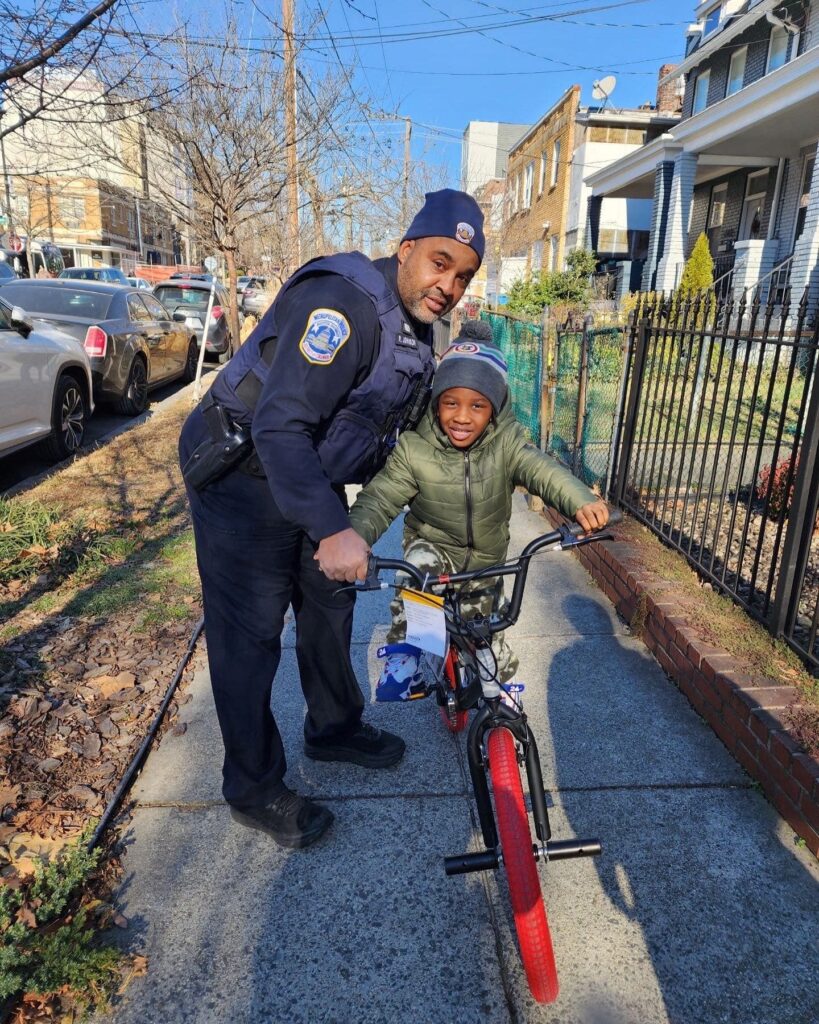 (Photo courtesy of the Washington DC Metro Police Department.)
Similar to reminiscing about people who taught us how to drive a motor vehicle, kids endear those who took the time and instilled confidence in them through bicycle-riding lessons, encouraging them to get up from falls and go forward in folly. Carter knows who is in his corner!
Sometimes it is the police uniform that ushers in comfort and security and sanctity; it is something I experienced as a kid growing up in NYC, always fondly engaging with NYPD cops working the beat. In this context, a special-needs child suffering an overwhelming episode having to do with a phobia of escalators was abated by an officer in blue.
A young girl named Joanna had a happenstance interaction with a Hoover Police Department cop whose hearing and observation skills are as fine-tuned as his heart.
From Joanna's mom, we have the following cop/child experience:
"This is the kindness of a complete stranger. Our sweet Joanna has had certain challenges growing up. She is as smart as can be but has vestibular, auditory, visual, and sensory challenges. Little things that most of us take for granted can easily become largely challenging and take a lot of courage for her to even attempt from any one of these issues but can definitely affect her all at once.

"Today at the Galleria, we were nearing a meltdown simply riding down the escalator. Nothing we haven't done before, but today was different for some reason. We have experienced a great many hardships in the last two years. I don't dwell on them. But at this moment, I was thinking how much I missed my husband who is working in a different state, because he would just hold her hand and tell her it was okay. She was getting embarrassed. Three Hoover Police Officers were approaching to go down just a few moments after we had. This officer immediately picked up on what was going on. He reached out his hand and said, 'Come on, I got you, we will go down together, hold my hand.'


"She still was hesitant but his strong and kind presence as a patriarchal figure was an instant answer to a fleeting thought of a prayer I was having in my mind at that moment. It wasn't a fake gesture, but this officer completely embodied the light of Christ in this sweet act of compassion for his fellow man, my little Joanna. Thank you, Officer Perry, and thank you Hoover P.D. for being top-notch and going above and beyond. This meant the world to us today and serves as a reminder of what Christ's life was and is for, especially at this Christmas Season, 'Love one another, even as I love you.'"
Indeed. And God's assigned peacekeepers are doing His will quite well.
On that note, we offer yet another display involving a Hoover, Alabama police officer and a youngster who just needed…presence.
A renowned school resource officer fit the bill, and then some; from what I researched, this cop is a beacon for children attending the school where he serves. (Cop-free campus demanders, eat your heart out.)
"Sometimes in life, you just need a hug. No words, no advice, just a hug to make you feel better.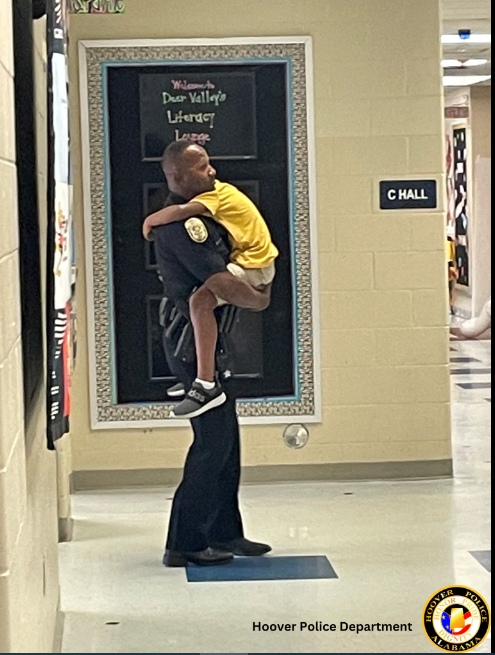 "This little guy was having a rough morning, then he spotted School Resource Officer 'CJ' Acoff. Officer Acoff knew exactly what to do. No words, no advice, just a hug. Moments like this are the reason why we love this job."
Of the many reasons why law enforcement officers love the job is…ensuring children look up when life may deliver down moments. Again, that elixir is just the right thing for both cops and kids.
Sifting through police pages displaying a trove of interactions between cops and kids, one via Hoover, Alabama cops caught my eye and seemed befitting this article topic. Here is the image followed by a heartfelt message anyone can relate to: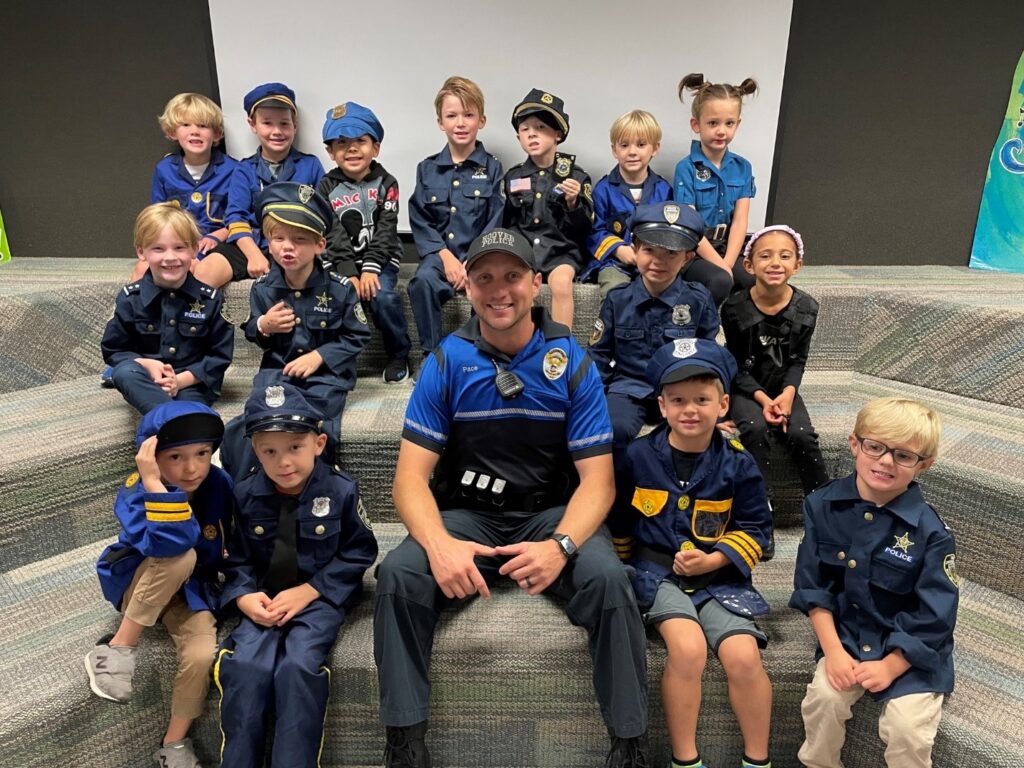 "Children are great imitators. So, give them something great to imitate." That's exactly what happened—bigly, all in blue.
"Bluff Park Elementary School students recently finished their study of community helpers. They got the chance to dress up as their favorite and posed for this photo with Officer Pace. These smiles just warm our hearts!" That was posted by a Hoover PD spokesperson, blending in with our subject matter.
As mentioned at the onset of this material, cops are constantly reaching out to children, in varied contexts, parlaying positive human constructs for young minds to embrace and relish as friends and role models for life.