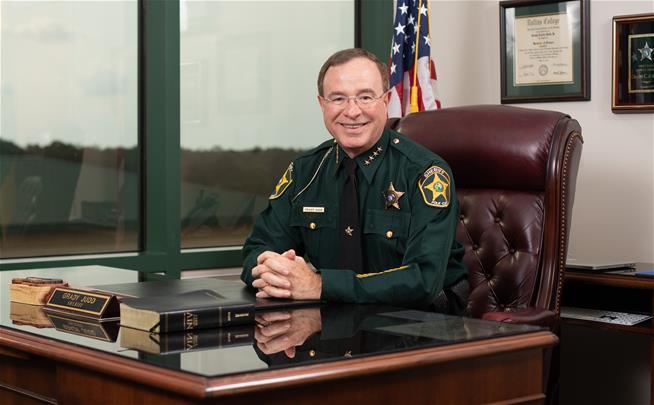 Polk County, Florida Sheriff Grady Judd is not only embraced in his jurisdictional locale but widely popular across the nation. Sheriff Judd is an outspoken constitutionalist who unequivocally abhors coddling the criminal element and heralds law enforcement officers who perform dangerous duty daily and serve the public.
There is good reason Sheriff Judd was appointed to be on the White House's Coordinating Council on Juvenile Justice and Delinquency Prevention consortium, a federal component pertaining to juvenile justice initiatives: He is a cops' cop who gets the job done by backing his deputies' in the often unpretty pursuit of bad actors wreaking havoc on innocents.
And those same innocents have reciprocated by recently re-electing Judd to his fifth consecutive term as sheriff of their vast county—the fourth largest among Florida's 67 counties, and roughly 1,800 square miles of geography.
According to Florida Politics, Sheriff Judd "was sworn in at Lakes Church in Lakeland by Honorable Chief Justice Charles Canady. Judd ran unopposed in the 2020 election and will serve a four-year term."
Per ABC Action News, "It's the first time in the 160-year history of Polk County a Sheriff has been elected to a fifth term."
And to the citizens he protects and loves so much, Judd had this to say at his swearing-in ceremony on January 5: "History was made by the citizens of Polk County when you elected me sheriff for a fifth term. I'm grateful beyond words for the opportunity to be your servant and to be your sheriff. To have the honor to continue to live my dream daily is beyond description."
Sorta humbled and admittedly speechless is an anomaly for Sheriff Judd; he is a man of admirable character who often orates from press conference podiums and tells it like it is, being branded a "cop's cop" time and again.
Like his brand of pointed storytelling or not, he unfailingly reports what is going on in the community for the community—in other words, doing his job. Moreover, with all the hubbub and demands for more transparency nowadays, Judd was way ahead of that requisite. In a damned-if-you-do and damned-if-you-don't profession, Sheriff Judd exhibits forthright acumen, candidly addresses serious issues, and informs criminals that he is coming for them, followed by actionable proof. Why would any viewer not care for that posture?
Frankly, most news consumers implore Judd's brand of law enforcement. Polk County neighbors mine, and I admire a long-serving law enforcement executive who has dedicated his entire life to public safety and fulfills promises by delivering criminals to county jail. His due diligence and vigilance in his county make mine safer too—criminals do roam, a lot.
Judd is not one to mince words, as he exhibited during his appearance on the NPA Report, or preserve bullets when his patrol deputies are being fired upon.
It is Sheriff Judd who fields reporters' questions, whether at the Polk County Sheriff's Office (PCSO) HQ building or any of a litany of crime scenes attended by his crime-fighting deputies and the media.
One glaring example was in 2006, when a traffic stop went awry as the suspect driver ran from deputies investigating what was believed to be a fraudulent driver license. (The traffic stop was initiated for "unlawful speed.") The driver fled on foot.
Two Polk County deputies and a police canine engaged in a foot pursuit. The suspect hunkered down in wooded brushy terrain.
During the search for the suspect, the sheriff's duo of deputy/police canine was ambushed by the armed suspect.
Father of three children, PCSO Deputy Vernon Matt Williams, 39, and his K9 partner DiOGi were both murdered; the other deputy on scene was shot at, returned fire, and ultimately survived a bullet wound to his leg.
The funeral for Deputy Williams and DiOGi was next to the last police funeral I attended before my retirement, and it remains rife with somber moments, especially seeing Deputy Williams's children and spouse and their expressions indicative of immeasurable grief.
Among hundreds of LEOs from all across the nation and Canada, the sights and sounds of police canines were everywhere at the church service and burial site.