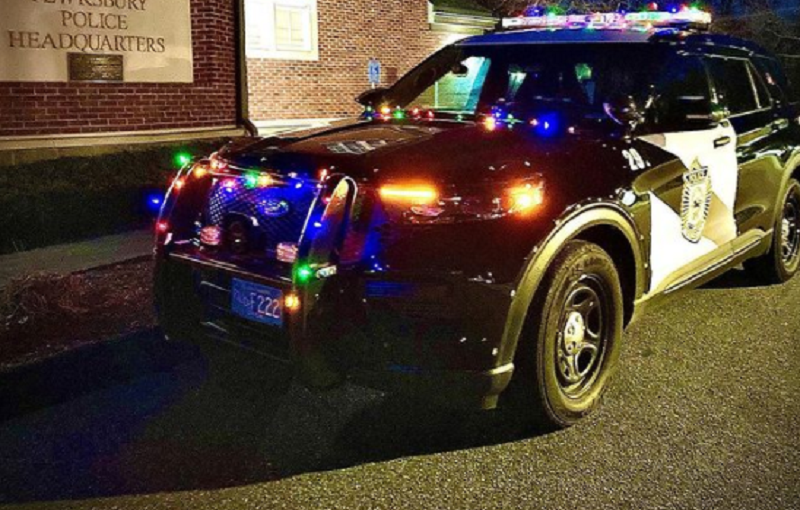 As one may suspect, police work during major holidays means being away from loved ones in order to safeguard the community and ensure citizens' merrymaking with appetizing banquets and poignant familial experiences while seasonal lights wink away. For the beat cop ensuring these highlights are conceivable, the shift is nonetheless normalized with the reality that bad things still happen despite happy holiday intentions.
Because almost the entirety of my police career contained working Christmas Eve and/or Christmas Day (every other three-day weekend off, so if I were on duty this time, I'd be jockeying around in cruiser on both this year), I harbor distinct recollections of the highs and lows…the bittersweet moments on the beat during Yuletide.
Most memorable are the families whose makeup had among them children with special needs; that is where I admittedly usurped Santa's duties and lugged in gifts to shower upon these extraordinary people. The kids' faces…illuminated with glee…is enough to make a tin shield trickle tears like solder.
Cop shops have their own elves; we call them squads. Among them are multi layers of supportive elves, in the form of spouses, loved ones, neighbors, volunteers, and church congregants, collectively aggregating special presents for all ages, contributed by many givers who are mostly faceless and nameless and huge-hearted. Community policing is not always necessarily only involving cops.
The Police and Kids Foundation portrays much of what we are talking about today, including some of those trickle tears mentioned above:
The Rhode Island State Police spent months coordinating this year's Christmas shindig for special needs kids. In a press release hash-tagged as #alwaysthere, their bittersweet beat pinned some points at a bowling alley: "Troopers recently joined the Public Safety Special Needs Coalition and the Autism Project for a fun and festive holiday bowling event. Individuals with special needs enjoyed bowling with first responders and Santa Claus made a special appearance with gifts for all."
(Photo courtesy of the Rhode Island State Police.)
Throughout the year, subsets working in tandem with law enforcement personnel in locales all over America, diligently go about the tasks involving collections of goods and funds to spread cheer to everyone.
Personally, a fresh supply of blankets was stored in my cruiser trunk, expressly intended for homeless individuals roaming the city or hunkered down in solitary silence. It wrestles the human psyche—theirs and mine. I often found some of the greatest conversations resulting in wisdom nuggets from brothers and sisters who found themselves in wander-mode without a compass. Cops show up…
(Photo courtesy of the First Responder Benefit Association.)
For cops, it is sobering to be close to human constructs whereby scenarios are less than glamorous, often inexplicable, always engendering mindfulness and how fragile and vulnerable life can be—the very fabric leading to brave souls stepping forward to right wrongs by becoming police officers, providing listening ears to those direly in need of resources, even if that merely means a person-to-person chat about whatever sparks convo in the middle of nowhere or everywhere. LAPD's Skid Row-patrolling police officers know and feel deeply.
Empathy is as enormously fulfilling yet can also be draining—just ask LAPD Officer Deon Joseph who has been walking the beat for many years.
Often enough, though, that empathy is spotted and reciprocated. Many a moment when a youngster steps toward a man or woman of law enforcement is mutually enriching for both the cop and the child whose happenstance interaction evolves with extroversion then introspection, wrapped up in altruistic exchange and bowed with genuine respect recorded in time.
(Photo courtesy of the Hillsborough County Sheriff's Office.)
Per the Hillsborough County Sheriff's Office in Florida, the above photo was derived via a spontaneous interaction between a child and a lawman out doing the job:
"While doing a business check this morning, Deputy Noble was approached by Olivia and her mother. Olivia introduced herself and handed Deputy Noble 1 of 20 Christmas cards she made to give out to first responders to say thank you for keeping everyone safe. We thank YOU Olivia for your amazing support. Small little things like this make our day!"
First impressions can lead to lifelong intentions, perhaps why many kids gravitate toward cops and eventually become one. I did, and hope I kindled the simmering flame within youthful eyes focusing on justice careers.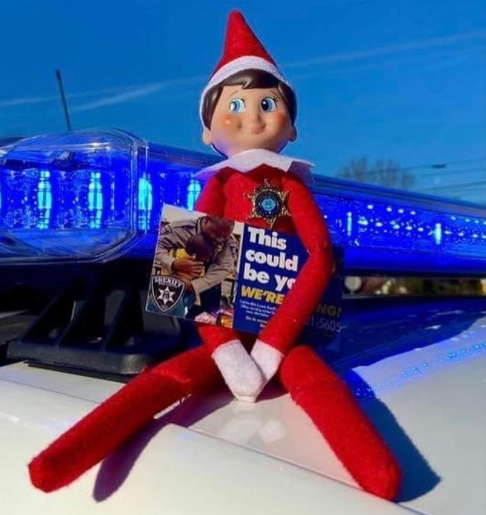 (Photo courtesy of the Bibb County Sheriff's Office.)
Many on-duty Christmases entailed circling back, having impromptu reunions of sorts. In between calls for service, I'd route to residences where I'd met people who, sadly, experienced a death in the family on the holiday. Granted, unless one is an obituary follower, not many folks become aware of deaths transpiring in their midst. Cops are the exception. If not in a hospital or hospice setting, people passing away in residences engenders law enforcement response, especially during "unattended deaths."
In this context, terminal illnesses are often the case for people passing away. 100% of the time, widows/widowers and surviving loved ones exhibited appreciation toward a LEO being present and helping handle the somber affair, situating resources on their behalf. Friendships are forged during these unfortunate circumstances, kind of underscoring relational instances and unintended consequences transcending grief and pseudo-family kinships—nature is uncanny.
Every year thereafter a sad season during which someone's life concluded (and I got the call), I'd revisit the families while on duty through Yuletide days. The probability of such a thing is largely attributable by being a cop responding to others' tragic experiences. Conversely, cops on duty on for Christmas shifts are also charged with making death notifications when someone dear to them passes away.
In death and in near-death encounters, reunions stemming from tragic life experiences evolve between people who brushed death and their rescuers: cops.
The world watched the natural disaster which flattened portions of Kentucky recently, with tornado nastiness routing through, flattening buildings and endangering lives. From the rubble are survivors thankful for the first responders who, always omnipresent, rushed in, reached down, and plucked humans from the frightful fray born of cataclysmic climate.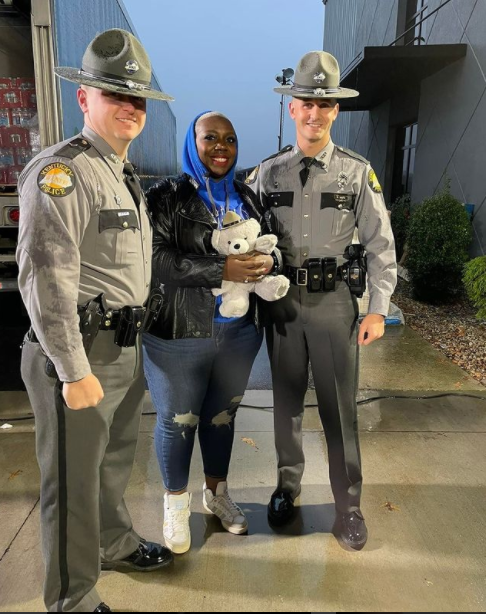 (Two KSP Post 1 Troopers were reunited with the woman they saved from the rubble of the collapsed candle factory the night the tornado struck Mayfield. Thank you, Troopers Moore and Clark for your bravery and service. Photo courtesy of the Kentucky State Police.)
The forever friends depicted above, each happy the other is alive and well, illustrates our topic today quite well—bittersweet indeed.
Similarly, making rounds on duty during the Christmas season entails details of law enforcement officers in organized fashion showing up outside children's hospitals, lighting up the night with police cruiser blues and reds, waving cheerfully for the youngsters stricken with significant ailments relegating round-the-clock clinical care, thereby bringing the seasonal spirit to them.
From hospital windows, some many floors up, ill-stricken children's hearts are warmed by the brilliance of police lights and smiling street beat heroes overcoming nontraditional circumstances by being…present, circumventing Covid sensitivities and letting nothing stop deserved fanfare. Besides, every youngster loves a chorus of cops wielding light sabers outside at night.
It's not just about a lightshow, though. There are many factions of member police officers conjoined in organizations specifically formed on behalf of kids with cancer and the cops who raise much-needed funds to fight the good fight—one which is always monetarily burdensome. The Cops for Kids with Cancer chapters aggregate funds year-round, culminating in Christmastime gifting to families whose young ones are afflicted.
(Photo courtesy of the Somerset Police Department.)
The tone and sentiments among these words is encapsulated in the following brief video (Kleenex alert) which colorizes a law officer's heart and soul, especially around Christmastime, whether active duty and making more memories or retired and reminiscing the span of years trying to do good work:
Indeed, the street beat is engrained, doesn't necessarily fade, and sometimes shows up on doorsteps or coffee shops…reflecting on the myriad miracles spurred by everyday folks who, while wearing justice badges, traverse direct paths to meet humanitarian needs, reminding us of not only the spirit of Christmas but the meaning of life and its fragility throughout unprecedented global tumult and human endurance factors.
Although I am no longer in police uniform, I'd readily do it all over again, mindfully working a shift on Christmas Eve or Day, knowing my calling is a purposed profession geared by giving.
"Never miss an opportunity to extend kindness. It can change someone's life."