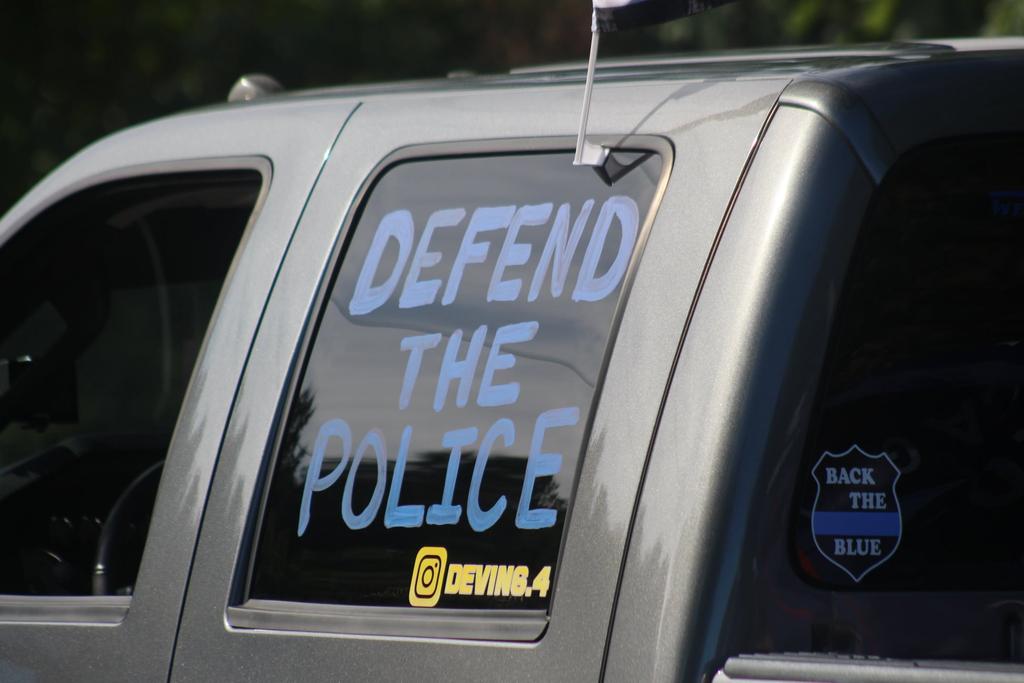 As nationwide division festers thanks to media mavens capitalizing on half-baked stories and propaganda and anti-police enthusiasts and knee-jerk activists drenched in emotion without bothering to collect facts…the silent majority do their thing sincerely, without the need for recognition or cell phone-recorded fanfare.
That last part largely mimics the altruistic tendencies of our nation's cops.
And even though attention-grabbing is not the objective, beautiful moments laden with tributes toward police officers are sometimes captured by like-minded police-supporting folks embracing a multitude of good deeds performed by our men and women of public safety.
Let's cover a handful of these cop-supporting episodes…
It is quite often we learn of cops all across America stopping to change flat tires for motorists being winded and whizzed by vehicular velocities while stranded on the fringe of roadways. Yet, on an interstate coursing through some desolate terrain, folks stopped to help a Wyoming State Patrol policeman change a flat tire (his jack failed him, so they had a functional one to get the job done).
Lieutenant Frye was that policeman, and he extended gratitude to his citizen saviors: "In short order, with their assistance and their jack, we had my vehicle up, the spare tire on, and I was ready to be underway.

"To these kind people who took time out of their day to assist me, many thanks to you. In a time where law enforcement in some parts of the country seems to be lacking support, I'm appreciative that isn't the case in Wyoming. I view law enforcement, among other things, to be helpers. Sometimes even the helpers need help, and it's great to know that Wyoming has people who will answer that call."
Although not reported often, truckers operating semis play a big role (big roll) in cops pursuing suspects in cars. A super-sensational ingredient among media stations whose helicopters hover and follow police pursuits and do a play-by-play expose for viewers, it is all too common to hear the airborne reporter chatter about the bad guy aggressively getting around cars and such.
Here and there you'll hear them say something like, "Oh, wait, he's approaching an RV…I wonder…oh, man, he dodged that by driving on the shoulder! Oh, man…almost got 'em!"
Not necessarily the case when truckers get in on the action (some fortuitously) and aid cops trying to put an end to car chases:
These truckers use massive rigs, road-ready calculus, and experienced handling to funnel and block fleeing motorists while bringing goods to market and bad guys to the hands of justice.
The Hillsborough County Sheriff's Office was delighted when they received an unusual yet highly mature and respectful way of a citizen saying "Thank you" to a deputy who handled a traffic matter with his own brand of consideration.
You see, a woman stopped for unlawful speed was given a warning and not a traffic ticket, one which would have cost her $253. Months later, she decided to send the sheriff's office an appreciation card with an enclosed check for…$253. Noble way to turn a negative into a positive. It morphed from there and got better, much better…
"On February 15, 2021, Motor Unit Deputy Kevin Baker initiated a traffic stop for a driver that was speeding. The driver was going 15MPH over the speed limit — the fine would have been $253.00. However, Deputy Baker issued the driver a warning based on her driving record.

"Fast forward to April, the same driver from that traffic stop mailed a letter to District III for Deputy Baker. Inside was a check for $253.00 for Fallen Pinellas County Deputy Michael Magli's memorial fund.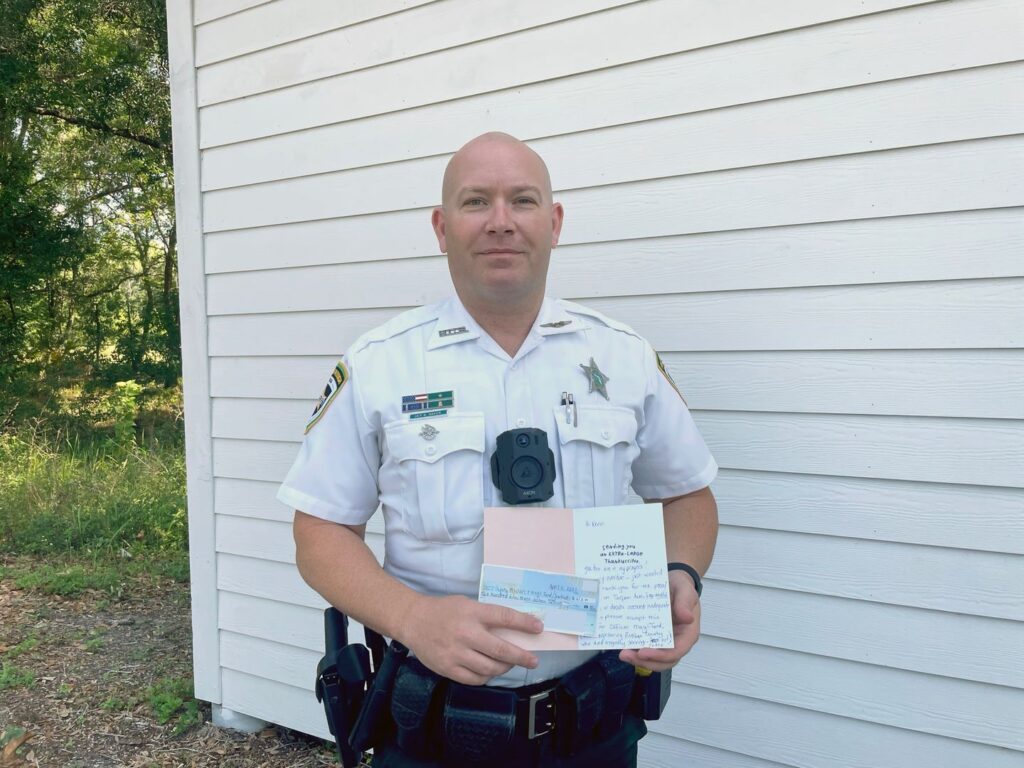 (Photo courtesy of the Hillsborough County Sheriff's Office.)

"The card reads, 'Just wanted to say thank you for the warning on Tarpon Ave. I am mindful. Coffee or donuts seemed inadequate, therefore, please accept this check for Officer Magli fund, from neighboring Pinellas County who died tragically serving.'"
At a time when division is seemingly sown and the media works very hard to perpetuate lies about our police forces, wanting you to believe cops and citizens are on opposing sides, fine folks like this prove them wrong not by arguing but by gesturing like true adults keen on the great work done by police professionals.
Great Americans are among us—some are walking, others are driving, a few may even be climbing for pinnacles in honor of fallen first responders. Literally climbing on behalf of cops…
Per our brothers and sisters with the Arizona Department of Public Safety (ADPS), a few folks braved the altitudes of Mt. Everest to emplace icons memorializing first responders fallen in the line of duty.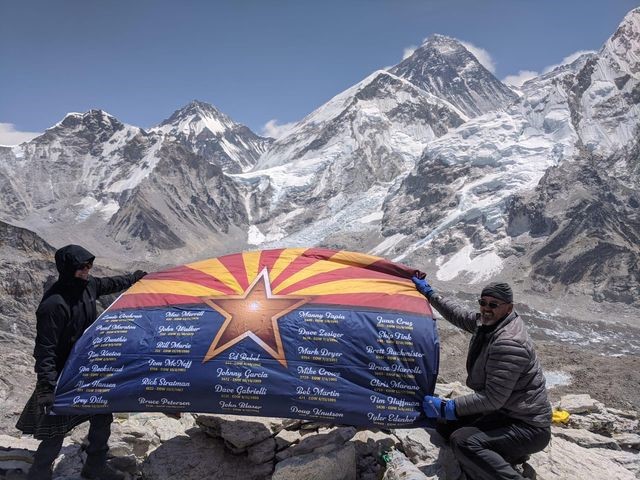 (Photo courtesy of the Arizona Department of Public Safety.)
In a press report, the Arizona DPS administration thanked "…Scottsdale Fire Chief Tom Shannon and Jim & Colin Dooley for this amazing tribute! Earlier this month, they unfurled this memorial flag honoring our fallen Arizona state troopers just above Mt. Everest's base camp at 18,500 ft."

"It was our honor to bring the prayers and memories of fallen law enforcement colleagues to the top of the world," Chief Shannon wrote, adding, "they also tied off hundreds of prayer flags for fallen firefighters and many other first responders."
In Atlantic Beach, Florida, The Pink Cupcake honored law enforcement officers with what sounds like copcakes. According to our police partners in north Florida, the owner/baker "is such an amazing lady who pays it forward to not only police but teachers and medical workers. In this day and age when small businesses are [struggling and] going [out of business], she is giving free cupcakes to simply say thank you."
And, like cops do unceasingly, the Fraternal Order of Police – Jacksonville responded, in kind, and offered pictures of what commerce supporting cops looks like: "THIS is how you bring people together! In response to BLM posting on Instagram [and urging folks ] not to shop at The Pink Cupcake in Atlantic Beach because [the owner] supports "murderers" and that "all cops are bad," [the public came out in droves and] BOUGHT EVERY LAST CUPCAKE TODAY!"
I did a dig and found that, after hearing of this merchant standing up for police officers, other pro-police citizens made special trips to The Pink Cupcake and bought every last crumb of inventory, posting promises to be repeat customers.
How'd all the baked goodies disappear so fast? Welp, seems the FOP has a sweet tooth and a confession: "In addition, we were proud to commit to buying $1000 of cupcakes for our members (she's going to have to make more)!" Actually, it's just neither a sweet tooth nor a confession, really; it's just good cops doing great things!
"We are proud of your courage ma'am! Standing up for what, and for who, you believe in is not always easy but now you know what it's like to not be alone!
"Just curious, but we're wondering if BLM would like us to advertise for any other businesses. Side note: we've been told that [BLM] took down their posts (apparently, they just shut down commenting). Seems like we've addressed someone else recently that didn't have the courage of their convictions or the courage to apologize…" the press release concluded.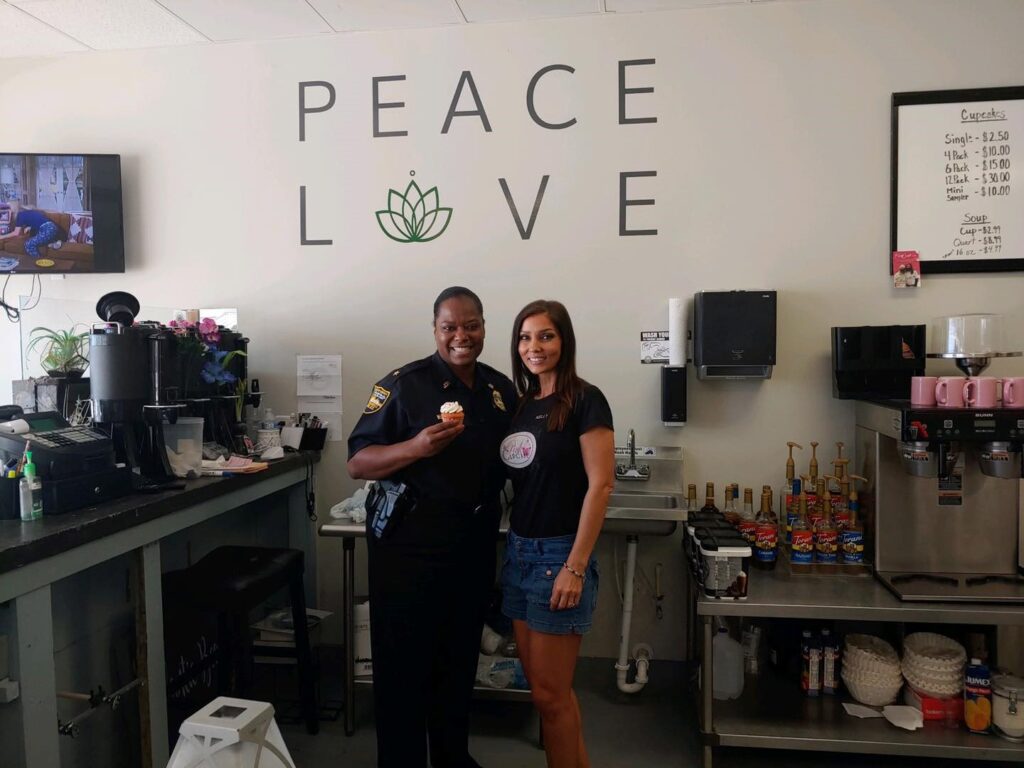 (Photo courtesy of the Fraternal Order of Police – Jacksonville.)
And among the so-called silent majority are some heavy hitters with far-reaching influence.
Honoring recently fallen Tampa police Officer Jesse Madsen, the Tampa Bay Rays baseball organization donned blue commemoration t-shirts with Madsen's name and EOW (end of watch) printed across the front/back. Professional batters backing the blue sure know how to knock it outta the park.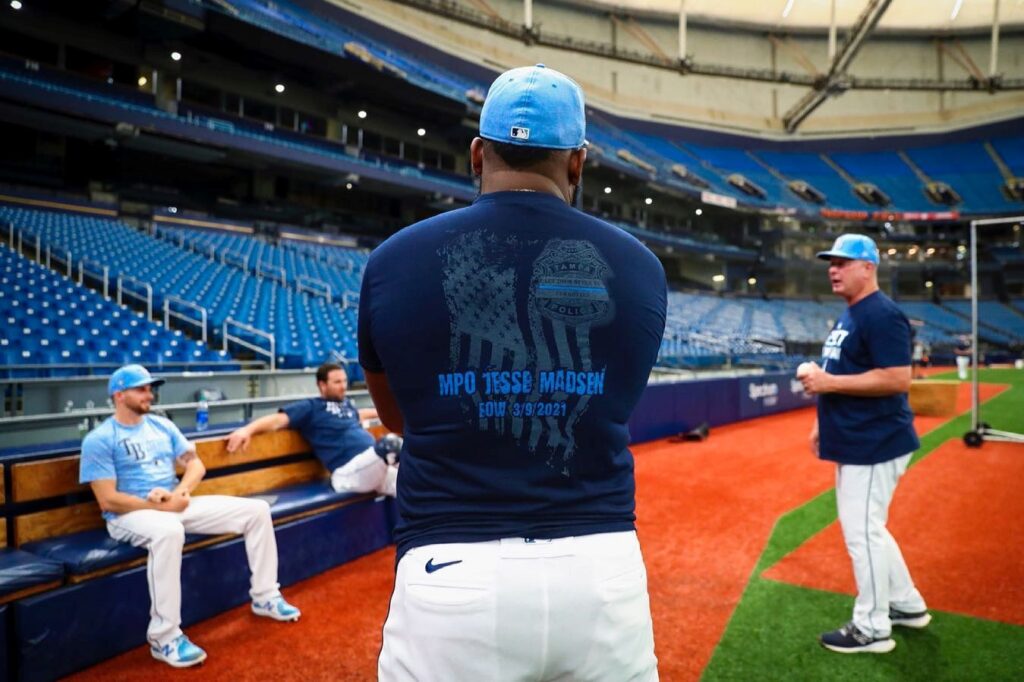 (Photo courtesy of the Tampa Police Benevolent Association.)
The Tampa Police Benevolent Association offered the following gratitude for a grand slam police-supporting gesture: "Many thanks to the Rays Baseball [organization] and their Chief of Security Jim Privatera who supported Jess and his family when they needed it most! It's awesome to see the love they have shown one of our Finest as well as Pinellas County Deputy Sheriff [Mike] Magli."
Fallen Deputy Magli is the one we mentioned earlier, whose family will receive the $230 check from the motorist who assumed responsibility (traffic violation) and turned it into something good, not holding it against a LEO for doing his job.
Would love to see a certain NBA player top that instead of resorting to the blame-game. How about you?
Although we have offered you a tiny glimpse into the often-bandied silent majority supporting our beloved country's cops, there are countless examples of phenomenal police officers aiding the public, the same public who discreetly snap pictures of LEOs doing the job and share their witness testimonies with significant gratitude for those who take on the task of public safety.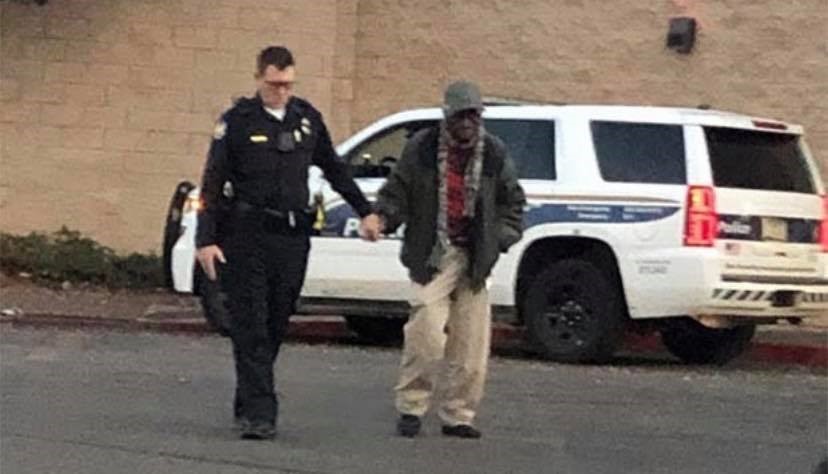 The above photo was culled from Team South Florida – a Non-Profit Law Enforcement Charity, captioned with: "They say a photo is worth a thousand words. We'd say today this would be worth a novel. Scenes like this regardless of race play out every day. It just doesn't fit the narrative. Look beyond what you are being told." Support goes hand-in-hand.
Whether you may blame onions or not, the following poignant teary-eyed tale stems from the line-of-duty-death of a deputy and his young son whose wish to hold on to pieces of his dad had a throat-swallow experience and an unexpected grand gift from a perfect stranger.
This brief video comes with a narrative introducing the storyline and culminates in a thing of beauty:
Pretty dandy, eh? That gentleman (buyer who spent $60K at auction) was silent until it was the perfect time to fill up a young man's heart and emphasize how loved and respected his dad —a fallen officer— was/is.
In all, whether a trucker sharing the road with traffic officers and citizens, a baker sharing sweets with community cops, a traffic violator paying it forward in the name of public-serving police officers offering second-chance opportunity, a few mountain climbers reaching the peak with honor for fallen first responders, or passersby helping cops get back on the road…it is undeniable that those among the silent majority are supporting our nation's embattled LEOs in their own way.
Even a grassroots effort was undertaken when a resident of Citrus Heights, California launched a Facebook page named "Save Our Police Department." Self-explanatory, the purpose behind this page is a citizen combatting local governance chipping away at police services, highlighting the many woes which one can certainly expect from measures defunding police. From what I can discern, there is one voice behind this page…with commenters (other city residents) supporting their cops while also rebuking elected leaders whittling away at public safety.
Policing will always be a noble profession, countering the lies and fallacies perpetuated by those who care not to understand the complexities factored into public service. As Hillsborough County Sheriff's Office Deputy Charles Williams said while being recognized by the Florida House regarding surviving an on-duty knife attack, "It is just encouraging and heartening to know that people do appreciate the representatives that represent the people…"