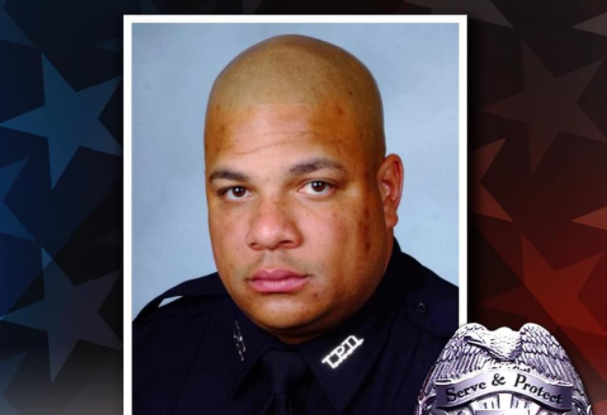 On the day I received my t-shirt commemorating the line-of-duty-death of Pinellas County Sheriff's Office Deputy Michael Magli…I find myself ordering yet another t-shirt memorializing fallen Tampa Police Officer Jesse Madsen who was killed by a wrong-way driver at approximately 1 a.m. on March 9, 2021.
Although every single cop killed in the line of duty is tragic and heartfelt by not only the law enforcement community but citizens in respective locales, Officer Madsen perished in the same way his legacy underscored throughout his police career: Life-saving.
Husband and father of three children, Officer Madsen, 45, served roughly 16 years with the Tampa police force and previously served with two police agencies in Ohio —Lyndhurst PD and Shaker Heights PD— equating to two decades as a cop. Before his 20-year career as a LEO, Madsen served with the United States Marine Corps.
If Madsen's life of service epitomizes one standout thing, it is his ability to pull lives from the brink. Sadly, though, his reign of rescues ended watch on Tuesday.
According to post-incident reports from Tampa police officials, they "began receiving calls about a white vehicle driving southbound in the northbound lanes of I-275 at a high rate of speed and swerving through the lanes." On that same exact point upon which I drove a few hours earlier, Tampa police assessed that Officer Madsen intentionally veered his patrol cruiser into the errant driver's trajectory in order to save other motorists from seemingly certain death.
This is not the first wrong-way driver in the Tampa area; certainly not the first to take a LEO's life while trying to save citizens.
In March 2016, Hillsborough County Sheriff's Office Deputy John Robert Kotfila, Jr. was on Interstate 75 (parallels Interstate 275 where Officer Madsen was killed), and was struck head-on by a wrong-way driver who was later deemed intoxicated.
There seems to be a trend. Whether it be a traffic engineering job needing attention by the Department of Transportation and/or instances of drunkards behind the wheels of cars imperiling other motorists, like Deputy Kotfila…Officer Madsen didn't hesitate to mitigate. No, he took responsibility and saved untold lives by driving toward the oncoming car driven by a 25-year-old operator who many reported via 9-1-1.
As the grotesque incident is investigated further, details come forth.
Today, Tampa Police Chief Brian Dugan held a press conference, alluding to pending toxicology and indications the wrong-way driver was potentially intoxicated. Per WTSP, "At the time of impact, the chief said the other driver, 25-year-old Joshua Montague of Colorado, was traveling more than 100 mph. A full toxicology report is pending, but the police department says initial findings show that Montague was intoxicated at the time of the crash."
Chief Dugan added, "Officer Madsen is a true American hero. He deliberately moved his patrol car into the other driver's path of travel. We believe Jesse Madsen was attempting to stop this wrong-way driver from putting anyone else's life in danger. And laying down his own."
As well, there is mention that Officer Madsen's shift was up, and that he was heading home to his family. Then the call came out via police radio; again, he didn't hesitate. He died fulfilling his oath while his family listened for the front door that he would never open again.
Officer Madsen did his job to the max. Although it will be chalked up as his eight life-saving feat, this one cost him his life.
Officer Madsen's wife is also a law enforcement officer, protecting and serving the folks at the University of South Florida campus in Tampa, the gravity of the tragedy weighing no less heavy.
(Photo courtesy of the University of South Florida Police Department.)
Honoring both the fallen and his active-duty police wife, the USFPD administration offered the following:
"Chief Chris Daniel and the USF Police Department are saddened by the loss of Master Patrol Officer Jesse Madsen.
"We extend our deepest sympathy to the Tampa Police Department (TPD) and the family of Officer Madsen.
"This loss hits home for USF Police as his wife, Officer Danyelle Madsen, is a law enforcement officer with us. We support Officer Danyelle Madsen during this difficult time. Our thoughts and prayers are with her and her children after such a tragic loss.
"Master Patrol Officer Jesse Madsen will NEVER BE FORGOTTEN for his dedication and bravery."
That is one of the many intertwining factors working in law enforcement, whereby relationships form and extend far and wide.
Having worked under Chief Daniel when he was a lieutenant with USFPD, organizing police ranks among Tampa Bay law enforcement agencies to "work security" at football games and stadium concerts, I envision his heavy heart today; doubly, due to Officer Madsen's death and one of his officers whose life partner was disturbingly destroyed.
One of the detectives with whom I used to work and is now a Tampa police officer, Leigh Smith directed me to the source of the following roadside memorial seeded exactly where MPO Madsen perished: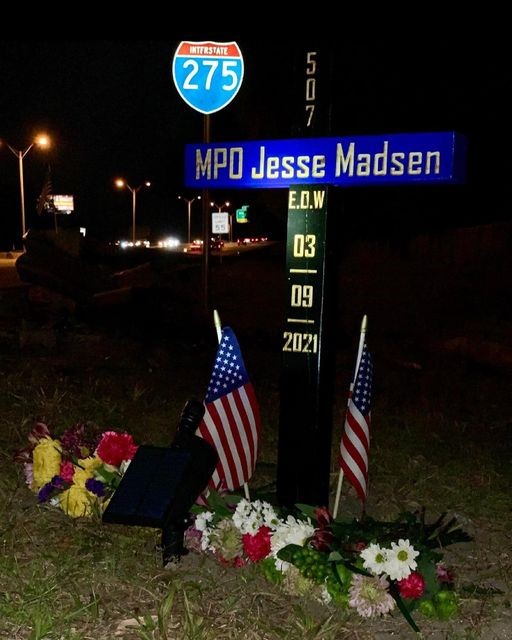 (Photo courtesy of Tampa Police Corporal Joe Lteif.)
As mentioned above, the Tampa Bay law enforcement community is tightknit. Connections are made and maintained. Colleagues, friends, and neighbors reached out and stated how Madsen was a "dynamic dude" and an "all around great guy" and a "blessing to the community he served."
Within hours of Officer Madsen's death, county and state officials also set in motion some iconic symbolism showing support for a community whose heroes were now minus one.
Connecting Hillsborough, Manatee, and Pinellas Counties, the Sunshine Skyway Bridge was illuminated blue. During the day and throughout the night (fast-forward to dusk), its blue hue glistened the swirly surface of the Tampa Bay waters below —serving as a beacon for eyes to see from miles away— while ships funneled below and mariners heading out to sea were reminded of sanctity of life.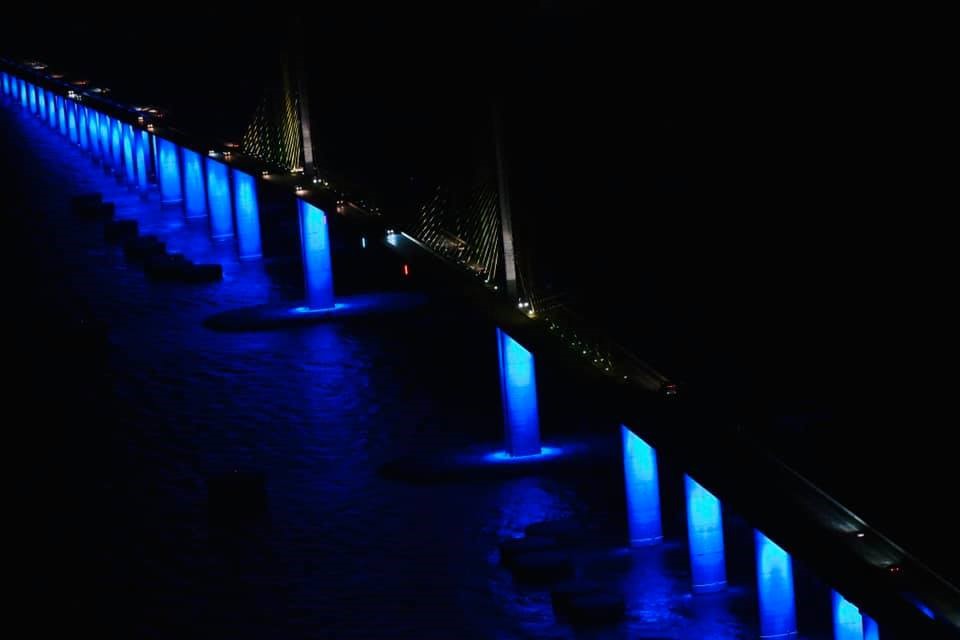 (Aerial view of the Sunshine Skyway Bridge lit up in blue. Photo courtesy of Tammy Bishop, Tampa Police Department.)
These brilliant blues illuminate uniformly symbolize a community which cares for its cops and vice-versa. The way it ought to be throughout these United States.
The city of Tampa and much of its jutting office buildings composing a skyline were bathed in blue in honor of Officer Madsen and each of the law enforcement heroes who unfailingly confront similar dangers by placing themselves between evil and innocents.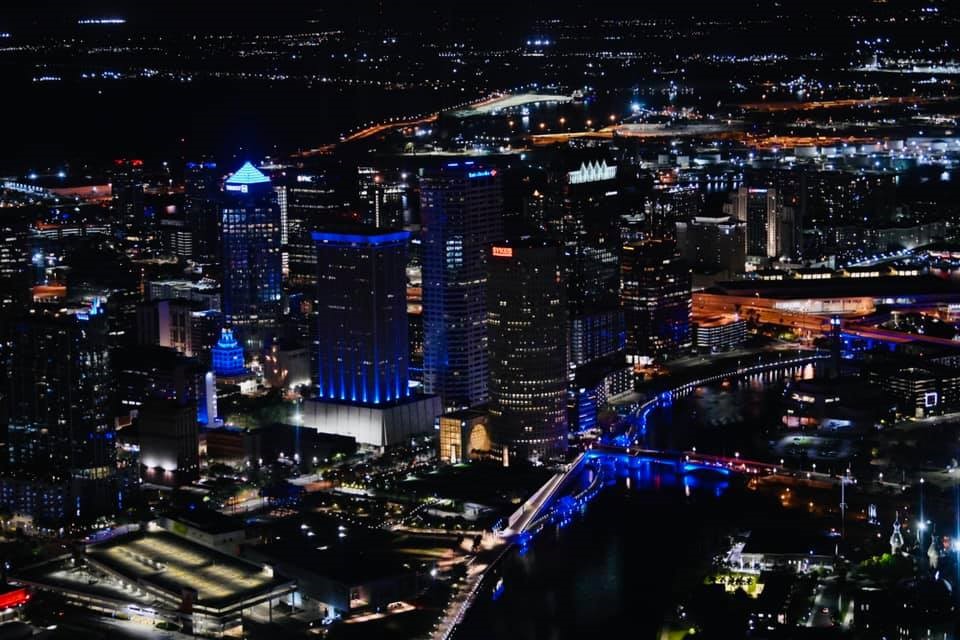 (Photo courtesy of Tammy Bishop, Tampa Police Department.)
Per the FOP (Fraternal Order of Police) Tampa Lodge, "The Tampa Police Department will pay tribute and honor fallen master Police Officer Jesse Madsen for his sacrifice to the City and our nation. His name has been etched on the Fallen Officers' Monument." Honor with conviction…without delay.
Hours after Officer Madsen's death, the Tampa Police Benevolent Association (PBA) organized and publicized a fund collection conduit, all proceeds of which would go directly to the Madsen family.
Per the Hillsborough County, Florida sheriff's office (HCSO) in Tampa, "This week, Raymond James Stadium is lit up blue in honor of the three heroes we've lost this year. Tampa Police Department master Patrol Officer Jesse Madsen, Pinellas County Sheriff's Office Deputy Michael Magli, and HCSO Sergeant Brian LaVigne [whose daughter serves as a HCSO deputy]. We will never forget the sacrifice they made."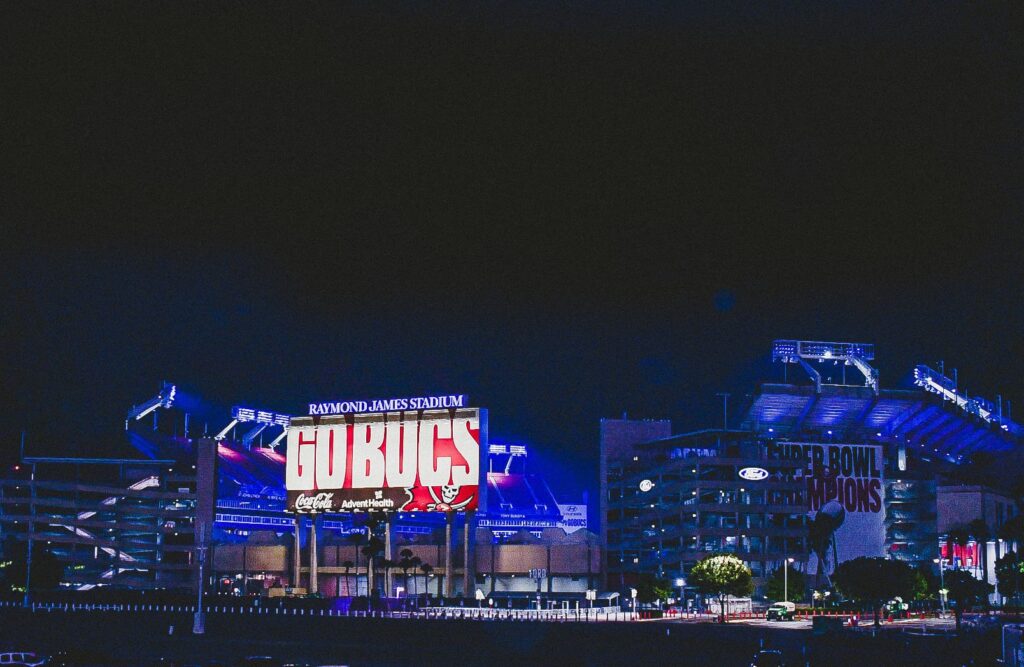 (Photo courtesy of the Hillsborough County Sheriff's Office in Tampa.)
Even down the road a piece, young Zechariah (Running for Heroes) wielded the Thin Blue Line flag and ran a mile in Madsen's honor. Accompanying him were several police agencies and their cruisers to escort the youngster paying homage and respect to a police hero. Central Florida First Responders Pipes & Drums were also on hand to waft the night air with bagpipes while Zechariah rounded the track and blue/red lights bathed the nearby flagpole and surroundings:
As of this writing, vigils are being held at Tampa police HQ and yet another police funeral is being planned, all while hearts are still healing after the horrific death of Deputy Magli who perished trying to stop a motorist fleeing law enforcement, and Hillsborough County Sheriff's Office Sergeant Brian LaVigne who lost his life after being t-boned by a fleeing malcontent operating a motor vehicle.
At one time or another we hear about the theory regarding six degrees of separation—connecting the dots. I didn't personally know Officer Madsen, but I know people who worked with him and others who knew him via mutual friends.
In essence, it is what Madsen demonstrably stood for which we are deeply familiar and genuinely aligned: Service above self.
Revisiting that "six degrees" theory and how we are all connected in extraordinarily thought-provoking ways, a police professional with whom I worked many years ago was subsequently sworn in as a Tampa police officer. Retiring as a sergeant a few years back, Lela Simonson had the following apropos sentiments:
"Tampa PD has gone through so much tragedy over the years that they have learned how to honor fallen officers in the most amazing way.
"I recently posted two videos. The first video was when Jesse was being transported to the Medical Examiner and the other was when he was transported to the funeral home. If you watch those videos and you don't get tears in your eyes, then I can't explain your heart or soul.
"These officers are hurting. At the same time, they will continue to go to work. These officers will continue to honor Jesse and they will do anything they can to help his family through the days ahead.
"Someday Jesse's wife and children will look at these videos. They will understand more about his calling to be a police officer."
Indeed…