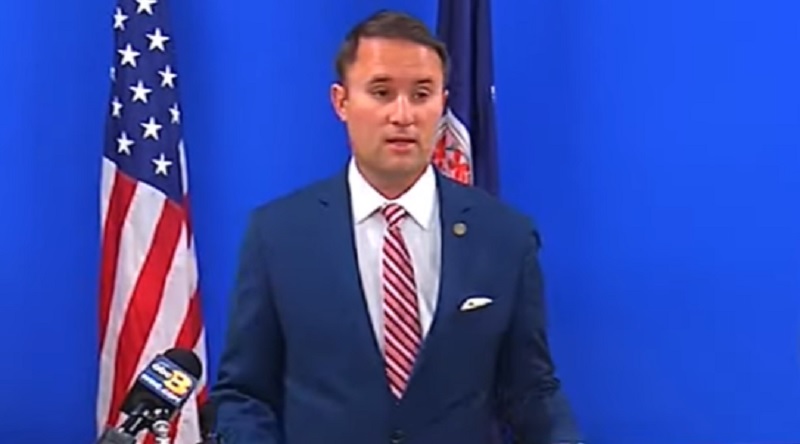 By Steve Pomper   
We all know about the Virginia election earthquake that shook the commonwealth in 2021. Many called it a red wave. A sign of things to come in the mid-term elections, they also said. That election signaled a possible halt to the destruction of the American criminal justice system.
That's because it also saw the rise of an unabashed conservative Governor Glenn Younkin, a black female, Marine Corps veteran Lieutenant Governor Winsome Sears, and Jason S. Miyares, the first Latino Attorney General in that state's history.
The vote was a titanic rebuke of the soft-on-crime, Soros-backed politicians running Virginia over the past several years. But Virginians have had enough of the radical-left's failed CRT and other Marxist experiments, using our children as lab rats.
Virginia's cops can celebrate a new law and order, equal justice regime. This is especially true after, as FOX News reported, "A Loudoun County, Virginia, judge removed the county's Commonwealth's Attorney Office from a serial burglary case for 'deliberately misleading the Court and the public.' The state's new Republican attorney general is now ready to step in after calling the judge's move 'unprecedented.'"
In an order written by Judge James Plowman of the Loudoun County Circuit Court, he removed Loudon County Commonwealth's Attorney Buta Biberaj from a serious, multiple felony case. Plowman has previously served in Biberaj's position.
Plowman said, "The Commonwealth is deliberately misleading the Court, and the public, in an effort to 'sell' the plea agreement for some reason that has yet to be explained." Let's try, CRT. There's your answer.
One letter to the editor in the Loudoun Times-Mirror may provide a bit of insight to the public's concerns about their supposed county prosecutor.
"Can our Loudoun County Commonwealth Attorney Buta Biberaj (D) do anything more to make our county unsafe?"
It seems, she could—if given the chance.
AG Miyares apparently concurs with the opinion letter writer. But, consistent with this new brand of leftist politician, Biberaj pushed back to the point of lunacy.
The impudent and disrespectful, far-left activist Loudon County Commonwealth Attorney Biberaj had the nerve to castigate AG Miyares. She was upset he was exerting his authority to deliver equal justice all across Virginia after he commented on her removal for "deliberately misleading… the court and the public…."
Biberaj told Miyares, "This is a specific message to Attorney General Jason Miyares, 'Stay in your lane.' Your lane is in Richmond. Your lane is being the Attorney General of Virginia. You are not the elected council attorney and definitely not for Loudoun County. Since his election, he's been wanting to undermine the good work that we do as progressive prosecutors."
Good work? By progressive prosecutors? More like, unprecedented destruction.
Ironically, Biberaj doesn't seem to mind swerving from her lane and "driving" in the defense attorney's lane, since she entered the "prosecutor's" office, as Commonwealth Attorney.
Miyares correctly rebuffed the insurrectionist prosecutor, telling her, "it is his lane."
He said to Nick Minock at ABC 7 News, "Well, the lane I want to stay in is safe schools, safe kids, safe communities and listening to the victims. So that's the lane I'm proud to stay in."
Miyares continued, "I think my number one interest as Attorney General is obviously the safety of all Virginians and Loudoun is a significant part of our beloved Commonwealth. So, when I see kind of these far-left, criminal-first prosecutors that veer into this lane where they're not listening to victims are more concerned about the rights of the criminal than the voices of those that are harmed by criminal acts. I'm going to be concerned."
Miyares mentioned Judge Plowman's "extraordinary step." The AG said he doesn't remember a judge ever losing so much confidence "in a Commonwealth's Attorney's office" because of what we could easily interpret as being dishonest with the public and the court. He said the AG's office is ready to "actually listen to the victims."
FOX also reported the judge's order stated: "Biberaj and the Loudoun County Commonwealth's Attorney's Office is hereby REMOVED AND DISQUALIFIED from further prosecution as counsel of record in this matter." Plowman recused himself from the case and has ordered the Fauquier Commonwealth's Attorney to prosecute the case.
The case involved an alleged serial burglar accused of committing several burglaries. Of Biberaj's cited misstatements and omissions, ABC 7 reported, as the judge wrote about "One glaring omission of facts…."
Judge Plowman didn't like that, "the Commonwealth made no mention that the two burglaries Valle is charged with are part of an alleged 10-day crime spree by the defendant, which included another possible ten burglaries over four counties." Why would a prosecutor downplay a suspect's crime? How is that serving the victims or justice?
Reportedly, the judge also had a problem with how the Commonwealth assessed the suspect's adult criminal record, understating that "he had just pled guilty to three felonies and had pending criminal charges and a juvenile record." Why would a prosecutor understate a criminal's record? Isn't that the defense's job?
You know… some judges really don't like it when people play games in their courts. In this case, Biberaj is disrespecting the judge, the public, and the victims, who are paying the biggest price for it.