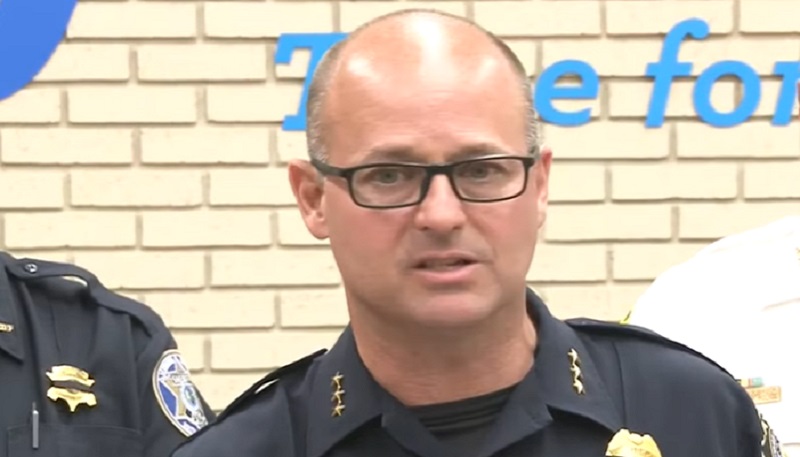 With the rampancy of depraved minds preying on and killing cops, there have been stellar police executives handling matters and proving precisely why they are law enforcement leaders. Cayce, SC police Chief Chris Cowan is among the latest examples.
You've heard of "the cop's cop." Chief Cowan is one of them.
While I slept in a hotel a few miles from Cayce on April 24, 2022, a handful of Cayce cops responded to a report of a domestic disturbance involving a man armed with a gun.
The first officer arrived at 02:49. The second cop on-scene was Roy Andrew "Drew" Barr, Jr., 27, who also served as a firefighter, working his way up to the leadership role of captain with the Monetta Volunteer Fire Department.
An excerpt from Officer Barr's obituary provides more details pertaining to his public safety life: "He began working with Sandy Ridge Volunteer Fire Department at the age of 14; he previously worked for Lexington County as a certified EMT, and was an active volunteer with the Monetta Volunteer Fire Department where he served for many years."
Instead of me describing the lead-up culminating in a cop getting killed, here is Cayce Police Chief Cowan's poise at the podium, assuring his police force and the citizens they serve that they are of primary importance…backed by neighboring law enforcement agencies' leaders nodding in agreement:
If the police chief in the white uniform shirt seems familiar, he is Police Chief W.H. "Skip" Holbrook, who addressed the media upon last week's shooting during which a dozen people were injured in the volley of bullets exchanged at the Columbiana Centre mall in Columbia, SC.
Thus, the Lexington County law enforcement community has endured much lately, the worst of which is the murder of Officer Barr.
Chief Cowen and every other police executive standing on that dais know the depth of pain when a fellow officer is gunned down in the line of duty…and the family members whose loss is insurmountable.
Once again, elastic mourning bands were wrapped around law enforcement badges in honor of a brave policeman whose life was abruptly ended.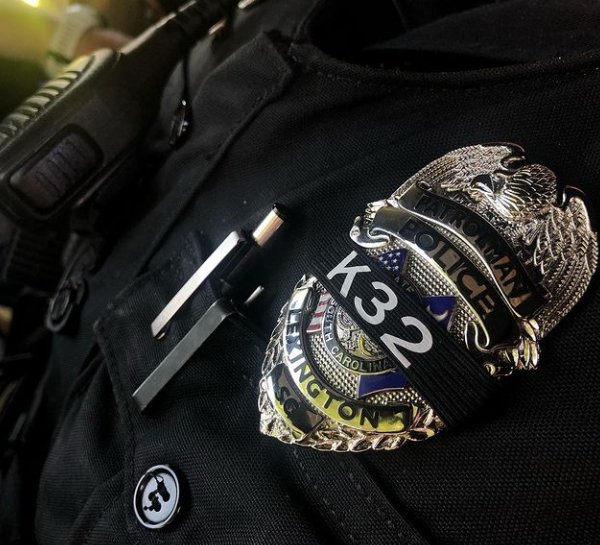 (Photo courtesy of the Lexington Police Department.)
The neighboring Lexington Police Department offered these words: "This has been a tough and heartbreaking week for the family of Officer Drew Barr, the City of Cayce Police Department, and law enforcement throughout the state.
"A hero was needlessly lost and Officer Drew Barr's service to his community will never be forgotten."
Despite losing an officer and making notifications to loved ones and ensuring the community is safeguarded and the police mission forges forward, law enforcement executives' composure through administrative debriefing and emotional containment is astounding. As I said above: No wonder why they are chosen leaders, especially in a profession rife with daily complexities and complications brewed in an increasingly-unforgiving climate, no matter the valiant efforts.
One of the sharpest skillsets in policing is the relative ability to cauterize emotions…to see significant matters through to the very end, even when that end involves one of your police officers slain under your watch.
We highlight this brand of police leader, notably speaking out on righteous things after the fray of police work resulted in a heavy toll. More than once and with conviction, Chief Cowen punctuated how critical it is that citizens and cops embrace one another in good times and bad.
The bad here involved a brave individual who heralded public safety so much that he didn't choose police over fire—he became both. He got to occupy real-life bulky fire apparatus and cool cop cars, just like the police cars and fire engines he toyed with as a kid.
Life is fleeting. Seems more often than not that we discover the breadth of hidden gems around us after they have passed away.
I believe St. Michael the Archangel has a robust headcount of all law enforcement officers and then multitudes of great deeds performed as civilian and cop.
Any police funeral I have ever attended unveiled great things about the cops who were killed doing what they loved. Police family members, squad-mates, and police chaplains would brandish nuggets of personal background via eulogies. In his eulogy, Police Chief Cowan likened Officer Barr as a "superhero," including sentiments spoken to the chief by his now-fallen policeman:
Regarding eulogies, Officer Barr was laid to rest on Thursday. Even in his death, this public safety professional took oaths to serve the citizenry by fashioning himself and his agency as the Finest:
"We are truly humbled by the outpouring of support we have received this week. [On] Thursday, our fallen brother was taken to his final resting place. He was surrounded by Public Safety Members locally and from across the Nation. The day was nothing short of amazing from start to finish. As a Cayce Team, we know that Officer Roy "Drew" Barr is proud of all the ways he was honored yesterday and how he will continue to be honored in the days, months, and years to come.
"Our Cayce Team will continue to stand in the gap for the unprotected and will continue to wear the badge proudly and with honor."
Carrying on the special interests Officer Barr cherished in his police career, the Cayce PD invited folks to join them at "Steel Hands Brewing for our Steel Paws event in honor of Drew. Drew was excited about this event and what the money raised could do for his K9 Team. With the help of many other exemplary Law Enforcement Agencies, we intend to make this event a success in honor of our fallen but NEVER forgotten brother in blue, Drew Barr!"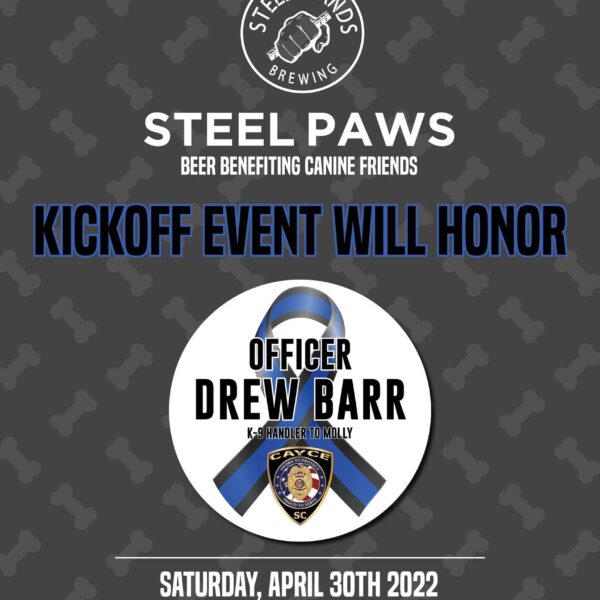 Officer Drew's police canine is "Molly," and the funds raised from the event will benefit her and other law enforcement service animals working with the Cayce PD.
"After much deep thought and meaningful conversations, we will proceed with the launch of Steel Paws on Saturday, April 30. We, along with this great community, are mourning the loss of beloved Officer Barr. We know Officer Barr dearly loved his K9, Molly, was a big proponent of expanding K9 units everywhere, and was really looking forward to this event and what it stood for. We, along with the Cayce Police Department, believe this is what Officer Barr would want and we will work hard to honor him," wrote the staff of Steel Hands Brewing.
As mentioned above and several times in Chief Cowan's speech: Community and cops work well together, especially under dire circumstances.