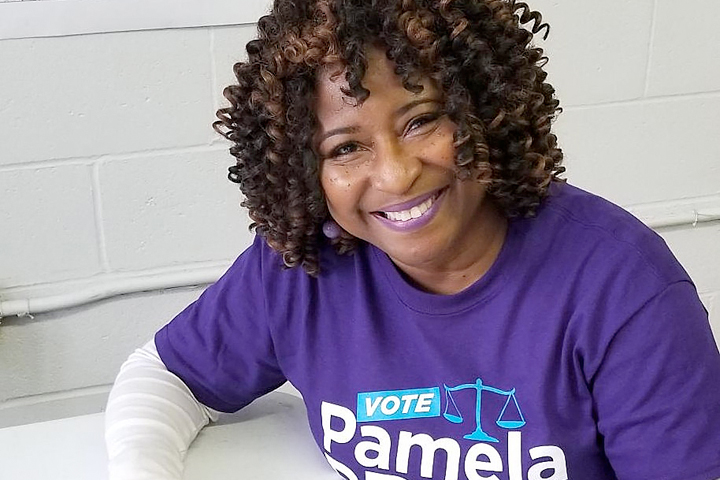 By Doug Wyllie
Barely three months into her new role as Alameda County (CA) District Attorney, newly elected "progressive prosecutor" Pamela Price is facing a substantial wave of backlash and criticism.
The groundswell of disapproval comes not only from more conservative community members—who didn't vote for her—but also from many similarly minded liberals who put her in office, and even some members of the Bench who typically tend toward leniency in criminal cases.
Since taking office in early January, Price has placed many of the most experienced prosecutors in her office—according to some reports, as many as 20—on administrative leave. Longtime staffers have quietly told local media outlets that respected colleagues have been unceremoniously walked out of the building.
Matt Finnegan—the union rep for the Alameda County Prosecutors Association—told KGO-TV News, "I think that they were put on a list of political non-supporters, or vocal, vocal critics of her either in the last election or the election before. And she, she couldn't terminate them because of our contract."
Other staff members have simply quit their posts in disgust.
Meanwhile a "parade of new hires" has been ushered in.
That's in just three months of "work."
Welcome to the Circus
Late last week Price took the unprecedented step of closing the entire office of the District Attorney—taking no calls from the public and submitting no case work to existing dockets—and held a "closed-door" staff meeting.
It didn't go well.
Everyone involved—reportedly about 350 people—received an email shortly after nine o'clock the previous night instructing them to not go to their offices, but instead "bring a pen, pencil, and/or crayons and a small pad of paper … for a fun team-building exercise" to Oracle Arena in Oakland.
Finnegan—the abovementioned union rep—reportedly said, "I'm not really certain why someone would bring crayons" [to a staff meeting].
Fittingly, this is the building that historically hosted the annual performance of the Ringling Bros & Barnum and Bailey Circus.
This all comes on the heels of several significant controversies Price has inflicted upon herself, her office, and the community she allegedly "serves."
In February, Price sent a memo to staffers directing prosecutors to seek the minimum prescribed sentences for people accused of crimes, offer probation whenever possible, and essentially toss out the practice of seeking gang and/or firearm enhancements or special circumstance allegations to extend prison time. Price said in the memo that her new directives were aimed at the "fair and balanced administration of justice."
This rings hollow for families of victims like 23-month-old Jasper Wu, who was fatally caught in the crossfire of a gangland gunfight on an interstate highway in 2021. The toddler's family was rightly outraged to learn that Price had said—in answer to an inquiry about the case—her office "is currently working on a partnership with the Asian Law Caucus to support AAPI victims of violence in ways that open up broader possibilities for healing and non-carceral forms of accountability."
The plain language translation for "non-carceral" is "no jail."
For the shooting death of a boy not yet even two years old.
That's madness.
Price had also sought a plea deal that would have given a 15-year jail sentence to a man accused of killing three people in a murder-for-hire plot in 2007, instead of the 75-years-to-life he originally faced. Price reportedly sought the reduced term—which would have made the man eligible for release in 2030—because he had shown "remorse for his behavior as a teenager."
Price had also tried to dismiss special circumstances charges—which included murder in the course of a kidnapping—against a man charged with three murders, including the 1988 killing of a nine-year-old girl.
That's in just three months of "work."
Madness.
The First Draft of History
Price is the first person to tell anyone who will listen that she is an historic "first"—Alameda County's first Black district attorney in the 170-year history of the position. She attained this lofty post despite having no real experience as a prosecutor. Indeed, Price began her legal career as criminal defense attorney in San Francisco and then went into private practice, specializing in employment litigation and discrimination cases.
Price campaigned for office on a "10-point platform" aimed at "reforming the criminal justice system" and pursuing "alternatives to incarceration for those who come in contact with the criminal justice system."
She soundly defeated challenger Terry Wiley by a 53% to 47% margin in November of last year. Interestingly, it was the first time since the mid-1980s that the race was even a race—the office had been essentially passed down like a family heirloom from one exiting DA to a top deputy up until last year's contest.
Price's immediate predecessor—Nancy O'Malley—was appointed to the office by the board of supervisors when her boss retired in 2009 and ran unopposed in 2010 and 2014. O'Malley went on to handily defeat Price in the 2018 contest despite the fact that liberal-billionaire-mega-donor George Soros backed the newcomer. By the time the 2022 campaign was approaching, O'Malley had announced that she would not seek a fourth term of office, effectively clearing the way for heir-apparent Price.
Late last week, Price's PR team held a press conference touting the "accomplishments" of her first 75 days in office. Among the achievements listed was a "first ever comprehensive survey of the office's victim-witness advocates to assess their needs and concerns about the services" and implementation of "trauma-informed support training and information about restorative justice strategies for the entire victim-witness advocate workforce."
In other words, a handful of entirely internally focused efforts have no immediate impact on the people most impacted by the violent crimes—and the criminals who commit them—in Alameda County.
In the early 1940s, legendary newspaper editorial writer Alan Barth popularized the phrase, "The press is the first rough draft of history." When the—hopefully brief—history of Price's tenure as Alameda County DA is eventually written, it will most assuredly be marked and marred by the fact that citizens there are quickly learning that putting into office "progressive prosecutors" who favor violators over victims comes at a steep "price."