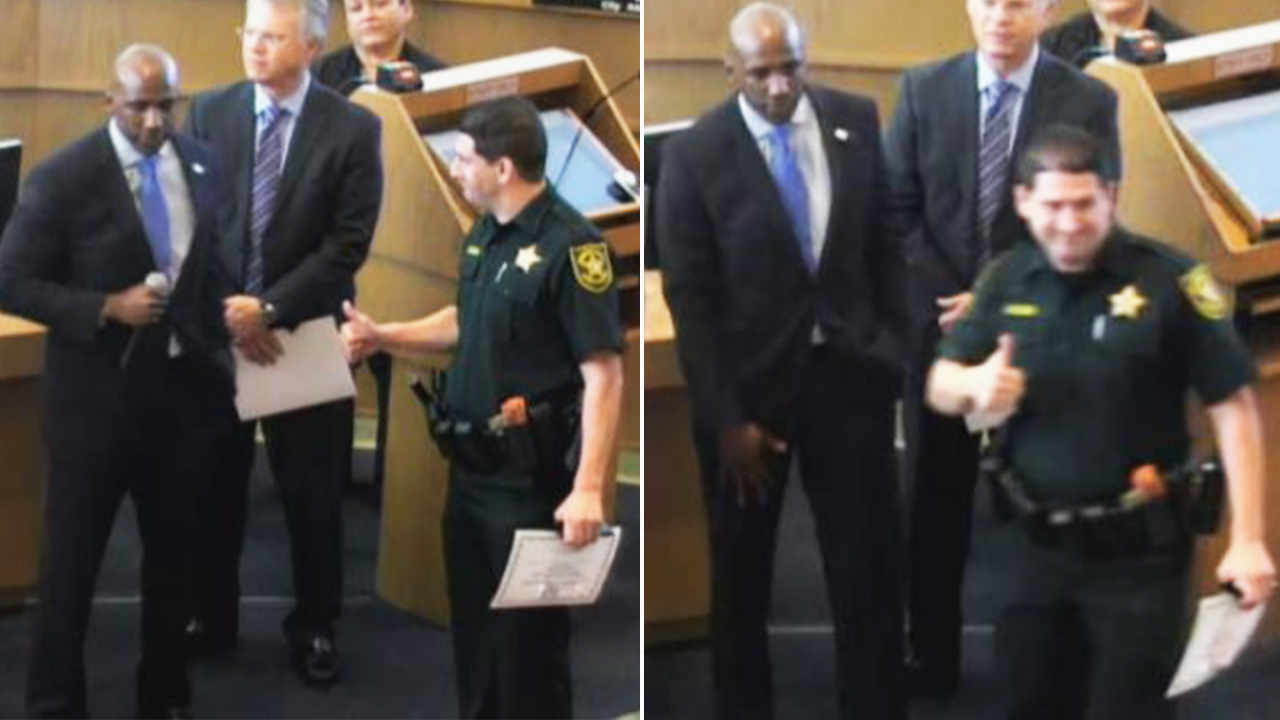 By Steve Pomper
Here's yet another demonstration there is no more call for public decorum when it comes to anti-cop public officials. Consider a recent award ceremony at the Tamarac City Hall, in Broward County, Florida. According to the Sun-Sentinel, among other officers, the Broward Sheriff's Office was honoring Deputy Joshua Gallardo with an Officer of the Month award for arresting a man wanted by Interpol for a murder in El Salvador.
One county official, Tamarac Commissioner, Elberg "Mike" Gelin, was apparently too selfish to allow the county to honor a law officer without expressing his personal, public, animosity for the deputy from an arrest that occurred four years ago. It seems back in 2015, Deputy Gallardo was investigating an assault at a Salvation Army center. Gallardo was tending "to a man who had been beaten up and needed help."
For whatever reason, Gelin, who was not in office at the time, arrived at Gallardo's investigation scene and, allegedly, would not cease interfering. Gallardo warned Gelin he was at a crime scene, told him to stop coming at him from behind, and ordered him to stay back. Reportedly, Gelin refused, "saying he was recording it."
I've been to too many scenes with "civic heroes" like this who think their concern or recording of an incident indemnifies them from rules with which ordinary people must comply to not obstruct a police investigation. Recording the event is fine. Approaching officers too closely, especially from a blind spot, or entering a crime scene is not fine.
In his ill-timed comments, Gelin accuses the deputy of false arrest. However, after reviewing the coverage, Gallardo's report about Gelin's behavior just rings true to this retired cop. I've dealt with so many street-side activists. I recognize Gelin's type.
The prosecutor dropped the case, but that's not unusual for resisting/obstruction cases that have no reported violence associated. Just because it didn't meet the filing guidelines does not mean the crime didn't happen.
During the ceremony, Commissioner Gelin couldn't help but exact his "retribution," by calling Deputy Gallardo back to the dais where he'd just received his award. Mayor Michelle Gomez admitted later she thought Gelin "had something nice to say." Not exactly.
Instead, Gelin blindsided the lawman saying, "You probably don't remember me, but you're the police officer who falsely arrested me four years ago." Gelin also said Gallardo "didn't deserve to be here," and accused the deputy of being a "rogue" and "bad" officer.
Mayor Gomez said she was shocked at the unexpected disruption to what she expected would be "an all-smiles day… to honor our BSO [Broward Sheriff's Office], our deputies." Admittedly, there was at least one smile after Gelin's despicable display. After hearing the admonishment, Deputy Gallardo smiles and gives a thumb's up gesture. I'd say Gelin got away easy. I'm not sure, in the same circumstance, I wouldn't have chosen a different finger gesture for the occasion.
President Jeff Bell of the International Union of Police Associations said the organization was "absolutely furious about his statements." He added, "Here is a deputy day in and day out dedicates his life and service' to Tamarac."
The Broward County Police Benevolent Association rescinded the endorsement they gave Gelin during last winter's election. The BCPBA called Gelin's behavior toward the deputy "unacceptable."
The Sun-Sentinel said Gelin didn't respond to their email or a phone call. However, in a text message, Gelin said a meeting with Broward Sheriff Gregory Tony was "constructive," and "they agreed 'to move forward.'"
This selfish, petty behavior by politicians with anti-cop sentiments who dislike how real police work is done is getting old. I'm sure Gelin felt offended and abused by the deputy at the scene of the arrest four years ago—he wanted to. But the fact Gelin didn't deny he was interfering with Gallardo's crime scene, even admitting he refused to leave because he was "recording it," gives credence to the deputy's justification in arresting Gelin.
Ruining everyone's award day just so he could exact some trivial retribution is a low-class political stunt. Since he originally received the police union's endorsement, hopefully, his poor behavior will show voters Gelin is not as police friendly as he must have portrayed himself to be to get the department's endorsement. Perhaps, the voters will exact a little retribution of their own and hire another person to represent them.