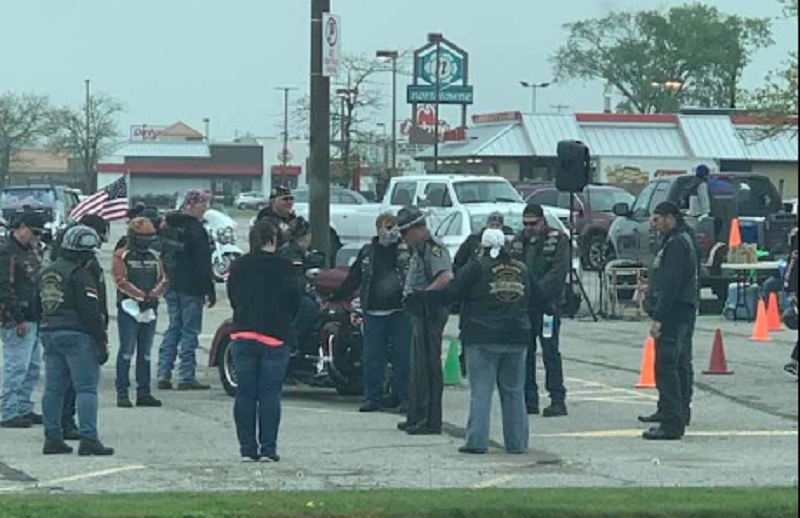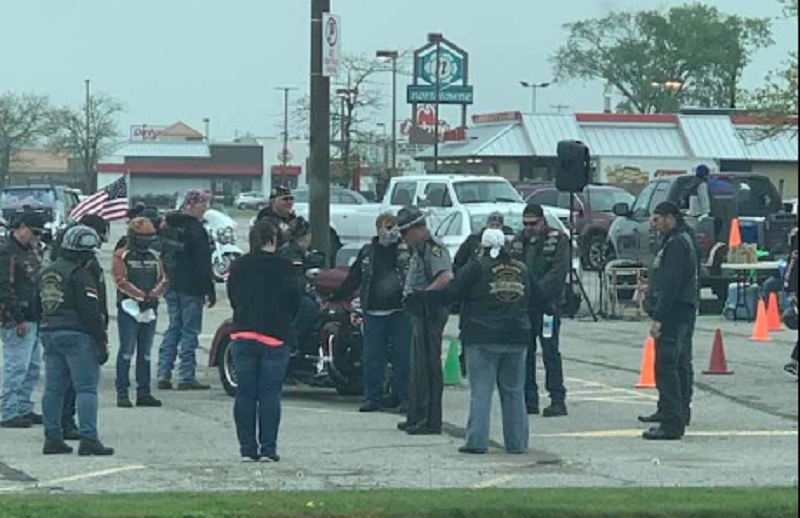 If there is one commonality shared by both bikers and cops, it is preconceived notions which are consistently proven to be abjectly wrong. In view of anyone riding a motorcycle, some folks automatically conjure imagery of the Hell's Angels and their sordid history involving murder and mayhem. Similarly, some people look upon police officers as the bad guy, oddly enough especially when they are called to quell, wrestle and place themselves in danger because of undeniably discernible malcontents who delight in wreaking havoc on/in society.
I suppose it is a dimension of human nature to believe something which, on its face, does not jibe or align with our respective culture and way of life, defining the word "prejudice"—to prejudge before something is objectively and factually known.
With that in mind, it comes as no surprise when a scene in Defiance, Ohio gave onlookers the immediate impression that a large group of bikers were seemingly surrounding a lone law enforcement officer on a street corner over the weekend. One of those passersby, Amy Mayes Alyanakian was approaching the traffic light when to her left she observed this dubious scenario.
In her words, Ms. Alyanakian explains her initial purpose and reaction when she came upon the dichotomy: "Had to come to Defiance [in Ohio] for bills and errands. I got a little curious when I saw this officer being surrounded by a bunch of 'bikers.' (I stopped counting bikes in the mall parking lot [after I chronicled] 83.)" Eight-three-plus bikers (or anyone) enveloping any cop is likely cause for concern. Our species is understandably a curious one.
Ms. Alyanakian continues: "When I saw them all extend their arms about six feet and drop their heads, I couldn't resist [taking] the picture from across the street. It felt a little invasive, but I wanted to capture a moment that holds a lot of irony for my inner child—'bikers' circling up to pray around a law enforcement officer. Not an image a young Kim could have ever imagined, given the stereotypes I grew up with. But from my experience over the last decade, there isn't a more powerful prayer than one that already has 'wings.'"
In that context, Alyanakian signed her message with #bikerblessed and #leatherlove and the all- endearing #jesusspreadhisarmstoo.
That dichotomy we referenced as an Uh-oh! moment (the mis-perception thing we mentioned above) turned out to be one of homogeneity: bikers and a solo policeman joined together by extending their arms out to achieve six-feet social distancing while faithfully praying for safety, sustenance and preservation. This would-be unlikely grouping collectively decided on deity to help all navigate the cloaked and silent killer we've come to know as COVID-19.
Among many observations by this retired cop is the re-awakening of self and all-things-purposeful, features of substantive value, many predicated on spiritual faith and wholesome love for fellow man/woman. The evolution of newness and novel answers born of a chaotic planet wrestling with science and what-ifs has offered desired dividends for which He assembled us: people coming together. Indeed, there is a certain irony in this fact when we are daily hearing the harps of politicians ordering us to stay away from each other. Yes, there is some merit to that very notion. But acknowledging safe proximity permits bikes and cops to loosely conjoin and embrace their Maker.
Urban cops in mega metropolises as well as beach police patrols are entrusted to enforce social distancing protocols, sort of belying faith that citizens somehow can't/won't do the right thing. Whether that is accurate or not, our nation's law enforcement officers who are already prejudged and often disdained are nevertheless positioned to maintain gaps among humans. With eyeballs as measuring sticks, police officials are out there doing the job they've always done, except with unrealistic expectations imposed by governments due to novel coronavirus. Much of this is doused with concoctions lacking constitutional authority and/or precedence.
Integrity compels the matter of the elephant in the room: What will all this heaped-on inexplicable stuff do for the undeniable mountains of stress our cops endure? Each of us can imagine anything and arrive at varying answers (or choose to shut out gritty reality), with salvation in the wing, as discovered by one cop against the ropes.
Our cover photo graciously supplied by the faithful eyes of Ms. Alyanakian depicts the most potent elixir any man/woman can ask for…or just receive fortuitously: power of prayer. Perhaps it is no coincidence that while some are defying good-for-the-order admonitions that this instance unfurled in Defiance, Ohio during National Police Week.
Fast-charging bikers and a solitary cop praying together, for one another, and on behalf of countless others lends added meaning to Godspeed.
Blessed are the peacekeepers, for they will be called children of God. -Matthew 5:9