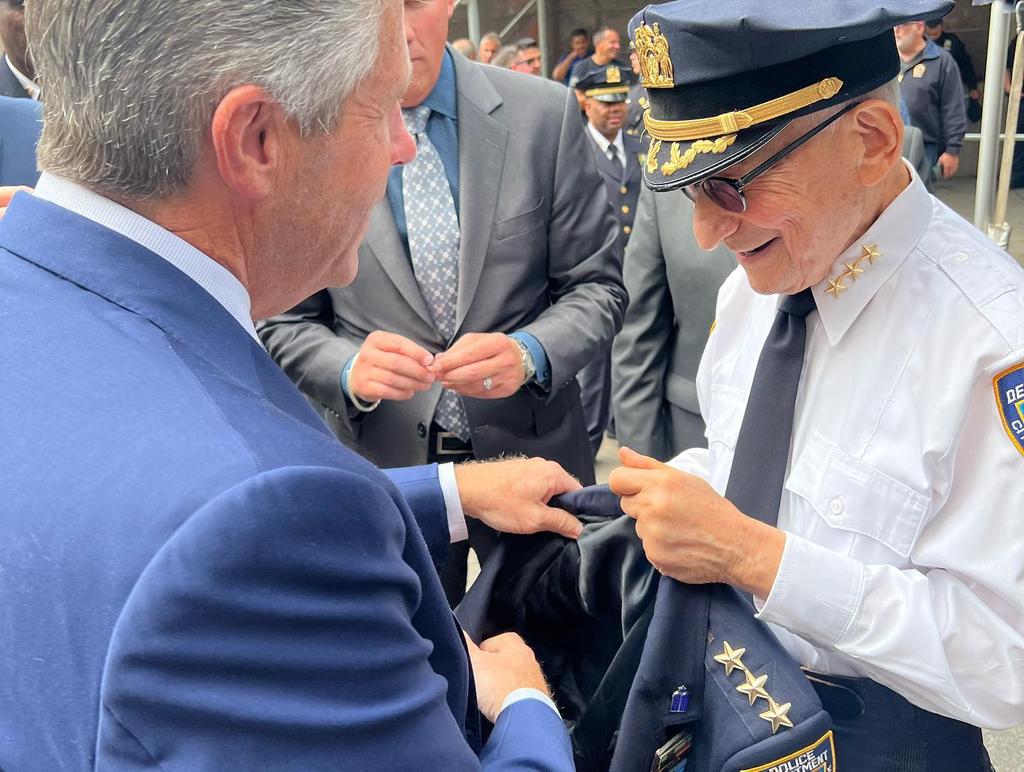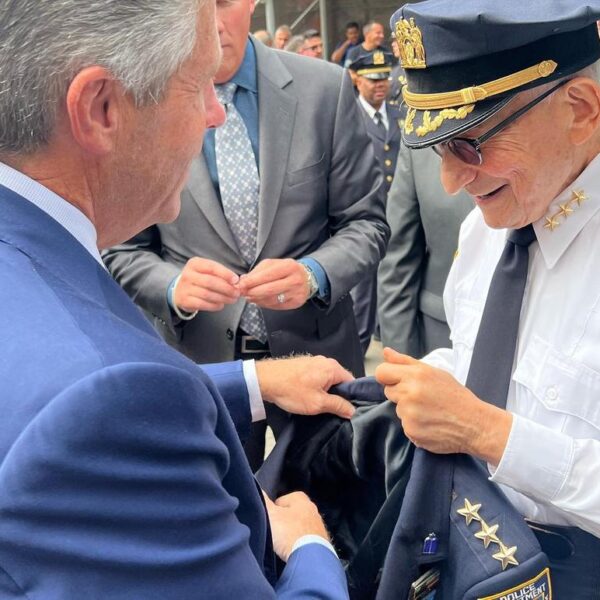 The image you see above depicts a rare moment during which the NYC Police Benevolent Association (PBA) President Patrick Lynch is bestowing the NYPD's "LV" pin to one of its long-serving law enforcement icons.
In Roman Numerology, the "LV" represents 55 years of service as a law enforcement official. Generally, that is a milestone in any police agency anywhere in America. In NYC, the daily bustle which attracts criminal elements operating a heavy anti-police environment elevates the 55-year mark to higher proportions.
"In the entire NYPD, there is only one longevity breast bar marked 'LV,' denoting 55 years of extraordinary service. Today, Pat Lynch had the honor of pinning it on its rightful owner: Chief Chaplain Rabbi Dr. Alvin Kass, who has guided generations of cops with wisdom and his trademark humor. Congratulations, Rabbi, and thank you to the entire NYPD Chaplains Unit for all you do to lift up our Blue Family," explained an NYC PBA bulletin.
Chief Chaplain Kass has likely seen it all and heard much from beleaguered NYPD cops, especially lately. With the nefarious nature of liberal-governed municipalities whose elected figures thwart cops at every turn, Chaplain Kass serves as a battle-tested compass, directing cops navigating the murkiness generated by anti-police mouthpieces and the ensuing mayhem.
Days before the LV pin was added to his earned brass and gold braids and service ribbons, collectively denoting a robust police career founded in ladling salvation for men and women serving in NYPD blues, Chaplain Kass sat front and center at an inaugural Chaplain's Ball.
Per an NYPD spokesperson on September 8, 2022: "Today was the NYPD inaugural Chaplain's Ball, to celebrate work the Chaplains Unit does every day to uplift, encourage, and inspire all of our MOS—especially our line-of-duty families."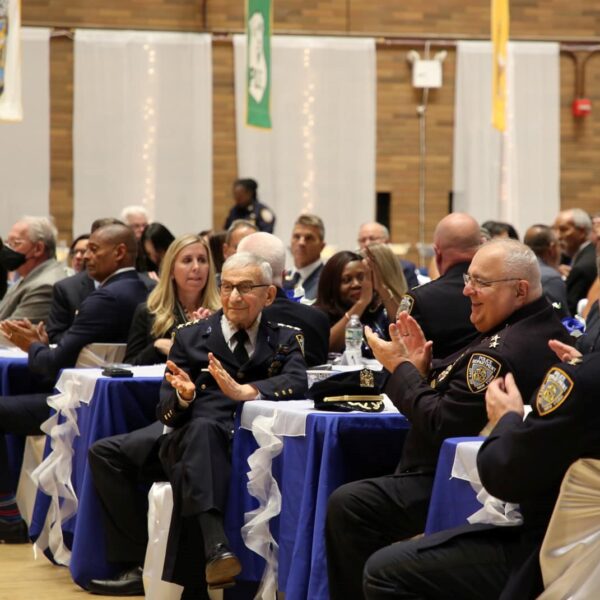 (Photo courtesy of the NYPD.)
Deserved dignity populated that ballroom, for police chaplains in all agencies witness the angst and anxieties shouldered by courageous humans who say yes to public service, despite the waft of loud hatred and demonic foes at just about every step.
Much like a private-sector psychiatrist or psychologist distilling and treating woes of humanity, trying to rebalance minds overly occupied by clutter deposited by sinister forces (some of our creation), police chaplains serve in similar roles, exceptionally mitigating disproportionate levels of depravity encountered by cops daily.
"We need people who will take care of us and undergo the risks that are involved in protecting humanity. So, keeping people safe and secure is dangerous. It's difficult. It's filled with stress and to serve such people is a great privilege," Kass told Fox News reporter Krystina Alarcon.
Operating under the NYPD's Employee Relations Bureau is the Chaplain's Unit, the Ceremonial Unit, the Family Assistance Section, and the Health and Wellness Section (commenced in 2019).
According to NYC.gov, the NYPD Chaplains Unit is comprised of "twelve chaplains from various faiths who are dedicated to the spiritual well-being of each and every one of our over 50,000 uniform and civilian members," responding to calls 24/365.
In a one-on-one interview with Lisa Kava, Chief Kass said that "Officers can come to a chaplain and know that whatever is said is in total confidence," adding, "We offer comfort to police officers who are seriously injured and to families of officers whose lives have been taken. Police officers have all sorts of stressors and strains. Many relate to family life. Police officers are subject to emergency calls. Wives and children are often worried."
Given his longevity in law enforcement counseling, it comes as no surprise that the "WTC" medal is pinned with others above the NYPD badge donned by Chaplain Kass.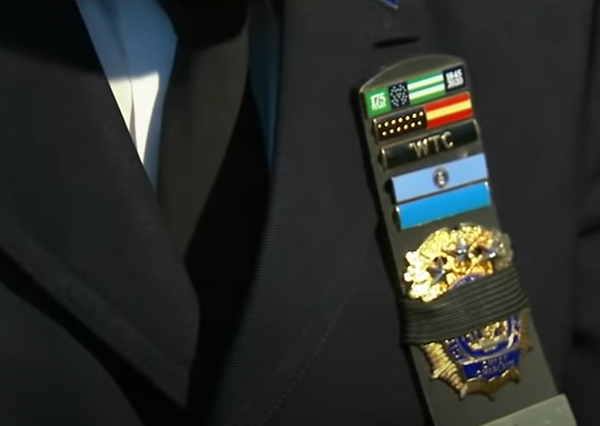 In the NYPD hierarchy of medals and what each represents, the WTC pin symbolizes service at ground zero when the World Trade Center was attacked and downed by terrorists.
No one was immune to the depth of pain and despair America experienced from that tragic act. Professionally, though, police chaplaincy shouldered planet loads of utter despair of the first responders who survived to pick up the pieces, sifting through the rubble, finding fellow officers' bodies and bent metal badges.
Two NYPD cops assigned to that 9/11 "collection" detail, each provided plastic bins that "easily contained blood and biomatter without seeping through," were understandably affected by that detail and ultimately departed the NYPD shortly thereafter. The things cops see…
"WTC" pins were awarded to both policemen. They each relocated their families to Florida and were hired by my agency. Another cop whose spouse died on United Flight 93 became one of my trainees. No FTO (field training officer) manual contains pointers to handle such an unimaginable circumstance, so I listened…just like a chaplain would.
(Photo courtesy of the NYC Police Benevolent Association.)
"To me, 9/11 was absolutely transformative," said Chief Kass. "And it was an event which was absolutely horrible in its impact upon the city. And yet at the same time, so magnificent as an opportunity in which people were able to show love and compassion and sensitivity and appreciation for each other."
About two years ago, Fox News referred to Chief Kass as the "longest serving officer" who "protects those who serve to protect all." And here we are celebrating a man of the cloth who dons NYPD blue and continues upholding the throngs of cops who serve the most populated city in the United States.
"I love what I do," Chief Kass told Fox News in 2019. "That's why I've been doing it for as long as I do. I love police officers. I've learned to see in them the most dedicated and most committed and the most beautiful human beings that I think I have ever met, and I came to appreciate the sanctity of the profession."
Speaking of sanctity, the long-tenured police chaplain's world was jolted twice in recent years. Per the New York Post, Chief Kass was mugged on two separate occasions while engaging in his morning walk on the Upper East Side of Manhattan. Indeed, "the city that never sleeps" proves true.
As he likely does when counseling anyone among the large NYPD family, setting an example to get back up when knocked down is within the backbone of Chief Kass.
Like some people I grew up with in NYC, who never really aspired to be cops but took the NYPD exam "for a job" and became incredible cops, Chief Kass shares similar beginnings.
"It's the most unlikely of events that could have happened," Rabbi Kass told Ms. Alarcon. "I never knew a policeman. I was never in a police station. I had no ambitions to be a police chaplain. I did start my career off as an Air Force chaplain."
He was referred to the NYPD chaplaincy interview by a friend. A chief detective conducted the one-on-one. Chief Kass went on about his day and went to a YMCA to play handball, his fave athletic exercise. Three hours later, he received a call and was hired. Just like that, he commenced his more-than-half-a-century spiritual journey as a metropolis police department chaplain.
And he is all in…
Per NYC sources, Chief Chaplain Kass instructs new cadets about ethics and morals as part of the NYC Police Academy curriculum. Like an FTO does with new cops, he mentors newer police chaplains. He is a faculty member at John Jay College of Criminal Justice in NYC, teaching religion and philosophy.
It is befitting, then, that this tenured and highly respected man of faith continues giving to the lifeblood of law enforcement personnel in the NYPD.
"I love what I do and I make an important contribution. As long as I am able to do it, God willing, I will continue," he told Ms. Kava.
Here's to another handful of years culminating in the pinning of "LX" upon his NYPD dress blues.