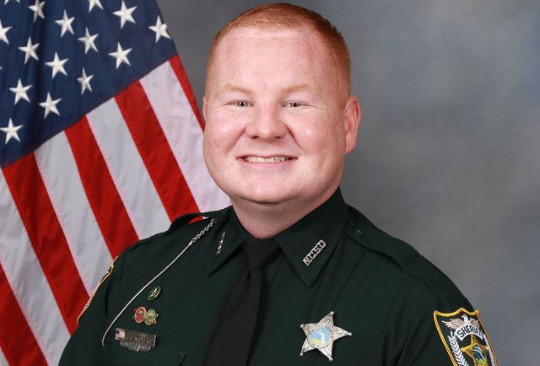 The latest spate of law enforcement officers killed in the line of duty included a deputy with the Nassau County Sheriff's Office in the northeast portion of Florida, where Atlantic Ocean seawater baths beachgoers and public safety officers ensure everyone's sanctity despite grave risks to themselves.
On September 24, 2021, Deputy Joshua Moyers conducted a traffic stop, one among many throughout his six-year tenure as a Nassau County deputy. This one, though, would portray yet again how at any moment in every law enforcement officers daily duty…things can and do go horrifically awry.
Per the Officer Down Memorial Page, "During the traffic stop Deputy Moyers was given a false name by the driver and learned the tags belonged to a different vehicle. As he opened the driver's door to place the man in custody the subject shot Deputy Moyers in the face and back. The man fled the scene over a railroad crossing just as the arms were coming down and a train passed, blocking other deputies from immediately pursuing him."
That last part is reminiscent of Hollywood action-packed movies whereby the fastidious pace of professional stunt performers painstakingly emphasized by special effects experts is built up and suddenly deflated. No so in real life.
With a bullet-riddled deputy's whole being deteriorating in a local hospital, and the prognosis so grim that Deputy Moyers was tethered to life support technology, throngs of law enforcement officers from various federal, state, county and city agencies collectively hit the ground to apprehend the cold-hearted monster who pulled the trigger.
Here is a brief recap provided by understandably emotional Nassau County Sheriff Bill Leeper mere hours after the midnight-shift shooting of Deputy Moyers:
Watching news reports throughout the week, during which police personnel turned over tons of rocks, the triggerman was captured five days after Deputy Moyers was shot and left for dead.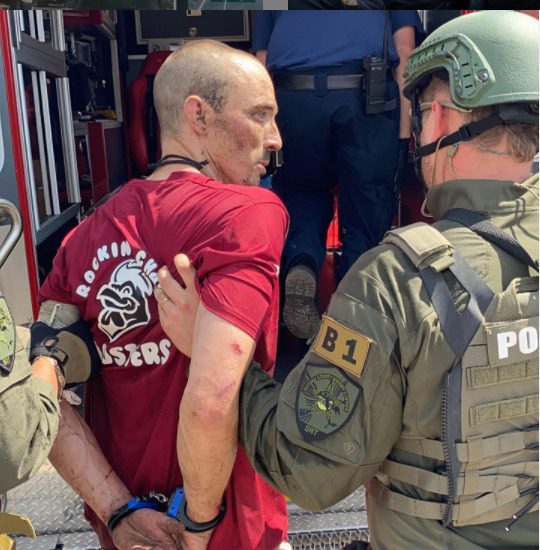 (Photo courtesy of the Nassau County Sheriff's Office.)
The bittersweet custom for a nabbed cop killer played out; Deputy Moyers's handcuffs were used to restrain suspect Patrick McDowell for his custodial journey to county jail and his fate via a criminal justice system in a state which, contrary to soft-on-crime states which would give this monster a bib at mealtime, is quite pro-police and ardent in pursuing max justice for barbarism against its cops.
As the manhunt continued, Florida Attorney General Ashley Moody (whose husband is a federal agent with the DEA) was in the Tampa Bay area announcing the "Thin Blue Line Act," another state bill bolstering stance behind law enforcement officers.
While the manhunt ensued, Nassau County Sheriff Bill Leeper addressed the media, saying, "This guy is dangerous. He will kill you with his mindset. What he did to that deputy, was uncalled for, unnecessary and he needs to pay for it."⁠
Pointedly like Polk County, Florida Sheriff Grady Judd, Sheriff Leeper punctuated the potential of the public playing a role in catching this evil creature invading their space/lives: "Blow him out the door! He's like a rabid animal."
As mentioned above, cops from all over joined in the search for this neanderthal armed with a firearm and running like cowards customarily do. Seems he got soiled and lacerated from hiding in the thorny brush and muck where similar serpents slither, hence law enforcement summoning an ambulance upon his inevitable apprehension.
An officer on scene took a close-up of Deputy Moyers' handcuffs, depicting the Thin Blue Line icon.
(Photo courtesy of the Fraternal Order of Police – Jacksonville.)
In the middle of the five-day manhunt for McDowell, the final moments of Deputy Moyers's life evolved much like he lived. A caring, compassionate, and giving man, several of his organs were harvested before life support was ceased two days after the shooting.
From the Nassau County Sheriff's Office, I learned the following final act(s) of Deputy Moyers, bestowing upon five complete strangers the gift of continued life and relief from stark medical ailments:
"Deputy Moyers donated organs to five people including a 29-week-old baby. The organs donated include: a liver, pancreas, both lungs given to two separate people, and a kidney. A hero even after death."
A law enforcement deputy's indomitable spirit lives on in five other humans who were desperately waiting in the wings, hopeful for certain respective organs to deny demise and prolong their own mortality.
This 29-year-old deputy delivered. Selflessness among police professionals? Undeniable!
Imagine the heartfelt story these five organ recipients will share throughout their continued lifespan…