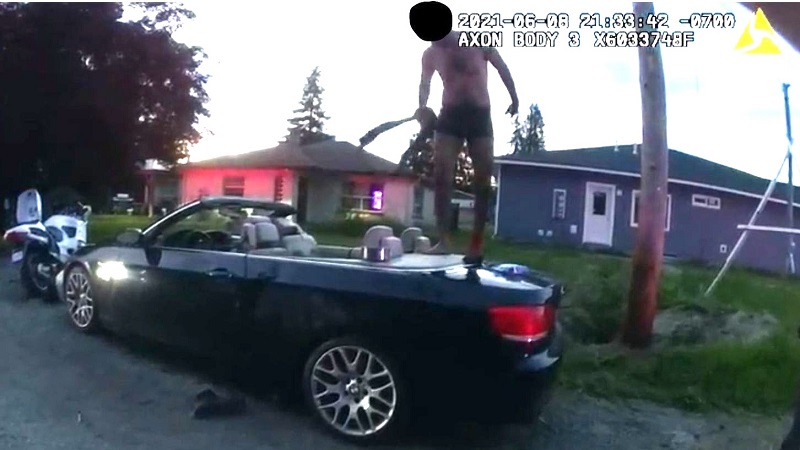 By Steve Pomper
The federal and many state legislatures are busy "improving" policing by passing law enforcement "reforms" to address radical leftist's myths. So, with laws passed, how is "woke" "working" for cops on the streets?
In my department, this crap has been going on for a long time thanks to a bogus federal consent decree. One of the first incidents where I saw the effects of these "reforms" was at a call for an "invol.," involuntary commitment for a mental health evaluation. With the new rules, if the person you're trying to restrain merely says, "ouch," the primary officer must call a sergeant, the Force Investigation Team (FIT), and all officers present must complete a "use of force" statement.
We placed the man in protective custody and called for a private ambulance to transport him to be assessed. As the ambulance crew was putting him in soft restraints, on a gurney, the man said, "Ow."
Four or five officers came off the streets to do paperwork and a sergeant supervised, all for a little "owie." It was ridiculous. Recently, I asked people to think about one of these new laws. It compels officers to intervene, during an incident, if you think another officer is using "excessive" force.
What does that look like in real life? Take a rookie, fresh out of a "woke" academy, believes a veteran officer is using "excessive" force? Should the rookie try to, what, physically restrain the veteran? Arrest the senior officer at gunpoint?
So, welcome to beautiful Sedro-Woolley, Washington. A city of about 10,000 people, with a spectacular view of Mt. Baker, about 65 miles north of Seattle and 50 miles south of Canada. Washington State recently passed a batch of anti-cop legislation that is already being felt on the streets of cities such as Sedro-Woolley.
On June 9, 2021, Sedro-Woolley Police Department (SWPD) Police Chief Lin Tucker posted a detailed Facebook entry about how the new laws are affecting cops and communities—in reality. The chief begins his post: "One of our main reasons for having our social media page is so that we can easily communicate with those we serve. This message is regarding an incident that happened last night. The last Legislative Session in Olympia has resulted in multiple changes in how we do business and we would like to explain what some of these changes really mean."
The lengthy post is worth a read, but let's see if we can Reader's Digest it. SWPD officers responded to a possible domestic violence (DV) incident. The 911 caller reported an intoxicated male was outside arguing with his roommates and acting erratically. The caller added, "any minute, fists are going to fly."
Officers arrived to find an "out-of-control" male who appeared under the influence of some intoxicating substance. He began asking the officers to shoot him, specifically, in the back (yet, no attempt to take this man into protective custody).
He yelled at officers he wanted to have sex with them, then he began damaging his motorcycle and his car. Officers learned it was his property, so no crime (but still no attempt to subdue him).
Now it was time to call out the acronyms. SWPD called for the sheriff's MCOT (Mobile Crisis Outreach Team). This call-out would add personnel to the two sergeants, both crisis negotiators and two patrol officers, also both crisis negotiators (so, why the need for MCOT?). Oh, right. The new law.
Cops' attempts to calm the man were unsuccessful because he gets a vote, too. And he voted not to cooperate (okay, it's more like a veto). I keep asking lefties for those magic words that'll induce cooperation from folks like this, but I only get silence.
Then it was time for the typical, (likely) excited delirium strip show. The man shed all his clothing except for his skivvies. Then he bit a tree and licked the sap (and, still no "hands-on" with this guy?). The chief must have heard us wondering.
Chief Tucker writes, "Recently laws, specifically HB1310, limit when officers are allowed to go hands-on or use force against a subject involved in a crisis either caused by mental health issues or caused by an ingested substance." Because, you know… a punch, kick, clubbing, stabbing, or gunshot is less dangerous to an officer when committed by a person with mental or drug issues, right?
With these new rules, here was the initial "resolution:" Officers managed to herd the man into his house (with his roommates, which is what qualifies the incident for DV). Officers left the scene with the subject in his "residence still yelling and screaming." The SWPD notes, "During this incident, multiple priority calls were left…" unanswered. Well over an hour had passed. Anyone think the roommates and neighbors felt served and protected?
Twenty minutes later, officers returned. The man was repeating his earlier behavior. But the new law still prevented cops from actually helping the man—because wacko leftists believe the cops just wanted to kill him. Twenty more minutes later, officers again left with the man in the house. Think officers will be back?
Chief Tucker concludes the post with, "Lessons learned," which has been condensed:
"The world as we know it has changed," the chief began.
6-8 Officers, deputies, and a mental health specialist team deployed for two hours.
Before these laws, officers would attempt to negotiate. If that failed, officers would quickly subdue him and have him transported to the E.R.
The residents of that neighborhood remain on edge because nothing was resolved.
The Officers and Mental Health providers were thwarted by "Legislative Mandates" that forced us not to act. Refer to: HB1310, Section 3 (2) (a).
You don't have to be a cop to know these new restrictions will result in people being injured and killed. In his condition, anyone think officers may have had to return for an injured or worse roommate, neighbor, or for the man himself? Also, could those holding "priority calls" have involved life or death matters? There's a reason they're called priority.
What the Sedro-Woolley cops faced is the results of the political "elites'" hubris. From behind a desk or state house podium, intimidated by leftist radicals, they decide for cops on the scene how to handle the call. Those are the officers actually facing people who are not in their right minds, and who, if given enough time, will hurt or kill someone, even an officer, or themselves.
As a rookie, my instructors taught me to end potentially violent situations as quickly as practicable. If de-escalation works, great. If not, get the suspect/subject under control before any innocent people get hurt. The fact someone is under the influence or has mental health issues does not diminish the dangers they present. In fact, those conditions often intensify the dangers.