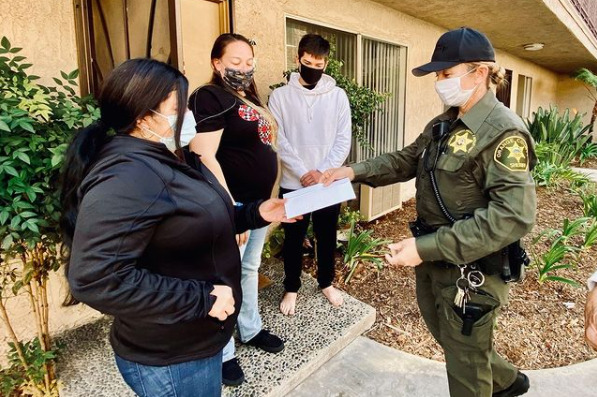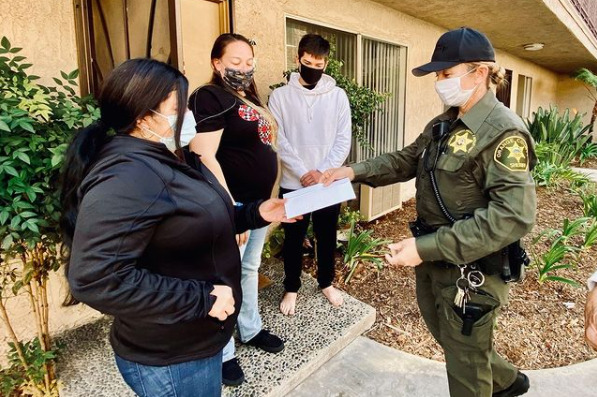 Ongoing examples of interactions between cops and citizens symbolizing togetherness and "unity" without the implications of politics involved never cease to amaze.
It was the picture above which conjured the aforementioned statement and analogy portrayed in the remainder of this article, centered on and parlayed from a program called #CopsCare.
What you are looking at in the image is a California sheriff's deputy handing an enveloped check to a family whose 2020 was impacted heavily, underscored by the tragic loss of a loved one to COVID.
The Orange County Sheriff's Department (OCSD) has the #CopsCare program in which deputies, besides regular duties as a law enforcement officer, are specifically relegated and responsible to be abreast of community members hard-pressed in the current climate of defeat-bearing circumstances. If ever there was a time when cops can evince the age-old adage of getting into police work "to help people," it is now.
According to the Orange County Sheriff's Department site, "a year-round support program designed for use by OCSD personnel who have identified individuals or families in need" epitomizes community-policing concepts to the T.
To accompany the picture above, an OCSD representative explained, "GRIP Deputy Tipantiza visited a family she nominated for a little extra help after they lost their husband/father due to COVID-19." The sheriff's department partnered with TIP Orange County (Traumatic Intervention Program of Orange County), a community help organization whose mission is to "provide emotional and practical support to survivors of traumatic events."
Incidentally, OCSD's "GRIP" acronym mentioned before Deputy Tipantiza's name stands for "Gang Reduction and Intervention Partnership," so when she is not doling out financial and other tangible supports to significantly impacted individuals or families, she is out battling gang violence in her jurisdiction. How's that for a full spectrum view of what LEOs are capable of accomplishing?
The "partnership" is with the Orange County District Attorney, the GRIP concept of which is an award-winning one. Kinda nice to see cops and prosecutors working together versus the nonsensical adverse relationships other DAs have chosen, often unjustly going after cops for doing what they are expected to do, sometimes resulting in unpretty outcomes trumpeted by "activists" influencing the kowtow of would-be prosecutors.
TIPS Orange County both works with cops as well as supports them in their own grievances over loss and survivorship, something LEOs are no stranger to.
(Photo courtesy of TIPS Orange County.)
At our disposal of ever-growing dangerous encounters experienced by brave police personnel fulfilling an oath, we have the world's largest Rolodex of examples to flip through. Incidentally, it is mutual: we are seeing American citizens typifying the word neighborly and then some.
In that context, representatives with TIPS Orange County sort of do a ride-along with Orange County-area cops and their respective law enforcement agencies, specifically attending the Coffee with a Cop events which expose citizens to what/why/how police do what they do.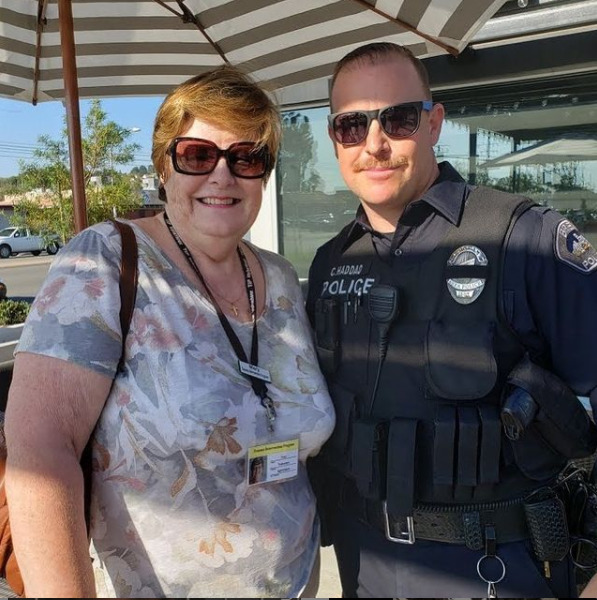 (TIPS rep joined a Brea, California police officer at the department's Coffee With a Cop. Photo courtesy TIPS Orange County.)
TIPS volunteers join LEOs and explain to attendees the availability of survivor supports and the intended benefits thereof.
Initially I set out to offer you two sides of the coin: Cops helping people and people helping cops. Although that is always worthy of exploration and illustration (there are infinite examples to post here), I figure our discussion today ought to also honor fallen U.S. Capitol Policer Officer Brian Sicknick who was recently laid to rest after perishing in the line of duty.
You see, controversy is brewing over initial reports that Officer Sicknick was struck by someone wielding a fire extinguisher during the January 6 conflagration while trying to protect the U.S. Capitol—the people's house. Since then, Sicknick's family decried elected officials "politicizing" his death. Initially lambasted as fiction made up by The New York Times, the paper has since quietly "retracted" such unsubstantiated claims. (Shocking, I know.) At first the NY Times cited "law enforcement sources" (which, subsequently, we are told was never true).
Mollie Hemingway, senior editor at The Federalist, explored this quite well:
Since the distortions perpetuated by both mainstream media and politicos, Sicknick's family have put forth that he died after suffering a stroke. One would think that a requisite for "unity" ought to contain pure truth, and at least we credibility from Officer Sicknick's loved ones.
Perhaps truth versus fiction will bear out from the Capitol Hill hearings whereby the then-sergeant-at-arms and Capitol Police administrators testify about the January debacle, encompassing the before, during, and after.
A brief montage of Officer Sicknick was offered by his family and an expose was published by the New York Post, and it serves as a bittersweet portrayal of a cop's life…in which the common denominator is giving selflessly in varying ways, both militarily serving country and domestically serving a city locale.
Sicknick was a cop's cop and in no way a political pawn for anyone. Beside a valiant warrior offering himself on behalf of others, his love and empathy for animals and a static facial expression I interpret as humbleness remain indelible factors of this man's compassion, devotion to duty, and uncompromising character.
Full circle: Cops care.
Each duty day is ripe with being present when others require listening ears and guiding hands. While our cover photo depicts a law enforcement officer handing a check to a family in dire need, we simultaneously raise our hands in salute to another police hero who honored his oath and paid a stark price.
All about cops, former prosecutor and favorite figure of mine, Trey Gowdy elucidated via Fox News.
The so-called unity party in the White House has nothing on LEOs. And while the president fumbles on coronavirus stimulus bills and waffles on checks going to hard-hit, deserving citizens, Deputy Tipantiza is knocking on doors and supplying funds in between chasing down barbaric gang members.
Indeed, cops are not the problem. It's incontrovertible. And the forward-stepping band of badged brothers/sisters unite, hold each other up, while regularly showing up to attend to the public's greater good, as it has been for ages.