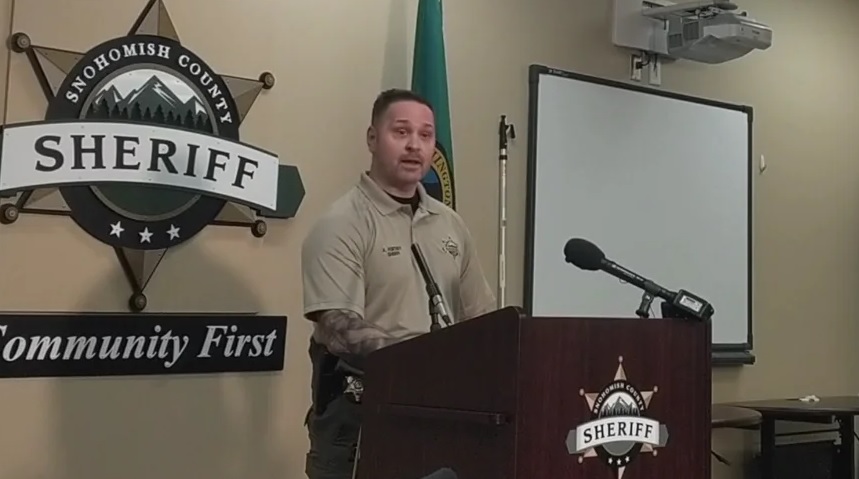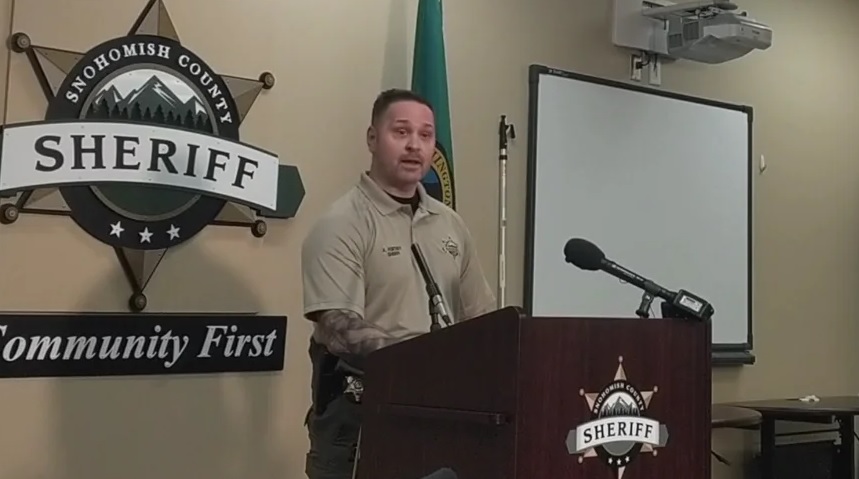 By Steve Pomper 
What a difference a sheriff makes. I've been reporting on government officials who've been taking advantage of the CCP virus to implement a partisan political agenda, which is inflicting overly harsh, unnecessary, and contradictory restrictions on their constituents. And also on how enforcing these restrictions is setting law enforcement officers up for ugly, unnecessary confrontations.
As important as that coverage is, we mustn't neglect the public officials, especially those in law enforcement leadership, whose instinct is to argue passionately and coherently for a more balanced and logical approach to the various local and state responses to this pandemic.
The new Snohomish County Sheriff Adam Fortney just told Washington State Governor Jay Inslee he will not enforce the state's CCP virus restrictions known as the Stay Home, Stay Healthy order.
In a Facebook post on his campaign page, Sheriff Fortney wrote to "Snohomish County Residents and Business Owners, I just watched the Governor's speech to Washingtonians regarding our approach to getting Washington back in business and I am left to wonder if he even has a plan?" This new sheriff does not mince words when it comes to his constituents' constitutional rights.
Sheriff Fortney acknowledged the sad fact "this virus is very real and has taken 97 lives in Snohomish County." However, he also said he had difficulty understanding portions of Gov. Inslee's address and has come to the conclusion, "He has no plan" to restart the state's economy. The sheriff believes "this simply is not good enough in times when we have taken such drastic measures as the suspension of constitutional rights." So, in the absence of a state plan, the sheriff announced his own plan: trust the people.
The sheriff believes if Boeing with its thousands of employees can function with health safety protocols in place, then he says, "I am entirely confident that our small business owners and independent contractors are more than capable of doing the same."
To bolster his position, he noted significant contradictions in who suffers most under the governor's lockdown. For example, if you are a landscaper or construction worker employed by a private company, Gov. Inslee is not allowing you to work to provide for your family.
However, if you are a landscaper or construction worker working for the government or on a government project, Gov. Inslee is allowing you to work to provide for your family. In fact, he's decided all government employees are essential. Really? How does that happen?
What? Will private employees spread the CCP virus, but government employees won't? Where is the science behind this contradiction? Sheriff Fortney wrote, "This contradiction is not okay and in my opinion is bordering on unethical." I think Gov. Inslee has crossed the border, sheriff.
Sheriff Fortney asks how the governor can deem Boeing with 20,000 employees working "inside a factory, building airplanes essential? But building residential homes is not essential?" He does not believe the government should be "picking winners and losers when it comes to being able to make an income for your family." He wonders if the CCP virus has such a high mortality, it shouldn't matter what you are building or who you are building it for.
The sheriff also said he's fielded many questions from people concerned that Gov. Inslee's stay-at-home order violates their constitutional rights. He answered them directly. "As your Snohomish County Sheriff, yes, I believe that preventing business owners to operate their businesses and provide for their families intrudes on our right to life, liberty, and the pursuit of happiness." He says he's especially concerned for the basic survival of families with only a single income source.
Some governors are loosening or lifting their restrictions. Not surprisingly, Washington's Gov. Inslee is hemming and hawing, likely waiting to see what others do. But, again, he doesn't seem to have even an inkling of a coherent plan to reopen the state. Then again, he has a heavy-handed history of not trusting the people. And while other governors, some also far left, have cooperated and acted civilly with President Trump and VP Pence during the CCP virus crisis, Gov. Inslee has continually sniped from the sidelines.
For the folks who support this opportunity for big government intrusion into private lives, people's resistance to the restrictions are making their heads explode. However, they ignore one important factor. By lifting the restrictions, these governors are not ordering people back to work. That decision will be made by the people. This should be a familiar concept for people who live in a democratic republic.
In fact, Sheriff Fortney addresses this notion. He "strongly encourages" people to demand from local and state leaders that they "allow businesses to begin reopening and allow our residents, all of them, to return to work if they choose to do so." Same goes for restaurants, bars, theaters and other businesses. No one is forced to go there if they don't think they are safe.
Other top cops in Washington State, such as Franklin County Sheriff J.D. Raymond, have also chosen the Constitution over Gov. Inslee's arbitrary edicts. However, unlike Sheriff Fortney, Sheriff Raymond has some government allies. The Franklin County Commission, comprising three Republicans, recently unanimously proclaimed their county open for business.
According to the Tri-City Herald, Commissioner Brad Peck said, "As far as I'm concerned the county is open, and I'd encourage people within the law and within the parameters of their own safety — we're adults, we can make decisions — to behave accordingly. That's what I'm doing."
However, Gov. Inslee isn't having any of this "freedom" and "adult" nonsense under his watch. TPM is reporting, "Governor Demands Wayward County Obey His COVID-19 Stay-At-Home Order." I'm sure the sheriff and commissioners are shaking in their boots. What's Gov. Inslee going to do, sic the sheriff's brothers and sisters in the Washington State Patrol on them?
There's talk about court actions on both sides. That could be interesting. I'd love to hear Gov. Inslee try to defend the "science" behind the many contradictions in his stay at home order. And his having to defend the massive errors in the flawed estimate models some officials, apparently, like Gov. Inslee, are still relying on to make their flawed decisions.
About a month ago, Madeline Osburn, of the Federalist, wrote a piece on the CCP virus. The title explains the issue, "Inaccurate Virus Models Are Panicking Officials Into Ill-Advised Lockdowns." The subtitle refers to the politicization of a health crisis. "How a handful of Democrat activists created alarming, but bogus data sets to scare local and state officials into making rash, economy killing mandates."
These political leaders are ordering their cops to enforce these onerous mandates on the people. This is something Sheriff Fortney and Sheriff Raymond are refusing to put their deputies through.
It's sad that we have leaders whose only thought is about how to amass power to control the people. But it's uplifting to have leaders, like these two sheriffs, who understand what their oaths to uphold the U.S. Constitution mean. You'll never hear one of them say, as New Jersey Governor Phil Murphy recently said on Fox News, "I wasn't thinking of the Bill of Rights when we did this." No kidding.