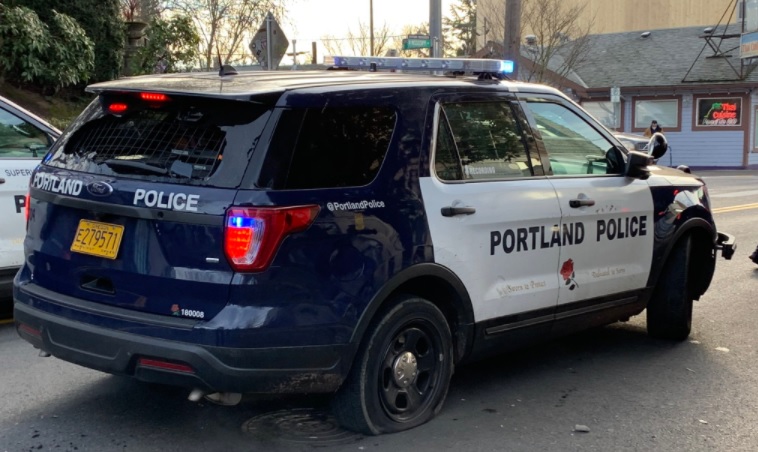 By Steve Pomper
Portland, Oregon government officials conjure a pathetic excuse for the massive surge in violent crime after months of incessant city-sanctioned leftist violence and efforts to defund and weaken the police. Last July 25th, during one of the nightly exhibitions of anti-government violence, two men were shot, one wounded and one killed. The 27-year-old man who died was visiting from California.
According to Sara Cline of the AP/Report for America, as seen at Police1.com, Portland "officials and experts attribute increased gun violence in cities nationwide to the hardships of the coronavirus pandemic, unemployment, economic anxiety and stress on mental health." So, the violence has nothing to do with Portland's horrible political leadership that sides with far-left militants over law-abiding residents? Right.
Think about the audacity and hubris of that statement. Over 120 consecutive days of riots, assaults, arson, looting and destruction, and officials blame the CCP virus, being jobless, and being stressed out? Since when do leftists have stress over not having a job?
Oregon Gov. Kate Brown has played pandemic tyrant with law-abiding Oregonians. But she's silent about Portland's leftist rioters who flout her CCP virus diktats. Their answer for the increased violence insults legitimate inquiry.
The Daily Caller reported, between May 29, 2020, and November 15th, 2020, "30 riots were declared… resulting in 960 arrests [most suspects were released without charges or bailed out]… and around 62 fires were set…." The militants targeted federal facilities including a federal courthouse, municipal buildings, including police precincts, small businesses, the Oregon Historical Society, and even churches. They also attack people like journalist and author of Unmasked, Andy Ngo, who was severely beaten by Antifa in 2019.
Portland Mayor Ted Wheeler (the second-worst mayor in America), who also serves as the police commissioner, the Portland City Council, and Gov. Brown have all declared, "The violence must stop." But they don't specifically identify who is committing the violence (BLM/Antifa) and even infer white supremacists are responsible. And, worse, they either take no action to stop the violence, or they take actions that worsen the violence. For example, banning the cops' ability to use effective crowd control tactics, tools, and munitions.
Every cop and clear-thinking person in the U.S. knew these Democratic-run city's irresponsible decisions would increase crime. I am not above saying, "we told you so." Cline wrote, "More people died of gunfire last year in Portland — 40 — than the entire tally of homicides the previous year. The number of shootings — 900 — was nearly 2 1/2 times higher than the year before. The spike has continued this year, with more than 150 shootings, including 45 people wounded and 12 killed so far."
The uncle of the two men shot in July believes the city's decision to disband the Gun Violence Reduction Team (GVRT) played a part in his nephews getting shot and one killed. He said, "Without a doubt, I think it is a possibility that my nephew could still be alive if the (GVRT) was not dissolved." The uncle is also a crisis response volunteer for Portland police. He "responds to shootings to support victims' families." On that day, he became one of those families.
As the BLM/Antifa militants increased the pressure on the headlock they have Portland in, Mayor Wheeler joined other city council members to disband the GVRT. Why? What else? Because racism. According to Willamette Week, on June 9, 2020, "Mayor Ted Wheeler today announced the Portland Police Bureau will dissolve its Gun Violence Reduction Team."
The disbanding of police specialty anti-violence units that focus on violence, involving firearms, narcotics, and gangs is proliferating across the U.S. Democrat-run cities. These leftist politicians are showing disdain for law enforcement. They pretend to believe the false narratives about cops that they fabricate. So, these cities are drowning in violence because of their leaders' incompetence. As their cops bolt for greener pastures. We can say, "we told you so." And that may vindicate us, but it's not satisfying. Still, voters continue to elect these people.
Then again, whenever anyone, even a moderate lefty, attempts to run for office in these illiberal cities, the radical Left will eviscerate them. For example, in 2018, documentary filmmaker Chris Rufo, America's premier anti-critical race theory activist, attempted to run for a seat on the Seattle City Council. The radicals were so venomous, they forced him to drop out of the race through a campaign of harassment and threats against Rufo's wife and child.
Rufo described his experience. "I had hoped that this would be a campaign of ideas, but I quickly discovered that the activists in this city have no interest in ideas. Since the campaign launch, they have harassed and threatened my family nonstop. I was prepared to take the heat, but unfortunately, they have focused their hatred on my wife and children," the Daily Caller reported.
Rufo also said, "They've made vile racist attacks against my wife, attempted to get her fired from Microsoft, and threatened sexual violence. They have even posted hateful messages to my 8-year-old son's school Facebook page. I know that as the race progresses, the activists will ratchet up their hate-machine and these attacks will intensify significantly."
In the recent Portland mayoral election, there wasn't a moderate in sight. So, the voters re-elected the hapless Mayor Wheeler, as reported in the New York Post. Voters had little choice between Wheeler' main challenger, Sarah Iannarone, who is further left than Wheeler, having once declared about herself, "I am Antifa." The mayor won a narrow victory, benefitting from write-in candidates, including Teressa Raiford, described as a prominent BLM activist, who took 13 percent of the vote.
The voters not only must elect competent leaders, but they also must oppose the radicals who harass and threaten any candidate who refuses to conform to the leftist political monoculture. Until then, I suppose conservatives and libertarians will just have to settle for saying, "we told you so." That's because, as long as these leftist bullies are running cities like Portland, they're going to continue to be wrong. And people like the California man shot in Portland will continue to die.