It is a bittersweet testament that many newer police memorials tributing our fallen law enforcement officers were emplaced during an unprecedented wave of historic statues being fastidiously toppled all around our nation. In many ways, times and national tempo have drastically changed which, by virtue of public safety vows, increased societal perils confronted by forward-stepping cops.
Consequently, the uptick in casualties suffered by police agencies weighs heavy and imbalances the justice scales due to diminished numbers of courageous crimefighters. In that context, the modest roster of men and women wearing a justice badge are bona fide heroes by voluntarily serving hundreds of millions of citizens.
The ratio is both stark and astounding.
Those who were felled combatting menace and malevolence are tributed by their respective agencies and communities. This gives rise to structural projects undertaken by skilled artisans whose mindful blueprints and talented hands driven by police-supporting hearts erect impressive icons made of buffed metals memorializing those who bravely served.
I've been collecting details about recent police memorials tributing fallen police officers, tremendously drawn to the behind-the-scenes phases leading up to full exposure for public eyes to pay homage—today and every day.
In October 2022, the Tampa, Florida police department commissioned a heavy-load tow company to foist and emplace a newly constructed memorial tributing the fallen in the line of duty. Its backstory magnetizes the mind…
A duo of artisan sculptors constructed a roaring lion made out of "found objects composed of stainless-steel cable, pistols, revolvers, rifles, shotguns, and miscellaneous pieces of Master Police Officer Jesse Madsen's cruiser."
Below that read, "This statue was created in memory of fallen officers who have made the ultimate sacrifice in the line of duty."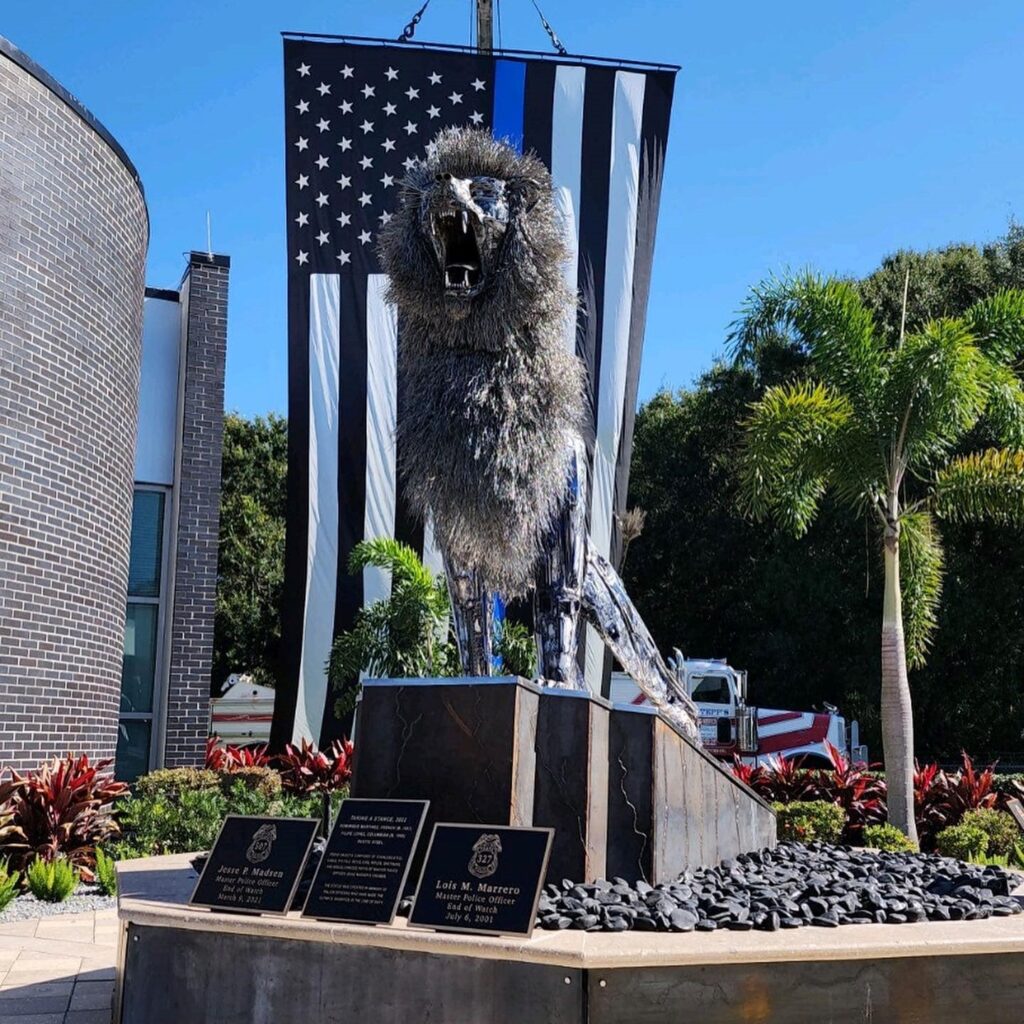 (Photo courtesy of the Tampa Police Department.)
The National Police Association published the horrific story culminating in a precise example of a police officer "making the ultimate sacrifice" when MPO Jesse Madsen, who just finished his tour of duty, heard reports of a wrong-way driver on one of Tampa's interstates.
While heading home to his wife and children, MPO Madsen rerouted and intentionally drove toward the reported pathway of the errant motorist, placing his marked police cruiser in its path. The head-on collision culminated in the drunken wrong-way driver being stopped from killing citizen motorists, with Officer Madsen's heroism being his last dutiful action, resulting in his death.
Hence a portion of the memorial's inscription attesting to police parts materially derived from the stark reality of police work climaxing in tragedy.
(Photo courtesy of the Tampa Police Department.)
The pair of bronze sculptors mindfully sought to erect a tributary statue containing remnants symbolizing the lived experience of heroes who died, leading to solid dedications somberly echoing the police ethos, "It is not how these officers died that made them heroes, it is how they lived," mirroring the National Law Enforcement Officers Memorial mantra originated by Vivian Eney Cross, a police survivor.
The brainstorm of collecting residual elements from a heinous crash scene where a policeman's life was destroyed is a remarkable notion from creatives who never even knew Officer Madsen. Nevertheless, through the process of aggregating bits and pieces, a commemorative structure was forged and rests at one of Tampa PD's precincts.
Speaking of the NLEOM in Washington, DC, some significant weight was sculpted by artist Raymond Kaskey, honorably crafting a world-renowned landmark chronicling thousands of fallen LEOs whose names are etched into marble walls commemorating the nation's justice heroes:
"Each of the four pathway entrances to the Memorial walls is adorned with a powerful statuary grouping of an adult lion protecting its cubs" symbolizing "the protective role of our law enforcement officers" representing "the strength, courage, and valor that are the hallmarks of those who serve. Each adult lion weighs approximately 2,500 pounds." My arithmetic indicates that is roughly 10,000 pounds of brawny bronze and bravery.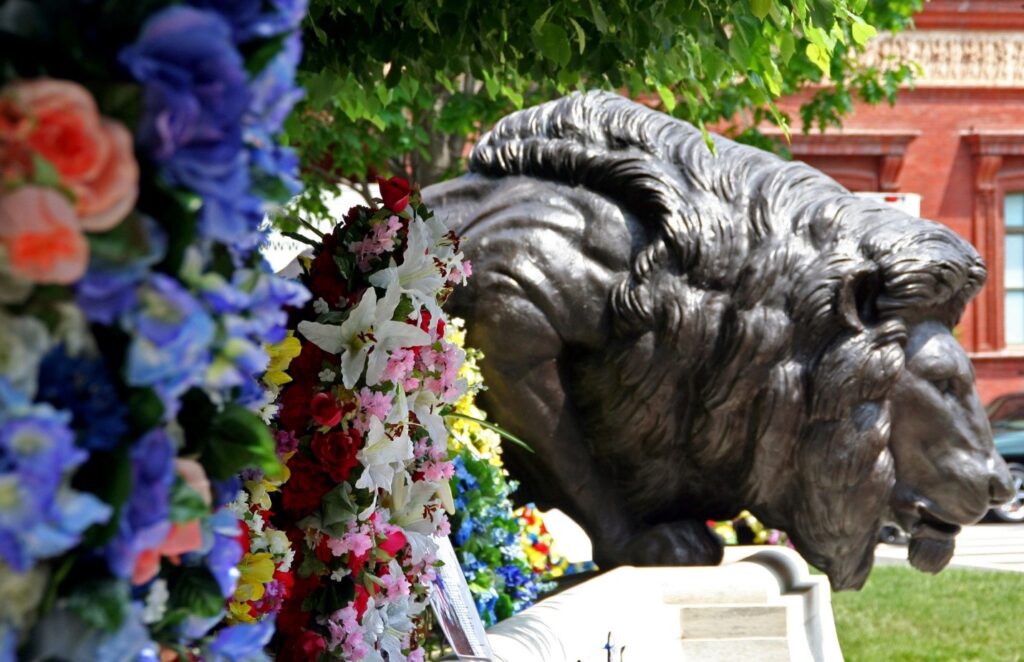 (Photo courtesy of the National Law Enforcement Officers Memorial Fund.)
Other material I found expounded detail regarding the four lions, applying due credit for the second set of sculpting hands instrumental of the NLEOM statuary. The four bronze lions are two male and two female, each presiding over a pair of lion cubs. The cubs were created by George Carr.
Among artisans culled by law enforcement executives, verifiably-skilled selectees convene with police administration and commence the process of launching the fallen officers' memorial project: ideations are conjured, mulled, passed across meeting room tables, modified, narrowed, revamped again, and ultimately manifest in a wholehearted decision from which renderings segue to a prototype. Next is constructing the real thing, mitigating any hiccups along the way.
On the heels of four lions representing police virtues on four paws, we turn to our police canine comrades…
Among the police memorial projects I found include police canines and the marvels they bring to policing.
On December 27, 2022, the Milwaukee Journal Sentinel published a piece about the St. Francis Police service animal "K9 Bane," analyzing the search for and selection of the artist commissioned to sculpt his duty-depicted form for permanence at a site reserved for public display.
"Social media-famous and former St. Francis crimefighter K9 Bane will forever watch over his hometown as a bronze statue in recognition of his service to the city," wrote reporter Erik S. Hanley.
You see, even though K9 Bane served exemplary in policing, physical activity throughout a prosperous police career considers the general welfare of working dogs, whereby law enforcement agency executives and assigned canine handlers exude humanitarian deeds by forming retirement plans—a policy having to do with a well-earned and deserved honor, akin to what human counterparts receive.
Thus, K9 Bane became a retired police dog in October 2020. His police handler, St. Francis police Detective Holly McManus arranged for 11-year-old Bane to retire from the police force, working out a formal plan to care for him and provide him the best post-police life possible. All was right with the world…until it wasn't.
In June 2022, Bane was diagnosed with a debilitating disease known as degenerative myelopathy, a "spinal condition which affects his ability to stand and walk. The disease will eventually cause complete paralysis and his organs will shut down," the Milwaukee Journal Sentinel explained. Bleak. But why wait to pedestal Bane when it can be done with his focused eyes to see how his human police partners respect his public service and love his presence?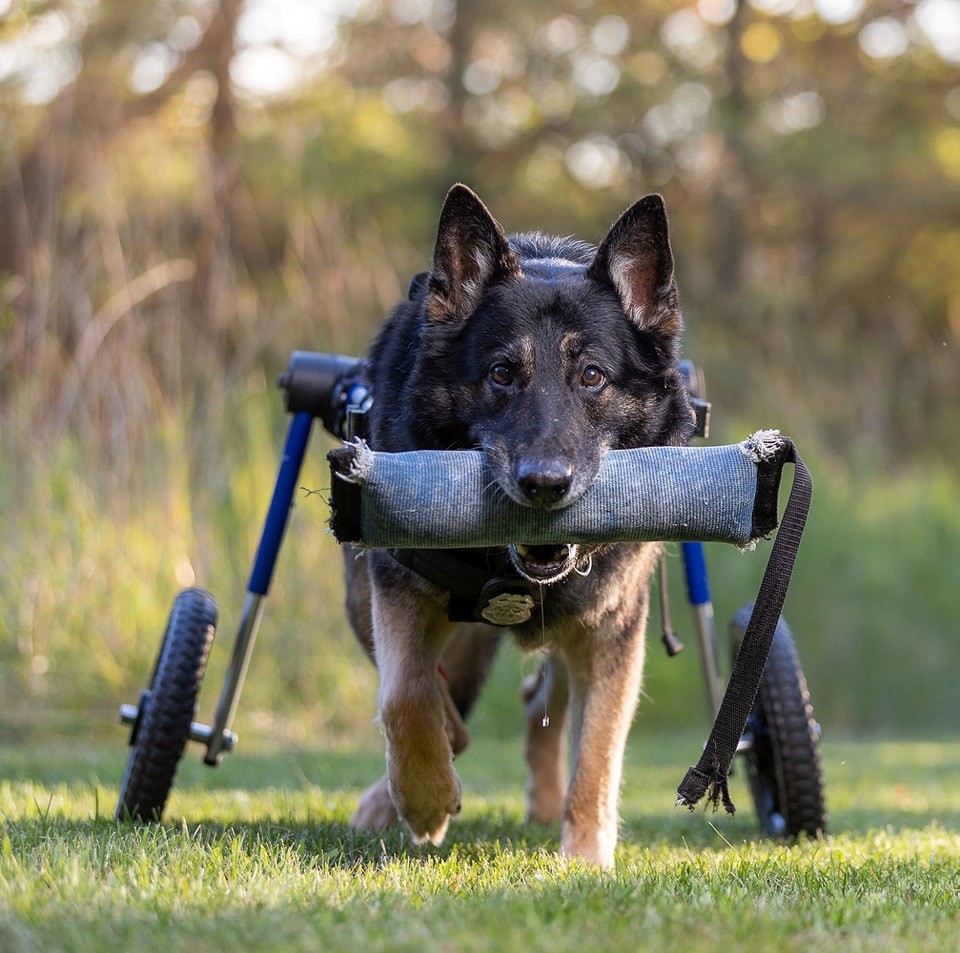 (Photo courtesy of K9 Bane's website.)
Detective McManus conjured plans to memorialize Bane, and proposed plans to the city council, receiving approval for the bronze statue project. The only aspect requiring putting the pedal to the metal was searching for and selecting a bona fide sculptor to mold metal in Bane's furry form.
Enter The Painted Feather LLC sculptor Kristen Douglas-Seitz, who had among her portfolio a bronze-sculpted canine created for a fire chief in Kansas.
Give a listen to a brief exposé of K9 Bane's statue project, with Ms. Douglas-Seitz explaining the many moving parts, including Bane's whiskers application and shaping the unique design of canine noses, factoring into the commemorative piece—very insightful background with intriguing phases of the process toward the eventual unveiling.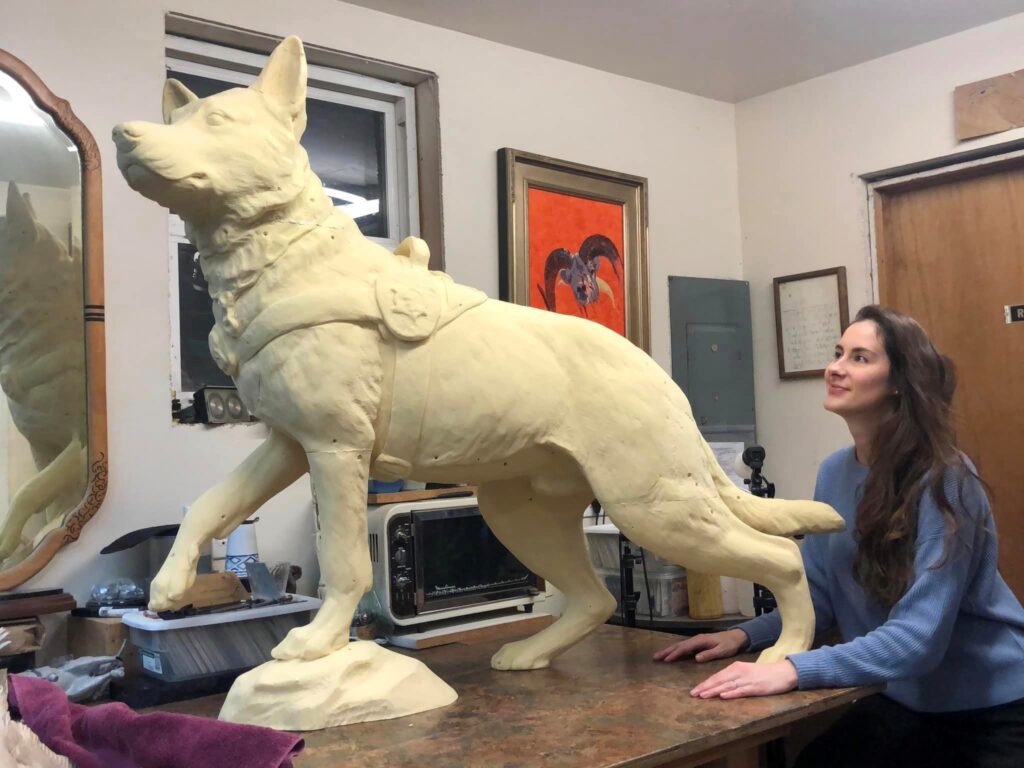 (Photo courtesy of The Painted Feather LLC.)
Graciously, the St. Francis community monetarily contributed to K9 Bane's statue project. A soul-stirring caveat tugged heartstrings, too. Given his prognosis, it is hoped Bane survives to witness the unveiling of his police tribute. In the event whispers at the precipice of the Rainbow Bridge waft the air, Detective McManus considered posthumous possibilities.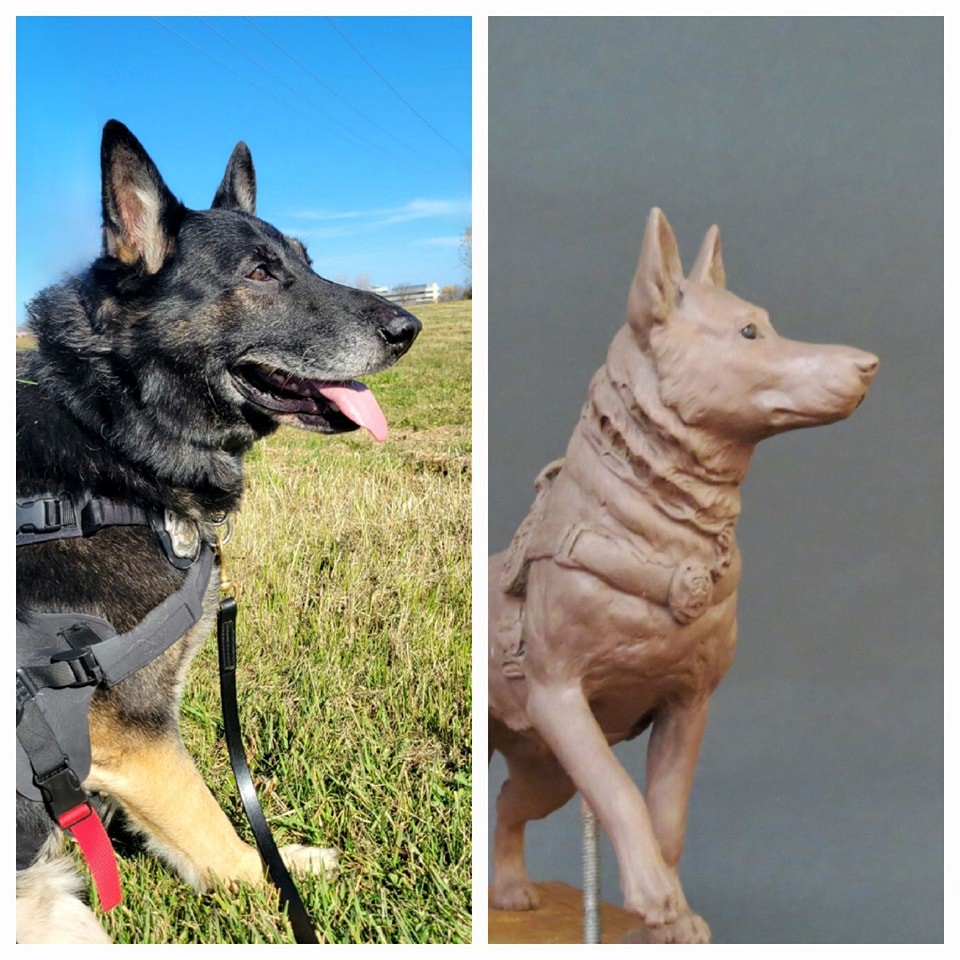 (Photo courtesy of K9 Bane's website.)
Besides forming Bane's life-size "regal pose" spec'd by careful measurements before starting the molding process, sculptor Douglas-Seitz is forging a bronze heart. Detective McManus stated some of Bane's cremated remains will be contained in the heart-shaped bronze urn and placed inside the metallic memorial.
The love and compassion catered to these human and canine police heroes are insurmountable, in the here and now as well as thereafter. The statuesque replications of our nation's law enforcement crusaders' selfless service and ardent heroism are solid and permanently emplaced as public safety commemorations anchored by respect and adoration. Hats off to the hands of skilled folks who forge it all.