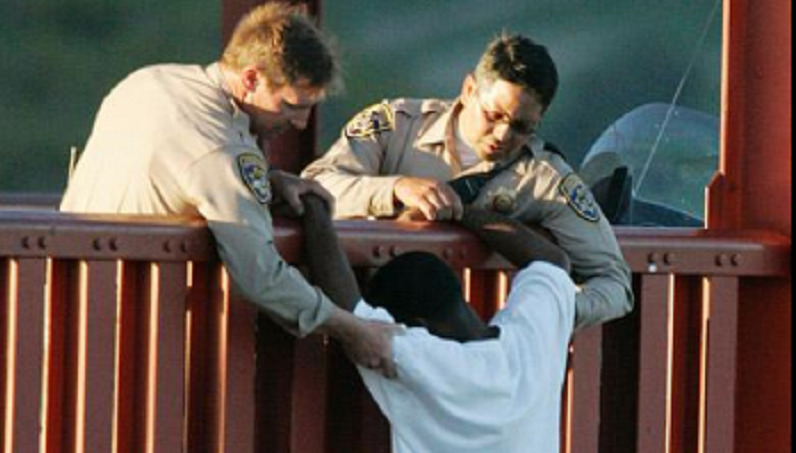 Thankfully, police agencies and sheriff's offices are adept at supplementing the crime-fighting mission with expository nuggets availing the realities of the beat and what is transpiring, all organic and unadulterated, so that citizens (taxpayers) can glimpse the grit and successes parlayed via the hearts and hands of cops.
Both reactively and proactively, cops administer interventions galore (some little-known ones), and here are a few examples…
Starting with quite a bittersweet intervention resulting in a life-saving encounter involving police, culminating in life-altering dividends, former drug addict "Ginny" shares her candid and uplifting story: "I honestly thought I'd die on a park bench with a needle in my arm or by gunshot to the head. I would've never in a million years thought my life would look the way it does today. Today I've let go of feeling insecure about my age, the lines on my face, my genetics, my failures, and imposter syndrome to recognize that no matter what, if I'm still breathing, I can do anything I set my mind to."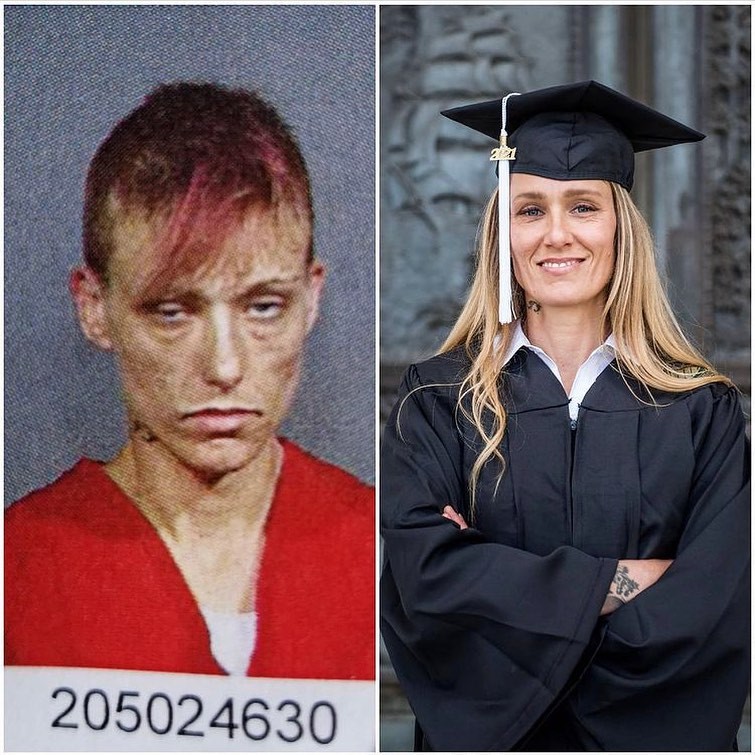 (Photo courtesy of Bellevue, Washington Police Recruiting.)
You see, the image on the left in the photo above is Ginny in a booking photo right after police arrested her on drug charges. Although no easy feat, she managed to "get clean" and rid her life of narcotics, declared a new day and destiny, and ultimately graduated college… With the sordid past in her rear-view mirror, she gleaned gratitude for law enforcement officials as instrumental catalysts toward her sobriety.
"It was because I was arrested that I was able to make different choices… Police intervention saved my life," Ginny offered.
Indeed, the success stories abound, often not shared as candidly as Ginny's.
Several times in my police career did I subsequently receive contact from tragically addicted people who I arrested years prior; the feeling of such poignant moments with back-on-track citizens shaking hands with cops who intervened during the course of duty (sometimes off-duty) is nothing shy of fulfillment for a police officer and his/her sworn oath. Just absolutely gratifying!
As Bellevue cops wrote to Ginny, "Your perseverance inspires us all Ginny. In our line of work, we often come in contact with people who are at the lowest points in their lives. Your successes remind us all how powerful and resilient the human spirit is, and that no matter how harsh some of life's circumstances may be, we still have control over how we respond to the challenges that are thrown in front of us. Please let us know when you are back in town. We would love to have you stop by again."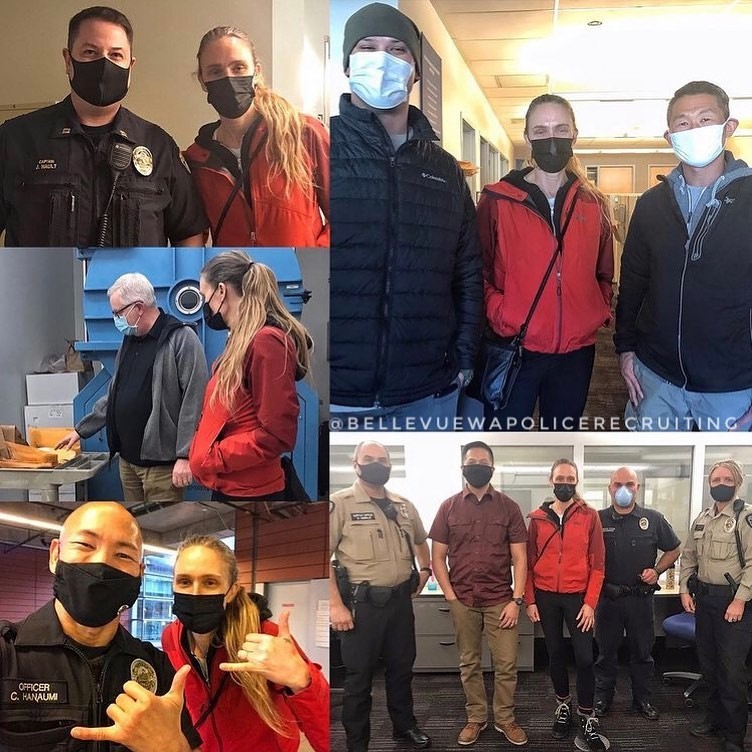 (Photo courtesy of Bellevue, Washington Police Recruiting.)
How's that for hearty replenishment when the chips are down and a beleaguered citizen holding a losing hand is dealt salvation thanks to cops delivering life-saving services?
Often the case across America, cops respond and delicately develop rapport with people engaged in suicidal ideations, commonly talking folks away from the edge or railing. Imagine the magnitude of productive lives enabled…because of caring cops who patiently befriended those who felt they had no one to turn to, finding the opposite to be true.
I always found suicidal calls engendered finesse of police personnel, carefully weaving dialogue and rapport beset on the sanctity of life. Moreover, these calls exemplify the oath's essence, epitomizing the Why. Sometimes a mere four words invites the road to salvation: "I'll hug you, man."
Prince George's County police Officer Alexander Strachan, 30, a brand-new cop sworn in recently, brings a tune-riffic attribute to people who may need, well, a bit of his musical talents to touch their heartstrings.
If music is soup for the soul, then Officer Strachan's violin-playing skills caters an intervention of organic means, no prescription necessary, especially tranquil for those encumbered by terminal illness.
Strachan said he plays for these particular demographics because he wishes to honor military veterans for their service and that it is "comforting, soothing, and inviting," adding, "You can make a profound difference in someone's life because they are going through something difficult."
To the hateful hecklers and anti-cop barkers, please have a seat and relax to this policeman's offering of noteworthy sounds brightening lives—all lives.
A band of badges from the Cheektowaga Police Department lifted up a woman after lifting up a car (literally) from her body being struck by/trapped underneath the significant poundage. An intervention with exigency all over it, the victim was salvaged and the cops and two citizens involved in the rescue op were granted awards recently.
According to New York State Assemblymember Monica Wallace, "By leaping into action and working together, these officers and good Samaritans likely saved the victim's life. The officers are a credit to the Town of Cheektowaga and the bystanders who assisted embody the spirit of the City of Good Neighbors."
Often, some scenes are perilous and require life-saving interventions of unconscious people by cops having to body-drag victims to medical attention and hope it's not too late. Such was the case in the following instance when an unrelenting policeman risked his life to save another in a housefire:
Since I am writing this on National Missing Children's Day (May 25), it's apropos to bring you a nugget from the Pasco County Sheriff's Office which heralded its Missing Abducted Child (MAC) Team.
Per a PCSO press release, "The MAC Team is a multi-disciplinary, rapid response team which coordinates the investigation of a missing or abducted child. Members of the team include criminal and missing persons investigators, Forensic Investigators, Child Protective Investigators, K9s specially trained for tracking, Intelligence Analysts, Victim Advocates, UAV (drone) operators and Public Information Officers.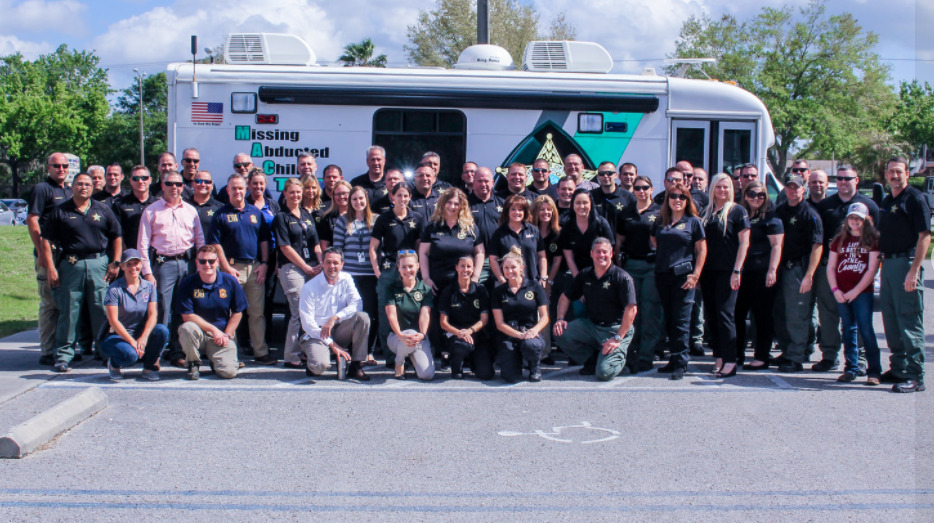 (Photo courtesy of the Pasco County Sheriff's Office.)

"PSO's MAC Team regularly trains and prepares for the worst-case scenario to protect children from harm and reunite them with their families and loved ones."
Although police interventions result by conventional physical presence of a LEO, they are often equipped with techno equipment and training to use apparatus engineered to mitigate matters of urgent nature.
In my immediate area yesterday, a mixed group of 25 or so police officers and sheriff's deputies from various agencies trained together in the use of Safety Net tracking systems.
Per the Safety Net Tracking Systems site, "Caring for a loved one who wanders is a considerable responsibility. Nothing is more frightening than the thought of a loved one with autism, Alzheimer's, or other cognitive impairment becoming lost. Proven SafetyNet Tracking Systems technology helps public safety agencies quickly find and bring your loved ones home."
As a retired cop who never had access to such technology back in the day, I am glad LEOs have it now.
As a dad whose daughter is autistic, non-verbal, and prone to potential wander, I am rest assured that should such an alarming occurrence arise, police officers and deputies can swiftly deploy the tech, scan the terrain, and recover missing/lost individuals safely.
Here is a quick peak at how the Safety Net tech used by cops and deputies works:
Florida has a large demographic of senior citizens who are sadly afflicted with Alzheimers and dementia, some wandering from their residential dwellings.
In a press release today, the Hillsborough County Sheriff's Office encouraged the following: "Relatives caring for a loved one with Alzheimer's, down syndrome, dementia or autism can register them in the program. If they wander off, deputies can find them faster!"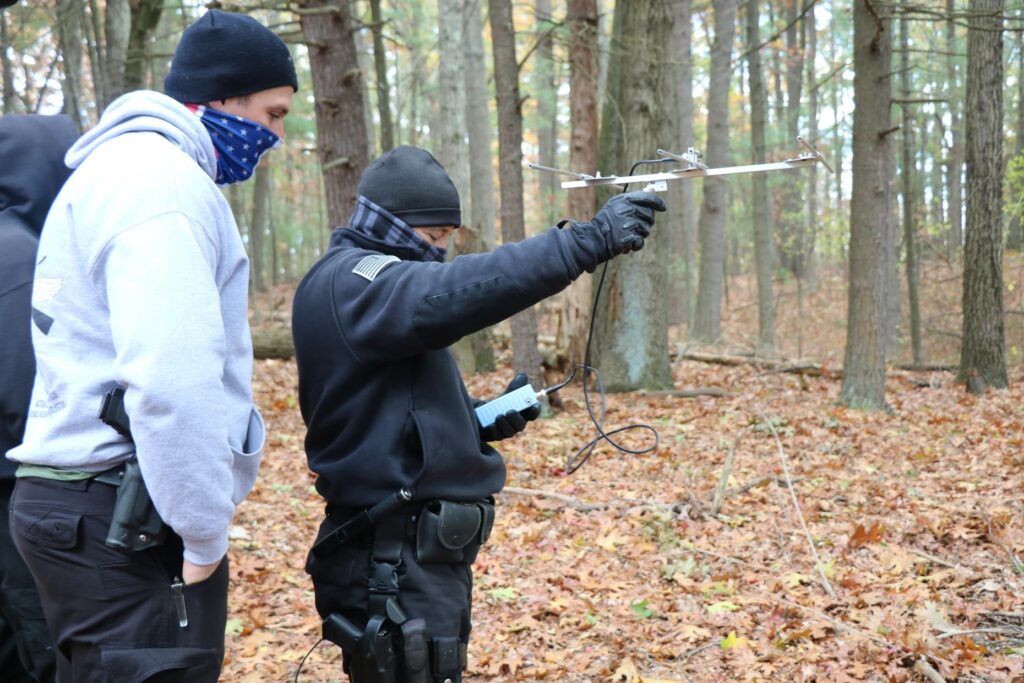 (Photo courtesy of Safety Net Tracking Systems.)
Speaking of interventions involving autism and special needs children, there is a growing volume of episodes whereby law enforcement officers, many assigned as school resource officers, successfully settle youngsters overstimulated and overwhelmed by a myriad of dynamics ordinarily stemming from environmental cues (lights, din, confluence of mobility, unfamiliar faces, etc.).
These special needs situations abated by special interventions delivered by special people looks like this:
Segueing from special needs to basic needs, interventions are not necessarily full-blown incidents. To the contrary, they can be mild and humanitarian constructs in which one human (cop) befriends a down-on-luck human (poverty-stricken) soul lacking proper soles.
In Wichita, such a circumstance unfurled when a caller complained about a teenager whose basketball-playing noise was too much for her tolerance level.
Per Wichita Police Chief Gordon Ramsay, Officer Gupilan and Officer Snyder "befriended the boy and resolved the goal in the street issue. They learned the 13-year-old loved basketball but could not afford basketball shoes. The officers received an anonymous donation to buy him nice basketball shoes and then took him out to lunch and got to know each other better. This is just one example this week of how WPD officers are positively impacting people's lives in our community."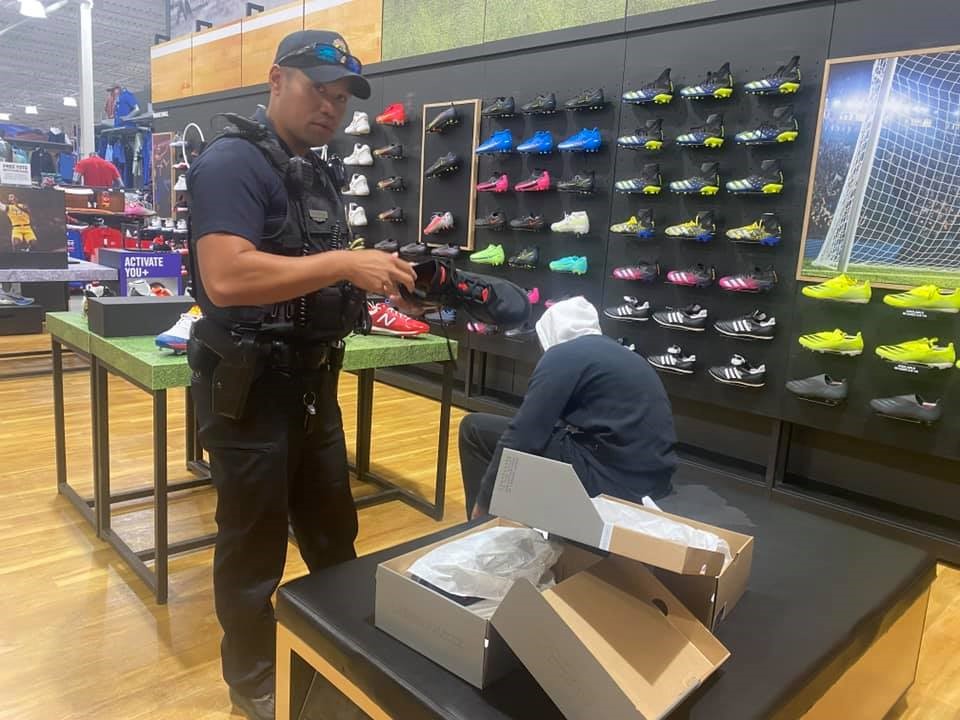 (Photo courtesy of Wichita Police Chief Gordon Ramsay.)
I italicized the word "anonymous" in that preceding passage, as described by Chief Ramsay; you can likely guess from whom the actual donation came. The cop's facial expression in the photo is a tell. Either way, the echoes of one of my police academy instructors is what transpired here: cops saw a need, had the ability to fill the need, and did so without question—an intervention observed, a resolution served.
Another potential intervention of sorts is when cops on the street scenes are at the right place at the right time when expectant mothers can't exactly wait any longer and go into labor. Without an OB/GYN in sight, police officers deliver babies (primary intervention) and ensure an ambulance is en route to maintain the newborn's integrity (secondary intervention) right after those crucial, time-sensitive moments of new lives entering into the world.
On May 21, 2021, Arizona Department of Public Safety Trooper Montiel-Felix "delivered a healthy baby girl at 1:11 a.m." and was aided by "Trooper Russell, the other vehicle occupants, and the efforts of one very tough mom," right there on an Arizona roadside.
Wrapping it all up, we couldn't bid adieu without recognizing our animal friends on whose behalf police often find themselves intervening. Whether it be a case of creature(s) stuck-down-a-drain or needing rescue from sinister hands or whatever situation presents, cops to the rescue (sometimes beyond).
San Diego cops were called regarding a man "dragging a puppy" down the street. Once police officers were on scene, they learned the individual was destined to the Humane Society to surrender the puppy.
As luck would have it, the complainants who called the police initially expressed a desire to adopt the dog pound-bound pup. According to a San Diego police spokesperson, for reasons unknown the family changed their minds: "The family that called us was willing to adopt the puppy. However, the family was unable to adopt the puppy. But not to worry! One of our officers stepped up and adopted him. Meet Winston. He's loving life and his new forever home."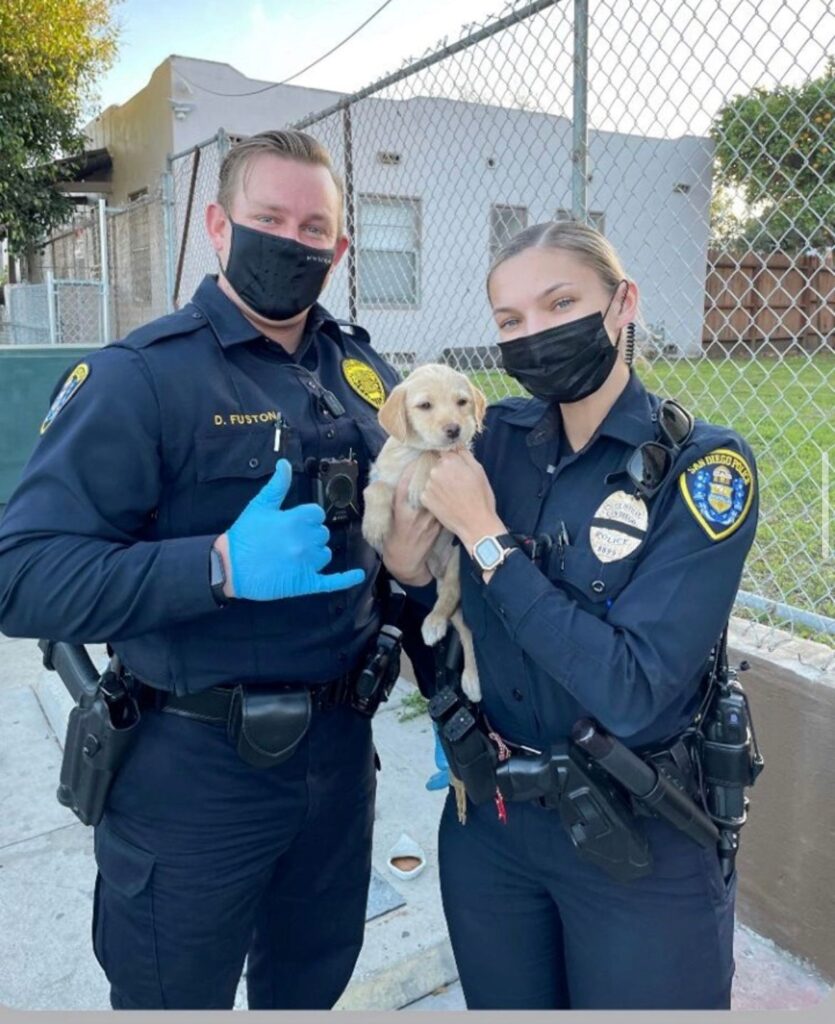 (Photo of the San Diego Police Department.)
So that's the story of cops intervening in one problem, forming a solution which didn't quite pan out, then intervening on a personal level equating to the pup and a cop bonding and sharing digs together.
In the annals of problem-solving, addressing needs, and delivering resolve, badged professionals abound. Case by case, cops intervene. And call by call, cops keep responding to the Ginnys of the world, to the terminally ill, to the sensitivities of special needs children, to the lost, to the missing, to the downtrodden, to whomever experiencing whatever wherever they may be…when interventions are the recipe for salvation.