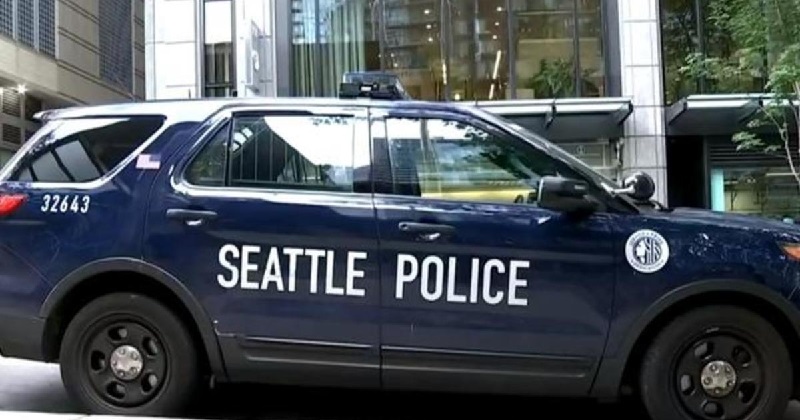 By Steve Pomper
The city of Seattle has a long history of violating Seattle Police Department (SPD) police officers' rights. The city does not support cops' right to free speech or free thought. They have routinely abridged the rights of officers to express opinions (off duty), to attend political rallies free from harassment, and they have forced officers to attend CRT-type indoctrination for more than a decade.
I documented some of these violations in my book, De-Policing America (Post Hill Press, 2018). Short version: The Officer of Professional (now Police) Accountability (OPA) investigated me for over seven months for writing an article in the union newspaper. This created a "chilling effect" that had officers withdrawing or declining to submit articles they'd also written. Other officers just kept silent—but that was the point, right?  
After the most incompetent "insurrection" in human history, the SPD opened an investigation of six police officers who attended a political rally in Washington D.C. on January 6th, 2021. I wonder how many Seattle city employees (outside of the city council) have attended BLM or Antifa demonstrations that turned a lot more violent than the Capitol dustup. I know Seattle city employees who attended BLM demonstrations. I also know the city does not have them under investigation.
Malcontent News reported on July 8th OPA has recommended firing two of the six SPD officers, three received findings of "non sustained, inconclusive," and one refused to cooperate with the city's attempt to violate his Fifth Amendment rights. As KTTH host Jason Rantz wrote, "Seattle cops forced to give personal texts, financial records to city under termination threat." Incidentally, the two officers recommended for termination were in D.C. on their honeymoon.
The OPA director reveals his bias with the partisan language he uses to construct a straw man. In a written statement OPA Director Andrew Myerberg said, "That they [officers] were direct witnesses to people defiling the seat of American democracy and assaulting fellow law enforcement officers—and did nothing—makes this all the more egregious." That's just grandstanding blather.
Look, I admit I'm going to give the benefit of the doubt to the officers who wore the badge I once wore. Especially with what appears to be a politically motivated assault on these cops' rights. One way to tell is by noting the language used by those "investigating" the officers. When we hear the same insane partisan hyperbole locally that's been applied to the D.C. riot, don't we have to be skeptical—if not cynical?
Myerberg speaks as if the officers had some kind of bird's-eye view of the melee from their position. Again, the benefit of the doubt where it belongs, the officers argue they didn't know they were in a restricted area. Is that so hard to believe? You have people standing, running, and climbing all over the place. Some are confronting the cops while others are being let into the building and escorted by cops. Anyone else find this as yet unsolved aspect confusing?
With so much information, including 14,000 hours of video being withheld, and with FBI assets reportedly embedded with certain groups, inciting the more radical elements in the crowd, it's hard to see how OPA could issue such a consequential recommendation as firing two police officers without seeing the evidence being withheld from the public.
Malcontent News also reported, Seattle's uber-leftist newspaper the Stranger said, the FBI still has an ongoing investigation into unnamed SPD officers. The DOJ would not confirm or deny SPD officers are under investigation. Other agencies around the nation are also investigating their officers—for attending that political rally. MSN reports, "31 police officers are under investigation…."
Mike Solan, president of the Seattle Police Officer's Guild (SPOG), has filed a grievance with the city. Not surprisingly, David Kroman, writing in Crosscut, referred to the D.C. Capitol "insurrection" and framed SPOG's actions as, "working behind the scenes to limit the city's investigation into six officers."
This presents an "obstructive" feel to what are SPOG's necessary actions. Unions, first and foremost, protect and defend their union members. The Left normally supports this. But, here, we're talking about cops whom leftists seem to believe have no rights and deserve no protections.