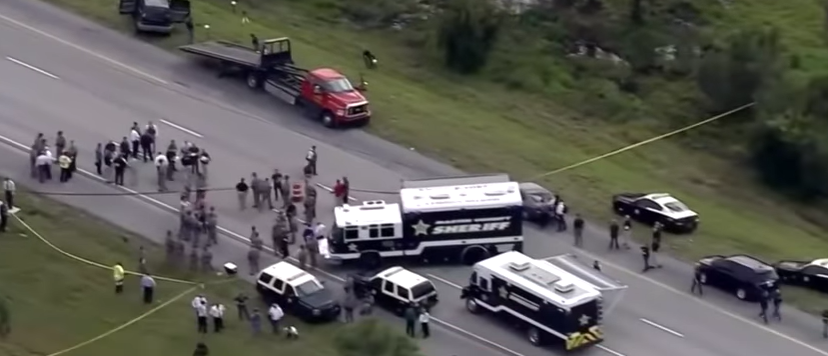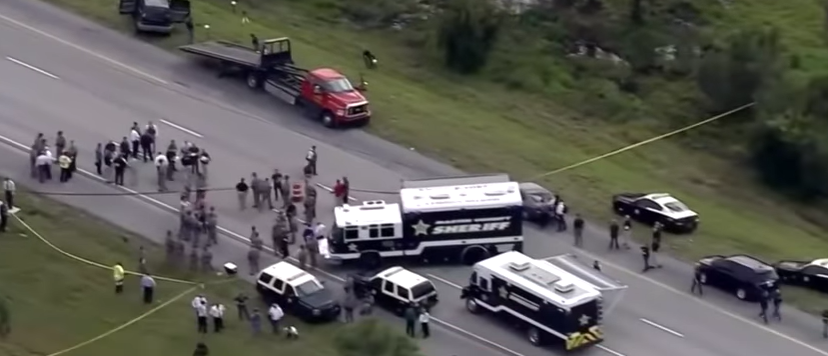 While fulfilling his sworn duty to serve others, a Florida state trooper lost his life this week. Florida Highway Patrol (FHP) Trooper Joseph Bullock, a 19-year law-enforcement veteran who formerly served our nation with the Air Force, stopped to render aid regarding a seemingly disabled vehicle on the shoulder of super-busy Interstate 95 on the east coast of the Sunshine State. Likely one among hundreds performed by cops on the daily, this "motorist assist" turned out to be anything but an innocuous routine duty of helping someone get back on the road.
As cars whizzed by…so did bullets. 42-year-old Trooper Bullock was assailed by a madman whose pent-up rage over a tow truck tab boiled over, reportedly causing the motorist to brandish a firearm and open fire at the wrecker operator. Fortunately for the tow truck driver, the shooter's gun jammed, allowing the wrecker driver to distance himself.
Initial reports indicate that Trooper Bullock was nearby and stopped to assist the disabled car. A WPTV News report claimed Trooper Bullock was summoned to the scene; if that were the case, FHP would have records of such a request for police service. One report cited that Trooper Bullock had been with the shooter minutes before he was shot. A separate WPTV report indicated "Bullock's body was found on the ground next to his driver's side door."
Despite the unconfirmed preludes, the disabled vehicle's driver brandished a firearm and opened fire at Trooper Bullock as he offered help. The gunman squeezed the trigger and killed a state policeman.
But another case of a good guy with a gun felling a bad guy with a gun evolved.
By utter coincidence, off-duty Riviera Beach police Officer Jemel Headings was motoring by when he observed the tragic roadside situation. Armed with his service weapon and RVPD badge, Officer Headings took action and wound up shooting the cop killer right there on the shoulder. The threat was removed, but one cop lay bleeding on the ground.
As even more fate would have it, off-duty Riviera Beach firefighter/paramedic DeWayne Watson was also driving by, mere seconds after the shooting of Trooper Bullock. Mr. Watson described his involvement: "When I drove by, I just saw the trooper and he was on the ground. I saw people in a chaotic state of mind. Everybody was on their cellphones. A lady was holding her head like, 'Oh my god. I can't believe this,' … I knew there was more to that call than the average broken down car." After parking his personal vehicle, Watson sized up the situation: "My first thought was I saw a fellow public safety officer that was down and in need of some type of care."
Like Riviera Beach police Officer Headings who was off-duty yet armed with the tools of his trade, Watson was carrying his paramedic kit and used its contents and his experience to try to save Trooper Bullock. Mind you, Watson was rendering aid as off-duty Officer Headings was confronting the shooter. Shots rang out as Watson tried feverishly to save Trooper Bullock, to no avail: "I knew right then his injuries were fatal. I just had to come to grips with there was nothing else I could do."
And that is how it tragically played out for an on-duty state trooper trying to offer help while an off-duty cop and an off-duty fireman/paramedic from a nearby small municipality came upon a scene where things had gone awry. This epitomizes the nature of situational awareness, off-duty LEOs carrying service weapons and off-duty medical personnel ready to act with a first-aid kit within reach. In this context, it bears repeating how imperative it is to have legislation supporting "qualified retired or separated law enforcement officers" carrying concealed weapons, positioning them to act in the event of active shooters such as the one in this case.
This incident does have some questions to answer still. An FHP press conference indicated there was a mounting timeline of this event, and the Martin County Sheriff's Office (MCSO) was working diligently to piece together a chronology. MCSO spokeswoman Christine Christofek said, "What our detectives will do is once they serve the search warrants [to search the gunman's Dodge Durango and Trooper Bullock's cruiser], they will put together a timeline, the day's events, on what occurred and then they will establish a motive. Once they get the timeline on what occurred throughout the day, they will try to figure out why the suspect did this."
A hunch is that the 24-year-old armed gunman's anger over the tow truck tab, resulting in his ill-conceived judgment to either threaten and/or shoot the wrecker driver and failing, presumably compelled him to think Trooper Bullock was arriving in response to that crime. And that makes sense, since tow trucks are equipped with two-way radios linking them with their dispatchers. It is entirely possible that, after the suspect's gun jammed, the wrecker operator notified his dispatcher regarding the armed suspect pointing a gun at him upon request of tow fees. Logically, though, he would have reported a man with a gun and his dispatchers would furnish that imperative detail to FHP dispatchers, sending more than one trooper.
It is also possible that Trooper Bullock coincidentally showed up and was unaware of any threat with a firearm. But I do not necessarily buy that.
In law enforcement, if a cop sees a wrecker on scene and it is not related to a crash, there is no need to stop/get involved. There is plenty of traffic enforcement to be had, especially on Interstate 95.
Painting a complete picture remains in-progress. Presuming the trooper was summoned at all, MCSO's Christofek added, "We do not know who summoned the trooper to that location. We will know, but we do not know [now]."
As the investigation continues, one thing is certain: that lone gunman's anger and malice translates to thousands of mourners. As Florida Republican Congressman Brian Mast eulogized in the House: "I speak to honor the life of Trooper Joseph Bullock, whose watch ended on the morning of February 5th, 2020, when fatally shot in the line of duty […] and you paid dearly that others will be safe. There are no words or actions that can repay the debt we each owe heroes like [Trooper Bullock]. It would be fruitless for me to attempt words to remove grief from your family or fellow troopers. I can only offer from our nation the most ardent thanks for sharing you as a protector, and pray to our Father in Heaven that every thought of you is a cherished memory, and pride that you are a man who laid down his life for others."
If there was ever an escalated impetus to take out an active shooter, doing so on a heavily traversed Interstate ups the ante. Given this incident scene was flanked by two Interstate rest stops (as pictured below), many moving vehicles were potential targets in addition to pedestrians who got off the highway to take a brief respite.
That's a lot to take in and process; thankfully the Riviera Beach police officer performed courageously, expediently and accurately, elevated by the backdrop and flux of pedestrians and vehicular movements surrounding him.
Becoming a law enforcement officer in America is a very difficult challenge. But perhaps the most difficult part of it all is the everyday reality of walking up to offer help, never knowing it will be the final call. As FHP Trooper Kenneth Watson told the media, "Whenever you put on this uniform and go out every day, chances are you're not coming back. Whether you wear black and tan for a living [FHP's uniform colors] or you wear blue or you wear sheriff's office green, we're all together."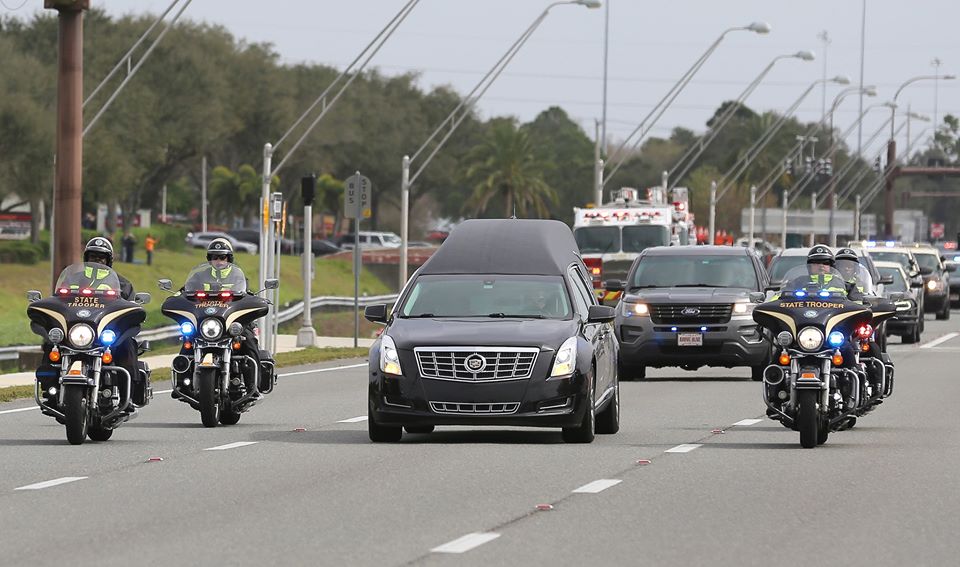 The thin blue line is an embodiment of roughly 900,000 sworn cops spread across our nation. And when one goes down in the line of duty, a mass motorcade of LEOs come to escort their fallen comrade from the killing zone to the resting place, even if it is across the entire state of Florida, destined for Sarasota County for funeral services. Trooper Bullock's family resides in Sarasota. As Trooper Watson framed it, "It's difficult times when you bury one of your own. This is us bringing our fallen brother home."