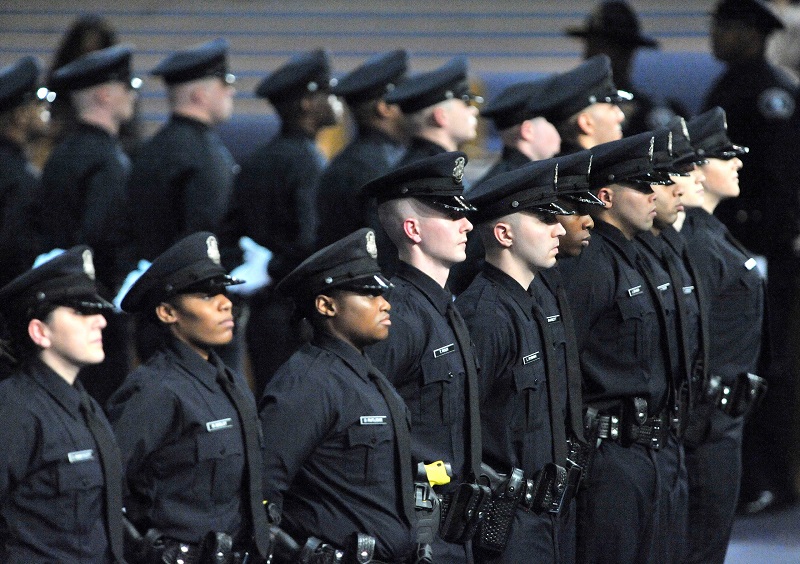 By Steve Pomper 
It's no secret that law enforcement agencies across the country are having a tough time recruiting and retaining cops. It seems there are many reasons "no one" wants to do this job anymore. But it's not exactly no one, and it's difficult for most agencies but not all. There are some law enforcement and political leaders that are setting better examples.
According to many sources reporting on this crisis, and common sense, most of the problem stems from the lack of support for cops from their city and, worse, some department leaders. And that's the key: the folks at the top. Whether talking about department or political leaders, I can attest to this as a retired officer from a city hostile toward its officers, this is the most crucial element—much more important even than pay.
People who think about going into law enforcement officer at any level may look at the general anti-cop atmosphere and decide it's not worth pursuing a career as a cop. Still, some folks are willing to weather the negative climate but are looking specifically at agencies where department and political leadership support them. Happily, there are still some jurisdictions where leaders support their cops.
Veteran journalist Sharyl Attkisson explored this issue recently on her syndicated TV news show Full Measure and followed up with a podcast. Attkisson said her husband had been a police officer before he became a lawyer which increases her interest in the wellbeing of law enforcement officers.
Attkisson explored difficulties in police recruiting in the 30 biggest U.S. cities. She said while some agencies didn't respond, a majority of them did. That "majority described difficulty in recruiting, especially woman and minorities."
She explained how hiring woes have been with us for the last 6-8 years. I can tell you it's been far longer, at least two decades, with perennial officer shortages. Where I worked, in Seattle, there has been a special animosity toward the cops for a long time.
When I first came on the job in the early 90s, area officers from smaller agencies looked to "move up" to Seattle to pursue greater career opportunities. After the 1999 WTO riots and the dismal performances by city and department leaders, the flow began to reverse. Many officers started transferring from Seattle to smaller agencies.
Regardless, the difficulty in recruiting remains but, again, not everywhere. Full Measure spent a day following and interviewing some potential recruits, as they attempted to pass the physical agility portion of the hiring process for the Frederick County Maryland Sheriff's Office (FCSO).
The recruits said they felt many people weren't applying for cop jobs today because they fear not being supported after making "snap decisions in the heat of the moment" while doing their jobs. It's no mistake why these candidates were applying specifically to this department. Frederick County Sheriff Charles A. Jenkins has a reputation for supporting his deputies, and these candidates know it. Sheriff Jenkins' bona fides can be summed up like this: the left loathes him, and the right reveres him. That's enough for me.
In fact, one of the candidates said his father worked as a Baltimore police officer. Attkisson asked him if he would work as a cop in Baltimore. The candidate said, "No, ma'am." Everyone who's watched the news over the past several years can see that the leadership in Baltimore does not support cops.
Sheriff Jenkins said his department doesn't have issues with recruiting because they have a smaller department and people know he supports his staff. I'm telling you again folks, how leadership treats officers, especially when they've had to make split-second, life and death decisions, is critical.
Otherwise, you cannot maintain a strong department where the men and women can respect and trust their leaders. It also helps that the agency is routinely replenished with a strong cadre of recruits who are excited to be working as law enforcement professionals. They don't, if you'll pardon the pun, enter the job handcuffed like so many other cops today.
Still, other agencies that may not be as fortunate as the FCSO, which are most departments, are falling well short of recruiting goals. And with problems maintaining good veteran officers, it make recruiting even harder. Full Measure reports San Jose, CA. is 39 officers short with one academy class that should have had 50 recruits but had just seven. Nashville, TN. reported being short 114 officers. San Diego, CA. says it's 175 below target with 539 fewer candidates taking the test than normal.
A spokesman for El Paso, TX. said, "Where they once received 1500 applications… they now average 100." "[He] blamed criticism [of officers], most of it unwarranted, the popularity of challenging officers by cell-phone wielding persons demanding a street trial, officers being ambushed and killed, and videos of officers bearing the indignity of being doused with water, and having to walk away for fear of repercussions [from leadership] for taking action." What happens to the NYPD, the nation's largest law enforcement agency, affects cops all over America.
Attkisson said, "We reached out to Seattle, and I guess for the most part of 2019 they were losing more officers than they were hiring. But then they were able to turn it around at the end of the year. And I think, at the end of it, they ended up hiring a bunch more, so that was a positive thing they did at the end of 2019." Well, that's a surprise to me and most officers I speak with. But, then again, accurate numbers and transparency hasn't been the Seattle way for a very long time.
She continued, "Seattle's a special problem because they're known for clashing, the police officials and the city officials, there who do not necessarily support them, so the rumor goes." Take it from me, Ms. Attkisson, it's not a rumor. I retired from that department 10 years earlier than I might have not only because of the lack of support but also because of the overt antagonism demonstrated by many city officials toward officers.
The National Association of Chiefs of Police (NACP) is finding similar recruiting problems in agencies large and small. They've issued a study: "The State of Recruitment: A Crisis for Law Enforcement." They highlight the obvious problems with recruiting, including the perceived lack of political and department support for officers. The group says 78 percent of departments report having trouble recruiting qualified candidates.
KTTH AM 770 radio host Jason Rantz, continues to believe there is a problem with hiring in Seattle, and often discusses the issue on the radio and in his columns at MyNorthwest.com. Many current and retired officers, including yours truly, have commented to Jason on his radio program about how dismal officer hiring and retention have been in that city.
Other strategies reported by Full Measure are lowering hiring standards and offering financial incentives. Lowering standards includes of educational requirements and recent drug use. San Francisco P.D. now allows remote (online) testing and interviews. Dallas, San Diego, and several other cities have increased pay. For example, Indianapolis P.D. increased its pay from 39K to $51K for new officers, and they also offer referral bonuses.
When I was still active, Seattle was offering referral bonuses, such as a free day off, for referring recruits that the department hired. Now, Seattle is reportedly giving bonuses of $7,500 for recruits and $15,000 for lateral transfers from other agencies.
Now, with the Wuhan coronavirus pandemic, people may be even less inclined to get into a profession where the risk of infection is increased. For example, MSN.com is reporting 152 Detroit cops have been quarantined with five having tested positive. What happens if a significant number of first responders are taken out of service? Nothing good. But let's hope for the best, prepare for the worst, and try to finish up on a positive note.
Attkisson concluded the Full Measure segment with an encouraging story. Crystal, a recruit at Frederick County, MD., who is female and black (hardest folks to recruit), had previously tested but did not pass one requirement: push-ups. Undaunted, she came back during another recruiting process and gave the physical agility session another shot. Both her husband, a corrections officer, and Sheriff Jenkins were actively rooting for her to pass. This time… she did!