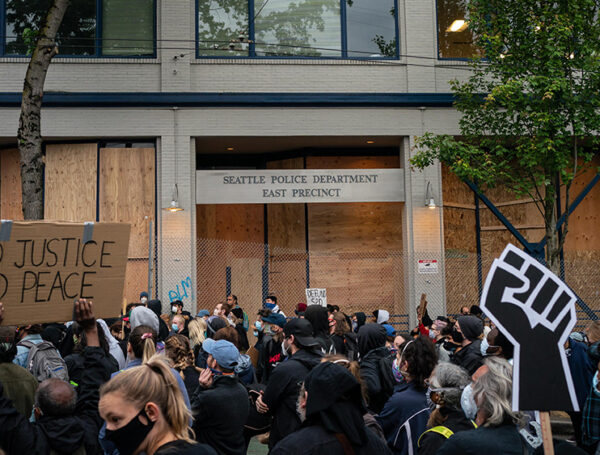 By Steve Pomper
There is some rare good news for Seattle Police officers. According to KIRO 7 News, the shrill, anti-police, open socialist City Councilmember Kshama Sawant is not running for reelection.
This woman hates the police but recently called them to investigate someone hurling bags of poop into her yard. The Defund the Police leader was upset when cops told her this crap was a low priority because of a lack of staffing. Afterall, it would take a lot of manpower just to eliminate all the cops as suspects (wink!).
Infamously, SPD officers sued Sawant for defamation for publicly calling them "murderers" after official investigations cleared them of wrongdoing. The suit has not been successful, which surprises no one familiar with Seattle/Washington State's inequitable (yes, I used that word on purpose) criminal justice system.
A previous news story, not long ago, also covered retiring and resigning officers' leaked exit interviews. Back then, officers cited the lack of support and outright hostility from city officials, including the city council as reasons for leaving. From the sounds of this new batch, not much has changed.
MyNorthwest.com covered more "exclusively obtained" SPD exit interviews this time from an economic perspective. Proving money is not the issue for most officers leaving the agency, My Northwest reported on the question, "Do you consider the salary you received to be competitive?"
Answers showed "60% of the exit interviews responded with a yes…. Of the 40% unsatisfied with their pay, half stated it was unsatisfactory only when considering the extra hurdles Seattle provided police."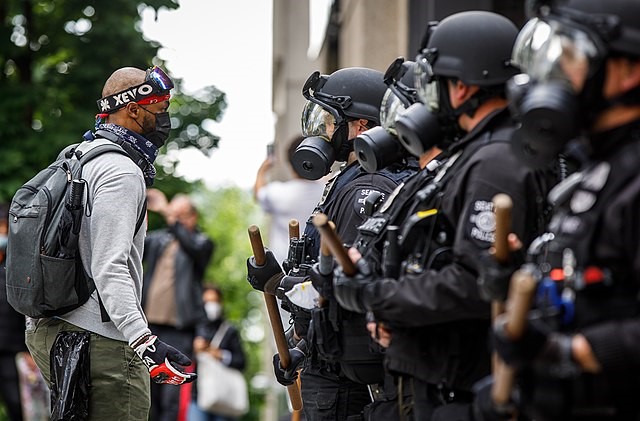 Seattle Police officers on crowd control during national BLM/Antifa riots
Many officers felt that while their salaries were nominally competitive, they did not compensate for working in a city with Seattle's unique political "challenges" or considering its size compared with much smaller neighboring agencies.
Though the city council voted for "hiring bonuses of up to $30,000…," members Tammy Morales, Teresa Mosqueda, and Kshama Sawant voted against bonuses, which affects officer morale.
However, serving since 2014, Sawant and other radical city councilmembers may have pushed the city's cops past the point of no return. Largely, because of officials like Sawant, the mass exodus from the police department continues.
The department reports over 400 officers lost over the past two-and-a-half years, but the city has always had a problem reporting police staffing accurately. My Northwest said, "As of May 2022, the number of trained and deployable officers — 954 — was the lowest in over 30 years."
The number is likely much lower, and "deployable" does not always mean ready to handle 911 calls immediately. For example, I recall officers ostensibly "on loan" to specialty or detective units were still counted as "deployable" on official 911 patrol staffing sheets—for years.
The numbers tell the story. According to the Police Executive Research Forum (PERF)…, "Retirements and resignations increased by 45% and 18% nationwide, respectively, while hiring is down 5%." As the lefties like to say: that ain't sustainable.
For many, former Mayor Jenny Durkan's Summer of Love crime surge, including multiple murders and the surrender of the SPD East Precinct to the BLM/Antifa thugs of CHOP/CHAZ, "changed the department's view of the city just as much as the city changed its view of the department."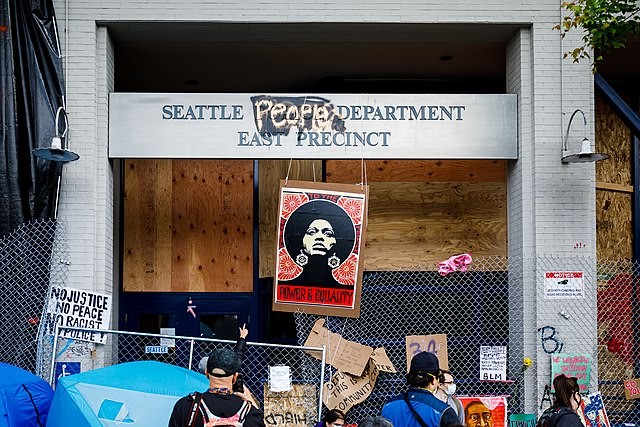 Seattle Police Department East Precinct. My work home for over two decades. This was disgusting.
The officers' responses in the exit interviews are poignant and avoidable.
"'I've enjoyed helping people as a police officer, but with staffing, it became very difficult to do the job,' a detective who was on the force for 20 years wrote. 'Morale was just so low. It was hard to just get into the car to go to work. I felt that the department did not fight hard enough to defend officers after the riots. And now department personnel is depleted, and officer detectives are paying for that.'"
One officer even used a "woke" term (stakeholders) in stating his or her view of the disintegration of the SPD showing it's not just "dinosaurs" like me who have a sour view of most of the city's political leadership.
"'Local civilian stakeholders. Councilperson Sawant and her ilk. The city council. Local and national press. The city's law department,' the officer continued. 'The judiciary's insane judgments in recent years that make policing nearly impossible and drive personal liability through the roof. The state Legislature. The governor.'"
About 42 percent of exit interviews blamed "local government as the main reason for leaving with the city council, King County Prosecutors Office, the local media, Mayor Bruce Harrell, Governor Jay Inslee, and anyone involved with the 'Defund the Police' movement mentioned in multiple different interviews."
Mirroring a point I've been making for years, one officer encapsulated what Seattle's leftist ideologues will never admit is true. After scrawling a smiley face, the officer quipped, "move the department to a different city." Let me finish that notion: that will appreciate what Seattle should.
Seattle Police Department West Precinct
Seattle's voters cannot simultaneously say they support the SPD but then vote for anti-police radical leftists for public office. It doesn't compute. The officer concluded, "The greater [Seattle] area does not realize what a diverse, reasonable, knowledgeable, well-rounded department it is, allowing it to evaporate despite the best efforts of our leadership."
Speaking of leadership, the exit interviews showed sometimes small things can make a big difference with morale. Some officers commented that department leaders failed to ask the concerns of patrol officers. But another officer said, "I know our chief was busy, but I know that every correspondence that I sent to Chief [Carmen] Best was replied [to]." That officer is transferring to another agency within the state.
Incidentally, as for how they treat all public servants in this state, generally, during a KIRO News Radio interview, Washington State's anti-police dictator Gov. Jay Inslee, was asked by Brandi Cruise if he would reinstate workers (including cops) he fired over the "vax" mandate. "Sure," he told her, insolently. "If they comply… [get the shot]."