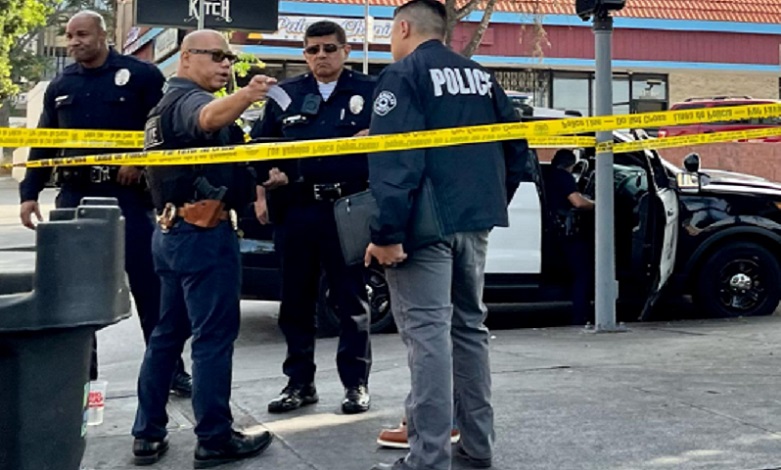 Recent political winds of change billboarded sentiments about public safety by ousting elected figures who touted fallacies that America's policing institution is problematic, must be stripped of funding, and ultimately abolished from our free society. Every vowel and consonant spewed by anti-police mouths is a lovely language to criminal ears—surprise, surprise.
With some politicos yanked from their pulpits of irrational philosophies and recklessness, the gong show of police reform-minded politicians is still playing out and costing citizens' lives and property because of self-serving elected figures who adore the sounds of their lying voices—truth be damned. Cops are certainly not the problem!
On that note, law enforcement officials are always open to progress; requesting additional education via training ventures and getting largely denied by police administration, often with the course registration paperwork "denied" due to proverbial lack of funding. Cops know it is mutually benefiting for them to garner extra policing principles by attending cop-centric and/or general education venues to advance the overall public safety mission on behalf of everyone.
Whether referenced as "police reforms" or "police accountability laws," cops embrace professionalism and positive outcomes as calendar days are checked off, routinely re-evaluating instances of the day in roll call rooms and practical training facilities. Police training instructors fill their days with how to enhance service provisions while also harnessing safety for all.
It is sobering to witness the folly of withdrawing cops from various traditional and highly effective traffic enforcement endeavors, literally allowing law violators to freely flaunt and fear zero apprehension in doing so.
It was gripping to read the following example of antithetical legislation culminating in a few dead children because cops were barred from doing, well…police work.
A recent soul-crushing example evolved when police reform-based Washington State held cops inert due to state laws prohibiting LEOs from chasing suspects in automobiles unless there is suspicion that the individual(s) committed and may commit a violent offense."
A recent Fox News report was titled "Two children dead after Democrat-backed law prohibits police from pursuing suspect driving 111 mph," a header which tells it all, grimly.
In short, a lead-footed driver identified as Keith A. Goings was observed speeding on Interstate 90, reportedly rocketing at 111 mph, "but law enforcement was unable to pursue him because speeding alone is not enough probable cause to do so under the law," noted Bailee Hill.
Had law enforcement officers been permitted to conduct a traffic stop based on unlawful speed statutes, they likely would have prevented a life-stealing disaster.
Unimpeded because of the legislation barring cops from doing their job effectively, "[Mr.] Goings reportedly crashed into a car carrying three young children and one 23-year-old. Two of the young children were killed in the crash," Hill wrote.
On "Fox & Friends First," Snohomish County Sheriff Adam Fortney said, "You don't have to be a rocket scientist actually, to figure it out. When you tell the criminal element ahead of time that there is a whole list of crimes that we cannot chase you for, the criminal element is going to take advantage of that, and that's what we are seeing in Washington state."
That's just one example of politicians' push to alter (delete) drastically public safety protocols, thus endangering the public to an even higher degree, ultimately leaving them to fend for themselves.
Circling back to the hugely desired training modalities cops seek daily, Sheriff Adam Fortney elucidated:
"We're [a] heavily populated county [so limits on police pursuits], that makes sense to me. But you can't take away the discretion from the officer [and] deputy on the street. We have to be able to make those calls in real-time based on our training experience."
Chicago-land Reforms and Gun Violence
The Trace, a "nonprofit, independent newsroom covering gun violence in America," published a visual representation of firearm use in the Chicago metro area, clearly indicating the rate of police-involved shootings is fractional compared to the fairy tales pushed by anti-cop Pinocchios unabashedly echoing that law enforcement is the problem.
One can see the gross frequency of gun discharges on the "heat map," countering claims that police are the issue while ignoring the blatant, high-frequency of shootings initiated by out-of-control thugs being telegraphed about soft-on-crime policy statements blazed all over media circuits. What could go wrong, right?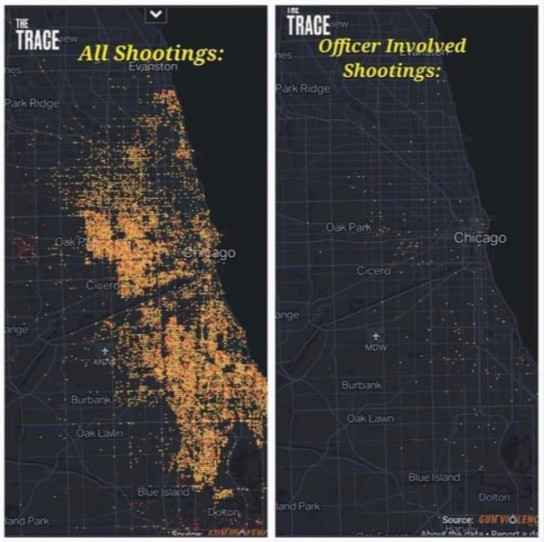 (Graphic courtesy of The Trace, sourced from Gun Violence.)
Lori Lightfoot is gone from the Windy City and her mayoral successor has quite a mess to mitigate. We can be sure the hordes of criminals will not play nice just because a political leader changes the messaging. Too little, too late? Perhaps. Nevertheless, Chicago cops continue to respond throughout the Wild West-like metropolis made more vulnerable by gun-toting thugs emboldened by abysmal governance which telegraphed the free-for-all ethos under the guise of reforms.
Chicago police Officer Andres M. Vasquez Lasso, 32, with five years of service to citizens, was shot in the head by a suspect involved in a domestic violence incident.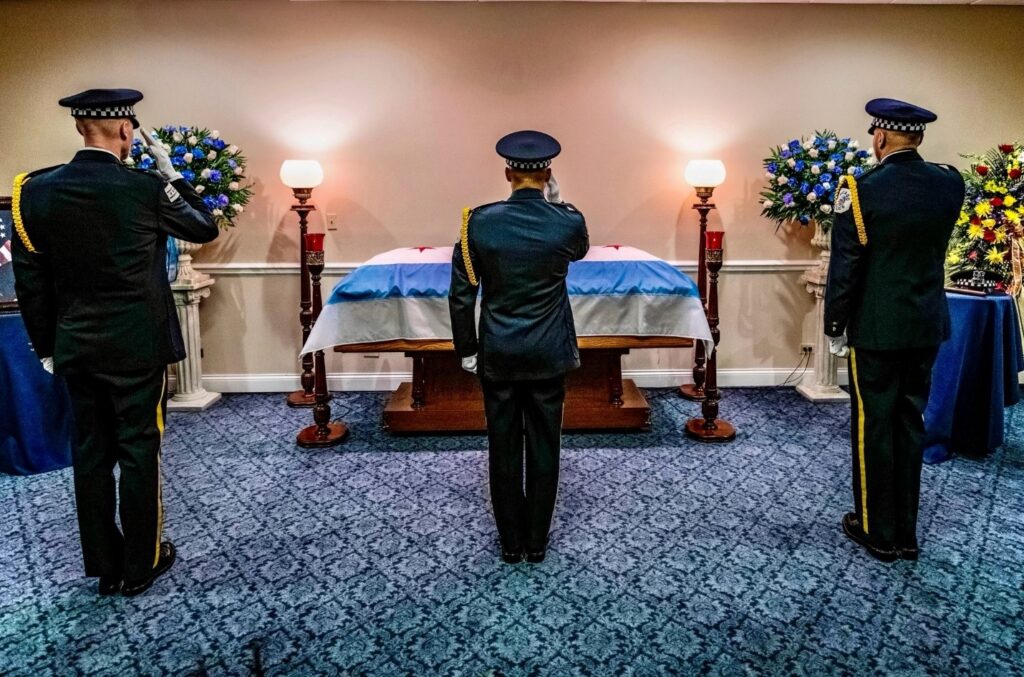 (Photo courtesy of the Chicago Police Department.)
In the Illinois Police Reform Bill of 2021, cash bail was among the ridiculous provisions otherwise catering to criminals while also insulting cops whose life-threatening work rounding up the same malicious actors, time and again, was undermined.
Illinois State Senator John Curran said, "This bill will prevent their detainment, and they will be out amongst the community in a further threat to public safety."
Many spoke against the Illinois bill's passage. That is perhaps why the Illinois Law Enforcement Coalition (ILEC) rebuked the legislature, harshly and deservedly: "It ties the hands of police officers while pursuing suspects and making arrests and allows criminals to run free without bail. In the dark of night, Illinois legislators made Illinois less safe."
That last line applies to any of the United States whose rationale of coddling criminals while selling out cops became codified, effectively forfeiting the sanctity of society.
Take-What-You-Want Legislation
I have had my head in the stock market recently and saw a growing number of reports regarding big-box retailers closing stores throughout Portland and hightailing it elsewhere, namely to territories that are not suffering blatant shoplifting due to soft-on-crime local governance.
Walmart recently officiated the shut-down process of their Portland superstores due to "shrink," a retail industry term for losses due to theft. Can you imagine that a city's crime was permitted to fester so awfully that all of its Walmarts vacate? It shouldn't be hard to imagine, especially after Portland coddled criminal elements and mistreated its police force.
The Daily Mail's Alex Hammer wrote that "the closures serve as the latest instance of businesses relocating or closing shop altogether amid a pronounced rise in crime and homelessness.
"The mass exodus has been carried out by business owners fed-up with Portland's sad state, and officials' subsequent failure to quell both crises."
Today, I overheard a conversation concentrated on the dangers around stores overrun with shoplifters and crime in general. One speaker said that even armed security officers hired by mega retail chains indicate that criminal elements are heavy in the area, thus consumers avoid them entirely. It's gotten to that, where multibillion-dollar corporations see the writing on the wall, and it spells t-r-o-u-b-l-e. Hence, it is no wonder merchants of all sizes are packing up and leaving these anti-cop locales whose police reform authors misguidedly sunk the ship when all they needed to simply do was address criminality, indeed the in-your-face crime that is right under their noses.
But no, pandering tasted better to the politicians scripting legislation and policy, unleashing havoc in an already tumultuous period of fear, uncertainty, and doubt (FUD).
This week, DC Metro police Chief Robert Contee took to the podium mics at a presser addressing the overwhelm posed by rampant crime, particularly the spike in homicides:
"What we've got to do, if we really want to see homicides go down, is keep bad guys with guns in jail. Because when they're in jail, they can't be in communities shooting people. So when people talk about what we gonna do different, or what we should do different, what we need to do different, that's the thing that we need to do different," Chief Contee exclaimed during a Q&A at the Petworth Public Safety Walk held on march 8, 2023.
"We need to keep violent people in jail. Right now, the average homicide suspect has been arrested eleven times prior to them committing a homicide," he added. "That is a problem. That is a problem."
This is on the heavy heels of the DC Crime Bill which sought to further undermine law enforcement principles and abilities to quell the violence, cater to criminals, and backburner victims, similar to what we see in many American cities, predominantly among liberal-laden ones.
Published by Fox News, here's a passage colorizing the DC Crime Bill and why it has been contested:
"The crime bill would have reduced maximum penalties for violent crimes such as burglaries, robberies and carjackings, along with abolishing minimum sentences for most crimes. It faced backlash even from some liberals with Bowser vetoing it in January, though the city council overrode her veto."
Per Senator Bill Hagerty (R-TN), "This desperate, made-up maneuver not only has no basis in the D.C. Home Rule Act, but underscores the completely unserious way the D.C. Council has legislated. No matter how hard they try, the Council cannot avoid accountability for passing this disastrous, dangerous D.C. soft-on-crime bill that will make residents and visitors less safe."
Soft. On. Crime. Scary times that do not have to be worsened.
We conclude with a statement made by Sheriff Fortney, one which I believe most of us can easily get behind, wherever we may reside/work/study: "It's well past time that we have to start prioritizing victims of crime in Washington state [and elsewhere] and not prioritizing criminals, and that's exactly what we've been doing."
The brazenness at Cop City tells a tale of how anarchistic some in society have become given the devaluation of law enforcement per the mindless measures of politicos securely seated in fiefdoms.