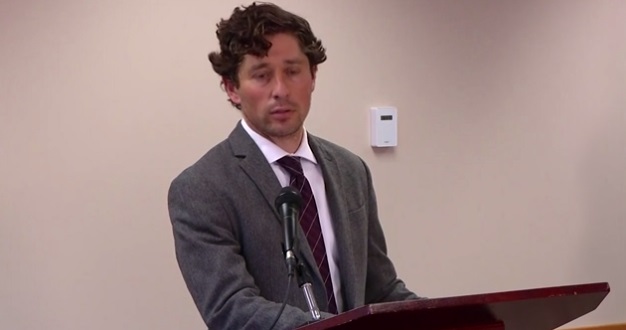 By Steve Pomper
A new candidate has re-emerged, vying to nudge aside the second-worst mayor in America, Portland, Oregon's Ted Wheeler. Out of all the knee-jerk, anti-cop candidates for the nation's second-worst mayor (NYC's Bill de Blasio has an insurmountable lead for worst), Minneapolis Mayor Jacob Frey may now be the most, well… knee jerkiest.
He's the mayor most responsible for inflaming the national riots after George Floyd's in-custody death occurred in his city. If Frey had clamped down on the rioting immediately, it's likely the militants wouldn't have sacked and burned a Minneapolis Police Department (MPD) precinct. A strong response also would probably have lessened the rioting across the nation and emboldened the various mayors' responses to quell the mayhem.
Mayor Frey is doing everything he can to weaken the Minneapolis Police department. One action he took was to essentially outlaw a critical method of defensive tactics training for police officers. And he did it without reviewing the training in person or asking how the cops felt about it. As a leftist, how he "feels" about something seems sufficient to decide an issue that affects even whether officers live to go home after their watch.
Now, with the onslaught of his city's infernal "abolish the police" government, with cops fleeing, and the city having to hire out for police protection, he's decided this is a splendid time to revise the officer disciplinary system.
According to the AP, in a story published in the Seattle Times, Frey wants "to make it easier to hold the [cops] accountable for bad behavior." How would he know what accountable means? Frey has yet to be held accountable for his bad behavior that has allowed rioters to destroy the city and has put Minneapolitans in danger from the predictable increasing crime.
Frey's newest attack on police shows he consistently takes an aggressive and cynical posture toward the police. He assumes the worst of officers and proceeds from there. For example, Frey doesn't like that "more than 50 percent of all disciplinary cases are either reduced or overturned…." It's not unusual for further investigations to find mitigating circumstances, investigations were flawed, or officers' rights were violated. This could result in correcting an erroneous disciplinary finding. Shouldn't honest observers want this?
For example, consider the Jacob Blake shooting, which occurred the next state over in Wisconsin. Lt. Governor Mandela Barnes took limited information from early headlines and used them to condemn the officers' actions.
Considering what we now know about the Blake incident, after further reporting and actual investigations, Barnes had issued what is an utterly ludicrous public statement, especially because it also contained a political narrative about "de-escalation."
As reported by NBC 5 News, "Speaking alongside Wisconsin Gov. Tony Evers, Barnes said, 'the irony isn't lost on me that Jacob Blake was actually trying to de-escalate a situation in his community, but the responding officer didn't feel the need to do the same.'"
You can sense Barnes' raw hatred for cops is bone-deep. Barnes instinctively defended a violent suspect over the cops who responded to protect Blake's victim. The New York Post reported, the officers "were attempting to arrest [Blake] for violating a restraining order stemming from an alleged sexual assault." The officers also knew Blake had a felony warrant for sexual assault.
Let's say department superiors had referred police officers for discipline (or worse) solely off such an irresponsible statement. The officers would have been fired. However, further investigation has shown that the early reports were premature and untrue (fake news).
However, after further investigation, as the MPD system currently works, the charges would have been, as Frey opposes, correctly "reduced or overturned." Unfortunately, this type of overreaction is all too common. Some "leaders" can't seem to resist the opportunity to feed their radical political base that is all too ravenous for police flesh.
In an effort to chase away every last police officer from the Minneapolis' precincts, Frey made this utterly soviet statement, "We want to take every reason that stems from City Hall for overturning a disciplinary decision off the table."
Frey has no interest in allowing "cooler heads" to prevail. He appears in favor of a regime of knee-jerk discipline for cops. I can think of at least one good reason for "overturning a disciplinary decision." The truth!
I wonder if, once a court sentences a murderer to death, Frey would want to take "every reason… for overturning" a death sentence "off the table?" Not likely.
Incidentally, I'm still looking for evidence of a "police brutality" crisis anti-cop folks like Frey insist they're fighting. According to the AP story, the Minneapolis Star Tribune analyzed officers across the state of Minnesota who were fired over the past 20 years.
Of about 80 officers statewide who fought their firings, agencies rehired about half. Of those, there were only 10 MPD cases in which eight officers got their jobs back—over two decades—in an agency that maintains 800 sworn officers at full strength. You can argue about why the officers were fired or rehired, but you can't legitimately argue there is a crisis.