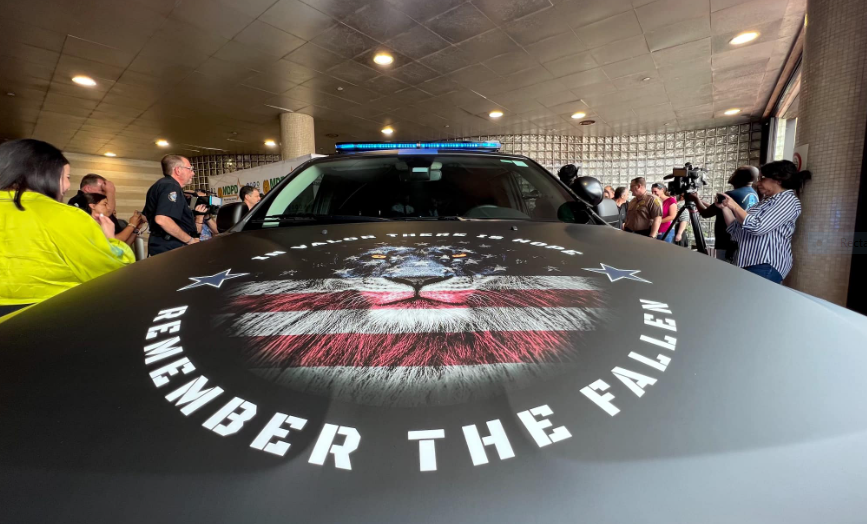 The weeklong commemorations at law enforcement agencies paying homage to fallen cops are formally calendared for May 15-21, 2023 —proclaimed National Police Week— embracing eternally grief-stricken families of first responders at respective police memorial sites throughout America.
The National Law Enforcement Officers Memorial in Washington, DC is generally the hub where folks from all over attend commemorative proceedings that pull at heartstrings and echo the perils of police work.
A bell clang after each fallen officer's name is read aloud kindles us with brave souls who fought valiantly on behalf of others.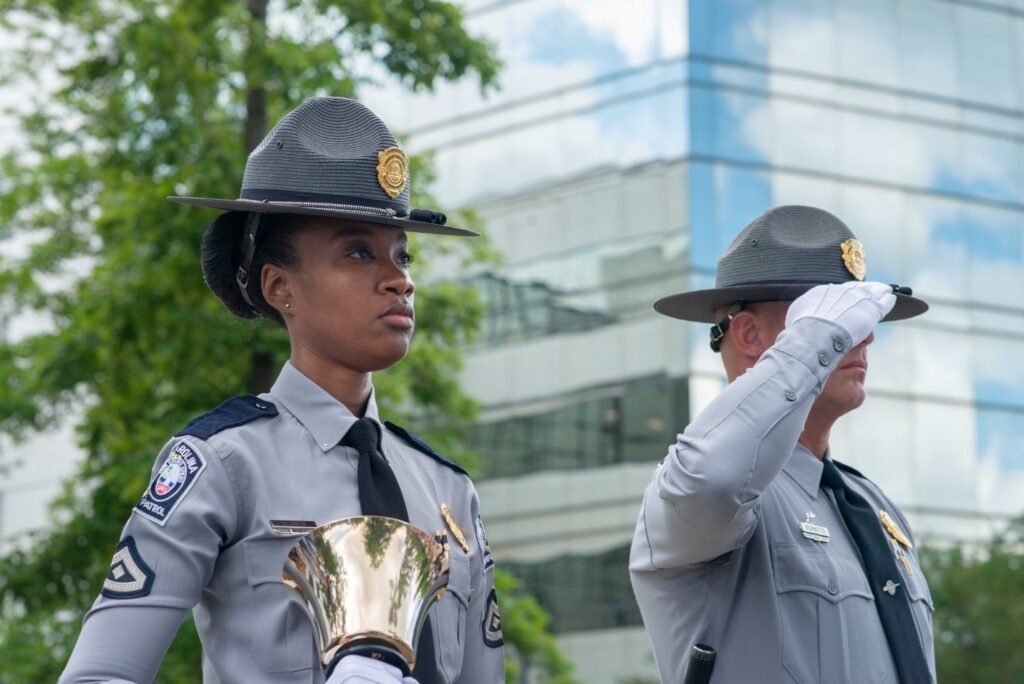 (Photo courtesy of the South Carolina Department of Public Safety.)
Customary honorific proceedings include police officers playing Taps, the wind-born sounds of cops emptying lungs in bagpipes, factions of sharply synchronistic Honor Guard units, and the cracks of 21-gun salutes reverbing the open air.
One of the sentimental gestures for brave forward-stepping crimefighters who didn't get to go home one more time is the laying of wreaths and single-stem roses.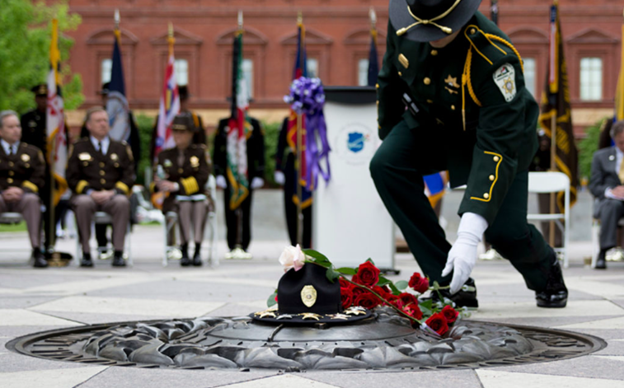 (Photo courtesy of the National Law Enforcement Officers Memorial Fund.)
For each fallen law enforcement officer, the Officer Down Memorial Page (ODMP) posts pictures of uniformed heroes accompanied by chronicled accounts of first responders who charged forward to confront and abate evil, punctuating the tragedies with aftermath dates marking bittersweet end-of-watch (EOW) epilogues.
As of this writing, there are 33 new listings among the ODMP compilation of Line-of-Duty-Deaths of America's cops fighting the good fight. I pray it doesn't uptick any further, despite the country's climate of increasingly vile behaviors directed at LEOs. For now, a wing and a prayer will have to do.
One of the features presaging the somber week dedicated to remembering our fallen cops is the unveiling of special projects police agencies manifest for not only National Police Week but throughout the crime-fighting year, for all to publicly see in police jurisdiction environs.
The names and EOW dates permanently placed upon these real-deal police cruisers patrolling any of America's voluminous locales give pause to state-of-affairs matters ill-reported by mainstream media too busy marketing lies to care about honesty and integrity.
Defining the credo "It's a wrap" with varying meanings, the Miami-Dade Police Department, a countywide law enforcement agency in South Florida, Director Alfredo "Freddy" Ramirez III and staff fashioned a police cruiser befitting a rolling law enforcement officer memorial, comprising respective agency emblems attesting fallen cops from varying levels among different police entities who perished in the line of duty in their jurisdictional scope.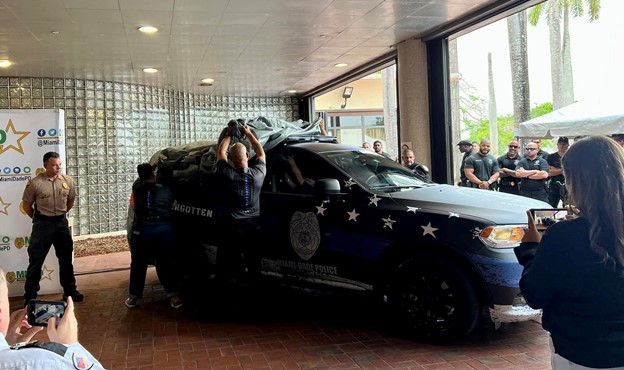 (Photo courtesy of the Miami-Dade Police Department.)
Recently, "we unveiled our law enforcement officers memorial vehicle. We recognize the sacrifices that brave women and men in uniform make for our county, every day. In honor of these remarkable and selfless individuals, we have wrapped a police vehicle with custom graphics, all of the agencies' patches, and 168 stars representing each Federal, State, County, and Municipal officer who died serving in the line of duty. This vehicle serves as a tribute to each hero, their families, and their departments," wrote a spokesperson for the Miami-Dade PD.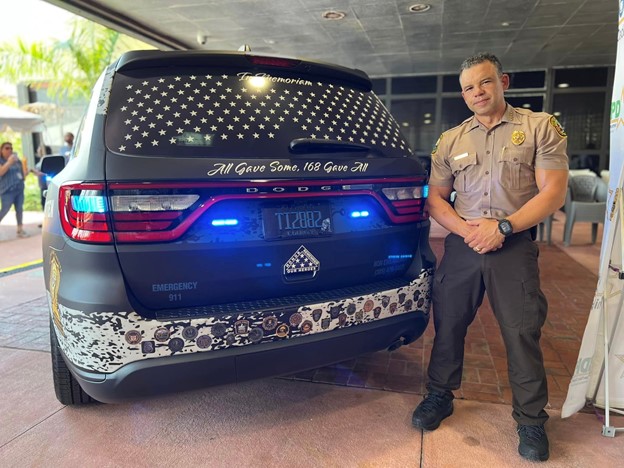 (Photo courtesy of the Miami-Dade Police Department.)
The cruiser's somewhat stark but mindful inscription on the rear/side glass panes reads:
"I have been where you fear to be. I have seen what you fear to see. I have done what you fear to do. All these things I have for you." Eye-opening and thought-provoking, indeed.
(Photo courtesy of the Miami-Dade Police Department.)
With that, MDPD Director Ramirez offered these words: "It's an honor to have a law enforcement memorial officers' vehicle, highlighting all of the heroes we have lost. We will never forget our fallen and this is a special way to continue their legacy."
Synonymously, the folks coordinating National Police Week annually cobble nostalgic police cruisers and modernized versions of crime-fighting machines deployed in the communities and helmed by courageous men and women.
With an assemblage of antiquated and contemporary police vehicles, National Police Week avails the "Police Vehicle Display & Shine":
"We are proud to host the Police Vehicle Display & Shine [on May 14, 2023] in Washington, DC. This is a tribute to those officers who have made the ultimate sacrifice.
"Police vehicles have become an essential tool utilized in American law enforcement and have played a big role in the history of policing. The Vintage and Classic Police Vehicles have been restored as replicas of those once used to protect our communities. Many of them have been driven [to events] from several states away. They include marked and unmarked vehicles with correct agency emergency lights, sirens, radios, and even early computers. Additionally, these Vintage vehicles [include] classic police motorcycles" and will be on display at the U.S. Capitol Reflection Pool on May 14 from 1:00 to 4:00 p.m.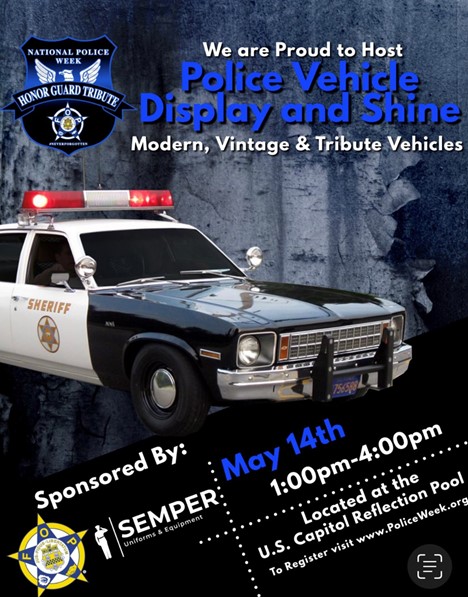 People of any age can easily muse over how far we've come and how far we've yet to traverse in the name of safety and security, engendering the valuations of those who "protect and serve," saluting active cops working the beats and bowing heads to those who paid the innumerable price.
Honor is earned and homage is paid while the dwindling remainder continues to fight the good fight…