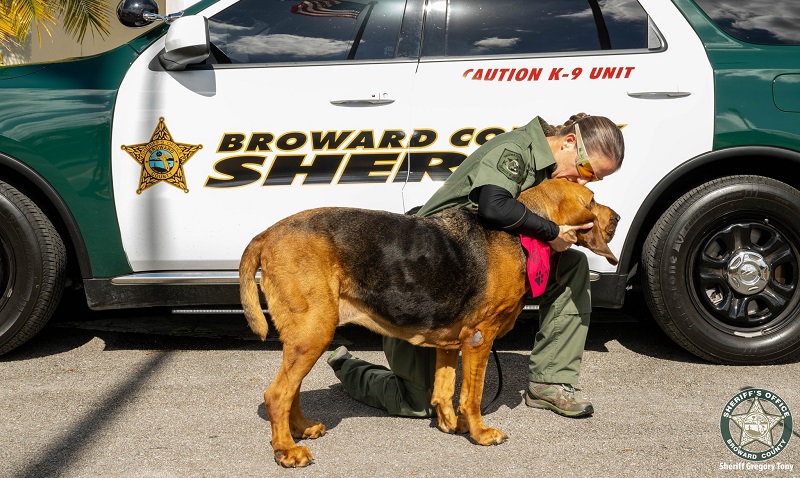 Extending kudos doggedly earned by police personnel never gets old, and law enforcement K9s are among those to be heralded. This week, we celebrated K9 Veterans Day by highlighting our country's phenomenal police canines for their public safety role, some trotting into happy retirements laden with bones and chew toys and loving police families.
Our brothers and sisters at the Washoe County Sheriff's Office provided a snippet regarding working dogs being incorporated into the nation's branches of protection and enforcement: "K9 dogs have been around since the U.S. Army approved the Dogs for Defense Unit in 1942 to train dogs to be sentries for supply depots." The modern-day scorecard tabulating the many feats accomplished by canines in policing is replete with catches, saves, and first-responder finesse.
(Photo courtesy of the Washoe County Sheriff's Office.)
"Washoe County Sheriff's Office K9s Ava, Kyago, Jett, Axel, Odin, Ace, Brutus, and Otto want to thank the K9s that paved the way for them to serve our community. Extra head scratches and belly rubs for all puppers today!" And every day!
In the opening paragraph, we mentioned veteran canines enjoying retirement after a diligent career in police work. Some of the nuances between public safety professionals and their assigned canine partners working horrific scenes have incredible feats, from which sad endings close the books on unequivocal heroism. Let's take a brief look at an example involving a service dog who was at Ground Zero on 9/11, working alongside cops, firefighters, soldiers, search-and-rescue personnel…anyone who pitched a hand that fateful day and thereafter:
The last few words narrating that brief footage touch upon a notion that I ponder quite often: The voiceover said, "…dogs and their handlers spend years learning how to understand and talk to each other. Thanks to their partnership, thousands of people have been saved." Indeed, an understatement, in my book.
What do I ponder? Forgive me for encroaching on a hugely sensitive subject in police culture, but maybe we ought to indulge this scenario to overcome the epidemic of our brothers and sisters taking their own lives: What if we incorporated far more police service animals among cops?
It's a grandiose idea. Perhaps a tad too utopian. However, just imagine these noble and dedicated partners, all of whom are science-declared super-sensitive to human emotions, extraordinarily reacting to our species silently suffering dread brought about by doing The Job.
A quiet being graciously offering time and unique consolation in a situation that is being tacitly experienced can be mitigated by paws giving pause to such dire circumstances and the grotesque thoughts swaying a person's equilibrium: mind, body, and soul.
Throughout the entire span of my police career, our contingent of public safety dogs always (without fail) rendered every single canine cop exuberant and proud and bonded and insured and loved by these barky godsends.
Sort of from behind-the-scenes files in police work, nasty calls which boggle the minds of cops are usually buffered by squads of cops rallying around the on-duty police dogs who are readily game for play and fun (and, of course, treats). The flip side to that is canines rallying around cops who need to clear the chronically assaulted psyche of unambiguous ugly scenes hatched by evil-doers.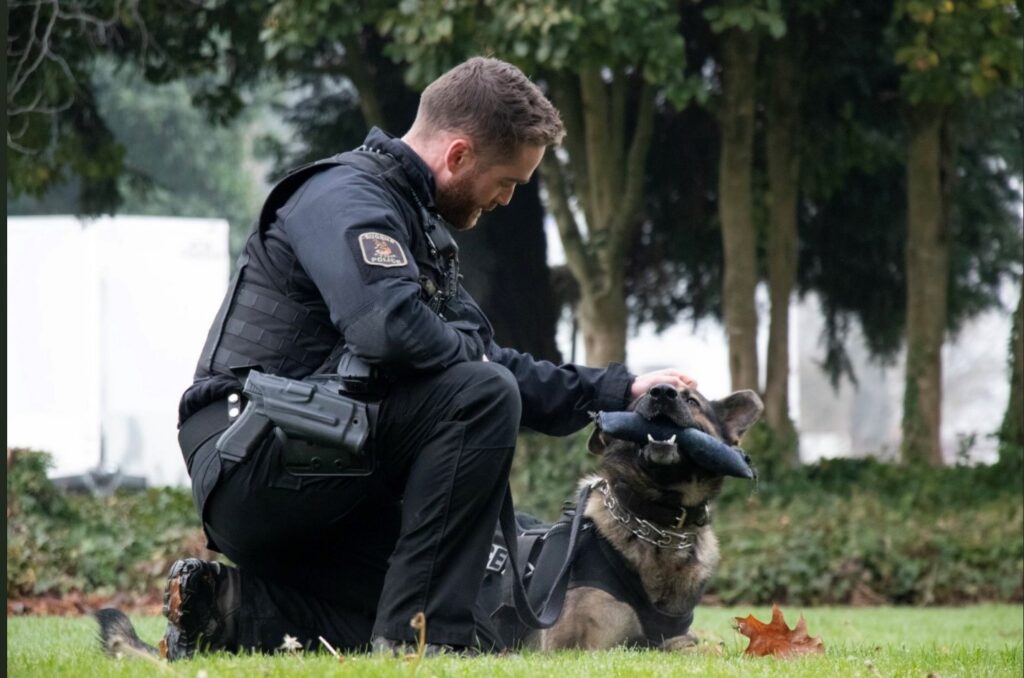 (Photo courtesy of the Eugene Police Department.)
As a policeman on the night shift for the majority of my career, we routinely relied on the dogs for not only active, treacherous scenes but also for the quasi-therapy moments thereafter. It always seemed an endless list factoring into why canines are so highly valued and cherished in the police profession.
Indeed, recent years have seen the adoption of police therapy dogs quartered at sheriff's stations and police precincts and highway patrol barracks. With dogs among the diversity of police personnel, the wonders we see right before our eyes lend well to my notion mentioned above. Logistically and fiscally, one dog for every LEO would exponentially increase those wonders, with wellness and other benefits. Why not have the "man's best friend" mantra much more universally realized?
Men and women wearing law enforcement uniforms can/do derive much from these incredible animals, and vice-versa. On that note, the citizenry becomes beneficiaries, too. Not only for crimefighting capabilities and catching culprits who victimize innocents but also as ambassadors in communities they serve, with great public relations dynamics. Dividends seem endless with dogs.
As mentioned earlier, public safety animals have a shelf life and enjoy official police retirement sendoffs just like their human counterparts. Take a look…
A Broward Sheriff's Office (BSO) spokesperson posted the following accolades and bittersweet message: "After almost a decade of service, we are sad to say our girl K-9 Macie is retiring. Macie was the first bloodhound donated to the Broward Sheriff's Office Cooper City district in 2013 by the Jimmy Ryce Center.
"She has participated in over a thousand calls for service with her beloved handler Deputy Kelli Covet. Macie has served Broward County well, whether it was tracking missing people or providing her special touch for people in distress. No matter where she went, she helped bridge the gap between law enforcement and our community. Thank you for your outstanding years of service, Macie. We wish you a happy retirement!"
Given K9 Macie's retirement, it is a good thing that her brother "K9 Anthem" is lined up to step in and assume her role at the South Florida law enforcement agency.
That brings up another aspect of police canines, one which piggybacks on the idea of pairing just about every cop in America with a canine, should they opt to have one, if even just at home to help decompress. (What a way to offset the overabundance of unwanted canines populating dog rescues and animal shelters around the country!)
I came across another Florida sheriff's office and a duo of K9 members that had a litter of puppies. What did the Nassau County Sheriff's Office do with the large litter?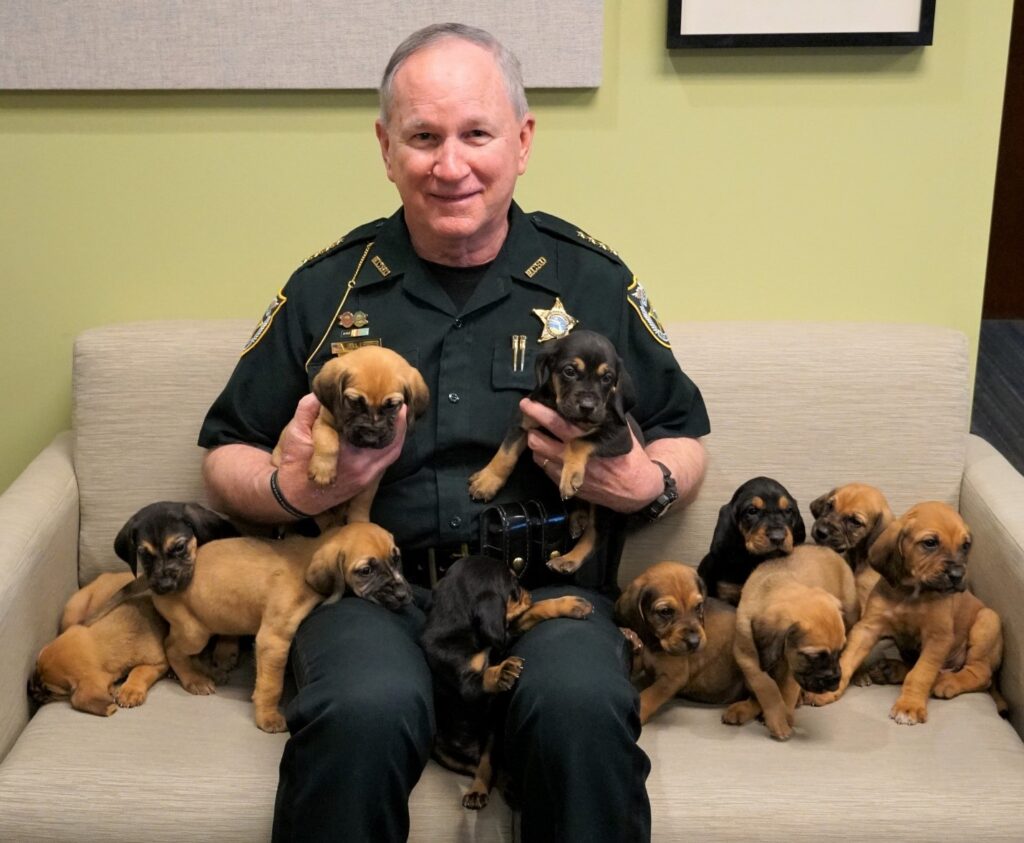 (Photo courtesy of the Nassau County Sheriff's Office.)
They were generous and spread puppy love!
"Happy Valentine's Day from the Nassau County Sheriff's Office! Love was in the air between two of our tracking bloodhounds…Raven and Ol' Red. They are the proud parents of 11 beautiful pups. These puppies are currently 5 weeks old. We are excited to announce we are keeping two to serve the citizens of Nassau County by going through tracking training, just like their parents did. We are donating the others to agencies around the state of Florida and beyond at Sheriff and Police Departments to also become tracking K9s."
Although it is very common for cops to get together and chit-chat about great investigative capers and how major catches were achieved by law enforcement officers, police dogs always have their place in such "remember when…" convos. Rightly so…on National K9 Veterans' Day and every day!