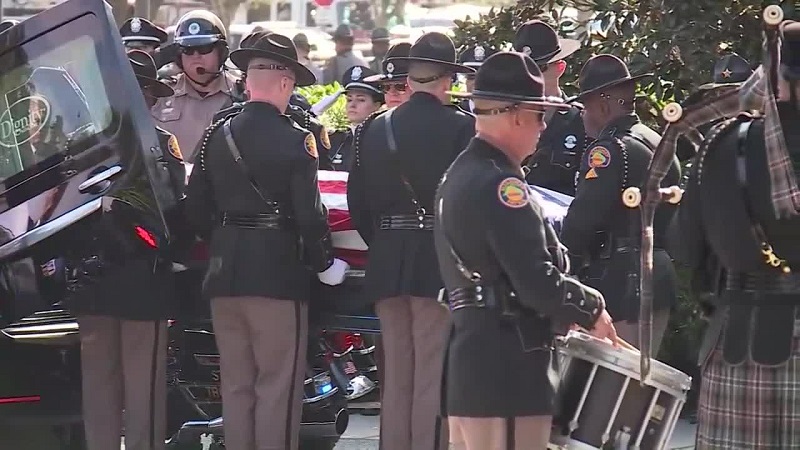 By Chief Joel F. Shults, Ed.D.
A walk through the archives of the Officer Down Memorial Page shows the unpredictability of lethal encounters. Officers responding to routine calls for service can find their lives at risk over the most unexpected calls. Although every officer is trained to expect the unexpected and be ready to respond to any situation, it is only human to have a higher level of caution responding to a robbery call than assisting a person with a flat tire. Both can be lethal.
A 40-year law enforcement veteran and highly respected Sheriff, John Williams, often got personal calls from constituents who knew and trusted him. He got such a call from a convenience store owner in Alabama. The owner wanted a gathering of people moved from the parking lot for playing loud music. While the Sheriff was talking to the owner of a truck that had been playing loud music, a male shot him dead.
Arizona Trooper James Edenhofer responded to a report of a person throwing things at cars on Interstate 10. The subject was located and Edenfhofer and assisting officers placed him under arrest. The suspect violently resisted and was able to use one of the officers' duty weapons to murder the trooper.
Suspicious persons calls are another routine type of call that is often unfounded. Municipal police officer Darrin Reed of Arizona responded to such a call at a local motel. A man fled upon Reed's arrival which led to a foot chase during which the suspect produced a handgun and killed the officer.
Lt. Patrick Weatherford of Arkansas took another routine report of a non-violent property crime. A vehicle had been broken into in broad daylight. While checking out the general area, Weatherford observed a male flee. He and two other officers followed the man who turned and fired a weapon, killing the Lieutenant.
California Police Officer Dan Walters was checking on another officer who was checking on a vehicle blocking a roadway. A man standing near the vehicle pulled a firearm and shot Walters causing him to fall into traffic resulting in further injuries. Walters remained paralyzed for over 15 years, succumbing to his injuries, dying in 2020.
Police Officer Natalie Corona was shot and killed after responding to a report of a three-car vehicle crash. A man on a bicycle rode up to the scene, shot Officer Corona multiple times, then fled and later committed suicide.
Duty at festivals and concerts can be mostly a matter of remaining visible and making friendly contacts with those enjoying the day. At a jazz festival in Denver, Police Officer Celena Hollis saw a fight and was shot dead as she attempted to intervene.
It is a myth that criminals return to the scene of their crimes, but an arson suspect did just that. Deputy Brent Holloway was assigned to guard a crime scene in rural Colorado where a suspicious fire had burned a home. The perpetrator returned to the scene, snuck up on the deputy and shot him in the back of the head. The killer stole Holloway's firearm and committed suicide with it.
These brief accounts of officer deaths do not tell the full story of the risks of routine activities of police officers. Officers who are wounded but survive, and officers who are able to counter the attack and stop the assault before being physically injured seldom make news. An example is from a suburb of St. Louis, Missouri where Officer Police Officer Brendan McGahan stopped to assist a stranded motorist near Interstate 44. When McGahan approached the passenger side of the vehicle he was met with gunshots from inside the car. McGahan survived the attack and was able to return fire, killing his attacker.
We are often casual about the saying that officers put their lives on the line every day. But many times we think that this means they have the potential of being called to a dramatic and dangerous event that will make the news. The reality is that even the simplest call for service, and the everyday act of kindness in assisting others, can erupt into nightmarish violence. Everyday, the risk is very real.